Jeep wranglers are robust and high off-roading vehicles for camping. Towing an airstream trailer to those camping sites is an exciting thing.
So, can jeep wrangler tow an airstream trailer? Yes. Jeep wranglers are powerful, but they tend to have limits. The average towing capacity of a jeep wrangler is about 2,000 to 4,000 pounds.
Hence, they can correctly tow an airstream, hybrid trailer, pop-up trailer and teardrop trailers. Keep in mind jeeps have weight limits.
We recommend checking the towing capacity of your jeep wrangler before thinking about camping or road trip adventure.
Jeep wranglers come in different models which have the different towing capacity. The dry weight of an airstream is about 2600 pounds. Ensure the loading does not exceed 4000 pounds.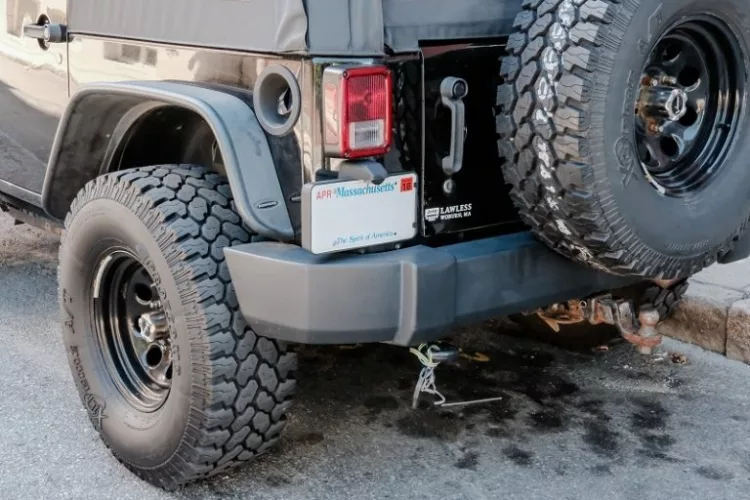 What Do You Need to Know about Towing Airstream with a Jeep Wrangler?
The incredible styling, off-roading and durability are the unique selling points of jeep wrangler across the world.
It is an ultimate adventure vehicle that everyone in the United States wants to know how much and what it can tow. Hence, can a jeep wrangler tow an airstream?
Here are some things you need to know about towing a camper with a jeep wrangler apart from low towing capacity. They include:
Weight Distribution Hitch
Addition of a weight-distribution hitch to your jeep wrangler is quite essential. It helps to level your jeep and airstream while driving. Hence, no sagging issues will be experienced.
The weight distribution hitch will distribute the weight of the airstream evenly to promote smooth drive. The balance makes the jeep navigate through rough terrain easily.
Sway Control
Driving in the wilderness while towing an airstream is a daunting experience. The wind and rocky terrain make navigation a significant problem.
Hence, getting an airstream that is shorter than your jeep is a great choice. It is an excellent sway control measure. The chances of being swayed by a windstorm will become minimal.
Transmission Cooler
Modern jeep wranglers have automatic transmission. Keep in mind that many automatic transmissions tend to overheat when towing larger loads.
Overheating the transmission will increase the rate of wear and tear. Thus, the installation of a transmission cooler is a great idea. It will keep the transmission fluid at room temperature.
Wiring Harness
Wiring harnesses tend to make towing of an airstream with a jeep wrangler quite convenient. But it is not that necessary.
Wiring helps to light up your airstream and make it safe for camping. Besides that, the lighting is quite essential in traffic.
Brake Controller
Jeep wranglers are excellent off-roaders. It implies that these vehicles can manoeuvre in different terrain without slipping or tripping.
Connection of the jeep brake with the airstream brakes is essential. A brake controller is an ideal instrument since it sends a signal to the airstream brakes. Hence, ensure the camper stops where there is a need.
What Happens When Your Jeep Wrangler Exceeds Towing Capacity?
We recommend not exceeding the towing capacity of your jeep. It will result in issues while on the road and even on the rig in the long run.
Here are some of the common issues associated with exceeding the towing capacity of your jeep wrangler. They include:
Road Risks
Towing beyond the ability of your jeep can lead to a lot of dangers on the road. Heavily loaded airstreams tend to control your jeep completely.
Therefore, stopping the jeep while driving could be a nightmare. Besides that, exceeding towing capacity could damage the jeep suspensions.
Increase Depreciation Rate
Pulling an airstream that exceeds the towing capacity of your jeep will increase the rate of wear and tear. The most affected components will be the suspensions.
These components are quite expensive to repair and failure to repair make the vehicle road unworthy. Other affected parts are the brakes, engine and transmission.

Final Thoughts from Experts
Just because a jeep wrangler is robust and durable, you do not need to exceed their towing capacity. Pulling too heavy airstream will ruin your jeep both in the short term and long term.
We know shopping for an airstream that meets the towing capacity of your jeep is a daunting experience. It would be best if you were mindful and do thorough research.
Therefore, check with your nearest dealer to know the exact weight of your jeep wrangler and their towing capacity.
Hence, you will have a rough idea when shopping for your campers. Besides that, it will make the cost of maintenance and care for your jeep wrangler quite affordable.