If you do not have a lot of space in your car for the music system, you should think about investing in the best under seat car subwoofers. These are compact subwoofers with a slim profile that allows them to be tucked under a seat.
One of the best things about the under seat car subwoofer is that it is very easy to install by almost anyone. Additionally, since it uses the space under the seat as an enclosure, it produces a deeper and even more powerful bass, which compensates for its small size.
Even better, most under seat woofers are powered, which means they come with built-in amplifiers for increased user convenience.
In this review, we have handpicked some of the top under seat car subwoofers on the market to give you some good recommendations.
Top Under Seat Car Subwoofers of 2023 by Editors
Summary of 8 Best Underseat Subwoofers
IMAGE
PRODUCT
FEATURES

1. Rockville RW10CA (Best Overall)

Massive 800-watt peak power

High level inputs

10-inch cone

More audio customization options

2. Rockville SS8P (Best Budget)

More affordable

Cast aluminum enclosure

Adjustable input sensitivity

High level inputs

3. Kicker 11HS8 (Best Compact)

Compact and space-saving

Remote bass control

150-watt amplifier
High and low level inputs

Velcro-fastened straps

4. Kenwood KSC-SW11 (Most Durable)

Durable aluminum enclosure

More compact and low-profile design

Wired remote control

Noise-less sound

5. JBL BassPro SL (Beginner-Friendly)

Easy to use for beginners

Housing stays cool

Bass remote controller
More output options

6. Rockville USS10 (Amazing Controls)

Easy sound tweaking with the amazing controls

2.9-inch thickness fits perfectly under seat

800-watt peak power
Remote bass knob

7. Rockford Fosgate PS-8 (Built for Maximum Efficiency)

Efficient design and no sound distortions
Superior build construction
Easy to install by beginners
Thermal protection and reverse polarity circuits

8. Kenwood KSC-PSW8 (Powerful Amplifier)

Class D amplifier

Wired remote control

Simple 2 plug connection

Fits perfectly under seat
Top 8 Best Underseat Subwoofers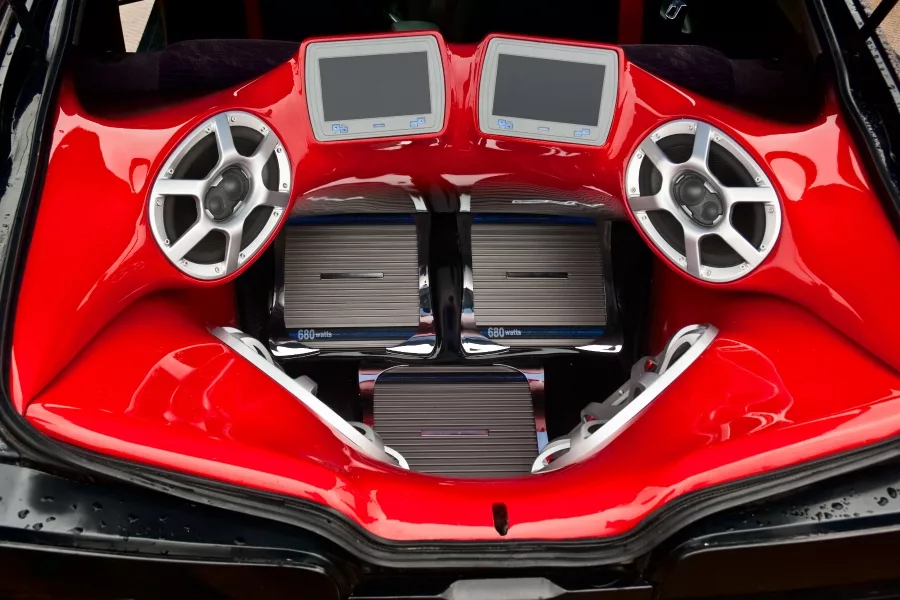 1. Rockville RW10CA - Best Overall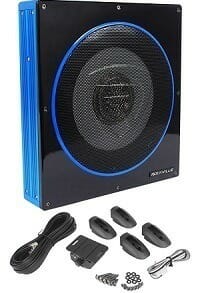 The massive 800 watts power handling of the Rockville RW10CA is what makes it our best overall subwoofer as it is more powerful than most other models on our list.
Furthermore, this model has a 10-inch cone that is also bigger than other models in this under seat car subwoofer review. This cone displaces a lot of air quickly, and it can produce a deeper and more powerful bass with no sound distortions.
Additionally, there are many audio customization that can be performed in this top-rated under seat car subwoofer. People who care how their bass sounds will like this unit very much.
With this subwoofer, you also get high-level inputs built to ensure installation is a breeze, as you will not have to remove the receiver. Also, there is more effective thermal protection to minimize the likelihood of burn outs.
There are not as many outputs on this subwoofer as others out there, but all the basic ones are included, and so this should not be an issue.
More Detailed: Rockville RW10CA Review
Also, note that Rockville also provides this subwoofer with a wire kit, if you go with the Rockville RW10CA+RWK10 option. This makes installation even easier as you will get everything you need.
Powerful 800 watts peak
Big 10-inch cone for deeper bass
Audio customization options
Thermal protection
Not as many outputs as other models

---
2. Rockville SS8P - Best Budget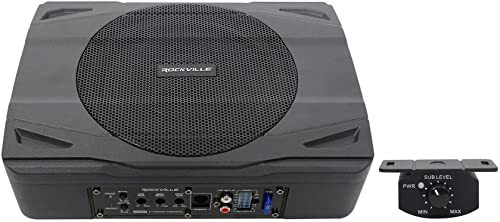 Rockville always tries to cater to all kinds of consumers with all their products. Their model SS8P subwoofers is built for those shopping for a more affordable, but still highly efficient model.
It has a 2.8-inch enclosure that will ensure it will fit perfectly under the seat. Also, this enclosure is made from cast aluminum that will ensure it remains cool no matter how long the subwoofer operates even at maximum power.
Like with many other under seat subwoofers, Rockville also uses high-level inputs on this one, making installation quick and easy. Also, these inputs allow for installation even where preamp outputs are not available.
The input sensitivity can be easily adjustable. And it has 400-watt peak power and 100-watt RMS, which for its price are also quite good. To crown all this up, this subwoofer has some great controls for easy operation.
Although his subwoofer could do with a little more bass, for its price, what you get is still quite good.
More detailed: Rockville SS8P Review
Relatively affordable
Easier to install
Enclosures stays cool throughout
Input sensitivity is easily and precisely adjustable

Less thick for a perfect under seat fit

---
3. Kicker 11HS8 - Best Compact Under Seat Car Subwoofer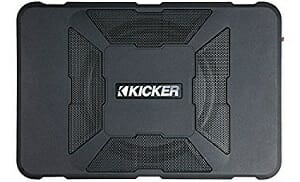 The 11HS8 from Kicker has been built specifically for tight spaces. At a little over 3 inches thick and only 14 inches long, it is quite compact. Hence, if you want something you can easily hide under a car seat, this will be an unbeatable choice.
It is rated as one of the best under seat car subwoofer with built-in amplifier for a good reason as its 150-watt amplifier will do a fantastic job at boosting the overall sound quality.
There is also a remote bass control that will make it easy to fine-tune your bass. And with the high and low level inputs, this subwoofer will integrate with almost any head unit be it factory or aftermarket.
Installation is straightforward as this subwoofer will include quick-connect power plug and also Velcro-fastened straps that will ensure secure installation and easy removal.
Even if the cone is a little smaller than in most others on our list, you can still expect above average sound quality as it is still highly efficient.
Perfect tight spaces
Easy and precise base fine-tuning
Powerful built-in amplifier
Simple and secure installation
Works with most head units

---
4. Kenwood KSC-SW11 - Most Durable Under Seat Subwoofer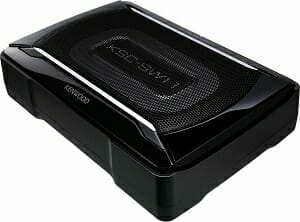 The Kenwood KSC-SW11 is a popular solution for car owners looking for superior quality car subwoofer. This model has a solid die-cast aluminum frame that makes it highly durable, and the fact that it is made by Kenwood should give you some assurance that it will provide good service for many years.
It also comes in a compact, low-profile design to make it easy to tuck under the car seat. Additionally, this under seat subwoofer can be remotely controlled for more user convenience.
As for the built quality, it is excellent. The whole unit is made of aluminum that also does a good job absorbing heat and preventing the woofer from overheating during extended usage at loud volumes.
Moreover, the front metal grille adds protection to the diaphragm and helps extend the woofer's life. And overall, this subwoofer has been designed to provide noise-less sound.
On the downside, if you like tweaking your music, then there is a limited number of customization. But, it still sounds good at default setting for those who do not care about bass tuning.
Aluminum body for heat absorption and durability

Very compact and low-profile

Comes with a remote control
Front metal grille for protection
Clear, noise-free sound
Limited sound tuning options

---
5. JBL BassPro SL - Beginner-Friendly Subwoofer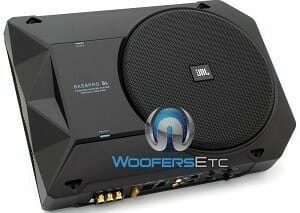 JBL BassPros is one of the easiest subwoofers to install by beginners because the connectors at the back are straightforward and clearly marked.
To make it even more irresistible, the JBL BassPros has many outputs at the back that allows the user to customize the bass based on specific preferences.
Furthermore, due to the efficient design, this woofer will remain cool to the touch even when it is played at high volumes. Therefore, this drastically reduces the risk of a fire and makes this model very safe to use.
It still has a regular 8-inch cone inside, and even if it is small, it is punchy and deep and better sounding than most models in this under seat car subwoofer review.
For its price, this subwoofer should have a little more bass, but it still has a fantastic sound. Hence, unless you are looking for a super high kick, it should still work well for you.
Easy to install and use by absolute beginners
Works with wired bass remote controller
High quality and premium build construction
Many outputs at the back for audio tuning
Remains cool even at high volumes

---
6. Rockville USS10 - Amazing Controls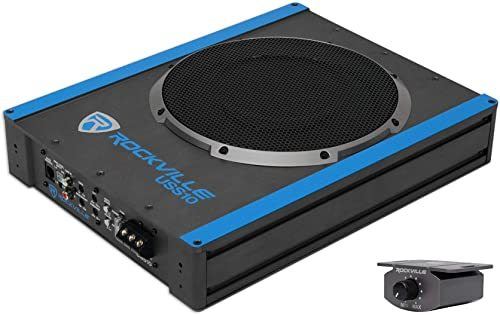 A good subwoofer should both produce an amazing sound and allow you to tweak the sound easily to suit your preferences. The Rockville USS10 meets both conditions as it will include some amazing controls for easy sound adjustment.
This 10-inch slim car subwoofer is made with fitment in mind as it is only 2.9 inches thick, which ensures it will fit under the car seat perfectly.
Its 800-watt peak power also makes this one of the most powerful subwoofers on our list. And for those that value a good bass punch, it not only provides lots of it but also comes with a remote control to allow you to adjust it easily.
Because the inputs and outputs are all in one side, installation is not only easier but the wiring will also be neater. This subwoofer is available in an 8-inch size for those that prefer something even more compact.
Although the instructions that come with this subwoofer are a little wanting, this is hardly a concern because even beginners will find it straightforward to install.
Easy sound adjustment

Fits perfectly under car seat
Higher peak power
Bass remote control included
Easy and clean installation/wiring

---
7. Rockford Fosgate PS-8 - Built for Maximum Efficiency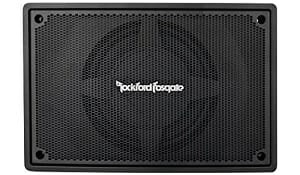 The Rockford Fosgate PS-8 is built for maximum efficiency. It has a built-in 150-watt amplifier that ensures that not not only works efficiently, but also delivers the best sound quality.
Moreover, the build quality is superior to other models we have seen in this price range. The whole front face of this woofer has a metal grille that protects it from external elements, and the enclosure is solidly made.
It still maintains a low-profile and compact design despite the heavy-duty build. And because it has an all-inclusive system, you will not need to run a lot of wiring as a signal, power and ground are all you need to run.
Also, if you like to customize your music, then the Rockford Fosgate PS-8 has many outputs and tuning options that make it a very versatile subwoofer.
This woofer has a quick connect system that easily allows you to connect and disconnect input cables. This makes it very easy to install and use by beginners.
When compared to other models on this list, this is the priciest one. But its build quality and overall performance will ensure you get the best value for your money.
Efficient with low heat and no sound distortion
Durable enclosure made from industrial grade vinyl
Many audio customizations at the back
Reverse polarity and thermal protection circuits

---
8. Kenwood KSC-PSW8 - Powerful Amplifier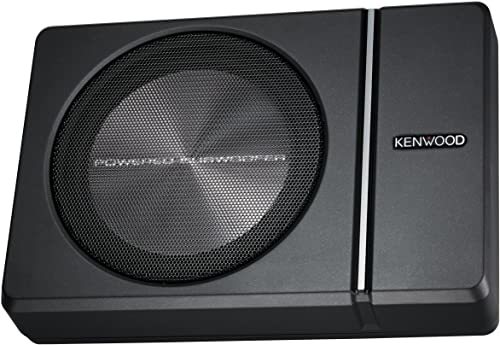 The class D amplifiers is one of the many things that make this an amazing Kenwood subwoofer as it is powerful enough to deliver a nice punch.
And the fact that this is a Kenwood product, you can expect to get superior sound quality with no noise.
Installation is also quick and easy as there are only two plugs. With the smaller profile of this subwoofer. It will fit perfectly under the car seat.
This subwoofer has an 81 dB sensitivity, which for its price and size is quite good, and it has a frequency response of 35 to 150 Hz, which for cars is perfect.
The remote does not seem to control much, and so most of the settings have to be adjusted on the unit, which can be a little inconvenient. However, this is still not enough to be a deal breaker.
Powerful amplifier
Quick and easy installation
Small and low profile design
Clear sound with no noise

How to Buy the Best Under Seat Car Subwoofer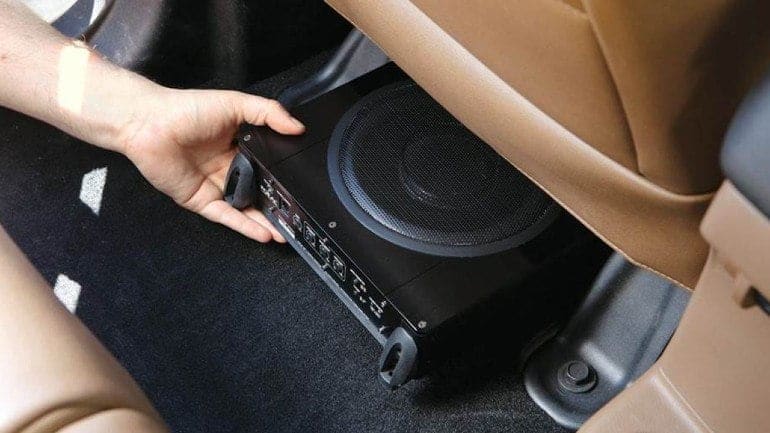 There are some important factors to consider to make sure you get the best hideaway car subwoofer for the money, and they include the following.
1. Powered or Passive
As you shop for an under car seat subwoofer, one of the first decision that you will need to make is whether to go for the powered or passive types.
Powered subwoofers are the kind that have a built-in amplifier like Kicker 11HS8. And this means you will not need an external ones, which besides saving you space also allows for a neater fit as there are fewer wires.
Passive subwoofers, on the other hand, do not have a built-in amplifier and will rely on an external one. These are not very popular given that you need to buy a separate amplifier, and the setup will take up more room. However, you get the freedom to use a more powerful amplifier or any that you like.
2. Size
The size of the subwoofer is also vital as it determines how much space it will take under the seat or even if it will fit.
Hence, to make sure that the size you buy will work for you, it is important first to check the amount of space you have under the specific seat to install the subwoofer.
That said, something that is under 3 inches thick or something close to this such as the 2.9-inch thick Rockville USS10is always perfect.
3. Power: RMS and Peak
Your subwoofer also needs to be powerful enough, and here you will need to look at the maximum wattage that it can deliver.
However, things are not that straightforward as you will need to check both the peak and root mean square (RMS) power.
Peak power is the maximum power that the subwoofer can utilize in short bursts, while the RMS is how much continuous power it can handle.
For the peak power, an 800-watt model like Rockville RW10CA is perfect, while 100 to 200 watts is often good RMS for these subwoofers.
4. Sensitivity
A subwoofer that is more sensitive will require less electrical energy to move the cone and produce sound.
Therefore, such a woofer is considered to be more power efficient than other models.
Moreover, since it consumes less, it will also last longer since the components will heat less and are more durable over time.
5. Impedance
If you want a clean install and do not want audio wires to be visible, then you must use thin wires for the connections.
However, note that only a top-rated under seat car subwoofer with a low impedance will accept thin wires.
For discreet installations, a 2 Ohms subwoofer is always better than a higher impedance model.
6. Resonant Frequency
The resonant frequency is the minimum frequency the subwoofer can respond before it distorts. Here, lower is better.
Lower resonant frequency is good since an under seat subwoofer will be in a confined space where it is more prone to distortions.
A lower resonant frequency should help massively in producing a clearer and cleaner sound.
Buy on Walmart
Rockville RW8CA 8" 600 Watt Low Profile Under-Seat Active Powered Car Subwoofer - Walmart Link
Rockville RV8.2A 800 Watt Dual 8" Car Subwoofer Enclosure+Mono Amplifier+Amp Kit - Walmart Link
Alpine Electronics PWE-S8 Restyle Compact Powered 8-Inch Subwoofer, black - Walmart Link
Alpine Electronics PWE-S8-WRA Powered Subwoofer for 2011-Up Jeep Wrangler - Walmart Link
KICKER 11HS8 8" 150W Hideaway Car Audio Powered Subwoofer Sub Enclosure HS8 - Walmart Link
JBL BassPro SL 8-inch 125W RMS Powered Under-Seat Compact Subwoofer Enclosure System (250 - Walmart Link
Rockville RW10CA 10" 800 Watt Under-Seat Slim Amplified Car Subwoofer +Wire Kit - Walmart Link
Buy on eBay
Rockville RW8CA 8" 600 Watt Low Profile Under-Seat Active Powered Car Subwoofer - eBay Link
Rockville RV8.2A 800 Watt Dual 8" Car Subwoofer Enclosure+Mono Amplifier+Amp Kit - eBay Link
Alpine Electronics PWE-S8 Restyle Compact Powered 8-Inch Subwoofer, black - eBay Link
Alpine Electronics PWE-S8-WRA Powered Subwoofer for 2011-Up Jeep Wrangler - eBay Link
KICKER 11HS8 8" 150W Hideaway Car Audio Powered Subwoofer Sub Enclosure HS8 - eBay Link
JBL BassPro SL 8-inch 125W RMS Powered Under-Seat Compact Subwoofer Enclosure System (250 - eBay Link
Rockville RW10CA 10" 800 Watt Under-Seat Slim Amplified Car Subwoofer +Wire Kit - eBay Link
Conclusion for Underseat Subwoofer Buyers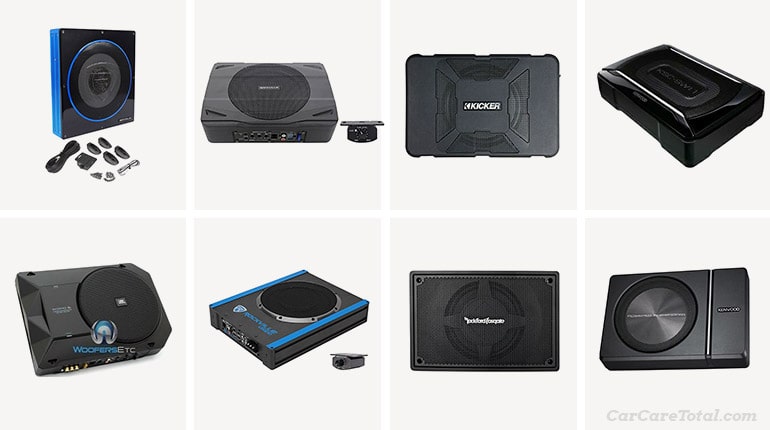 Under seat car subwoofers are perfect because, besides being out of sight, they are still powerful and super easy to install and use. And now you can easily get a good model for your vehicle with our review above.
That said, the 8000-watt peak power Rockville RW10CA is our best overall as besides being powerful, it has high level inputs, and larger 10-inch cone, all of which deliver a superior performance.
But, if you are shopping on a small budget, the more affordable Rockville SS8P will be a great pick for you.