The H11 bulb is a single beam Group 1 light that can work for headlights, taillights and even fog lights. Also, these bulbs are usable for both H8 and H9 housing units and typically come in three main types: halogen, LED, and HID.
With the best H11 bulbs, you can be sure of getting a long lifespan as they provide at least 1,000 hours of service regardless of the type. Also, these bulbs offer greater versatility and a brighter and more consistent performance.
When choosing H11 bulbs for your vehicle, you need to consider factors like vehicle compatibility, brightness and color temperature. Here we explain these factors in more detail and also give you some recommendations with our comprehensive product review.
Top H11 Headlight Bulbs by Editors' Picks
Summary of 10 Best H11 Headlight Bulbs
IMAGE
PRODUCT
FEATURES

1. Beamtech Smooth (Best H11 LED Bulb)

Low heat and efficient LED bulbs
Nice light beam pattern

Easy plug and play installation

Certified IP65 waterproof


2. Philips 12362VPB2 (Best H11 Halogen Bulb)

60% more vision
Super easy installation
Perfect for urban driving

Ideal for low and high beam and fog lights

3. Hikari V1-H11 (Brightest H11 Bulb)

12,000 lumens light output

Excellent beam pattern
Super-thin heat sink

Upgraded cooling system


4. Sylvania H11SU.BP2 (High-Performance)

High-performing bright white halogen bulbs

Tri-band technology

Improved contract and object visibility

100% street legal


5. Auxbeam 88621846(Best for Any Weather Condition)

Superior visibility in any weather

Turbo cooling fan

High-powered 30 Watt CREE LED chips

Aircraft-grade gold aluminum frame


6. Alla Lighting H11 LED Bulb(Affordable Price)

More budget friendly bulbs

Lower 8.5-watt working power

1P67 waterproof rating

Intelligent IC driver

Plug and play installation for most vehicles

7. Autofeel S9_H11_COB (Long Life)

Longer 50,000 hours service life
High 6500K color temperature

Built-in drive

Durable aviation aluminum alloy build


8. Cougar Motor CCD18-08-PLUS-H11 (Precise & Clear Lighting)

3D bionic technology

Built-in smart chip

Speed installation
Long 50,000 hours service life

Efficient cooling aluminum component

9. Lightening Dark LD-YSD-V28-H11 (Adjustable Beam Pattern)

360-degree beam pattern adjustment

Advanced thermal analysis tech

50,000 hours service life
IP67 water resistant rating

10. Sealight X1 Series (Compact Fanless)

More compact, fan-less design

Enhanced beam pattern

Daylight optics

50,000 hours service life
Top 10 Best H11 Headlight Bulb Reviews 2023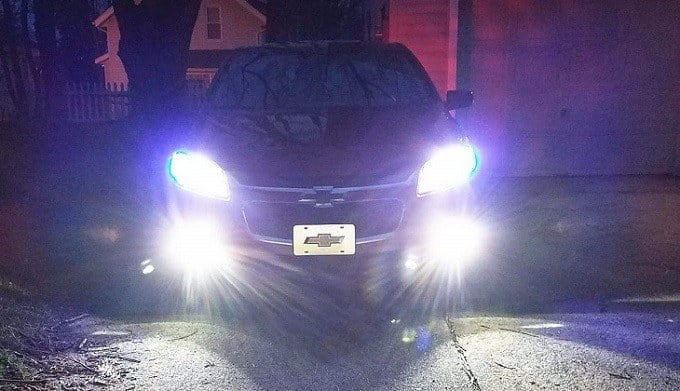 1. Beamtech Smooth - Best H11 LED Bulb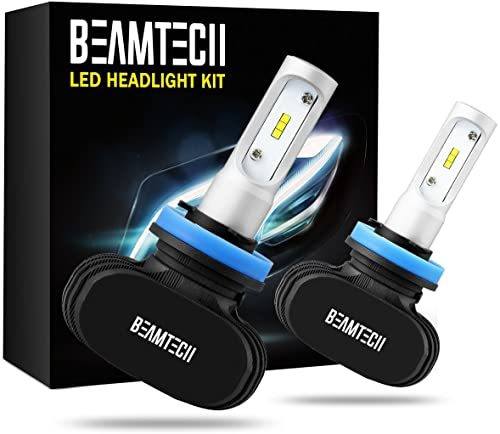 Power Source: CSP LED chips
Lumens: 8,000
Color Temperature: 6500K
LED bulbs have a ton of impressive things to offer, and they will hence be perfect for your H11 headlight. These particular ones make use of CSP LED chips for their light source, which delivers up to 8,000 lumens and an excellent 6500K color temperature.
Also, like other LED bulbs, they deliver an exceptionally low heat output for a long lifespan. They achieve this using a special aerospace material that ensures excellent heat dissipation. For their price, the 30,000-hour lifespan is excellent.
Drivers will also love that these headlights will provide an amazing light beam pattern with a narrow light emitting strip for better visibility.
These bulbs are also certified to be IP65 waterproof. They are generally safer and healthier to use as they do not emit electromagnetic radiation or large current startup. To crown it all, they are plug and play for most vehicles to ensure effortless installation.
There are a few complaints by some car drivers concerning how these bulbs fit. However, in many instances, issues will arise as a result of failure to check the fitments when buying the bulbs.
High-quality and high-performing
Provides a fantastic light pattern

No health and safety concerns
Completely waterproof
Super easy installation

---
2. Philips 12362VPB2 - Best H11 Halogen Bulb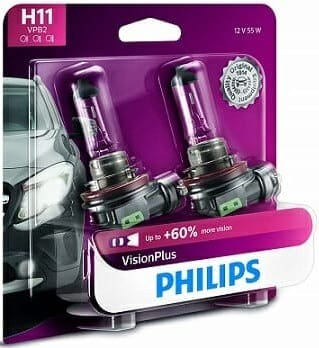 Power source: Halogen
Color Temperature: 3300K
Philips' VisionPlus H11 bulbs are designed for superior visibility in the dark. They produce 60% more light than the Phillips H11 standard bulbs to give you 60% better vision on the road and thus the name VisionPlus.
Despite being brighter, they are still affordable and very easy to install, making them the best halogen H11 bulbs in the market. And they also give you a relatively longer service life.
For urban driving, these bulbs are unbeatable because, besides being bright enough and with the perfect color temperature, they have just the right beam pattern for busy urban roads. Additionally, they can also be used as high and low beam headlights, making them very versatile.
On the power consumption, each bulb has a rating of 55 Watts, which is more than double what LED bulbs consume.
For other good Phillips bulb options, also check out the Philips H11 X-tremeVision, which delivers 100% more vision and will be perfect for driving in rural roads and for nighttime driving. Also, the Philips 12362B2 is a good choice for those that just wand standard OEM-quality replacement bulbs
60% brighter than standard Phillips bulbs

Highly durable bulbs

Exceptional for urban driving
Easier to install
Ideal for fog lights, high and low beam lights
Higher energy consumption

---
3. Hikari V1-H11 - Brightest H11 Bulb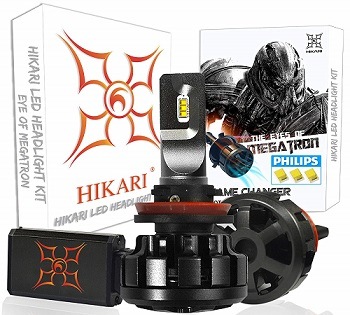 Power source: CREE LED chip
Lumens: 12,000
Color Temperature: 6000K
If you are looking for extremely high output headlight bulbs to give you the highest level of brightness, the Hikari H11 bulb set should be the first option to consider. The pair of bulbs will deliver up to an impressive 12,000 lumens.
With these headlight bulbs, you will not only get brighter light output, but also an excellent beam pattern. The beam matches the stocks halogen bulb beam and a parallel light output for the best visibility.
Unlike other LED headlight bulbs, these bulbs have a super thin heat sink that helps improve the utilization of the light and helps deal with astigmatism. Also, it each bulb makes use of an upgraded cooling system to ensure more effective heat dissipation.
There are no dark spots with these bulbs, and you can be confident you will not have any stray light blinding other drivers on the road.
These are the priciest bulbs on our H11 headlight bulb review, but their super bright light output and long service life makes them worth it.
Very high lumen output.
Great beam pattern
More effective cooling system

Does not have stray light or dark spots
Excellent heat utilization

---
4. Sylvania H11SU.BP2 - High Performance H11 Halogen Bulb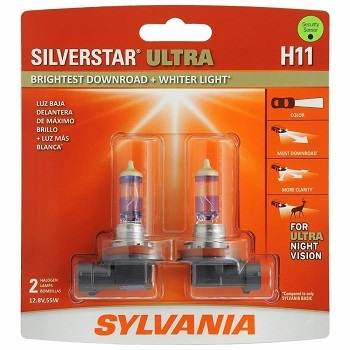 Power source: Halogen
Lumens: 1345
Color Temperature: 4000K
Sylvania is a world leader in making OEMs and the aftermarket automotive lighting. That said, the Silverstar ultra high performance units are designed to be some of the best performing H11 halogen bulbs in the market.
And this is achieved by the use of patented Tri-band technology that helps provide the brightest beam (1345 lumens) as compared to other halogen bulbs.
It also has a specially designed filament that is enclosed in a specially made gas mixture. The result of this is high down road visibility and improved contrast, lighting up the immediate down part of the road ahead. And you also get better visibility of objects on the road such as road signs.
These are also 100% street legal lights that you can use anywhere, and they have been certified not to increase glare, which means you will not blind the oncoming drivers.
The only downside is that they have a short lifespan and cost quite a lot as compared to other halogen bulbs that last much longer. But, the good news is that for the time you have these bulbs, you will get exceptional visibility.
Also, the Sylvania H11XV.BP2 is another good option for anyone that is looking for high performing H11 halogen bulbs.
Brighter white light
Patented Tri-band coating technology
Legal fro use in streets

Designed not to increase glare
Delivers better object visibility
Shorter lifespan (rated at 125 hours).

---
5. Auxbeam 88621846 - Best H11 Bulb for Any Weather Condition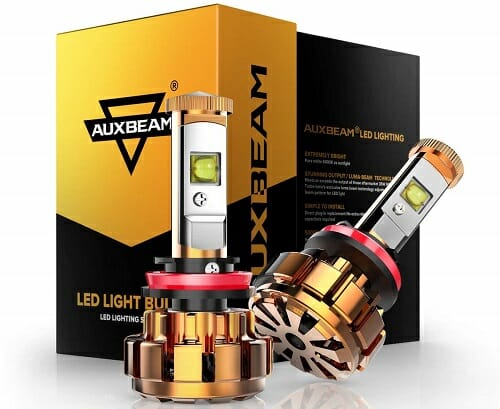 Power source: CREE LED chip
Lumens: 3000
Color Temperature: 6000K
Auxbeam's H11 bulbs stand out because they will be effective and bright enough in any weather. Also, with their IP68 waterproof rating, they can withstand even the harshest environment, which makes them the perfect bulbs for use all year round.
They also have other impressive features such as a turbo cooling fan on the backside that keeps the bulb from exceeding 150ºC, which is the optimal operating temperature of the LEDs.
High powered 30 Watt LED chips deliver 3000 lumens per bulb, giving you 6000 lumens in total output for both headlights.
Construction wise, the bulbs have an aircraft grade gold aluminum frame that is corrosion and oxidation resistant, and this prevents them from being damaged when exposed to high temperatures and moisture, which is common once they are installed.
The whole lighting and cooling process is controlled by the bulb's control driver, which keeps everything in check to ensure the clearest light pattern output.
Cooling fan can be a bit noisy, but you will hardly hear the sound when driving. Also, these might not fit some H11 headlights given the space that the cooking fan takes up. However, they should fit majority of these headlights.
Perfect for use in any weather
High-powered chips
Corrosion and oxidation resistant gold aluminum frame
Efficient operating temperature regulation
Handy control driver
Cooling fan is a bit noisy
Might not fit in all H11 slot headlights

---
6. Alla Lighting H11 LED Bulb - Affordable Price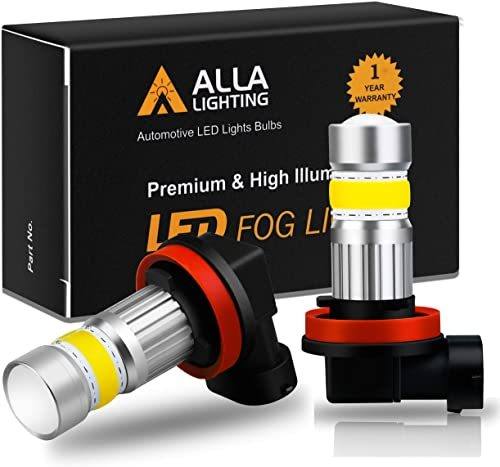 Power Source: COP LED chips
Lumens: 2800
Color Temperature: 3000K
Good H11 headlight bulbs do not have to be expensive. There are some top quality ones like the Alla Lighting H11 LED Bulb that do not cost much, but still do a fantastic job.
These are 8.5-watt rated bulbs, which means they will use up way much less of your battery when compared to others on our list.
And you can be confident that these bulbs will not only run cooler, but also last longer thanks to the Intelligent IC driver that is built-in, and the durable aluminum material respectively.
These are IP67 waterproof rated bulbs to make them good for use in any weather. And you should also have an easy time with the installation as these are plug and play for most vehicles.
Given the 2,800 lumens light output, these might not be very bright bulbs, and this is more so when you compare them to others on our list. However, for their price, they are still good enough.
More affordable bulbs

Uses up less power

More efficient cooling
Easier to install

Completely waterproof for use in any weather

---
7. Autofeel S9_H11_COB - Long Life H11 Bulbs with Excellent Color Temperature
Power source: COB LED chip
Lumens: 3500
Color Temperature: 6500K
Autofeel's H11 bulbs are made using the new COB LED chip technology, which gives a high lumen output (3500) and a very long service life (over 50,000 hours). This means that you get a total of 7000 lumens from both bulbs, which is a very powerful beam of light.
Additionally, the LEDs produce a cool white 6500K color temperature beam, which makes the car look very sleek and exotic. This color temperature is extremely bright and provides exceptional visibility in the dark.
These bulbs also have a built-in drive that can be instantly activated to allow you to respond to unexpected situations super-fast. And you can install them easily in just 10 minutes.
The entire frame of the bulb is constructed from aircraft grade aluminum, that is very effective at heat dissipation. Its cooling fins are also made from the same material and provide a large surface area to get rid of the generated heat from the outside.
Inclusion of the relatively larger cooling fins seems to affect the fit of these bulbs, but the good news is that they should still work fro most vehicles that use the H11 headlights.
Very long lifespan
Handy built-in drive
High color temperature
Water, corrosion, and oxidation resistant aluminum frame

Quick and easy installation
Large cooling fins make its backside large

---
8. Cougar Motor CCD18-08-PLUS-H11 - Precise and Clear Lighting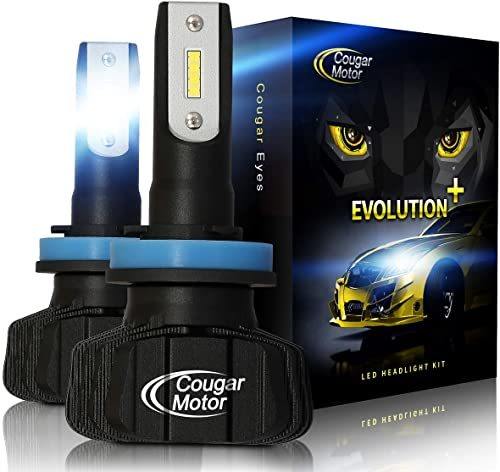 Power Source: Upgraded CSP LED chip
Lumens: 9,600
Color Temperature: 6500K
If you are looking for more clarity an precision in your headlights, these are the best H11 led bulb for you. They make use of a 3D bionic technology to ensure this is just what you get. And it does this by stimulating the visual focus that wildlife has when hunting in the dark.
The built-in smart chip also has a fully upgraded design to not only ensure you get a superior light source, but also make controlling the light easier.
These are also some of the longest lasting H11 bulb on our list as you can expect to get at least 50,000 hours from them. And their 9,600 lumens and 6500K color temperature are also both quite good.
Other things that make these bulbs amazing include the speedy and easy 20-minute installation and more efficient fan-less aluminum alloy cooling component.
The beam patterns needs some improvement as the light shines everywhere, but visibility is still top notch, and hence this is a minor issue.
More precise and clearer
Fully upgraded control chip
Longer service life
Efficient, fan-less cooling
Fast and more effortless installation
Beam pattern could be better

---
9. Lightening Dark LD-YSD-V28-H11 - Adjustable Beam Pattern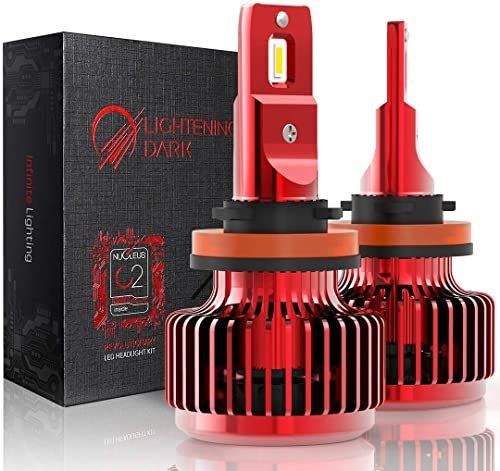 Power Source: CREE LED Chips
Lumens: 10,000
Color Temperature: 6000K
The 360-degree adjustable beam pattern is one of the main things that make these bulbs stand out. This adjustability is very convenient as it will allow you to get your desired light output and beam pattern.
Also, the advanced thermal analysis technology is a special feature as it will ensure more efficient heat management to ensure the LEDs never get too hot.
These are long lasting bulbs that will last up to 50,000 hours, which minimizes the bulb change frequency. And installation is also straightforward as these are mostly plug and play bulbs.
With the IP67 water resistant rating, these H11 headlight bulbs are ideal for use under heavy rain as they will never let in any water.
Being the second most expensive item on our list, some car drivers might find these bulbs a little pricier, but for a top-quality 10,000-lumen H11 bulb, the price is just right.
Conveniently adjustable beam
More efficient heat management technology
Longer service life
Effortless and fast installation

Suitable for use under heavy rain

---
10. Sealight X1 Series - Compact Fanless H11 Headlight Bulbs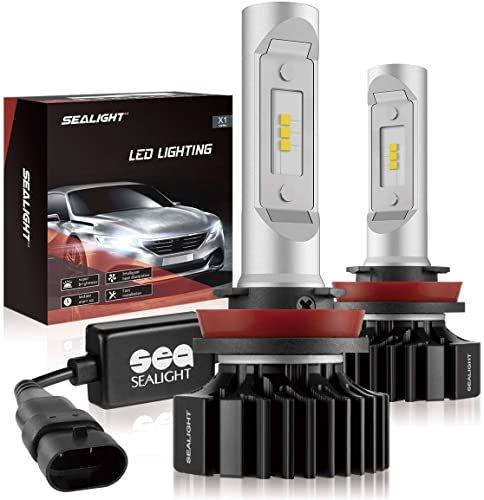 Power Source: CSP LED chips
Lumens: 6,000
Color Temperature: 6000K
Good headlight bulbs do not have to be bulky and heavy. Compact ones like the Sealight X1 Series still do an amazing job and will have a sleeker look. Also, these are fanless bulbs that use an advanced heat sink to provide super-quiet operation.
With these top quality headlight bulbs, you get an enhanced beam pattern that ensures the brighter light is focused down road to avoid blinding oncoming drivers.
They also have superior daylight optics that ensure excellent visibility and make the car look more stylish.
These bulbs provide a 50,000 hours service life, and they are plug and play with a 20-minute installation time.
The plastic tabs on these headlight bulbs seem a little weak, but a little extra precaution is all you need during installation to ensure you do not break them.
More compact & silent fanless bulbs
Excellent beam pattern

Longer bulb life
Superior daylight optics
Plug and play installation

Buying Guide for the Best H11 Headlight Bulb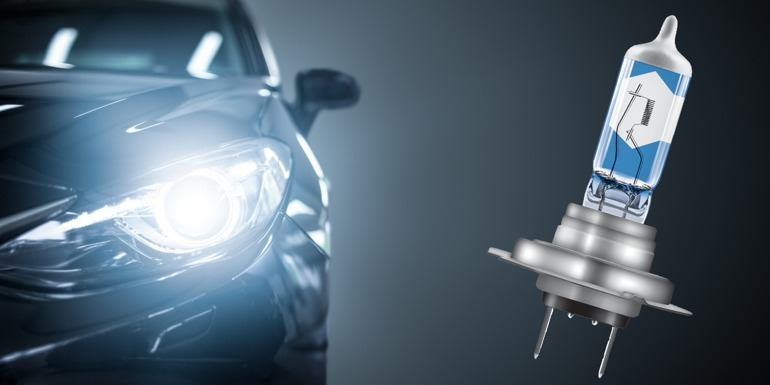 1. Compatibility
Before considering any bulb replacement, you must consider things such as its fittings and size among many others.
Of course, the bulb must have an H11 plug and should have the right measurements. Some bulbs do have a cooling fan that occupies a big space on the outside while others have cooling fins that might not allow the fastening fittings to fit around the bulb as you install it in the headlight socket.
Such things are important to consider so that you don't end up wasting your money on something that does not fit.
2. LED vs. Halogen
The two main technologies used in the manufacture of H11 light bulbs are LED and Halogen. LED headlight are basically brighter, more energy efficient, produce less heat and last longer than halogen bulbs. This is why many people are switching to top quality LED headlight such as Auxbeam 88621846.
However, halogen bulbs like Sylvania H11SU.BP2 have one major advantage. They are cheaper than LEDs.
Therefore, if you are on a tight budget, you can buy halogen bulbs to cover you for the time being. If you can afford LED headlight, they are the best option to have.
3. Brightness
Well, it goes without saying that bright bulbs are always better than dim ones. As such, it is important to consider the brightness of a bulb, which is measured in lumens.
The best H11 bulb to buy should be the highest lumen output because, it will illuminate the paths and roads in the best way possible as you drive at night.
However, there is the aspect of causing glares to oncoming traffic, and this might be a potential cause for accidents. Therefore, you should buy bulbs with technologies that focus the light beam on a smaller area as opposed to lighting up the whole area in front of the car.
For a good pair of H11 headlight bulbs, you should make sure that you go for something that will provide at least 3,000 lumens. But, a 12,000-lumen bulb pair like the Hikari V1-H11 will be an even better buy.
4. Color Temperature

Color temperature is basically a measure of light color. The right color temperature for your headlights depends on your typical driving conditions, and also the capacity you will be using the bulbs.
For fog lights 3000K to 4500K will be more appropriate as the longer wavelength of yellow light is better at penetrating fog particles.
If you are looking for a whiter and more natural light that is less harmful to the eye, 4500K to 5000K bulbs are ideal for your headlights.
But, 6000K and 6500K is more popular for H11 headlight bulbs as it is a cool white color. Aesthetically, this temperature gives your car a luxurious and more futuristic look, which many drivers prefer.
5. Lifespan
The lifespan of the H11 headlight bulbs that you buy also matters as you will not want to keep changing your bulbs now and then. Besides being expensive, this is also inconvenient.
A good pair of H11 bulbs should provide a service life of at least 30,000 hours like the Beamtech Smooth. But, the 50,000-hour life bulbs like Autofeel S9_H11_COB offer even better value.
However, note that the longer service life also makes these bulbs a little more expensive.
6. Ease to Install
You do not want to have to pay someone to install something as simple as a a headlight bulb. Hence, when picking up your bulbs, you need to make sure they are easy to install.
The good news is that most H11 headlight bulbs are designed to be plug and play, and their installation will take as little as 10 minutes.
To make sure that you have the easiest time with the installation, the bulbs you choose should also not require any additional wiring, modifications or tools.
Types of Headlights
Headlights are classified into different types of headlight beams: low beam, high beam and driving lamp. Low beam lights feature a more dispersed pattern than high beams, which is useful for illuminating large areas while traveling on straight roads. High beams concentrate most of their illumination forward while driving specific areas while turning corners. Driving lamps act similarly to that of high beams but do not project very far ahead on the road; they provide more direct illumination over both sides of the car at wider angles.

The brief information below is provided to allow for greater understanding of headlight types, how they work and the historical development of headlamps.

Low Beam (in North America) or dipped beam (in Europe)
A low beam provides a wide, dispersed pattern that lights up most areas of the road while driving on straight roads. Low beams are more likely to light up a reflective sign, pedestrian or animal from the side before an oncoming high beam would.

High Beam
A high beam provides a tall concentrated pattern that lights up the road ahead while driving at lower speeds and during turns. The tall illumination pattern can blind other drivers if used incorrectly, so care must be taken to avoid misfires.

High Beam with Driving Light (in Europe)
High beams provide a tall pattern for seeing very far ahead of the car. However, high beam lights can be misdirected if used incorrectly and before changing lanes; they could shine directly in oncoming drivers' eyes or at reflective signs/objects close to the side of the road.
Driving Lamp (in Europe)
A driving lamp acts similarly to that of high beams but projects light out wider angles than high beams. This would enable the driver to see both sides of their vehicle adequately while turning corners.
The Benefits of LED Headlights
LED headlight technology is a vast improvement upon the standard incandescent bulbs which have been used for decades. However, it should be noted that LED headlights are not suitable for all vehicles, and it's important to research what type of bulb best fits your car before purchasing.
LEDs Light the Way towards Energy Efficient Driving
Current halogen and HID headlights use massive amounts of energy. They can consume up to 65 watts on low beams and up to 100 watts on high beams, compared to the 10-15 watts of LED headlights. This is due in part because LEDs emit twice as much light per watt than halogens and they last significantly longer, meaning they need to be replaced less often.
LEDs Produce a Whiter & Brighter Light While LED headlights produce a bit less light than traditional halogen and HID headlights, they do so while emitting a brighter and whiter light, making them seem brighter to the human eye. In fact, LEDs emit more yellow light than blue or green light, helping your eyes to see more accurate colors at night.
HID headlight technology is used in high end luxury vehicles, while halogen headlights are found in most cars and trucks on the market
LEDs Dramatically Reduce Glare LED headlights produce significantly less glare than other types of lights, making them much safer for oncoming traffic. Since they emit no ultraviolet light and very little infrared light, LEDs are much less likely to distract other drivers.
LEDs Are Durable
LED headlights also last longer than their halogen or HID counterparts. They can easily last 50,000 hours before needing to be replaced. By comparison, halogen lights typically have a lifespan of between 1,000 ~ 2,000 hours, and HIDs last only 4,000 ~ 5, 000. This means that LED headlights can outlast both halogen and HID lights by a wide margin.
LEDs Are Efficient LEDs use up to 85% less energy than standard headlight bulbs. They also require less wattage when in use, making them ideal for high-drain situations like daytime running lights.
LEDs Are Safer
LED bulbs produce significantly less glare than halogen and HID headlights, making them much safer for oncoming traffic. Since they emit no ultraviolet light and very little infrared light, LEDs are much less likely to distract other drivers. This also means that LED headlights are ideal for use when driving during the day.
Environmental Benefits LED bulbs contain no mercury or other hazardous materials, which makes them much more eco-friendly than traditional headlights. They're also much easier to dispose of in comparison since they can be broken down into their base elements without causing harm to plants or animals near where the bulb is disposed of. All in all, LED headlight technology offers a number of key advantages over standard halogen and HID headlights, making them ideal for use in vehicles of all kinds.
FAQs about H11 Headlight Bulbs
Is H11 Same as 9005?
A: No, the H11 can be used for low beam, high beam and fog lights while the 9005 is just a high beam bulb. But, both are single beam bulbs.
What Does H11 Bulb Fit?
A: These are single position bulbs that can fit the low and high beam lights and also the fog lights in most vehicles. They are some of the most commonly used headlight bulbs.
Are All H11 Bulbs the Same?
A: No, they are not all the same. While they are made for the same purposes, these bulbs will differ in various aspects such as the overall design and material used, color temperature and also the light output.
Is H11 Bulb High or Low Beam?
A: Most can be used in both high and low beam capacities and will come with installation and conversion kits where necessary. However, some are made specifically for either low or high beam.
Are H11 Bulbs Interchangeable?
A: It depends on the specific model that you have on your headlights. In many instances, the socket and metal tabs need minor modifications or adjustments.
Buy them at eBay, Walmart, Etsy (limited quantity)
Philips 12362CVB2 H11 CrystalVision Ultra Upgraded Bright White Headlight Bulb, 2 Pack - Walmart, Etsy, eBay
Voltage Automotive H11 Halogen Headlight Bulb (10 Pack) - Standard Replacement For High - Walmart, Etsy, eBay
HIKARI 2023 HyperStar H11/H8/H9 20000LM Wireless LED Bulbs, 32W Acme-X LED Equivalent to - Walmart, Etsy, Ebay
XENTEC H11 (H8/H9) 6000K HID Xenon Bulb x 1 pair (Ultra White) - Walmart, Etsy, eBay
SYLVANIA - H11 XtraVision - High Performance Halogen Headlight Bulb, High Beam, Low Beam - Walmart, Etsy, Ebay
HELLA H11 2.0TB Twin Blister Kit High Performance Bulb, 12V, 55W, 2 Pack - Walmart, Etsy, eBay
PHILIPS - 12362B2 Philips H11 Standard Halogen Replacement Headlight Bulb, 2 Pack - Walmart, Etsy, eBay
SYLVANIA - H11 SilverStar Ultra - High Performance Halogen Headlight Bulb, High Beam, Low - Walmart, Etsy, eBay
AUXITO H8/H9/H11 LED Light Bulbs, 400% Brighter, Mini Size, 80W 16,000LM Per Pair, CanBus - Walmart, Etsy, Ebay
ALLA Lighting H8 H9 H11 LED Switchback Fog Lights, High, Low Beam Conversion Kits, DRL, - Walmart, Etsy, Ebay
the Phillips H11 standard bulbs - Walmart, Etsy, Ebay
Alla Lighting H11 LED Bulb - Walmart, Etsy, eBay
Conclusion for H11 Headlight Bulb Buyers

LED headlights are becoming increasingly common in new vehicles - but why? Depending on who you ask, they come with significant cost savings, increased safety, better performance and improved looks.

With the availability of multiple varieties of H11 bulbs and each having different features, your search for the best one will not be easy if you do not have the proper information. But, this piece takes care of this.
And while each model in our review above is fantastic, the Beamtech Smooth is our best overall. Besides, providing a good beam pattern, these are also low heat bulbs with easy plug and play installation.
However, for those that prefer to spend less cash on their H11 headlight replacement bulbs, the more affordable Alla Lighting H11 LED Bulb is a better choice.