Frequent engine breakdown or subpar performance is the last thing you want from your ATV(s), and that's where oil makes a difference.
Using the right ATV oil can help protect your ATV's engine by reducing friction, scuffing, and overheating.
It is specially designed to minimize issues such as rapid oil oxidation by high engine heat production, cold starts in low temperatures, and rapid component wear.
In our ATV oil review, we check out some of the leading product and their properties, while highlighting those that are suitable for your vehicle.
Editor's Recommendation: Top ATV Oils of 2023
Summary of 7 Best ATV Oils
IMAGE
PRODUCT
FEATURES

1. YamaLube AP04 (Best Overall)

Versatile multi-ATV oil
Stabilizes clutch performance
Reduces engine wear & tear
Reliable antifriction capacity

2. Lucas Oil 10720 (Best Inexpensive)

Affordable & long-lasting
Contains engine overheating
Effective sludge resistance
Reduces engine noise & wear

3. Honda 08C35-A141L01 (Best Brand)

Special Honda-based formulation
Reliable viscosity reduction
Resists thermal oil oxidation
Versatile multi-vehicle oil

4. Genuine Polaris PS-4 (Best for Engine Protection)

High 5W-50 film strength
Extreme cold startup protection
Efficient anti-wear prevention
Prevents engine rust & corrosion

5. Valvoline VV749 (Best for Maximum Power Transfer)

Maximizes engine power transfer
Versatile for ATVs & UTVs
Reliable engine-cleaning capacity
Oil-film breakdown resistance

6. Maxima 33901 (Best All-Weather)

Special all-weather formulation
Minimizes engine friction
Reliable engine protection
Easy handling & carrying

7. Ravenol J1V1401 (Most Economical)

Long-lasting & economical
Versatile multi-vehicle oil
All-season application
Reliable anti-corrosion capacity
Top 7 Best ATV Oil Reviews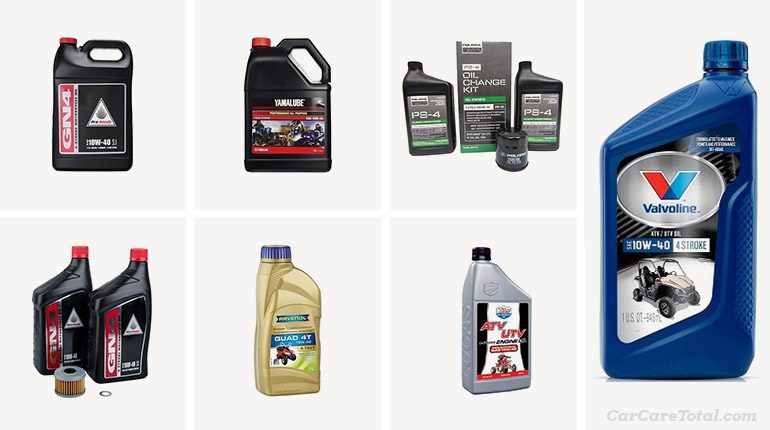 1. Best Overall: YamaLube AP04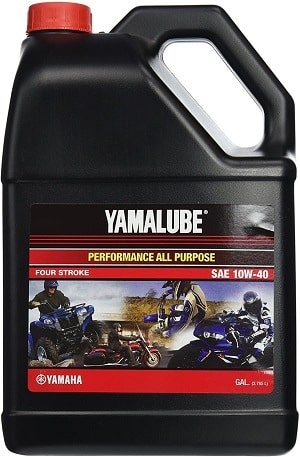 Viscosity: 10W-40
Quantity: 1 gal.
The performance versatility and reliable engine protection offered by YamaLube AP04 makes it the best oil for ATV engines.
It' a genuine OEM product designed by Yamaha for all-purpose use, making it versatile and ideal for ATVs, motorcycles, side-by-side vehicles, and many more types. If you're an avid off-roader, you can use the same oil across multiple vehicles.
This oil has proven highly reliable in supporting stable clutch performance and strength, effectively protecting your ATV's engine from accelerated wear and tear.
The AP04 combines a mineral-base oil blended with ultra-clean additives to boost the compound's enhanced antifriction properties.
Also, because this oil meets the JASO MA requirements, it ensures wet-clutch performance is always at an optimum.
A slight inconvenience of the YamaLube AP04 is its pour mechanism, which although comes with a shinespout to eliminate spilling, may not be the best at air intake for flawless pouring.
Versatile for multiple ATVs
Boost clutch performance
Reduces engine wear
Reliable antifriction capacity
Oil flow mechanism could improve

---
2. Best Inexpensive: Lucas Oil 10720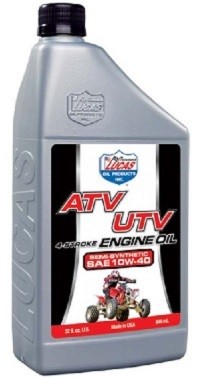 Viscosity: 10W-40
Quantity: 0.2 gal.
Lucas Oil 10720, our best inexpensive ATV oil, is specially formulated to reduce friction and resultant heat generated by slow-moving engine components.
It works great with air-cooled engines in ATVs and other vehicles that rely heavily on wet clutch applications. Since slow-moving engines can produce immense amounts of heat that may accelerate wear and tear, the oil steps in to keep regulate the high temperatures.
The oil has just the perfect 10W-40 viscosity, to prolong lubrication and eliminate any form of leakages that may occur due to worn out seals and gaskets. Also, it reduces engine noises.
You can count on the oil to eliminate varnish formation and improve sludge resistance thanks to its special formulation that includes dispersants and high detergent levels.
Disappointingly, however, the Lucas Oil 10720 comes in a low 0.2-gal quantity. Even though this is a budget oil, you may need to grab a couple of these bottles if your usage is high.
Low-cost specialized oil
Lowers engine temperatures
Reliable sludge resistance
Reduced engine noise

---
3. Best Brand: Honda 08C35-A141L01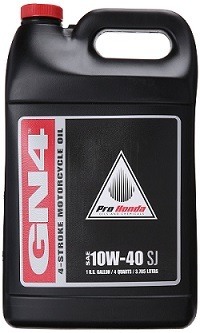 Viscosity: 10W-40
Quantity: 1 gal.
Since 1975, with its launch of the GN4, Honda has been an industry leader in the development of high-performance motorcycle oil, and the 08C35-A141L01 is another standard-setting ATV oil by the brand.
Honda, a household name in the ATV and motorcycle industry makes this excellent oil based on its rich understanding of high-performance vehicle demands.
For this oil, Honda adopted high-cost shear-stable polymer additives that resist viscosity and reduce the rate of thermal oil breakdown, common problems experienced in motorcycle engines.
Because of the oil's excellent engine protection, it is highly versatile. Honda recommends it for use on 4-stroke ATVs, motorcycles, watercraft, MUVs, scooters, and can even be used as transmission lubricants for Honda 2-stroke ATVs and scooters.
By making this formulation your go-to oil, you can expect it to reduce engine stress on your vehicles if they are compatible.
Because the Honda 08C35-A141L01 is optimized and specifically built for motorcycle engines, owners of other ATV types may miss out on its proven benefits.
High-performance lubrication
Reliable viscosity reduction
Versatile for multiple ATVs
Reduces engine stresses
Not ideal for non-motorcycle ATVs

---
4. Best for Engine Protection: Genuine Polaris PS-4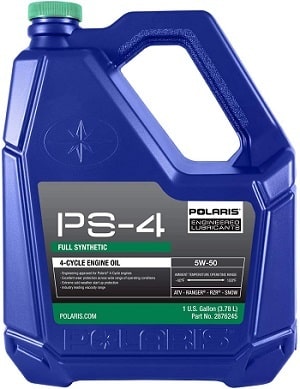 Viscosity: 5W-50
Quantity: 1 gal.
Genuine Polaris PS-4 boasts of a superior engine protection capacity against both wear and effects of extreme weather conditions, including cold starts.
To provide engine protection not common in other engine oils, this one is formulated with a low 5W-50 viscosity, which supports high-performance engines, extreme driving conditions, and equally harsh operating conditions.
It has a high film strength, which protects 4-cycle engines against wear across a vast range of applications. The same feature helps eliminate the challenges associated with cold start-ups, typically associated with cold weather.
The oil's protective capacity is further boosted by its adoption of anti-wear additives, which protect the engine and its components against rust and corrosion.
You can use this engine oil across multiple 4-cycle engines by Polaris, including ACE, Sportsman, Ranger, and RZR.
The protective capacity of Genuine Polaris PS-4 does, however, comes at a premium price, as this oil is the most expensive on our list.
High-performance viscosity
Cold weather startup protection
Excellent anti-wear capabilities
Rust and corrosion prevention
Pricey compared to rival oils

---
5. Best for Maximum Power Transfer: Valvoline VV749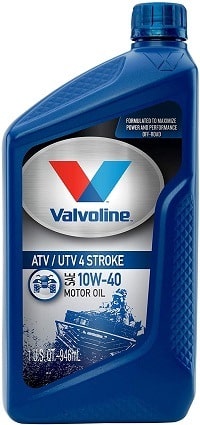 Viscosity: 10W-40
Quantity: 0.2 gal.
Efficient power transfer within the engine can boost your ATV's performance, and that's just one of the many benefits that the Valvoline VV749 ATV oil offers.
The oil boasts of a special formulation, which protects the wet clutch system of your ATV's engine, to boost power transfer.
Besides power maximization, the oil offers superior engine protection, even in harsh operating conditions, across both ATV and UTV engines. There's some aspect of versatility the oil offers that others don't.
You'll be pleased to learn that VV749 has a reliable engine-cleaning capacity, thanks to its adoption of cleaning agents and dispersants.
This oil boasts of shear-stable viscosity enhancers that help improve the oil-film breakdown resistance. Because of the reduced oil oxidation, it will last longer in off-road engines while maintaining reliable protective performance.
We do wish, however, that the Valvoline VV749 came in a higher capacity than the 0.2-gal you get. If your oil usage is high, you may need to buy a couple of these oil bottles.
Boosts engine power transfer
Protects ATV & UTV engines
Resists oil-film breakdown
Provides longer lubrication

---
6. Best All-Weather: Maxima 33901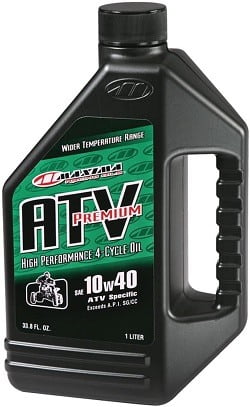 Viscosity: 10W-40
Quantity: 0.22 gal.
If you want ATV oil that performs with consistency to protect your vehicles across all weather conditions, Maxima 33901 is your best bet.
This ATV oil is made using a weather formula that targets friction reduction and minimization of engine temperatures in all weather conditions. It will simplify your engine starts even in cold weather, where this process can prove problematic.
The same formula includes anti-scuff additives, which help the engine handle significant loads, especially in high-performance engines. They boost performance while reducing friction and component wear.
It especially thrives in stabilizing 4-cycle engines with wet clutches and integrated transmissions. Advanced anti-wear additives will protect your ATV engines for longer and better performance.
In addition, the oil bottle comes with an integrated side handle that not only enhances grip but also simplifies transportation.
Disappointingly, however, this particular 1-liter bottle of Maxima 33901 is rather pricey given the quantity you get.
Superior all-weather reliability
Reduced engine friction
Protects high-performance engines
Easy to handle and carry
Expensive for the 1-liter quantity

---
7. Most Economical: Ravenol J1V1401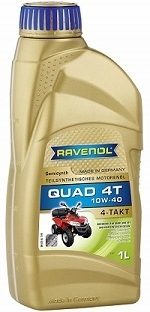 Viscosity: 10W-40
Quantity: 0.22 gal.
The Ravenol J1V1401 ATV oil is economical not just in cost, but also in consumption.
Because of the oil's superior quality and low susceptibility to evaporation, its consumption rate is significantly lowered. The net effect of these factors is long-lasting oil that saves you money, in the long-term.
It is a highly versatile oil that's proven reliable in lubricating 4-stroke ATVs and UTVs, Yamaha, Kawasaki, Honda, Suzuki, and Polaris vehicles while offering maximum engine protection.
Even when the outdoor temperatures are extremely low or high, the reliability of this oil is consistent. Its lubricating film strength remains optimal, thus providing superior wear protection against engine components. The oil also demonstrates excellent anti-corrosion properties.
You'll also be pleased to learn that this oil is suited for wet clutch systems and catalytic converters. Besides, it supports all-season usage.
It's a disappointment that this low-consumption oil comes in 0.22-gal bottles, and although there's a bigger 1-gal option, you will need to pay more for it.
Low-cost & low-consumption
Low evaporation rate
Reliable engine protection
Prevents component corrosion

How to Buy the Best ATV Oils
1. Compatibility
Even though this may not be obvious, you should start by reading your vehicle's manual to determine the recommended type of ATV oil for it.
It's not uncommon to find your vehicle' manufacturer recommend a certain type or brand of oil while discouraging the use of another.
If your ATV's engine generates a low of heat, you may discover mineral oil to be the most ideal, simply because of its high-temperature resistance, even though it is inferior to synthetic equivalents.
2. Types of Oil
Mineral: This oil is the conventional type, which is 100% organic because it is obtained directly from the ground.
While it is affordable, ATV enthusiasts tend to shy away from it because these vehicles' engines tend to get hot, an occurrence that could accelerate mineral oil usage.
Semi-synthetic: As the name hints, this oil is a blend of both mineral and synthetic oils. While it may not match the performance of pure synthetic equivalents, it does offer decent value over mineral oil, at affordable prices.
Synthetic: This is the most popular and high-performing type of ATV oils available. Because it is not naturally-occurring, the oil is made using chemical components.
Since the process of creating these oils is highly controlled, the products can be tweaked to suit different performance demands, which can be of great benefit to ATV vehicles.
Read More: The Best Synthetic Oils
3. Viscosity
Viscosity is a vital feature of ATV oil and a critical consideration when it comes to choosing the ideal product for your vehicle.
To eliminate any misconceptions, viscosity is simply the resistance of a fluid to flow. High-viscosity fluids resist flow more than low-viscosity ones.
Oil viscosity is determined by the Society of Automotive Engineers (SAE). The rating begins with a suffix (0, 5, 10, 15, and 25) and then a letter, "W", which indicates the oil is graded for winter use.
That's why you'll see SAE ratings such as 10W-40 or 10W-50 on many ATV oils in the market.
High viscosity oils, typically rated as 10W-40 are great for ATVs operating in cold temperatures. Some ATVs will demand less viscous oils such as the 5W-50 Genuine Polaris PS-4, for increased engine performance.
4. Brand
The brand of oil you choose can make the difference between excellent or sub-par engine performance. It's important to understand that not all brands perform the same when it comes to ATV oil.
Luckily for you, many of the brands featured in our list have been reputable and proven in their production of reliable and high-performance ATV oils.
You can't go wrong with oils from household brands such as Honda, Yamaha, Polaris, Kawasaki, and similar top-performing ones on our list.
ATV Oil Frequently asked questions
1. Can I Use Car Oil for my ATV?
Technically, yes. You can use regular motor oil in your ATVs. But this approach may not be ideal given that ATV oils are specially formulated for such vehicles.
ATVs generate a lot of heat and some have their engines and transmissions designed in such a way that they demand the same oil type to run efficiently.
2. How often Should I Replace Oil on my ATV?
There's no definite schedule for ATV oil changes. How often you replace the oil may demand on your vehicle's usage.
To be on the safe side, however, you can aim for an oil change after every 100 hours of ATV riding. Of course, you may not ride your ATV this much, so if you're the occasional use, an annual oil change should ensure everything is running smoothly.
Buy on Walmart
YamaLube All Purpose 4 Four Stroke Oil 10w-40 1 Gallon - Walmart Link
Lucas Oil 10720 Engine Oil - 1 Quart - Walmart Link
HONDA 08C35-A141L01 Honda Pro GN4 Motor Oil, 10W40, 1 gal - Walmart Link
Kimpex Synthetic Engine Oil Lubricant 10W40 4 Stroke 1 Gallon ATV, Motorcycle 260621 - Walmart Link
Maxima 33901 ATV Premium 4T 10W-40 Motorcycle Engine Oil - 1 Liter Bottle - Walmart Link
Kawasaki ATV/UTV Engine Oil 10W40 1 Gallon K61021-304 - Walmart Link
MASSIMO MOTOR Premium High Mileage Full Synthetic Oil 10W-40 4 Qt. or 1 Gal for Most UTV - Walmart Link
Buy on eBay
YamaLube All Purpose 4 Four Stroke Oil 10w-40 1 Gallon - eBay Link
Lucas Oil 10720 Engine Oil - 1 Quart - eBay Link
HONDA 08C35-A141L01 Honda Pro GN4 Motor Oil, 10W40, 1 gal - eBay Link
Kimpex Synthetic Engine Oil Lubricant 10W40 4 Stroke 1 Gallon ATV, Motorcycle 260621 - eBay Link
Maxima 33901 ATV Premium 4T 10W-40 Motorcycle Engine Oil - 1 Liter Bottle - eBay Link
Kawasaki ATV/UTV Engine Oil 10W40 1 Gallon K61021-304 - eBay Link
MASSIMO MOTOR Premium High Mileage Full Synthetic Oil 10W-40 4 Qt. or 1 Gal for Most UTV - eBay Link
Conclusion for ATV Oil Buyers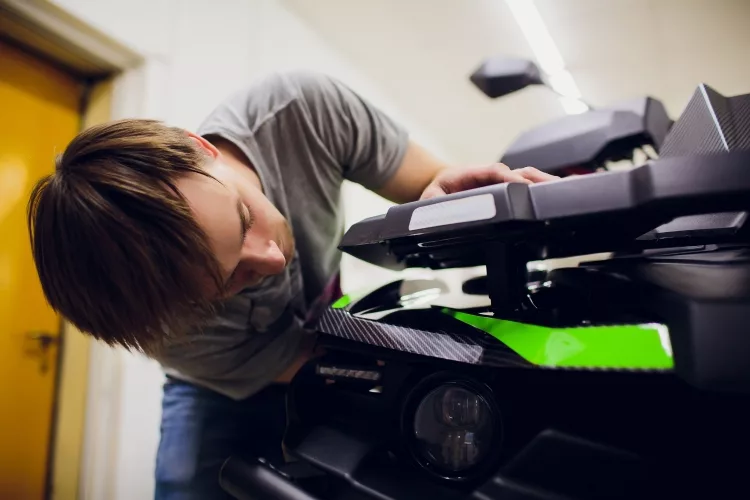 Having checked out the benefits ATV oil introduce to your vehicles, it's clear they are essential in safeguarding and maintain your ATVs.
If you're looking for the best ATV oil of them all, grab our top ATV oil recommendation, the YamaLube AP04. It is versatile for multiple vehicles, and great at stabilizing clutch performance.
If you're on a budget but desire good-quality oil for your ATV(s), Lucas Oil 10720 is an inexpensive option that's optimized for wet clutch, slow-moving engines.
And if your goal is enhanced engine protection, Genuine Polaris PS-4 ATV oil is the one to choose.