Every fuel injection system gets particle buildup over time and this usually results in poor engine performance.
While emptying a bottle of cleaning solution into your car's tank works in remedying the situation, there are times when an intensive cleaning becomes necessary. In such cases you need to have the best fuel injector cleaning kit.
Fuel injector cleaning kits do a much better job than simply pouring cleaning liquid into your car's fuel tank. These are more comprehensive cleaning tools that makes use of a compressed air to effectively circulate the cleaning solution throughout the fuel injector.
Because these kits will come in different designs and models with varying levels of effectiveness, here we aim to help you choose the best ones. And we do this by providing a list of some best performing ones and a buying guide.
Editors' Picks for Top Fuel Injector Cleaning Kits of 2021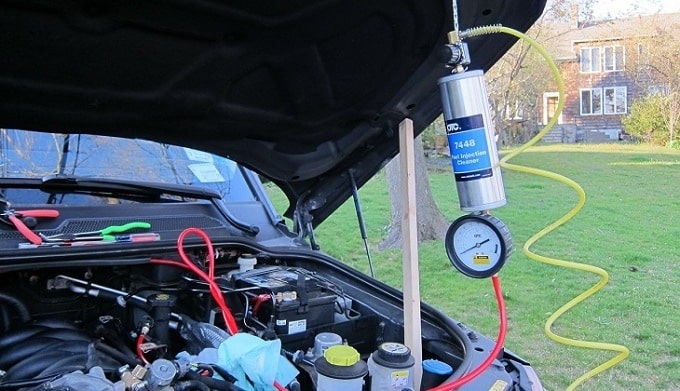 Summary of 7 Best Fuel Injector Cleaning Kits
IMAGE
PRODUCT
FEATURES

1. OTC Tools 7448A (Best Overall)

Made from durable stainless steel
Full size cap

30,000 PSI pressure handling
Removable hose

2. OTC Tools 7649A (Best Brand)

Top brand kit

Wide throat design

Easy to read gauge
Most common rail adapters included

3. Mityvac MV5565 (Best Universal)

Universal fuel injector compatibility
High quality pressure gauge
Steel and die-cast aluminum construction
Adjustable regulator

4. Autool C-100 (Best Budget)

Budget-friendly kit
Different adapters included
Precise oil pressure gauge

Solid carry case

5. OTC 6550PRO (Best Professional)

Professional-grade kit
47 fittings included
Analog pressure gauge
Comes in a carrying case

6. OTC Stinger 4480 (Basic but Useful)

Service kit for general testing
Dual scale gauge

Includes many adapters

Heavy-duty carrying case

7. S.U.R. & R. FIC203 (Easy to Use Kit for Diesel and Gasoline Engines)

Works on gasoline and diesel engine

Universal adapter set

Uses any canister cleaning solution
Carrying case included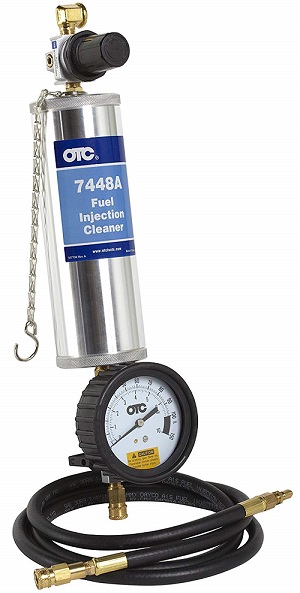 Fittings: None
Included hoses: 1 piece
Pressure gauge: 1 piece
OTC also offers a simple and easy to use fuel injector cleaning system that you can quickly use to clean up your car and get it back to top performance. But, what makes this our best overall product is that it has been machines from stainless steel for a long service life.
This canister has a 22 oz. capacity, and it can handle air compressor pressures of up to 30,000 PSI. And it also includes an analog pressure gauge for easy monitoring when cleaning
This fuel injector cleaning kit will meet the SAE J30R9 standard for safety. And with the full cap design you can easily add solvent with no spill or messes. Many users will also love the removable hose as it will make storing the kit easier.
It does not come with a cleaning solvent anyway, but OTC makes a strong recommendation of the right cleaning solution to use. Another extra that you'll need is, of course, an air compressor.

---
Fittings: Yes
Included hoses: 1
Pressure gauge: Yes
OTC has been the leading brand in the manufacturer of fuel injector cleaning kits for some time now. Hence, if you are looking for a top brand kit, their OTC Tools 7649A will be a good starting point.
This fuel injector cleaning kit includes some of the most common adapters, enabling you to easily adapt the canister to lots of domestic and imported vehicles. And with the wide throat design you add solvent without spilling.
It includes several quick connect adapters, a spring lock coupling adapter, as well as a de-carbonizing adapter for manifold cleaning. You also get a blowout fitting attachment for cleaning the tool when done.
The canister is made from stainless steel with a 22-oz capacity. It includes an analog gauge for precise outlet pressures and a wide throat for easier fluid transfers.
The relatively higher price and lack of cleaning solution or carrying case are the few downsides, but they are all things that you can live with given the superior performance of the kit.

---
3. Mityvac MV5565 - Best Universal Fuel Injector Cleaning Kit
Fittings: No adapters
Included hoses: 1 hose
Pressure gauge: Yes
Mityvac offers this universal fuel injector cleaning kit for anyone looking for something they can use on different kinds of vehicles as it will be useful for cleaning almost any vehicle on the road today.
This cleaning kit helps you to quickly and cleanly remove all fuel injector deposits, to dissolve, loosen, and get rid of all carbon deposits that hinder your car engine's performance.
The canister is 32 ounces Large, it's made from steel and die-cast aluminum for a long service life and it includes an easy-to-read gauge, an air nipple, plus inlet and outlet valves.
On the flip side, although the package includes a wall mount bracket, it does not include a carrying case and it comes with no fittings like the OTC offer above.

---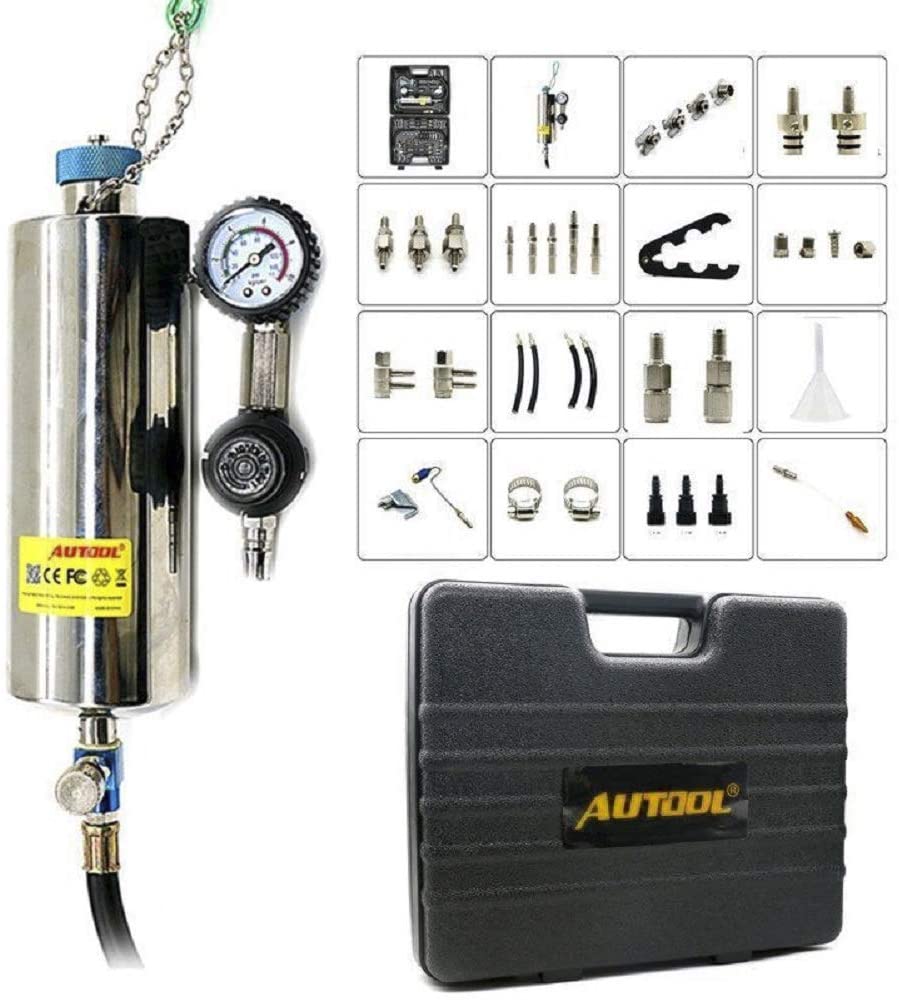 Fittings: Yes
Included hoses: 1 hose
Pressure gauge: Yes
Autool C-100 is a more budget-friendly fuel injector cleaning kit that will be perfect for any motorist looking for a more cost-effective way of cleaning up their fuel injectors.
This kit is also designed to be ideal for use on a wide variety of vehicles as it will come with several adapters that will suit different fuel injector systems.
Also, this fuel injector cleaning kit will include a highly accurate pressure gauge that will make it easy to set the pressure and also ensure you can do it more accurately. And with the hard carry case, it will be easy to organize and carry this kit.
The instructions that will come with this fuel injector cleaning kit seem a little wanting. But, you should still be able to figure things out. Furthermore, there is more than enough information online.

---
5. OTC 6550PRO - Best Professional Fuel Injector Cleaning Kit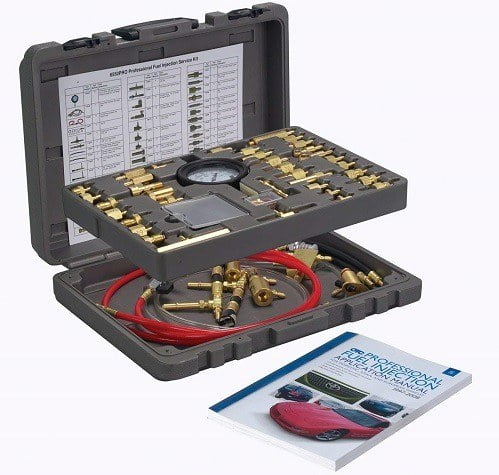 Fittings: 47 pieces included
Included hoses: Yes
Pressure gauge: Yes
If you are looking for the best fuel injector cleaning kit for professional use, you should take a closer look here. This kit is the perfect fit for a professional as it has everything required from plenty of fittings to a solid overall build.
There is a total of 47 different fittings for as many situations as possible and OTC additionally includes its application manual to ensure you know what you need for different vehicles.
The package also includes an analog gauge for setting the right pressure and for running different flow rate pressure tests.
It comes with a lifetime warranty, but it doesn't come with a cleaning solution, so you'll need to buy your own cleaner. It's also not cheap.

---
6. OTC Stinger 4480 - Basic but Useful Fuel Injector Service Kit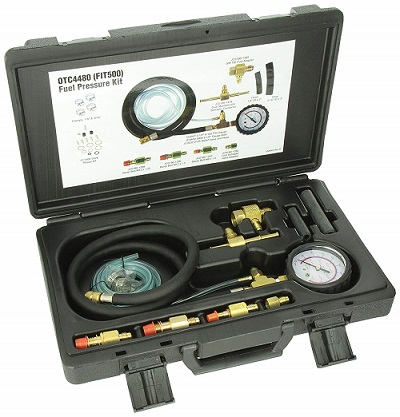 Fittings: Yes
Included hoses: Yes
Pressure gauge: Yes
Unlike OTC's master Kit above, this kit is more basic and is strictly for running different tests on different vehicles. But it is still highly effective as it offers you a possibility of attaching a canister and turning it into a cleaning kit.
There are also plenty of fittings on this kit that will ensure that you get adapters for a wide variety of applications and for different vehicles.
The kit includes a dual-scale pressure gauge, a fuel discharge hose, adapters, and protective rubber feet, all packed into a blow-molded carrying case for your convenience.
This set is a great addition to your shop is you've already got a canister injector cleaner and an air compressor. However, even with the many adapters, this kit still does not work for all vehicles.

---
7. S.U.R. & R. FIC203 - Easy to Use Kit for Diesel and Gasoline Engines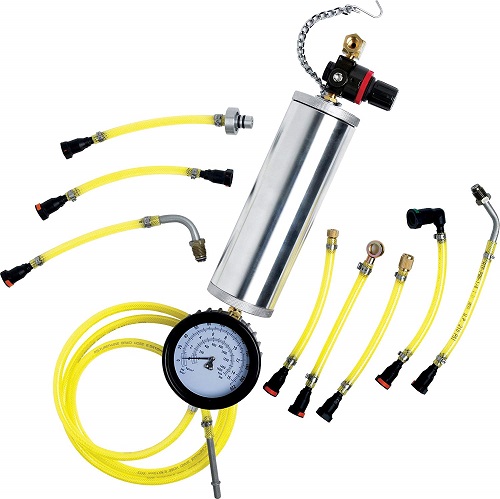 Fittings: Many
Included hoses: Many
Pressure gauge: Yes
The S.U.R. & R. FIC203 is an easy-to-use fuel injector cleaning kit that will be ideal for use on both gasoline and diesel engines. It comes as a 10-piece kit with the most popular fittings necessary for cleaning up to 80% of domestic and import cars.
The canister has an 18-oz capacity, and it can use almost any fuel injector cleaning solution out there. Its transparent lines allow you to see and watch the fuel easily while the gauge is large and clearly marked for easy reading.
This package arrives in a carrying case for your convenience, the canister includes a hook for hanging it on your hood, and it allows for an easy air compressor connection.
The downsides include its relatively high price when compared to other kits out there but the quality and functionality make it worth the extra bucks.

How to Buy the Best Fuel Injector Cleaning Kits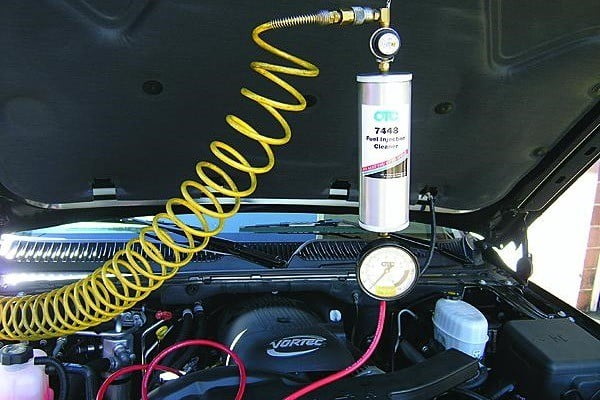 1. Fittings
The fittings are probably the most important aspect of any fuel injector cleaning kit because they're what makes the exchange of the cleaning fluid between the cleaning kit and the car possible.
Some kits will come with just a few fittings while others like the OTC 6550PRO will come with nearly 50 fittings. Such fully loaded kits make it possible for you to work on just about any car, so you should check how versatile you want your kit and then decide on a kit size.
2. Brand & Price
Some brands like OTC are well-known when it comes to fuel injector cleaning kits and the good thing about buying from a popular brand is that you can trust the product's quality.
The disadvantage though is usually a higher price than competitor's products, so you have to decide on what you want: A higher priced brand product or a cheaper product from an unknown brand.
3. Individual Skillset
As you shop for the best fuel injector cleaning kit, you will also need to keep individual skillset in mind because you will want something that you can use effectively.
For the more experienced motorist and mechanics that have used several of these kits on the past, almost any can work well.
However, if you are a beginner using one for the first time, it will be a good idea to go for something like the Wisamic A070034 as it is a free disassembly tool that anyone can use even with no knowledge on car assembly.
4. Fuel Injector Pressure Testing
When cleaning up your fuel injector, pressure testing will always be an essential part of the job, and so the kit that you choose should make this possible.
Kits that will come with a manual pressure gauge will be very useful here. But something that will allows you to run a wide variety of performance pressure tests like the OTC Stinger 4480will be even more appropriate.
How to Use a Fuel Injector Cleaning Kit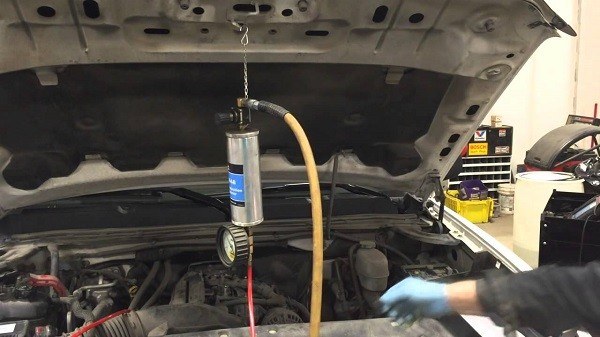 Unlike conventional fuel injector cleaners that you can just pour into your fuel tank, a fuel injector cleaning kit needs you to open your car's hood and do some work.
Don't worry though, because it's a simple and straightforward process, as you'll see from the step-by-step guide below:
First Things First - What You'll Need
You'll need the following items for a successful operation
The fuel injection cleaning kit
An air compressor
Hand tools
Safety glasses
Step 1: Locate the Connector
The connector is a spot inside your car's hood, on the fuel rail, to which you can connect your cleaning kit. This connector is, of course, different from car to car, so you'll need to find it and make sure the fittings that came with your cleaning kit fits it properly.
You won't connect the cleaning kit to it just yet. All you need to do is find it and make sure everything is okay and ready to go. Depending on your car, the connector could be a rubber hose or a threaded fitting.
Step 2: Warm up Your Car
Simply start your car's engine and let it run for a while. All you need is for the engine to reach its normal operating temperature, and you can easily see this from the car's temperature gauge.
Step 3: Prepare the Cleaning Solution
Your cleaning kit may or may not come with a cleaning solution. This is the time to mix it according to instructions and get it ready. Of course, you'll need to buy an injector cleaning solution if your kit lacks one.
Step 4: Turn off the Engine
Once the engine reaches its normal operating temperature, simply switch it off.
Step 5: Disable the Fuel Pump
After killing the engine, you'll need to disable the car's fuel pump. This is a very important step, so you shouldn't overlook it. You can either disconnect the fuel harness or remove its fuse from the fuse panel, just make sure it will not pump any fuel when the engine starts.
Step 6: Prepare and Mount the Cleaning Kit
Now is the time to fill your canister with the solution and to get it ready. Attach all necessary hoses and fittings according to the manufacturer's instructions and hang it from your hood if it's got a hook. Also, connect the kit to the connector you found in step 1.
Step 7: Add pressure
Once you've connected all other parts of the cleaning kit, it's then time to connect your compressor's air hose. Compressed air is important here because it creates the same amount of pressure that your car's injection system normally works with.
You may need to go through your car's manual to find the right pressure. What you need is that the pressure coming from the kit and into your engine's connector matches the pressure that your car's engine normally works with.
Step 8: Start the Engine
After matching the two pressures, start the car's engine and let it run for as long as necessary to empty the contents of the canister into the engine or as otherwise directed in your cleaning kit's manual.
Step 9: Kill the Engine
After the specified amount of time has elapsed, simply kill the engine and disconnect the cleaning kit.
Step 10: Remember the Fuel Pump
After disconnecting the cleaning kit and packing it away, you should remember to reconnect your car's fuel pump too. Your injectors should definitely be properly cleaned by now, so check to make sure that the dirty injector symptoms are gone and that's it.
Conclusion
There is a good fuel injector cleaning kit for your vehicle out there, and you will only need to find it by considering your specific needs and budget.
With that in mind, the OTC Tools 7448A takes our best overall spot as it comes with a durable stainless steel caster for a long service life and will clean both fuel rail and injector.
For those looking for a more affordable option that offers great value for money, the Autool C-100 will be an excellent buy.
Sources
How to Use a Fuel Injection Cleaning Kit - Your Mechanic