With every passing day, the fuel injector loses its smoothness and creates problems while driving. And in most instances, it is often a result of clogging as minute particles from the fuel and carbon deposit accumulate over time.
However, the good news is that cleaning it is super easy as you only need to have the best fuel injector cleaner.
The fuel injectors are built to take the performance of your car engine to a whole new level. And they do this by removing carbon deposits to keep the system clean for a smoother fuel injection.
A fuel injector increases mileage, deals with leaks in the nozzles, and improves the overall vehicle performance. And it should be used every 1,000 miles on an average to get improved the best results.
Here we are all about helping you choose a good fuel injector for your vehicle, and we do this with in-depth review and a detailed buying guide.
Top Fuel Injector Cleaners of 2021 by Editors' Picks
Summary of 7 Best Fuel Injector Cleaners
IMAGE
PRODUCT
FEATURES

1. Red Line RED60103 (Best Overall)

Quantity - 15 fluid ounces
Reduces octane need by 2 points
Concentrated and detergent based
Safe for continual use

2. Chevron 65740 (Best for Gasoline Engines)

Quantity - 20 fluid ounces
Excellent for all gasoline engines
Restore lost power and improves fuel economy
Minimizes cold starts

3. Lucas LUC10003 (Best Value for Cash)

Quantity - 32 fluid ounces
Good value for money
Great for passing smog test
Ideal for both diesel and gasoline engines

4. BG 44K (Best Complete System Cleaner)

Quantity - 11 fluid ounces
Cleans up the entire system
Improves drivability
Works with all fuel system materials

5. Royal Purple 11722 (Best Long-Lasting)

Quantity - 20 fluid ounces
More long-lasting protection
Ideal for both gasoline and diesel engines
Prevents stalling, hesitation and rough idling

6. Liqui Moly 2007 (For Improved Performance & Drivability)

Quantity - 10 fluid ounces
Improves performance and drivability
Eliminates starting problems
Improves throttle response

7. Royal Purple 18000 (Cheap but Efficient)

Quantity - 6 fluid ounces
Highly affordable but efficient
Improves vehicle responsiveness
Enhanced power and overall performance
1. Red Line RED60103 - Best Overall

Compatible: Both Gasoline and Diesel
Cleanup: 30 gallons
Red Line is a top notch fuel additive made to take care of your vehicle. It is a concentrated and detergent based fuel additive that effectively cleans the valves, injectors, carburetors, and chamber deposits.
Also, it contains synthetic upper cylinder lubricant which is safe to use for your cars. It has the potential to clean nearly 100 percent in a single treatment so if you use it frequently you can go longer between treatments.
Moreover, this fuel injector cleaner is a perfect choice as it reduces need for octane by up to two points and one bottle keeps the vehicle in good shape for many miles
While the fuel economy might not increase very significantly when using this fuel additive it still makes up for this with many other

---
2. Chevron 65740 - Best for Gasoline Engines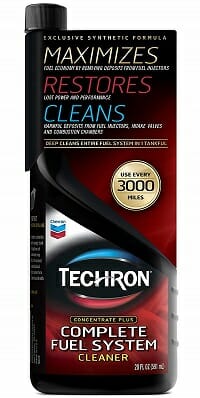 Chevron Techron has been manufactured to clean and protect the entire fuel system. It is capable of dealing with carburetors, intake valves, fuel injectors and combustion chambers.
This system cleaner is an effective solution that suits both old and new engine needs. And by getting rid of deposits, it also increases the mileage.
This fuel injector will also restore lost fuel economy, lost power and fuel gauge sensor operation to give excellent performance.
Moreover, this cleaner system improves cold start problem and fuel stability for up to one year. Also, it reduces engine surge, rough idle, spark plus fouling and hesitation to improve the vehicle's overall performance.
Besides regular vehicles, you can also use it on motorcycles, boats, water craft, dirt bikes, RVs, ATVs and even lawnmowers.
For the best results, you need to regularly use this fuel additive as it is not a one-time solution, but you will not find any fuel injector cleaner, so this should not be a deal-breaker.

---
3. Lucas LUC10003 - Best Value for Cash

Compatible: Both Gasoline and Diesel
Cleanup: 100 gallons
This top-rated fuel injector cleaner by Lucas which is good for both diesel and gasoline engines. Besides fuel injectors, it also works well for carburetors.
This cleaner gives your fuel system everything in right quantity to keep it up and running.
With a blend of super slick oils and additives containing high detergent, this fuel cleaner makes the engine operate efficiently. It burns the fuel properly so the consumption is less and power increases.
Plus, if you are concerned about passing smog tests, this cleaner is the right pick. Since it is used in vehicles requiring leaded fuel, it takes care of harmful emissions as well.
Other than that, it is effective in neutralizing the harmful effects caused by low sulphur diesel fuel. And because it cleans up to 100 gallons, it will give you the best value for cash given its smaller price tag.
Gas mileage might not increase significantly when using this fuel injector, but it improves the vehicle's overall performance.

---
4. BG 44K - Best Complete System Cleaner
Compatible: Gasoline
Cleanup: 20 gallons
BG 44K brings you this fuel system cleaner to help clean the entire fuel system quickly and efficiently.
Moreover, this fuel system is an effective cleaner when it comes to ports, combustion chambers, fuel injectors and intake valves.
Also, this cleaner increases power output as well as reduces problems like stumble, stalling, engine surge, power loss and hesitation. It works well with alcohol blended fuels and common fuel additives.
This product improves driveability and delivers quick clean up of corrosive deposits present in the fuel sending unit and coked fuel injectors. It is alcohol free and oxygen sensor safe.
For an 11-ounce bottle, this fuel additive seems a little pricier, but it is worth it for a premium quality product. And even with no significant mileage increase it is still one of the best fuel additives out there, thanks to the improved overall engine performance.

---
5. Royal Purple 11722 - Best Long-Lasting Fuel Injector Cleaner

Compatible: Both Gasoline and Diesel
Cleanup: 20 gallons
This Royal Purple product is a top quality additive that works both for gasoline and diesel engines. And it is well known to maximize the performance of your fuel system.
It enhances fuel economy whilst restoring horsepower of the vehicle. Also, it contains high performance synthetic ingredients to clean the entire fuel system to deliver exceptional results.
Moreover, this product deeply penetrates into the fuel system to effectively clean the injectors, combustion chambers, intake valves and carburetor.
Plus, it takes care of engine knocking and pinging while also preventing common problems like hesitation, stalling and rough idling. And it meets EPA/CARB compliance standards.
You can use it for both 4 cycle and 2 cycle engines and it will also come in handy for stabilizing the fuel during storage.
Price is probably its only significant shortcoming but for 20 ounces of product, it is still fairly priced.

---
6. Liqui Moly 2007 - For Improved Performance and Drivability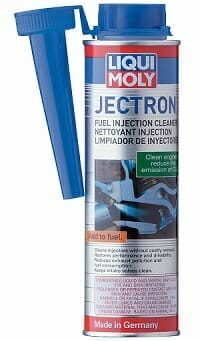 Compatible: Gasoline
Cleanup: 18 gallons
Liqui Moly 2007 is a good fuel injector cleaner that will help improve your vehicle's overall performance and also make it more environment-friendly by minimizing emissions.
This cleaner makes sure to remove carbon deposits, and clean fuel pipe, inlet valves, fuel distributors, injection valve deposits efficiently.
By cleaning the contaminated petrol injection systems, it offers effortless starting, low pollution, smoother idling, no lean surging, good throttle response and environment friendly combustion.
Moreover, it is helpful in restoring the engine to its original performance by promoting accurate injector dosing and fuel atomization. The fuel consumption is also reduced and if you have an engine with catalytic converter, this is still a safe product to use.
For diesel engines this fuel additive might not work well but for gasoline ones, it is perfect. Also, there is no much product on the bottle, but it still goes a long way.

---
7. Royal Purple 18000 - Cheap but Efficient

Compatible: Both Gasoline and Diesel
Cleanup: 10 gallons
The Royal Purple 18000 is one of the cheapest options on our fuel injectors review, but it is still highly efficient in cleaning.
It is highly concentrated and fully synthetic product that is designed to deliver high performance. And it will be effective in restoring fuel economy and maximizing horsepower.
Also, it is works wonders for the direct injection engines and will be ideal for use on both gasoline and diesel engines. If you want to clean clogged and coked injectors, this will work seamlessly.
And as its name suggests, this cleaner is loaded with highly concentrated polyether amine detergents to restore injector flow. Plus, it atomizes fuel and injector spray patterns.
Furthermore, this fuel cleaner is well known to enhance performance and power as well as promises easier starts. What's more, it stabilizes ethanol which can cause harm to the engine.
And although the gas mileage will not increase significantly, you can be confident that your vehicle's engine will run more efficiently.
Does not improve gas mileage

How to Buy the Best Fuel Injector Cleaner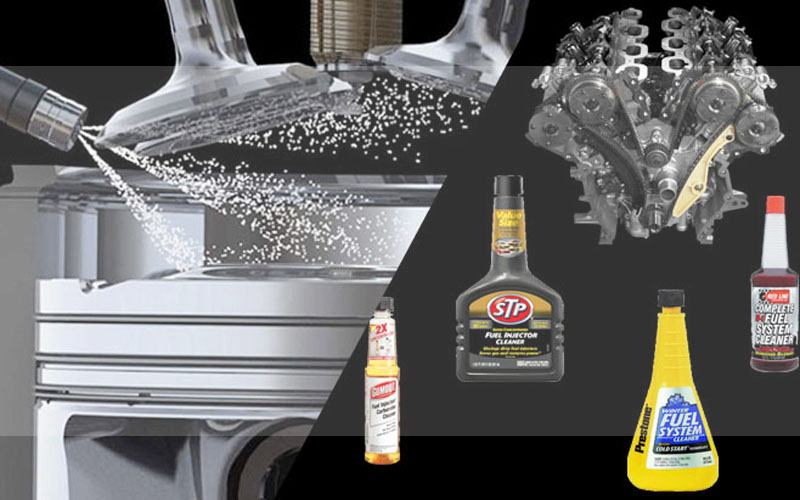 While buying a fuel injector, you need to determine how efficient it is before spending your cash on it. As there are different types of car engines, you also need to make sure you get the right fuel system cleaner for your specific engine.
1. Compatibility
By compatibility, we mean the fuel tank compatibility. If you own a diesel engine car, you need a fuel cleaner made for diesel tank and the same goes for gasoline engines.
To know which injector cleaner is compatible for your car, you can ask your mechanic if you are not certain what to buy.
Also before you buy, know about your car's engine, condition and how old it is because some fuel cleaners are not suitable for old cars.
If your car is too old, you need a powerful cleaner as the mild one will not perform as you expect. This is because the carbon deposit is thicker and hence tougher.
2. Ease of use
The fuel cleaner must be easy to use. And the ease of use encompasses everything from the ease of opening bottle to how easy it is to pour the product from it.
Also clear directions on the proportion of the cleaner to the amount of fuels that it can clean will ensure you have an easier time.
3. Budget
Your budget matters the most as there are different cleaners marked at different prices.
Basically, the quality cleaners cost somewhere around $15 and as the features improves, the price also goes up.
The quantity of the fuel injector on the container also determines the price and generally the more the fuel injector in the bottle the pricier it will be.
4. Brand
Brand name is always a significant factor to consider when buying anything for your vehicle. Whenever you buy any fuel injector cleaner, you should never invest in something from an unknown brand as you are more likely to end up with something substandard.
But, you still need to check the authenticity, goodwill, reputation and testimonials of the particular brand before buying.
Also, note that some brands focus on improving fuel consumption while some claim to clean the fuel pipes to deliver a smooth ride, so you need to know what you are looking for.
Some of the best fuel injector brands out there include Red Line, Chevron, STP and Royal Purple.
Conclusion
A car's fuel injector needs to be a perfect shape to offer smooth driving and the best way to ensure this is by using a good fuel injector cleaner to combat the carbon deposits accumulated on it.
And by considering factors like compatibility, budget and brand, choosing the best fuel injector cleaner should be a more effortless task.
Also, with our review above, you should now have an idea of where to start your shopping as we provide top-notch recommendations from leading brands.