Ideally, the combustion process in an engine is supposed to produce carbon dioxide and steam as by the products but this is not always the case. Due to the hot temperatures, gases such as carbon monoxide and nitrous oxides are formed, and these are very harmful to the environment.
A catalytic converter basically steps in to ensure that these harmful gases are neutralized before the exhaust gas is released into the atmosphere, and it works primarily by utilizing reduction and oxidation processes for the neutralization.
That said, here are the best catalytic converters that can work effectively to help your vehicle pass an emissions test.
Editors' Picks: Top Catalytic Converters of 2021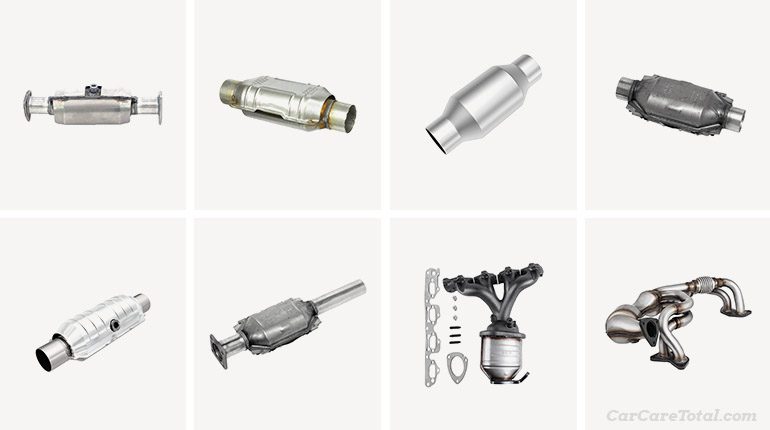 Summary of 7 Best Catalytic Converters
IMAGE
PRODUCT
FEATURES

1. Walker 16370 (Best Overall)

Direct fit catalytic converter for OBD2 vehicles (1996 and newer)
Stainless steel and aluminum construction
Thick flanges, brackets, and hangers

2. Eastern Industries 70318

Universal fitting catalytic converter
Affordable
Non-directional fitting with non-flanged ends
Advanced NANO technology chemistry

3. Autosaver88 410250

Universal fitting unit for 1998 or older vehicles
EPA approved metal catalyst
Equipped with an O2 sensor

4. Walker 15036

Universal fitting design for pre-OBD2 vehicles (1995 and older)
Built-in expandable bushings
Sturdy stainless-steel and aluminum construction
Built-in heat shield

5. MagnaFlow Exhaust Products 99356HM

Universal fit catalytic converter for gas and diesel
Federal emissions compliant
Sturdy stainless-steel construction

6. Walker 15634

Direct fit converter for pre-OBD2 vehicles (1995 and older)
Ample precious metals and proprietary washcoat technology
Easy to install

7. Autosaver88 ATCC0015

Direct fit converter for 04-08 Chevy Malibu, 06-08 Pontiac G6 and 07-08 Saturn Aura
Carefully engineered precious metal substrates
Honeycomb substrate structure
Eliminates Malfunction Indicator Lamp issues
1. Walker 16370 - Best Overall

Fits: OBDII vehicles (1996 and newer)
Material: Stainless steel, Aluminum
Walker is one of the best catalytic converter brands in the market and their 16370 model is a direct fit converter that is specifically designed for use in OBD2 vehicles, which mostly include those manufactured in 1996 or later.
The unit features thick OE style flanges that fit directly in existing exhaust systems and combined with its thick hangers and brackets, give enhanced strength to the entire structure for durability purposes.
This is especially so, considering that the main body of the converter is made using stainless steel and aluminum, which are quite sturdy, and a built-in heat shield protects the surrounding areas from heat damage while also enhancing the unit's durability factor.
Other features include a high tech washcoat plus highly precious metals on the inside for premium and effective performance during the conversion process.

---
2. Eastern Industries 70318 Catalytic Converter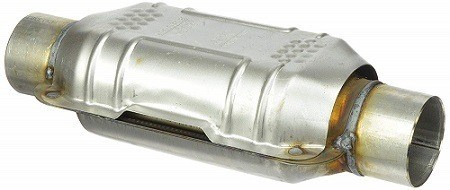 Fits: All vehicles
Material: Stainless steel
This 70318 from Eastern Industries has affordability as the main advantage on its side and with that, you get a sturdy stainless-steel-built catalytic converter that has a non-flanged inlet and outlet.
With such ends, cutting and welding will be required during installation but the benefit is that you can do this in any kind of vehicle since it has a universal fit. However, the existing exhaust system must have a 2.5-inch pipe so that the two can fit in perfectly.
Another benefit with this affordable piece is that it is non-directional, which means that it can be installed with either pipe end being the inlet or outlet.
On the inside an advanced and proprietary NANO technology chemistry is used for maximum conversion, resulting in reduced harmful emissions. However, no oxygen sensor port is included and the unit is not CARB compliant, which means it cannot be used in California.

---
3. Autosaver88 410250 Catalytic Converter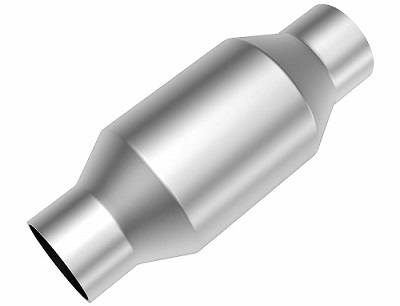 Fits: 1998 and older vehicles
Material: Stainless steel
Autosaver88's 410250 is also a relatively affordable catalytic converter that is designed as a universal fitting piece for vehicles manufactured in 1998 or earlier.
That said, the piece has non-flanged edges with 2.5-inch diameter pipes, which can only be used with a similarly sized exhaust system.
The whole structure has a stainless-steel outer construction while an EPA approved metal catalyst is placed inside on a ceramic interface. However, this catalyst is not CARB approved and therefore, this converter cannot be used in California.
On the plus side, the unit comes equipped with an oxygen sensor while a warranty of 5 years or 50,000 miles assures you of good performance or a free replacement in case of faults related to manufacturer errors.
However, the converter is not ideal for engines exceeding 2 liters in capacity and therefore, you should be very careful as this will certainly void the warranty.

---
4. Walker 15036 Catalytic Converter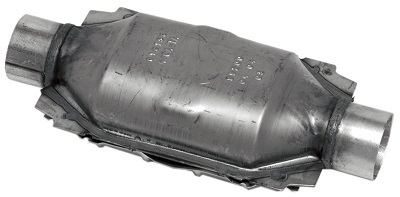 Fits: Pre-OBDII vehicles (1995 and older)
Material: Stainless steel, Aluminum
This is another piece from Walker and it is designed for Pre-OBD2 vehicles instead, as compared to the one above.
That said, this converter is compatible with vehicles manufactured in 1995 or older, and it has a universal fitting design with non-flanged ends, which can be welded onto any exhaust system quite easily.
In addition to this, the unit has expandable bushings, which make it possible to customize the installation on different exhaust systems.
With a stainless-steel body and aluminized pipes, this unit is very sturdy and durable, and it has a heat shield included for additional durability while also preventing heat damage to the car floor and other surrounding parts.
Other features include a 25,000-mile catalytic performance and a 50,000-mile structural integrity warranty or 5-year warranty on the converter's performance. However, an oxygen sensor port is not built-into the unit's structure.

---
5. MagnaFlow Exhaust Products 99356HM Catalytic Converter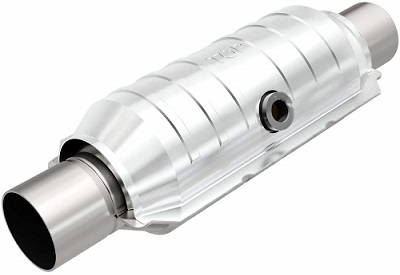 Fits: All vehicles
Material: Stainless steel
Apart from having a universal fit design, this converter is compatible with both gas and diesel engines and is actually one of the very few converters that work for diesel engines.
Although not CARB compliant, this piece is compliant with the federal emissions requirements, making it usable throughout the US states except California.
Stainless steel is used as the main material to build the converter, and it has seams welded close to the converter's body so as to create a sturdy structure that can withstand the bumps and vibrations as the car moves.
However, due to its universal fitting design with no flanges, some welding and cutting may be required during the installation process.

---
6. Walker 15634 Catalytic Converter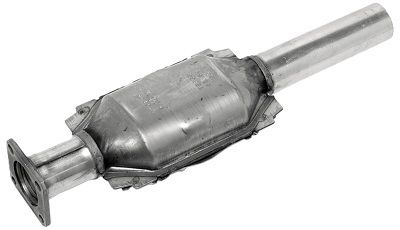 Fits: Pre-OBDII vehicles (1995 and older)
Material: Stainless steel, Aluminum
Walker's 15634 is the top-rated catalytic converter in this review and this mostly due to its ease of installation. Having been designed for pre-OBD2 vehicles (1995 and older), this unit has a direct fit design with flange to flange ends that only require to be bolted into the exhaust system.
After installation, the converter does a decent job in eliminating harmful gas emissions because it has an ample quantity of precious metals inside plus a proprietary washcoat technology. This catalyst ensures there is sufficient reduction-and-oxidation for effective conversion.
On the outside, a strong stainless-steel body construction plus an aluminized heatshield and piping make the piece very durable, while thick flanges, brackets, and hangers enhance the durability factor and hold the converter firmly into the exhaust system.

---
7. Autosaver88 ATCC0015 Catalytic Converter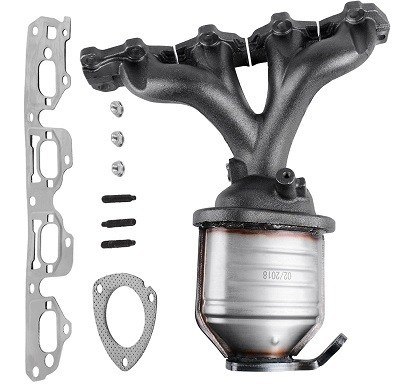 Fits: 2.2L/2.4L 04-08 Chevrolet Malibu, 2.4L 06-08 Pontiac G6 and 2.4L 07-08 Saturn Aura
Material: Stainless steel
Though limited in terms of compatibility, if you own a 2.2-2.4 liter 2004-2008 Chevy Malibu, then this is the best direct fit converter for your car. The unit also fits perfectly in Pontiac's 2006-2008 2.4-liter G6 and Saturn's 2007-2008 2.4-liter Aura, in which it installs easily via bolting.
The converter has a high-quality structure, which boasts of a sturdy stainless-steel exterior that is very durable, while carefully engineered precious metals and other substrates on the inside maximize on conversion while avoiding Malfunction Indicator Lamp code issues.
These substrates are arranged in a honeycomb structure that maximizes on exhaust flow, a reduction in back pressure and an increase in the catalyst's surface area for effective exhaust cleaning.
This increased exhaust flow actually has a positive impact on the car's performance because it increases the engine's power output. However, with all these features, the ATCC0015 is quite expensive, but it is worth the price.

How to Buy the Best Catalytic Converter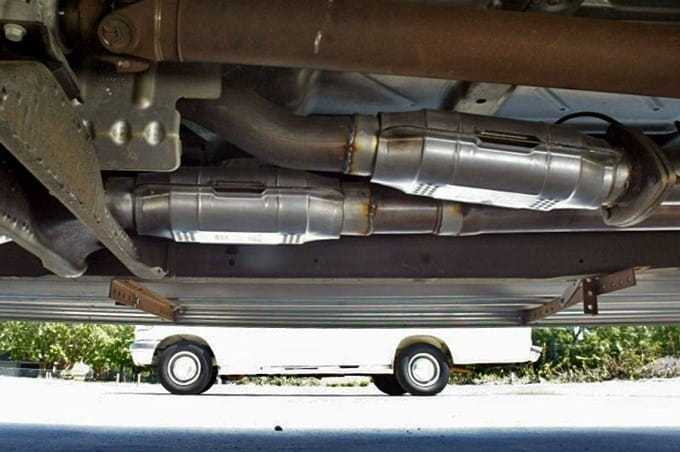 1. Types of Catalytic Converter
There are 3 main types of catalytic converters. These are:
Diesel
For diesel engines, the converter features a Diesel Oxidation Catalyst inside and its purpose is to oxidize the carbon monoxide and unburnt hydrocarbons into carbon dioxide and water.
In practical terms, these catalysts operate at an efficiency of about 90% and by doing so, they eliminate the visible black soot as well as diesel odor. However, they are not built to reduce nitrogen oxide gases to nitrogen and oxygen gas.
Two-Way
A two-way catalytic converter is basically the same as a diesel catalytic converter because it performs just the two functions.
These include the oxidation of unburnt hydrocarbons to carbon dioxide and water and oxidation of carbon monoxide to carbon dioxide.
This type of converter was used in early gasoline engines but because of its inability to deal with harmful nitrogen oxide gases, it was phased out in favor of the more effective 3-way catalytic converter.
Three-Way
In the American and Canadian car markets, three-way converters began phasing out their 2-way counterparts in 1981. They are used in gasoline engines and are much better because they offer a complete conversion of harmful exhaust to environmentally friendly gases.
Basically, on top of the 2-way conversion, they add a third function of reducing any nitrogen oxide gas to nitrogen and oxygen. This particular function has made the 3-way type very popular and it is commonly used today in all cars that are powered by gasoline engines.
2. Fit
Direct Fit
A direct fit catalytic converter has one distinct feature and that is a flange to flange end connection, which only requires to be bolted into the existing exhaust system when doing the installation and that's it.
Basically, such units are designed as replacement OEM parts and resemble the original parts in all aspects.
However, this means that they are designed for specific types of vehicles and therefore, you must check its compatibility so as to determine if it can fit in your car. The good thing though is that their installation is usually very easy.
Universal Fit
As the name suggests, this kind of catalytic converter is designed to fit in all kinds of exhaust systems and this is its main advantage.
That said, such a component does not have flanged edges with bolt holes, but instead, it has extensions pipes on its ends that let you cut and weld the piece into the existing exhaust system.
This slightly complicates the installation process, but you can fit it into any kind of exhaust system.
3. Durability
Durability is always a good factor to have on any product and with catalytic converters, this is no different. Basically, a good performing converter should be very durable so that it gives you value for money by serving you for a long period of time.
Features to look for include the construction quality and though most of them are made using stainless steel, a key pointer towards its quality is the given warranty.
The longer the duration or number of miles, the better and this is because a manufacturer cannot give such a warranty for a product that is not designed to remain operational for a long time as stated in the specs.
4. Brand
Just like the way you would prefer to buy car model from a well-known high-quality brand, it is also important to buy a catalytic converter from a well-known brand and the ones given above are all from trusted brands.
Such a purchase assures you of a top quality product and even though you may get others at cheaper prices, they might not be as effective because their quality is unknown.
5. Price
Lastly, you need to consider the converter's price. A cheap one does not necessarily mean that it is poor quality. What you need to check is the features that you need first, then buy what is within your budget.
However, if you are really tight on cash, get a converter that costs below $100. Otherwise, you can go as high as you want if money is no issue.
Conclusion
As you can see, catalytic converters are crucial components in vehicles and are actually required by law to be in good condition so that your vehicle can pass an emissions test.
Therefore, if the one installed in your car has started showing signs of damage, it is time to get a replacement part and with our list above, you have plenty of options to choose from.
Hopefully, after going through the catalytic converter review above, you should be in a better position to pick the best catalytic converter for your car.