A spark plug is crucial for the internal combustion engine to operate as it is what provides the spark that ignites the fuel to start combustion. This means that if there is a faulty spark plug then the car will never start.
And while many vehicle owners will always look for the exact spark plug that came with your vehicle, there is more to finding the best spark plugs than just shopping for the exact one you have.
The life of a spark plug mainly depends on its material. Most of these products last for over 7000 miles or more. And when it comes time to change it, you can trust this piece to have the information you need to choose a good spark plug.
Here we provide some top-notch recommendations with our review of top 7 spark plugs and highlight what to look for when shopping for one.
Editors' Picks: Top Spark Plugs of 2023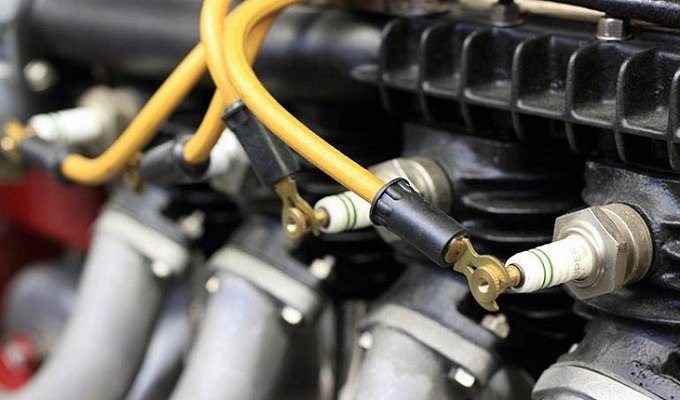 Summary of 7 Best Spark Plugs
IMAGE
PRODUCT
FEATURES

1. NGK BKR5EGP (Best Overall)

Superior overall performance
Eliminates gas leakage
Improves fuel efficiency
Relatively cheaper

2. ACDelco 41-101 (Best Iridium)

Highly durable
Improved fuel ignition
Better cold start and improved acceleration
Perfect fit

3. Denso PK20TT (Best Platinum)

Ensures fast starts and better acceleration
Withstands extreme stress
Highly affordable
Exceptional thermal conductivity

4. NGK BKR5EIX-11 (Best Durable)

Highly durable
Superior anti-corrosion and anti-seizing
Eliminates combustion gas leakage
Extreme ignitability

5. NGK 6240 (Quality & Reliability Guaranteed)

High-quality and reliable
Reduces emissions and improves fuel economy
Superior strength
Better heat transfer

6. Bosch Automotive 6702 (Inexpensive & Pre-Gapped)

Comes pre-gapped
Better ignitability and performance
Highly affordable

7. Champion 9407 (High Performance & Longer Lifespan)

High performing spark plug
Longer lifespan
Faster throttle response
Works with any engine type
1. NGK BKR5EGP - Best Overall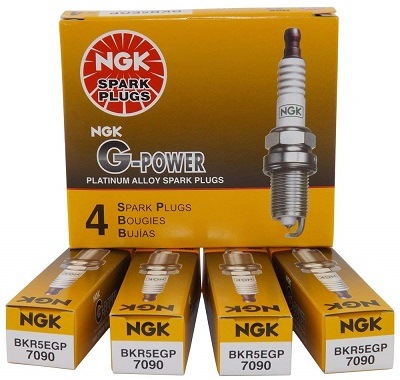 NGK brings you this amazing platinum alloy spark plug that is manufactured to deliver superior overall performance. Also, it promises better fuel efficiency, quicker starts and lower emissions.
When it comes to the durability factor, it is equipped with 0.6 mm laser welded fine platinum tip which helps in voltage reduction thus making it serve you for long. It is the best spark plug owing to the performance and consistent stable spark.
Moreover, it has improved throttle response due to the special configurations which have been used for the insulator noses. This is the best NGK spark plug to prevent fouling with corrugated ribs on insulator.
To ensure great spark, it features platinum alloy ground and centre electrode. Also, its metal plating is an awesome addition to lend anti-corrosion and anti-seizing properties.
If you are worried about gas leakage, this product has a triple gasket seal to eliminate this problem while offering good life. It is definitely a considerable option at an economical cost and the best overall spark plug on our list.
The center electrode seems a little too fragile, but it should be up well and long enough and is not a biog concern.
Relatively cheaper
Eliminates gas leakage
Improves fuel efficiency
Anti-corrosion and anti-seizing properties
Center electrode is a little too fragile

---
2. ACDelco 41-101 - Best Iridium Spark Plug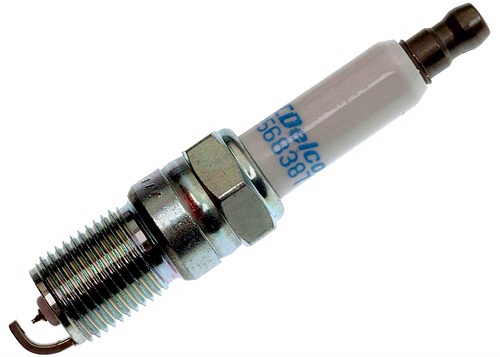 The ACDelco 41-101 is the best Iridium spark plug on our list and it offers smooth performance and great engine idle stability. These plugs come in a pack of 8 and are the premium replacement plugs to suit your requirements like fit, function and form.
As Iridium offers more efficient electrode designs, this spark plus ensures improved cold starting and quick acceleration better than any other plug.
Also, these plugs are made with latest technology which is why they are exact replacement for original components. As you may know, Iridium has strength of all metal and also has the highest melting point.
This spark plug burns away carbon deposits as they form and helps improving fuel ignition due to the Iridium fine wire electrode. It offers improved fuel economy, good wear resistance, and durability over platinum spark plugs.
Although it is a little expensive, it provides the best durability and wear resistance. Plus, the suppressor seal blocks radio frequency which affects electronics of your vehicle.
Moreover, its seal meters ensure longer electrode life providing seals against combustion. Since it is engineered exceptionally, you can expect enhanced performance.
These are not pre-gapped spark plugs but if you have a gapping tool or can find one, this wil hardly be a concern.
Better cold start and quick acceleration
Highly durable
Improved fuel ignition
Perfect fit

---
3. Denso PK20TT - Best Platinum Spark Plug

Denso PK20TT is one of the best platinum spark plugs on our list and it is manufactured with twin tip technology for complete combustion. And it is a good spark plug when it comes to improved fuel economy and great acceleration.
Its purified alumina powder insulator ensures commendable dielectric strength as well as thermal conductivity. Other than that, it is equipped with 11 mm platinum center electrode and 11 mm titanium enhanced ground electrode to deliver exceptional performance.
The platinum alloy on the center electrode improves the service life of the spark plug whereas the titanium alloy contributes in maximizing the durability of the plug.
Moreover, this spark plug starts faster than any other single platinum plug. With its alumina powder insulator, the plug can withstand extreme stress with much ease.
Talking about the durability and prolonged use, this spark plug is a complete package at quite an affordable cost. It delivers great corrosion and erosion resistance, making this spark plug highly consistent.
This spark plug might not be compatible with some engines but it is hard to find any with a universal fit and hence this should not be a deal breaker.
Provides fast starts and better acceleration
Withstands extreme stress
Highly affordable
Exceptional thermal conductivity
Not compatible with some car engines

---
4. NGK BKR5EIX-11 - Best Long Life Spark Plug

NGK has manufactured this best performance spark plug to offer amazing ignitability, superior anti-fouling and enhanced throttle response.
To deliver great performance, this spark plug features 0.6 mm laser welded fine Iridium tip. The tip makes sure to offer high durability and stable spark making your vehicle perform at its best.
With its longer insulator nose, it prevents fouling and the tapered ground electrode reduces quenching effect.
Are you worried about the combustion gas leakage while driving the vehicle? Not to fret, the triple gasket seal eliminates gas leakage and the corrugated ribs prevent flashover.
When it comes to electrical and heat wear, this spark plug has extremely high melting point which makes this plug one of its kinds. As it is listed among the high-performance engines, you can buy it without any second thoughts.
Also, it has anti-seizing and anti-corrosion properties to keep the plug working for longer duration.
While the factory gaps might not seem right for some engines, gapping should be easy with a gapping tool and so this will hardly be a concern form many vehicle owners.
Highly durable

Superior anti-fouling
Superior anti-corrosion and anti-seizing properties
Extreme ignitability
Eliminates combustion gas leakage
Factory gaps do not seem right

---
5. NGK 6240 - Quality and Reliability Guaranteed

NGK makes some of the best spark plug for gas mileage and so you can be confident of getting fantastic fuel economy with this one.
It is a renowned brand that always ensures to provide amazing fuel ignition and improved throttle response. When it comes to better heat transfer and great strength, its pure alumina silicate ceramic insulator takes care of this.
If you are looking for a performance oriented yet an affordable spark plug, this product is nonetheless a great choice. To offer faster starts and quick acceleration, the laser welded electrode tip works wonders.
It has copper core to help in heat removal and triple seals have been embedded in the plug to prevent combustion gas leakage.
With its trivalent metal plating, it makes sure to deliver protection against seizing and corrosion while keeping the durability factor up to the mark. The height of the spark plug is 50.5 mm starting from the seat to the top of the terminal.
This spark plug also needs some gapping as the factory gap is not ideal for some engines but this is an easy issue to fix.
Copper core for heat removal
Reduces emission and improves fuel economy
Anti-corrosion and anti-seizing properties
Superior strength

---
6. Bosch Automotive 6702 - Inexpensive Pre-Gapped Spark Plug
Bosch is a brand that has always made innovative and performance-proven products. It brings you this economical spark plug that is trusted by equipment manufacturers across the globe.
This spark plug is enabled with platinum firing pin and yttrium ground electrode which are well-known to offer a longer service life.
Talking about the OE fine wire platinum design, it guarantees optimum ignitability, fit and function. You will get good results owing to its nickel-plated shell that requires no anti-seize.
This spark plug comes with 4-year performance satisfaction guarantee. Also, the 360 degrees continuous laser welding offers enhanced durability by fusing the platinum firing pin.
Moreover, Bosch promises quick installation in its entire product range. How? It is because the spark plugs have pre-gapped and nickel-plated threads which allow easy setup without adjusting the gap for different vehicles.
This spark plug might not last as long as pothers on our list but for its price it is as durable as it can get.
Pre-gapped
Better ignitability and performance
4-year performance satisfaction guarantee

highly affordable

---
7. Champion 9407 - High Performance and Longer Lifespan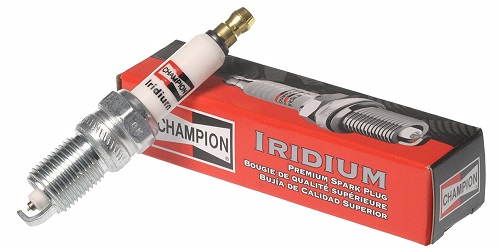 Champion makes sure to launch products which suit the requirements of the customers and is a little different from others and this spark plug leaves up to this.
It delivers great performance owing to the fine-wire Iridium center electrode. The platinum ground helps in maximizing the overall life of the plug thus making it a durable choice for all.
With its exclusive heat-active alloy, the spark plug allows the electrodes to perform well while reaching to optimal temperature and then remain stable there, no matter what the engine load is.
Moreover, this spark plug is suitable to powersport applications, passenger car and light truck. The compatible vehicle brands include Volkswagen, Jeep, Honda, Audi, Dodge, Porsche, Mitsubishi and many more.
Also, it delivers great engine performance and works with almost all engine types. This feature makes it distinct from other spark plugs as they are not compatible with all engines.
While this spark plug could be easier to install, you should still be able to do it with a little patience and if you cannot, it should not cost much to have your mechanic do it for you.
Compatible with all engine types
Improved engine performance
Features exclusive heat active alloy
Faster throttle response

Maintains stable operating temperature
Installation could be easier

How to Buy the Best Spark Plug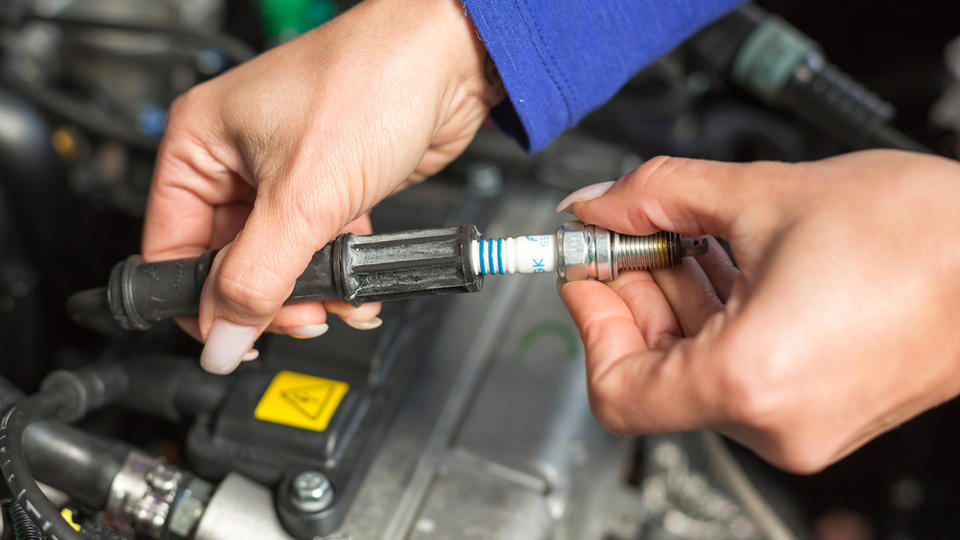 Because a spark plug is not something you purchase every now and then, you need to make your purchases worth each penny spent. Plus, it will be safer for your car if you buy the right product. But, choosing a good spark plug only requires you to look out for the following things.
1. Compatible
You will want to buy a product that is not compatible with your car engine as it will be of no use to you.
As far as the compatibility is concerned most of the best spark plug brands will clearly indicate the car models with which their product will be compatible.
Hence, in most instances, choosing a compatible spark plug will only require you to read the manufacturer's description.
2. Spark Plugs Types
Besides compatibility, you will also need to choose the spark plug type to use on your vehicle as there are different options available. Here are the most common ones.
Copper/Nickel Spark Plugs : While the name might confuse you because mostly these plugs are referred as copper plugs, only the inner core is made of copper.
Other than that, the whole thing is mostly nickel constructed. Copper has good tendency to conduct electricity. That is why, most of the cores are made with this material.
These are less expensive but the drawback is that they have a smaller lifespan. The durability becomes even challenging when they are used in high-energy distributor-less ignition system.
But, for many engines, these are quite efficient. They also run good on the natural gas engines.
Single Platinum Spark Plugs : So, the next type has a platinum center electrode. It is relatively expensive for the obvious reason that platinum is a rare element and it is quite pricey.
This material is harder than nickel, and so you can rest assured that it will not corrode. This will not allow the gat at the tip to widen as the metal starts to wear which directly affects the efficiency of the plug.
There are some models with one or more fine wires inside the platinum disc. This helps in conducting electricity in a superior fashion. But it definitely affects the cost.
As far as lifespan is concerned, it is double the span of a standard spark plug made of nickel/copper.
Iridium Spark Plugs : Well, if you desire seamless and smooth engine performance, nothing is better than Iridium products.
These have longer lifespans than the traditional plugs. The fine wire centers are designed in perfect way to conduct electrical energy in the best way possible.
These are costlier spark plugs but they make up for this with the incredible performance.
Silver Spark Plugs : As we go further, we take you to the option that has best thermal conductivity which is the silver spark plug. However, the durability remains a concern because these cannot live up to the level of platinum or Iridium plugs.
Buying Advice: Well, our final word on this topic will be that while all the options are suitable one way or the other, the platinum based ones seem, to tick all the boxes.
These are relatively affordable than Iridium and much better in performance and durability than the copper/nickel ones.
So, the Platinum spark plugs are the ones that we recommend. However, if you can spend a little extra then you should consider Iridium spark plugs as well.
3. Cold or Hot Spark Plugs
If you want a precise and less-tricky definition, let me tell you that the plugs that become very hot are the hot plugs. And the ones that don't reach the high temperatures are the cold plugs.
Interestingly, the metal shell of the plug functions at a similar temperature as the head. The plugs are screwed together which makes a chamber for the heat to flow to all the parts.
The hot plugs have longer insulator tip with large surface area which is usually exposed to the heat, making the entire thing hot. At the same time, the cold spark plugs have short insulator tip which helps in removal of heat from combustion area faster.
The spark plug makers usually assign numeric heat rating. They cannot give uniform rating because some of the makers give higher numbers for hot while others do the same thing for cold plugs.
It becomes extremely difficult for the buyers to pick the right plug with such wide variability. The best idea is to specify the car engine model and year to find the right product.
4. Ease of Installation
If you want to try your hand in replacing the spark plug then you better pick an item that is easy to install. This is a crucial concern for many vehicle owners with that like DIYing things.
When Do You Need to Change Your Spark Plug?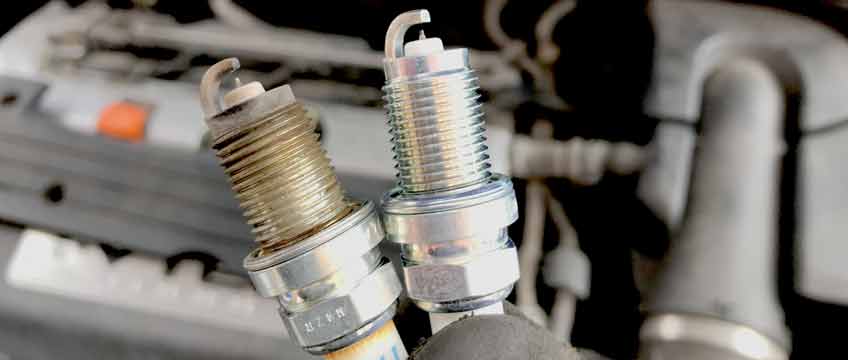 Well, the first obvious reason is the aging of the component that requires changing. While these product lasts for a decent amount of time, at some point you will have to change the component.
If you take a word from the technicians then they will recommend the change after every 30000 miles for copper/nickel plugs and 50000 miles for iridium plugs.
This is not a stringent figure. If you feel that your car is causing trouble then you can get it changed sooner as well. Other reasons may include:
Backfiring when you step on gas
Rough performance of engine on idle
Charred wires of the current spark plug in use
Increased fuel consumption
Slow acceleration of the vehicle or causing jerks back and forth
Trouble starting the engine
How to Change the Spark Plug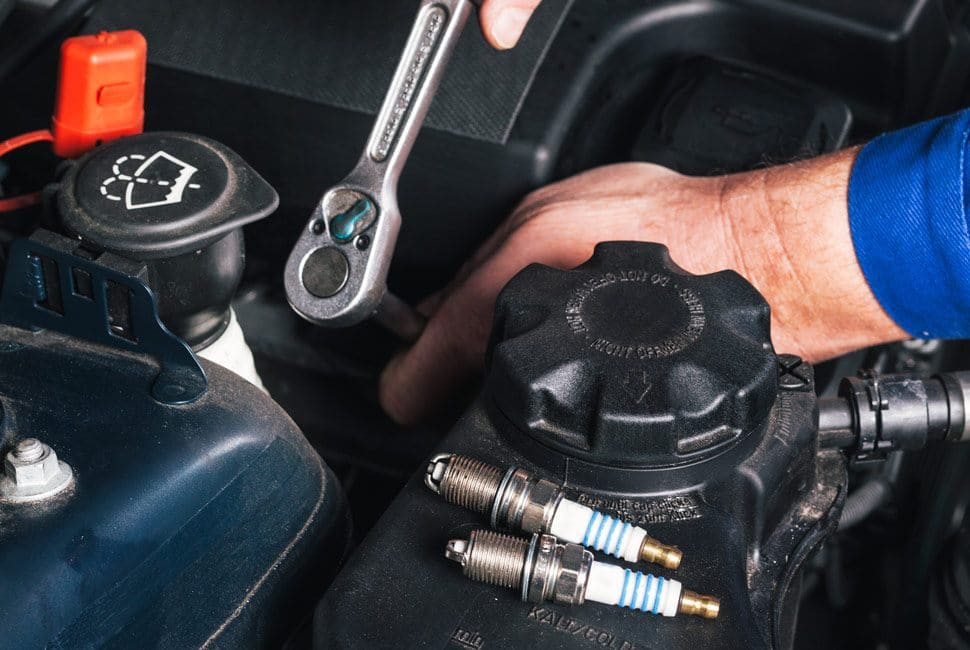 First of all, changing spark plug is not as simple as it seems. If you are unsure about doing it yourself, it is recommended to seek professional help.
The removal of spark plug is pretty straightforward. But same is not the case with the installation. But, it is also not rockets science as you only need to follow the steps below.
You should start with the removal of vanity cover plus the air cleaner assembly from the engine. Make sure to label all the hoses that you disassemble so that it won't cause any trouble later. Now, simply clean all these parts.
Step 2: Remove the Ignition Coil
Next, you should disconnect the ignition coil electrical connector and rock it off the coil. Then simply remove the coil while holding down the bolt and pulling it out.
Then you must remove the COP systems. This can be done with the needle-nose pliers. At last take off the spark plug.
Step 3: Unscrew The plug
Now, simply clean the whole area and slide exact size spark plug socket over the plug. We recommend swivel-head socket because it makes the job pretty easy. Use some extension to reach the plug, rotate it counter clockwise and loosen it.
Step 4: Gap it
Make sure to check the spark plug gap. Also, buy a wire-style gap gauge instead of purchasing disc-style gauge. Such can bend the electrode or even break it.
Now, push the wire gauge within the electrodes. Make sure that the wire is dragged slightly between them. Make sure that the gap is filled appropriately.
Step 5: Install the New Plug
Be sure that the new plugs have anti-corrosive coating. So, use a torque wrench to tighten them firmly. Now, apply a thin coat of grease inside the plug boot before you reinstall the coil.
Buy on Walmart
NGK SILZKGR8B8S Laser Iridium Spark Plug (94201 Laser Iridium), 4 Pack - Walmart Link
ACDelco 41-962 Professional Platinum Spark Plug, (8) - Walmart Link
NGK # 1465 Laser Iridium Spark Plug IZTR5B11 --- 8 PCSNEW - Walmart Link
(6-Pack) NGK Spark Plugs TR55 (Stock # 3951) - Walmart Link
NGK 95897 MR7F Standard Spark Plug, black, One Size - Walmart Link
NGK 5666 Standard Spark Plug - CR8EH-9, 1 Pack - Walmart Link
NGK (7100) ZFR6FGP Spark Plug - Pack of 4 - Walmart Link
Buy on eBay
NGK SILZKGR8B8S Laser Iridium Spark Plug (94201 Laser Iridium), 4 Pack - eBay Link
ACDelco 41-962 Professional Platinum Spark Plug, (8) - eBay Link
NGK # 1465 Laser Iridium Spark Plug IZTR5B11 --- 8 PCSNEW - eBay Link
(6-Pack) NGK Spark Plugs TR55 (Stock # 3951) - eBay Link
NGK 95897 MR7F Standard Spark Plug, black, One Size - eBay Link
NGK 5666 Standard Spark Plug - CR8EH-9, 1 Pack - eBay Link
NGK (7100) ZFR6FGP Spark Plug - Pack of 4 - eBay Link
Conclusion for Spark Plug Buyers

A spark plug is a crucial component on an engine and at some point you will need to buy one. And when you need to make the purchase it is vital to make sure that you make a more informed decision.
But, choosing the best spark plug for your vehicle should now be super easy as you will only need to watch out for the factors highlighted on our buying guide above.
Also, you will not need to do a lot of shopping around as our review have already narrowed down the options for you.
Sources
How to Change Spark Plugs in a Car - WikiHow