One cannot overemphasize the importance of a spark plug in an engine, and a critical component that allows it to work well is the spark plug wire.
Spark plug wires transfer voltage from the distributor to the spark plug, which fires up the engine. Because of its importance, you must get high-quality ones when replacing old, worn-out ones.
Here we review 10 best spark plug wire sets out there and give you a buying guide to ensure you choose an appropriate one for your vehicle.
Editors' Picks for Top Spark Plug Wire Sets of 2021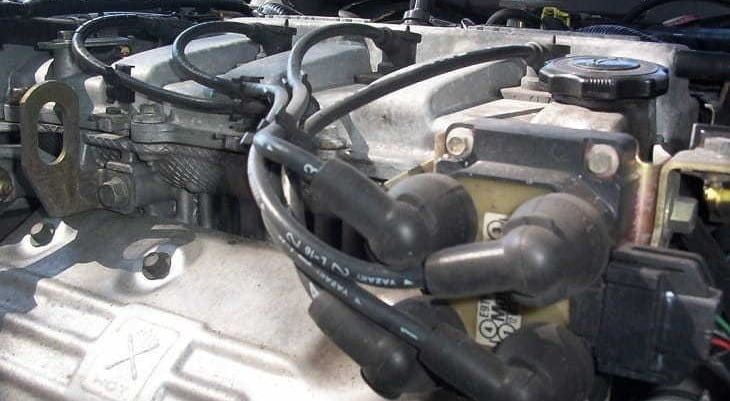 Summary of 10 Best Spark Plug Wire Sets
IMAGE
PRODUCT
FEATURES

1. NGK RC-XX90 (Best Overall)

Variable pitch windings
Numbered & color-coded
Positive-locking stainless steel terminal ends

2. Taylor Cable 64628 (Best with Oil Resistant Insulation)

Oil & heat-resistant insulation
High energy wires
Double spring locks

3. Edelbrock 22716 (Best for the Money)

Great value for cash
Extremely high EMI/RFI suppression
Heavy-duty 8.5mm diameter silicone jacket

4. ACDelco 9748GG (Best Aftermarket)

Wide vehicle compatibility
Terminal design
Coil retainer included

5. JDMSPEED 10.5mm (Best for Racing)

High performance 10.5mm wires
100% pure silicone insulator
Spiral wound copper conductor

6. NGK RC-HE76 (Best Color-Coded)

Color-coded & numbered wires
Variable pitch winding
Corrosion-resistant, positive locking terminal ends

7. ACDelco 9748HH (Professional-Grade)

High-quality materials & design
Perfect fitting with watertight seal
Improved spark plug retention

8. MSD 32829 (Super-High Suppression)

High EMI suppression
Copper alloy superconductor
Ferromagnetic impregnated core

9. Motorcraft WR5934 (High Voltage)

Maximum voltage delivery for spark plugs
Tested to meet OE specifications
Eliminates chance of misfire

10. Denso 671-8062 (OEM Quality)

Designed to meet OEM parts standards
Class E rated jackets

Tight-fitting end caps
1. Best Overall: NGK RC-XX90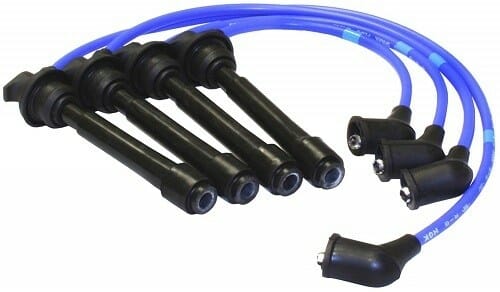 The NGK RC-XX90takes our top overall as it is a superior quality set guaranteed to offer a powerful spark, ultra-low resistance, easy installation and a tight fit.
The wires have a variable pitch winding to ensure they deliver super low resistance, more powerful spark and superior RFI noise suppression for exceptional overall performance.
Other than this, the wires have positive-locking and corrosion-resistant stainless-steel terminal ends, which fit tightly over the spark plug to resist separation due to vibrations as the car moves on bumpy roads.
Better still, they include oil, petrol and moisture resistant silicone outer jackets that can withstand high temperatures up to 250°C (482°F) without cracking.
Each wire is numbered for quick cylinder identification and color-coded to ensure precise and easy installation.
Although the coil ends on these spark plug wires are not as waterproof or the same quality as factory ones, they still do a fantastic job for an aftermarket set.

---
2. Best Spark Plug Wire Set with Oil Resistant Insulation: Taylor Cable 64628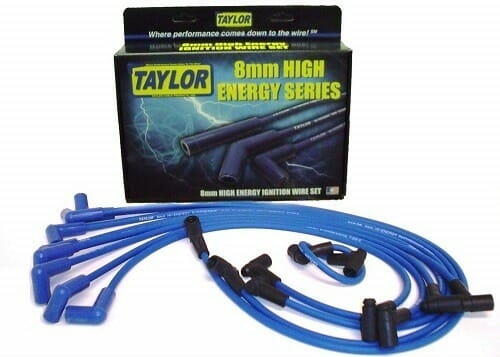 With the Taylor Cable 64628, you never have to worry about oil or heat from the engine damaging your spark plug wires. The wires on this set have excellent insulation that can withstand oil and high temperatures.
These are high energy spark plug wires, and so you can be confident that besides helping your vehicle start better, they ensure you get a significant increase in torque and horsepower.
Another unique element is that the wires have double spring locks at the plugs to ensure they provide a tight fit and will never separate. Motorists also love that they suppress radio frequency interference.
However, the wires do not have numbering for easy cylinder identification. But, you can still figure them out quickly. They also seem a bit longer than stock, but this does not affect their functioning or usability.

---
3. Best for the Money: Edelbrock 22716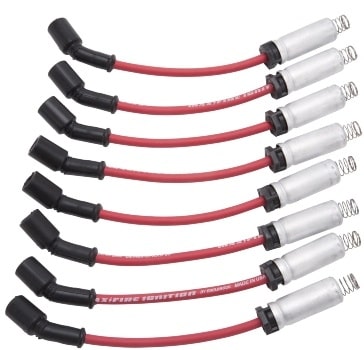 The Edelbrock 22716 is a high-performance spark plug wire set made with the highest quality materials and comes at a great price to ensure you get the best value for your money.
The spark plug wires have leads that deliver a super low resistance of 40 ohms, ensuring maximum EMI/RFI noise suppression.
Additionally, the wires have a heavy-duty 8.5mm diameter silicone jacket. This jacket ensures maximum protection for the Kevlar spiral wound core as it keeps heat, moisture and chemicals out.
While these wires do not provide significant horsepower gain, you can be sure they deliver superior spark plug performance. Since these wires are quite long, they are not as neat as stock ones, but this does not affect their functioning.

---
4. Best Aftermarket Spark Plug Wire Set: ACDelco 9748GG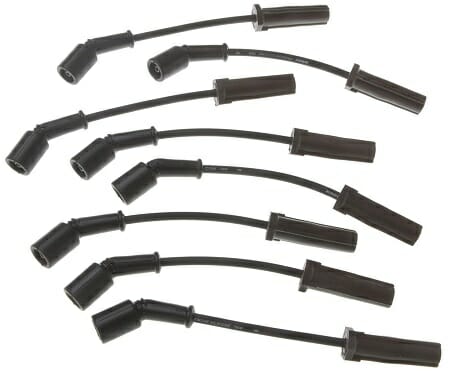 ACDelco's 9748GGis a top-notch spark plug wire set that provides broad compatibility. You can use it on over 96% of domestic US vehicles like GM, Chrysler, Ford, or imported ones such as Toyota, Nissan, and Honda.
The wires match the form, fit and function on most new vehicles, meaning you can expect up to par or even better engine performance.
Besides this, you get a total of 8 wires that should be enough for a complete replacement at once. Each has a terminal design to improve spark plug retention, reduce corrosion and simplify the installation process.
Other features include a high-temperature resistant silicone insulator, a boot shape for the spark plug distributor to ensure proper fitting and a coil retainer for preventing micro-arcing and fretting.
Although the wires are not numbered or color-coded, you can still be sure of easy installation as they are all simple to figure out.

---
5. Best Racing Spark Plug Wires: JDMSPEED 10.5mm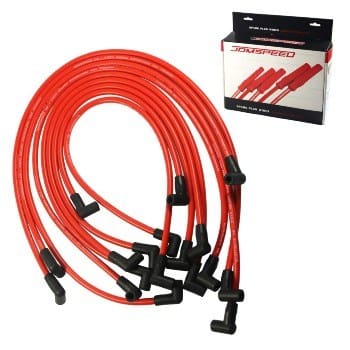 With the high energy delivery to the spark plugs, the JDMSPEED 10.5mm ensures superior overall performance, making the wires very ideal for racing vehicles' high demands.
These wires make use of spiral-wound copper conductors to ensure super-low resistance and high EMI noise suppression. Better still, you never have to worry about heat or moisture damaging the wires as they have 100% silicone jackets.
When it comes to the installation, the 90-degree boots on both ends of the wires ensure you have an easy time and that the fit is secure enough.
The length of these wires seems to be the most notable drawback, but you should still be able to arrange them neatly to keep off things like the manifold. However, the contacts are also not corrosion-resistant, but some dielectric grease should keep them in great shape long enough.

---
6. Best Color-coded Spark Plug Wires: NGK RC-HE76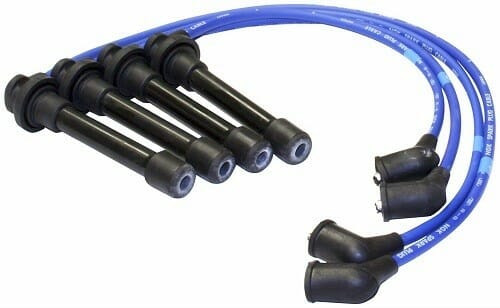 If you are looking for a spark plug wire option from a reputable brand, the NGK RC-HE76 is an excellent choice. Each of the wires is color-coded to ensure you have an easy time identifying the matching cylinders. Better still, they are numbered to make installation a breeze.
The wires also offer superior performance, thanks to a variable pitch winding that delivers ultra-low resistance. Low resistance results in a powerful, hot spark for effective combustion as there is minimal power loss along the wire.
Better still, they have some top-notch stainless steel terminal ends that are positive-locking and corrosion-resistant for a perfect fit and superior corrosion resistance.
Other features include an oil, moisture, and petrol resistant silicone outer jacket that can withstand temperatures of up to 250°C.
The set contains only 4 wires, which might not be enough for some motorists. Also, for a set of 4, these wires seem a little pricier. However, the quality and performance make them worth it.

---
7. Professional-grade Spark Plug Wires: ACDelco 9748HH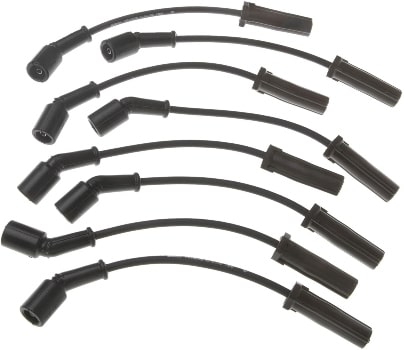 You can never go wrong with a professional-grade spark plug wire set like the ACDelco 9748HH, as you are always sure of exceptional spark plugs performance and durability.
These top-quality wires have the perfect conductor, length and diameter to ensure optimal power delivery for your spark plugs and also protect them.
With the spark plug distributor boot shape and the top quality materials, you can be sure of always getting a perfect fit for easy installation. What's more, they have a watertight seal.
Another outstanding element of these wires is the terminal design that improves spark plug retention and ensures excellent corrosion resistance.
While these wires are not color-coded, most motorists will not have any difficulties identifying the correct cylinders.

---
8. Super-high Suppression Spark Plug Wires: MSD 32829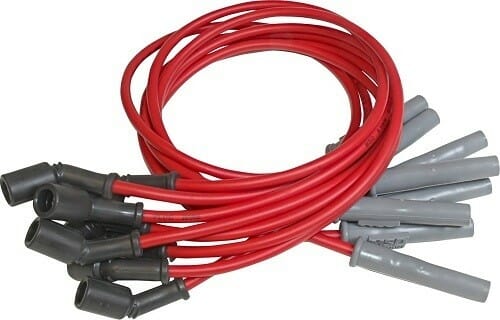 The MSD 32829has up to an impressive 40-feet of conductor wound on just 1 foot of wire, which gives it one of the highest EMI suppression on our spark plug wire set review. Better still, they have a ferromagnetic core for effective EMI choke.
Another significant advantage is the wires have a copper alloy conductor with a resistance of under 50 ohms per foot for superior spark plug performance.
Other features include Dupont Kevlar material on the conductor core for increased tensile strength and a tough jacket that is heat and abrasion-resistant.
The wires also have stainless-steel terminals with dual crimp tabs for grabbing onto the jacket and wire conductor separately.
Price seems to be the main drawback for these wires, but you can be sure they are worth every buck. Another demerit is that they are longer than stock ones. Luckily, this does not cause any fitment issues.

---
9. High Voltage Spark Plug Wires: Motorcraft WR5934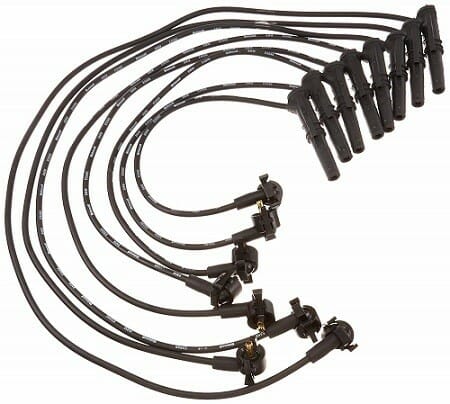 The Motorcraft WR5934 spark plug wire set delivers maximum voltage from the distributor to the spark plug with minimal losses.
As a result, the wires ensure optimum engine performance while reducing the chances of misfiring. Overall, this also increases the lifespan of the engine.
The wires are tested to meet OE specifications, meaning you can expect reliability and durability even under extreme conditions. Additionally, they have a wire set boot plus connector design for the best performance.
However, the pieces are not numbered or color-coded for easy installation, but you get 8 wires, which are ideal for an 8-cylinder engine, so you should not have any difficulties.

---
10. OEM Quality Spark Plug Wires: Denso 671-8062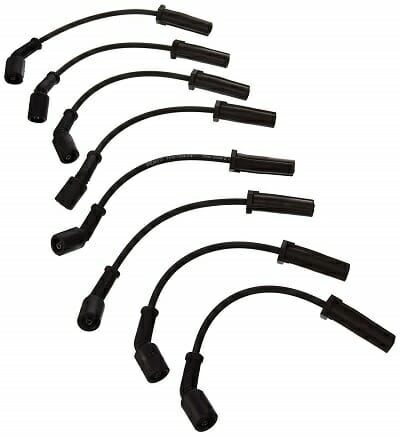 The Denso 671-8062spark plug wires are OEM-quality parts identical in form and performance to factory-installed units. Therefore, you can be sure they provide at least similar if not better performance than the factory wires.
Other than this, the 8-piece spark plug wire set has class E rated silicone jackets. These high-quality jackets can withstand chemicals, moisture, heat, and cold (from -40 to 428°F).
Additionally, they have identical OE end caps, meaning easy installation, and they fit tightly into position, preventing separation as you drive.
However, the wires are not numbered or color-coded for easy matching or cylinder identification. But, most motorists should still figure things out.

How to Buy the Best Spark Plug Wire Set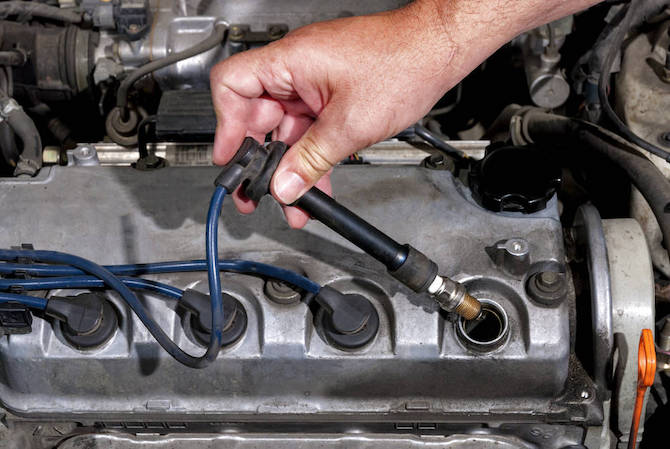 1. Type of Spark Plug Wire Set
Distributed Resistance Spark Plug Wire : This type of spark plug wire consists of very fine strands of fiberglass bonded with carbon. Carbon gives them high resistance, which is useful for reducing radio frequency interference. These wires work well for most American cars.
Inductance Style Plug Wire : Most Japanese cars run on this type of plug wire. These types have a spiral core with a copper alloy or nickel alloy wire wound around it. The winding creates a magnetic effect, thereby reducing RFI. Furthermore, they have very little resistance, so a small amount of current is required to power the spark plugs when starting the engine.
Fixed Resistor Spark Plug Wire : Most European car manufacturers use this type as standard. It contains steel or copper wires and plug-boots with resistors inside.
2. Compatibility
It is also essential to check compatibility before buying spark plug wires. Different cars have varying types of spark plugs and wires.
Each type of wire set is designed to fit over a specific range of spark plugs, and therefore, make sure you pick what fits your car.
Sometimes universal ones like the ACDelco's 9748GG are the best choice as they can work for almost any vehicle.
3. Brand
Another vital factor to consider is the brand. Like most other vehicle replacement parts, you are always better off sticking with products from reputable brands like ACDelco, NGK and Motorcraft.
Buying from these top brands increases the likelihood of getting top-quality wires that fit perfectly. Also, it gives you some assurance of getting a great product as most reputable brands stand behind their products with guarantees and warranties.
When to Change Spark Plug Wire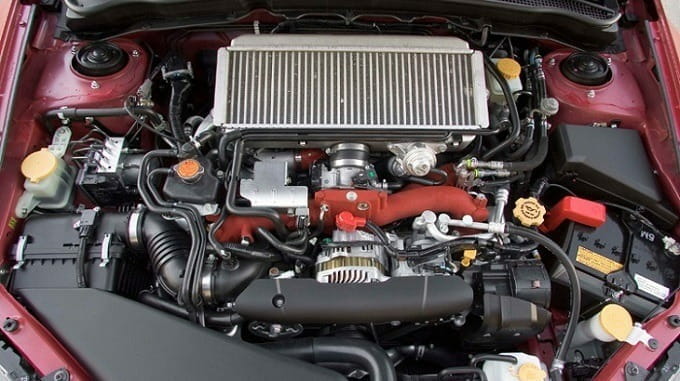 Some of the signs that will let you know it is time to change the spark plug wire include a hard start, rough idling, slow acceleration, increased fuel consumption, hesitation, and sputters.
However, these can also be signs of issues with other engine components, such as faulty spark plugs. To confirm whether it's the wires or not, use an ohmmeter to measure their resistance individually.
Those with a resistance that exceeds their rating have an issue and require immediate replacement.
How to Test Spark Plug Wire
There are 4 ways of testing spark plug wires.
1. Visual Inspection
The first and easiest thing to do is to carry out a visual inspection of the wires. Check the plug end boots as they are usually the first parts to fail.
Also, run your fingers through the entire length of the wires to feel for any brittleness, cracks or exposed layers.
2. Look for Sparks (Leaks)
If you don't find anything via a visual inspection, wait until it is dark outside or move the vehicle to a dark room, pop up the hood and run the engine.
If there are leaks on the wires, you will spot lightning-like bolts of electricity escaping to the nearest metal object. Such wires require immediate replacement.
3. Make Sparks
This method requires you to use a grounded jumper wire or screwdriver that is well insulated to protect you from electrocution.
Run this tool along the wire, and if there are any arcs, you will see or even hear sparks as the electricity escapes towards the grounded metal.
4. Measure the Resistance
Lastly, you can use an ohmmeter to measure the resistance. For a good wire, it should fall within the manufacturer's provided ohm range.
Conclusion
A good quality spark plug wire can drastically improve an engine's performance by ensuring enough voltage reaches the spark plug for powerful firing.
While ultimately the best ones for you depend on your vehicle type and model, our review provides fantastic recommendations.
From this list, the NGK RC-XX90 is our top overall recommendation as it delivers high voltage, ultra-low resistance and is easy to install.
However, the Edelbrock 22716 offers the best value for money, as it is hard to get anything better for that price tag.