In garages, grease guns are among the most common tools as they come in handy for different lubrication jobs. And with the best grease gun in your garage or workshop, vehicle maintenance becomes much easier.
But the biggest question is which grease gun from the many options on the market will work best for you as they all look good enough.
Understanding what defines a good grease gun and the factors to watch out to ensure what you buy works for you should make your buying decision easier.
In this piece, we help to ensure you get the best value for your cash when buying a grease gun by a review of 7 top-rated models and with an in-depth buying guide.
Top Grease Guns of 2021 by Editors' Picks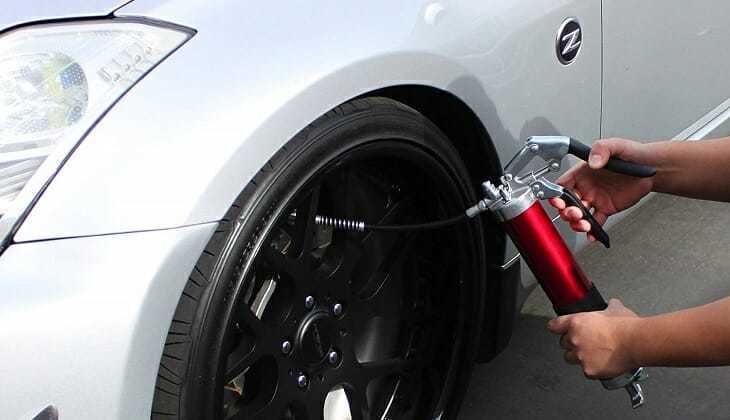 Summary of 7 Best Grease Guns
IMAGE
PRODUCT
FEATURES

1. Drake Off Road LNC 1134 (Best Overall)

Strong and durable pump head
Jam-proof toggle mechanism
Extra-heavy follower spring
Easy cleaning with no disassembly

2. Alemite 500-E (High Pressure & High Capacity)

Higher capacity and pressure
Lightweight and durable
Nice grip lever
Long enough hose

3. DeWalt DCGG571M1 (Best Cordless)

Powerful cordless grease gun
Longer run time
LED lighting for enhanced visibility
Extra-long flex hose

4. GreaseTek 910100 (Best Pistol Grip Design)

Easy grip design
Small and highly portable
Improved plunger design
Relatively more affordable

5. Astro 101 (Best Mini)

Simple one-handed operation
Heavy-duty and lightweight
Needle nozzle is easy to handle
More affordable

6. Plews 30-200 (Best Budget)

Relatively more affordable
Rugged metal construction
Works with standard grease cartridges

7. Lincoln Electric 1162 (Top Quality & Air-Powered)

Top quality and efficient air-powered grease gun
Variable speed control trigger
Heavy-duty overall construction
Long reach hose
1. Drake Off Road LNC 1134 - Best Overall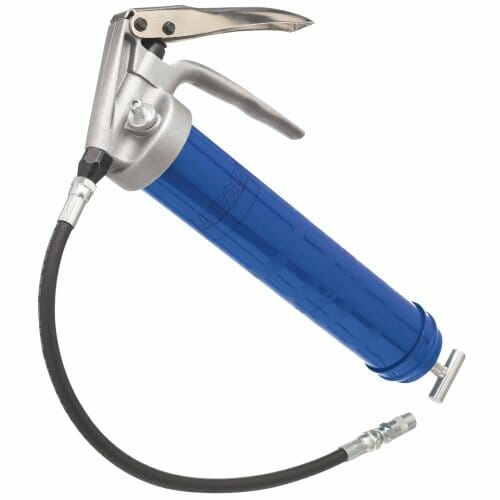 This Drake Off Road grease gun takes our top overall spot as both well-built and highly efficient.
This is a heavy-duty pistol grip grease gun with a rugged cast pump head for utmost strength and durability. And the body is mostly made of stainless steel to ensure longevity.
And you can rest assured because the jam-proof toggle mechanism in this grease gun completely prevents binding and bending of the plunger, thus making the working of the gun safe for all.
Then there is an extra-heavy follower spring that ensures positive priming and uninterrupted pumping action of the gun. It has got precision fit and hardened plunger that prevent lubricant bypass and resist scoring for durability.
As far as cleaning is concerned, there is an accessible check valve on the gun that allows easy cleaning to disassemble the gun completely. We can proudly announce that this is the best overall grease gun on our list.
While the plunger quality could have been better, it still works well enough, and although this grease gun is a little pricier compared to others on our list, it is still an under $50 model.

---
2. Alemite 500-E - High Pressure & High Capacity Grease Gun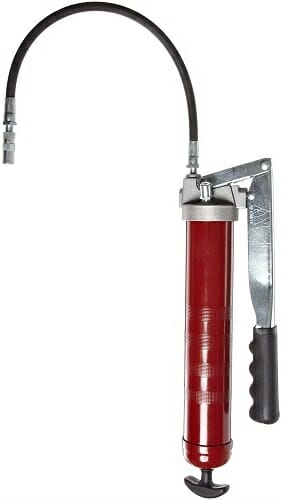 Buyers that want a high capacity and high-pressure grease gun but without spending a lot of cash, the Alemite 500-E is a good buy. And it is developed with dual-mode lever for multiple uses.
The cylinder can carry 16 oz of lubricant and delivers up to 7500 PSI of grease. This gun is also lightweight to ensure you can easily carry it from one place to the other.
The 18 inches long hose, coupler, and robust spring on the follower make this gun amazing. The grease loading is also pretty simple, and it can be done in different ways. While other guns only offer either bulk-loading or canisters to load the gun, this model support both techniques.
There is almost no shortcoming with this grease gun beside the fact that capacity could be a little larger, but unless you want to use it commercially, this will hardly ever be an issue.

---
3. DeWalt DCGG571M1 - Best Cordless Grease Guns
There is no denying that when utility tools are concerned, no brand can match up to the level of DeWalt. DeWalt makes some of the best grease guns out there, and if you are looking for a good cordless option, this one will be perfect.
This DeWalt grease gun has a robust motor, exceptional adaptability, amazing cartridge design, and great pump pushes. The weight is also suitable enough for you to pick and operate easily.
There is a pump filter screen in the gun that protects it from contaminants and dirt. The accessibility and reach of the gun are also commendable because of the 42" extra-long hose.
The battery used in this gun is 20V MAX XR Premium Li-ion battery capable of running for 16 canisters in each charge. Plus, the lubricating process is also safeguarded through the changeable speed trigger.
For all those that have concern of darker places where their machinery is installed, the small LED light on the head of the gun is definitely a pro. It is a durable product that will stand out the test of time and come through for you.
This grease gun is a little expensive as it is the priciest option on our list, but for a powerful cordless model, it is still fairly priced.

---
4. GreaseTek 910100 - Best Pistol Grip Grease Gun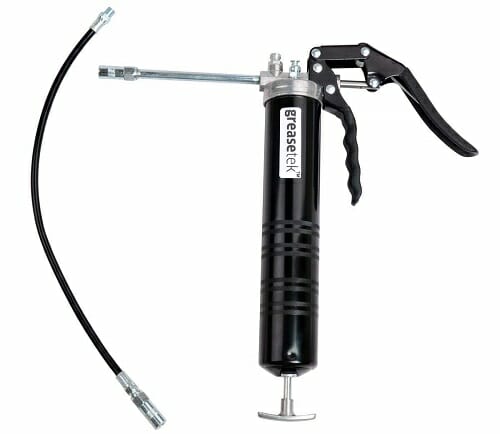 If you are on the hunt for the best pistol grease gun, GreaseTek is as good as it can get and has been designed to deliver all-around user convenience.
This gun weighs just 2.6 pounds, which is quite light and handy and this makes it more portable. With its comfortable and easy grip, it will be even easier to handle.
This one holds around 400 c.c. grease in it and deliver a bomb of 1 oz in 40 releases. Elaborating it more, it has 2 inches diameter and 9 inches long canister that contain almost 14 to 16 oz grease in it.
The 18 inches long hose can get inside any confined space and release grease. And the improved plunger design helps to make priming and loading easier.
If you want something for heavy-duty use, this grease gun might not be ideal for you as it has a smaller capacity, but it is more than enough for regular tasks.

---
5. Astra 101 - Best Mini Grease Gun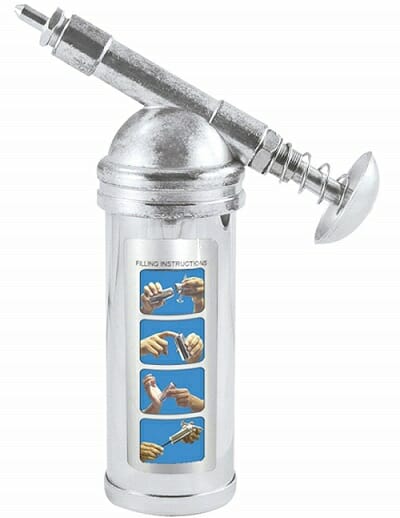 One of the major models that we cannot look past while recommending the best mini grease gun is this one from Astra as it outperforms most others in its class.
It is a great product for a domestic user and is quite easy to operate and handle as well. If you are looking for a model that allows single handed operation then this is your best bet.
This product is equally helpful for the bikers as well as car drivers. It is available at fair price and the small size makes it easy to carry with you.
It is a strong and sturdy gun made of heavy-duty materials, and it will serve you for a long time with no problems.
Some users will find the grease capacity a little too small, but it should still be more than enough for a mini grease gun.
Some people find the quantity too small

---
6. Plews 30-200 - Best Budget Grease Gun

Many buyers are always shopping on a tight budget and if you are one of them, Plews 30-200 is a perfect choice for you.
Despite being a small and budget-friendly grease gun, it is still well-built and feature-rich. And the usage is quite simple as it has hand-operated pump filled with grease and further used for lubrication purposes.
This product's capacity is decent enough with 14 oz cartridge that supplies 1 oz of grease on each stroke. And the compact size also makes it highly portable.
The opening of the gun is for precise usage. It helps in applying lubricant to a specific joint on the grease fitting. Also, you can get different size hoses at a small extra cost for a longer reach.
There seem to be some issues with the pump, but the good news is that it still dispenses grease well enough.

---
7. Lincoln Electric 1162 - Top Notch Air-Powered Grease Gun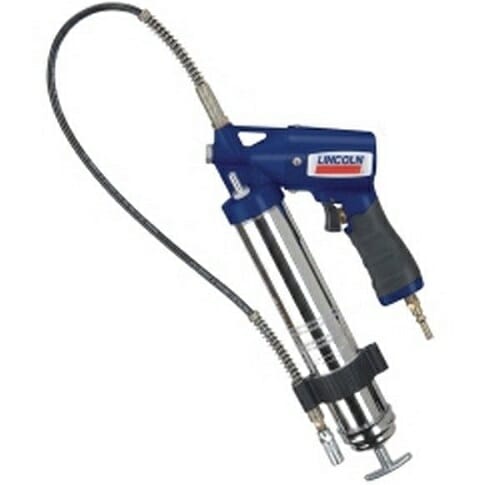 Lincoln is another leading brand you can trust to have top-notch grease guns like this air-powered model.
This is an industrial level model that gives air pressure range of 40 to 150 pounds per square inch and can handle almost any lubrication job.
What makes this one of the best air-powered grease guns is that it is designed with variable speed triggers that offer excellent grease flow control. An innovative and advanced pump design helps eliminate the priming issues.
The 30 inches long high-pressure hose work excellently with a coupler and attachment clip; this grease gun can easily fit into tight places. And the craftsmanship of this model is also appreciable.
Like most other air-powered grease guns, this one is a little complicated to use, and it is relatively pricier but using it only requires some getting used to, and you can also be sure of getting value for cash.

Types of Grease Gun
Grease guns are powered in three prime ways: air, hand, or electricity but when classifying them in types, there are 5 main options. These types are lever, cordless, hand pump, pistol and air powered.
1. Lever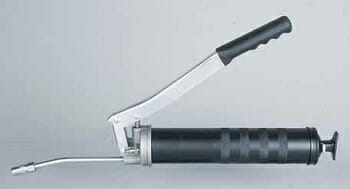 Lever Grease Gun
The lever grease gun is the most common type of the 5. The gun can supply around 1.28 g of grease per bomb that comes out through a nozzle.
The operation of this model requires both hands and its design and size makes it quite versatile.
Using it is also quite easy as you just have to pull the lever and the pressure is generated to dispense grease. This type is not just versatile but also available at the most economical prices.
2. Cordless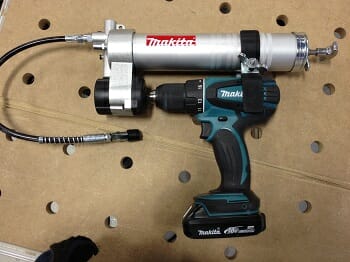 Cordless Grease Gun
Cordless grease guns are designed to ensure you never have to deal with annoying cords.
These guns also eliminated the need to push the lever manually and hence making them even easier to use as most are battery-powered.
Being battery-powered, they are also highly portable as you can use them from almost anywhere provided the batteries are charged.
3. Hand Pump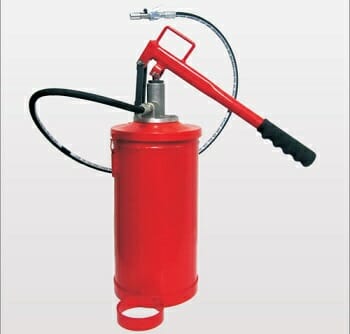 Hand Pump Grease Gun
The hand pump machine is also known as grip gun. And its name comes from the fact that you need to pump it by hand to dispense grease. The fact that it takes more power to use makes it less favorable for many users, but it still does a good job.
4. Pistol Grip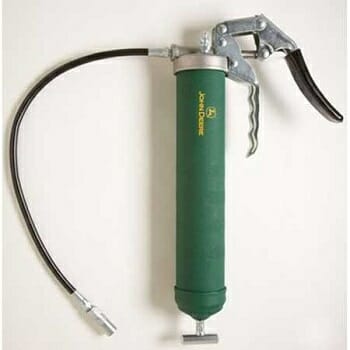 Pistol Grip Grease Gun
Pistol grip grease guns are designed for single-handed use. It is easy to dispatch the grease. With each bomb, this one can provide 0.86 g of grease.
This grease gun frees the other hand for other supportive tasks. If you are one of those users who like to take control single-handed, this type is most suitable.
Although some people feel that there are adjustment issues with this type. But the grip is mostly available in different sizes, thus allowing you to have the most comfortable grip.
This is quite user-friendly as you only have to position towards the target and lubricate it as you shoot. It is comfortable for lefties as well as right-handed people.
5. Air Powered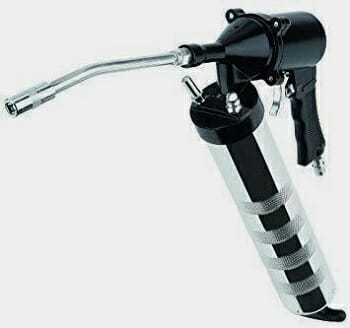 Air Powered Grease Gun
This type is essentially for professionals and commercial users. The reason is the power that this gun supplies. With this product, there is an air compressor that stays connected.
The grease dispensing force is remarkable. That is why this product is suitable for all kinds of heavy-duty tasks. But, this gun is expensive and must be used with utmost care.
How to Buy the Best Grease Gun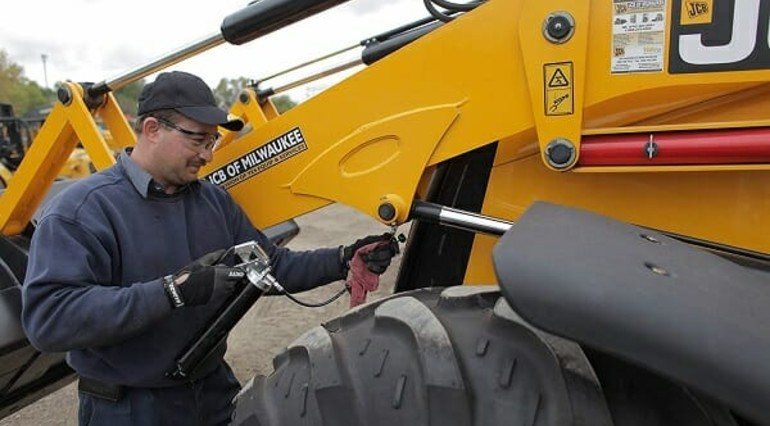 There are many good grease guns out there, and so finding a good one should not be a problem as you only need to know what to look for. And while there are many factors you need to consider when shopping, the following are the most important ones.
1. Purpose
There are many purposes for which you require a grease gun. Different applications will require different types of guns, and so you need to pick one that suits your particular situation.
While a lever grease gun might be good for simple lubrication, it might not be ideal for heavy-duty use. On the other hand it does not make sense to buy an expensive air-powered grease gun when you only need something for light use.
2. Amount of Lubrication
As you pick the right model, it is essential to check the amount of lubrication it offers. This factor is indicative of the tasks you can use it for.
You should consider the purpose of buying the grease gun and the things that it will be handling to ensure you choose the right size for your need.
3. Ease of Use
Using a grease gun should not be a tedious task because these tools are meant to simplify lubrication for you.
Several things make it easy for the user to handle a glue gun. They include the overall weight of the gun, size and the design of the gripping area.
The best automotive grease gun should be straightforward to set up and use, whether you are a beginner or professional. And it should be comfortable to hold as you may have to keep it in your hand for a long time.
4. Warranty
This is the factor that gives you security of purchase and peace of mind. If you want to be sure that the product you are buying will serve you for a long period, you should consider the warranty period and terms.
Generally, a brand that offers a longer warranty with good terms and is know to honor their warranty terms will be the best.
5. Price
A grease gun is a long-term purchase but this does not mean it is okay to spend a fortune on one. Also, you should not go for the cheapest grease gun models as they are almost always low quality.
You can get these grease guns for as little as $10 but some will retails for hundreds of dollars. When it comes to the price, you should develop a budget and choose a model that suits your needs best within that budget.
Conclusion
A good grease gun makes lubrication fast, easy and more efficient and it will always save you a lot of time.
To get the best grease gun for you from the many models out there, you only need to consider factors like the type, purpose, ease of use and price.
And to make the buying decision even easier for you, we also review 10 best models out there, and so you only need to choose what works best for you.