It is quite natural for accidents to happen and your vehicle will also undergo natural body wear and tear, and so it is vital to know how to repair it. And with the best car body filler, things are always much easier.
Car body fillers are resin based compounds with a hardener that is mixed in to create a smooth mixture for "filling" the damaged areas. Because it is used to even out dents or cover scratches, it is also referred to as vehicle putty.
These fillers come in handy when repairing dings, scratches, filling holes, hail damages or dents on the vehicle's exteriors.
Car body fillers are available in several types, and the type you need for your repair project depends on your vehicle or the surface you are working on.
But to help make it easier to choose the perfect car body filler, below we review top-rated models and explain what to look for when shopping.
Editors' Picks: Top Car Body Fillers of 2023
Summary of 5 Best Car Body Fillers
IMAGE
PRODUCT
FEATURES

1. 3M Bondo 261 (Best Overall)

Effective product from a well-known brand

Fast curing in different surfaces

Durable and non-shrinking

Easy to use

2. Evercoat 156 (Best Value)

Great value for money

Easy spread creamy texture

Superior adhesion on different surfaces
Clog-free formulation

3. Evercoat 125(Best Sanding Body Filler)

Unparalleled sanding qualities

Non-sag formula

Eliminates need for putty

Comes complete with hardener

4. 3M Bondo 233 (Best for Professional Use)

Professional-grade formula

Creamer hardener included

Ideal for use on various surfaces

Advanced resin technology

5. Evercoat 112 (Premium-quality Lightweight Filler)

Highly-quality and lightweight

Improves sandability

Stain resistant formula

Easy and even spread
Top 5 Best Car Body Fillers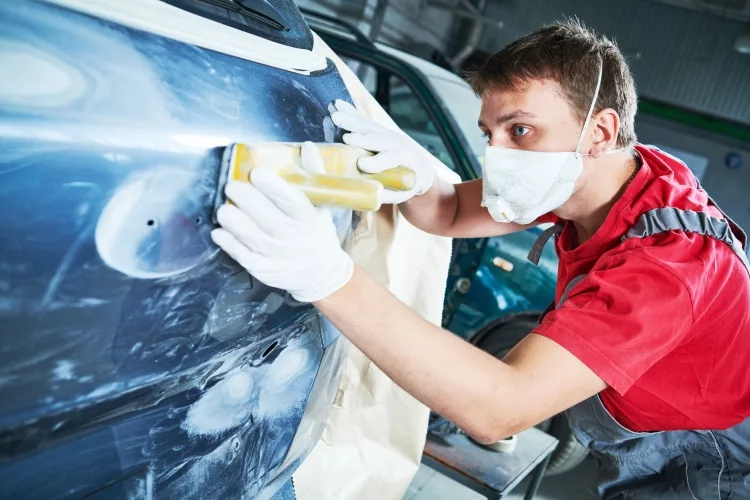 1. 3M Bondo 261 - Best Overall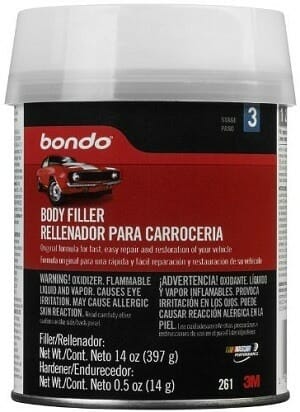 Bondo is a well-known brand in manufacturing effective and quality car body fillers. This one is a breath of fresh air for vehicle owners and auto body professionals owing to its microsphere formula that helps in repairing easily and quickly, which makes it our best overall product.
Bondo car body filler is a two part solution including a resin based filler and a hardener which are used to repair holes, dents, rusted areas and scratches from the exteriors.
Surfaces like metal, wood, concrete, fibreglass and more are shaped and cured in minutes. Plus, this filler is a durable choice that will give you the perfect vehicle exteriors or other surfaces.
Want to buy this? You will get a tube of the hardener which when mixed with the filler forms a nice creamy consistency to apply on the affected area. The mixture creates a chemical reaction to cure the dents, scratches or rust, etc.
Because this filler hardens up quite quickly you will need to apply it quite fast. But unless you are working on very larger areas, this will hardly ever be a problem.
Top brand filler
Consists of microsphere formula
Non shrinking and durable
Cures fast and shapes in minutes
Super easy to use

---
2. Evercoat 156 - Best Value
Evercoat brings you this car body filler to use for heavy filling and repairing of body damaged panels up to 1/2 inch in depth. It includes blue colored hardener which is mixed with the cream to form a nice consistency to use. Hence, this pack goes a long way to ensure you get the best value for your cash.
Also, this filler has creamy texture that spreads evenly and doesn't harden while applying. The body filler provides superior adhesion on different surfaces and leaves a smooth finish that requires minimal sanding.
This top-rated car body filler features a clog-free formulation and also does not produce much air bubbles while applying.
With up to 3 liters of product on the can and a more affordable price tag, this car body filler also offers great value for cash.
While the can might seem 3/4 full, there is still more than enough product in there, and you can be sure you will get 3 liters as advertised and hence no cause for alarm.
Good value for money
Creamy texture provides smooth application
Made with clog free formula
Perfect for heavy filling
Superior adhesion

---
3. Evercoat 125 - Best Sanding Body Filler
Anyone looking for a body filler that offers superior sanding capability or is able to remove more material than others, the Evercoat 125 is our best option for you.
Its potent sanding qualities are thanks to a special renewable technology. And besides the superior sanding properties, this body filler is also designed to be non-sagging.
When using this product, you will not need to use any putty afterwards which saves you both money and time. And because when you buy it, you will also get a hardener, this body filler will be ready for immediate use, which is quite convenient.
If you are an armature, this product can give you a hard time when you have to cover large areas. However, with a little practice or if you use it long enough, it should have an easier time.
Superior sanding capability
Formulation ensures it does not sag
You will not need any putty
Hardener included for immediate use
A little hard on armatures

---
4. 3M Bondo 233 - Best for Professional Use
As the name suggests, 3M Bondo is professional car body filler which works wonders on galvanized e-coat surfaces, epoxy, metal, wood, aluminium, fibreglass, SMC, and masonry etc.
Its superior adhesion properties ensures it creates a long lasting bond on galvanized steel and other metal surfaces.
The fact that it features advanced resin technology also helps to make it one of the best professional car body fillers. This technology makes mixing, applying and sanding super easy. And the process takes 5 minutes while working and 20 minutes for fast drying.
Moreover, it is non-shrinking to eliminate any rework after curing or drying. Grab it and fill low spots, scratches and dents in the vehicles before priming and painting.
While it seems to dry faster than advertised, for most users this is not a shortcoming but an advantage as it helps to speed up the job. Also, it can be a little runny when using it on vertical surfaces, but a little keenness is all it takes to overcome this issue.
Professional-grade formula is perfect for various surfaces
Smooth and easy application
Features minimal shrinkage
Cream hardener included
Fast curing and water-resistant
Faster drying than advertised
Can be a little runny on vertical surfaces

---
5. Evercoat 112 - Premium-Quality Lightweight Filler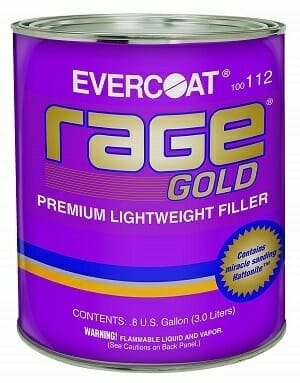 Another car body filler from the house of Evercoat has been formulated to make car repairs easier. It is a premium-quality and lightweight filler that contains Hattonite, a unique ingredient that improves sandability to reduce friction and heat created by aggressive sanding.
Also, this filler contains ZNX-7TM providing quality adhesion to galvanized aluminium and steel. Other than that, it adheres to the OEM corrosion warranty.
This body filler is also a great choice for repairing sensitive metals as the results are pretty good. It is an ideal product for heavy filling and repair of damaged panels.
Since it is formulated with the finest quality resin, it is pretty same as Evercoat's polyester glazing putty. Plus, its stain resistant formula lessens the chances of staining.
And with the vacuum processed and extra smooth formula, you can spread it evenly and easily.
When compared to other options among our car body filler review, this one seems a little expensive, but for a 3-liter can it is still fairly priced.
Top quality, lightweight filler
Stain resistant
Repairs sensitive metals easily
Easy application and easy sanding
Lots of filler in the container

How to Buy the Best Car Body Fillers
While our review above will provide some good recommendations, you still need to consider the following important points when shopping.
1. Types of Car Body Filler
Metal Filler
Metal fillers consist of aluminium metal parts and they are some of the most widely used fillers. These fillers will contain aluminum metal particles, and they have been in use since 1965.
They are known for their low moisture retention and do not shrink once applied which means you will not need to worry about reshaping. A good example of a fantastic metal filler is Permatex 25909.
Although they also provide a smoother finish when compared to other filer types, they are also more expensive.
Low moisture retention
Smoother finish
They do not shrink
Harder when cured

Easy to work with
Relatively more expensive
Fiberglass Filler
Fiberglass or resin fillers as they are also known as consist of metal and fiberglass particles.
This type of filler is applied by first sanding the dent and then applying the filler in layers. Heat is then applied to ensure proper curing before sanding.
Because fiberglass filler like Bondo Glass 00272 is tough and long-lasting, it is very good for large scale repairs or when dealing with vehicles that have extensive damages.
The presence of fiberglass bits in this body filler and the fact that it requires heat treatment can make spreading it a little hectic, but things should get easier once you get used to it.
Does not absorb moisture

Great for large scale repair jobs
Fast drying
Works with any paint type and color
Can be a little hard to spread
Requires heat treatment
Lightweight Filler
Lightweight fillers like Evercoat 112 are easy to sand and water resistant. They are more like metal fillers but with a more lightweight formulation.
These are often used as a final layer when repairing dents because they are not thick enough to cover large holes. However, they contain high amounts of resin to ensure the repairs last long enough.
Because these fillers tend to be easier to sand than metal or fiberglass, they have wider applications. Also, their lightweight nature makes them easier to handle as they can even be packed in papers.
Smooth and premium finish
Wide applications
Easy to apply and sand
Not thick enough for large holes
2. Compatibility
Before you buy any car body filler, don't forget checking if it is compatible to your damaged surface, auto body or anything you want to repair.
Fillers are made for different surfaces such as wood, concrete, metal, or plastic, and so it is vital to know which one will work for the surface you are repairing.
But, it is also worth noting that most modern car body fillers will have a special formulation and ingredients that allow them to be used on a variety of surfaces.
3. Ease of Application
Any car body filler that you choose should be easy to apply whether you are doing it for the first time or are a professional.
An easy body filler to apply is one that is easy to mix and has a nice consistency for easy spreading. Also, those that come with a spreader and detailed instructions will give you an easier time.
How to Use Car Body Filler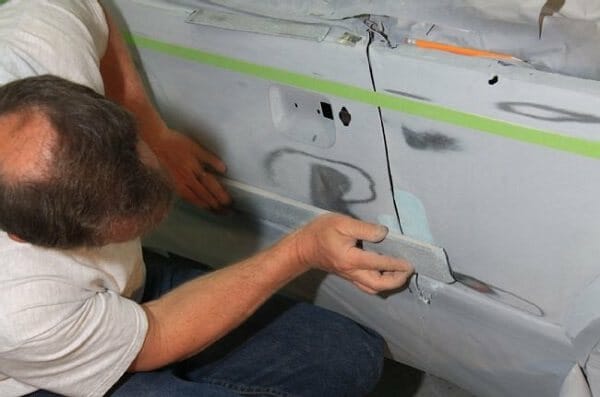 Finding the best car body filler is always the first step as you will still need to apply it correctly. And while the application will depend on the particular filler type you are using, the following are the basic steps you need to follow for most fillers.
Assess the Damage
Before you do anything you will first need to assess the damaged area and then use a hammer to try and restore the dented are as much as possible. What makes this an important step is that it will determine the filler type to use.
For small dents and scratches, you will only need to sand the area to give the surface a rougher texture for better adhesion.
Pick the Right Product
Based on your findings on step #1 you can now proceed to pick the appropriate product for repairing the damage at hand.
If you are only doing small repairs, even the inexpensive lightweight body fillers will be more than enough, but for extensive repairs, you need metal or fiberglass body fillers.
Mixing
The third step is to mix the filler with a hardener. Here you will also need to make sure you have a good hardener like Evercoat FIB-359.
In this step, make sure to maintain the right ratio to get perfect product consistency. Mix the products at a ratio of 100:2 or according to the manufacturer's directions.
Once it forms a nice blend, check the consistency and make sure it is smooth enough to apply or else it will not dry properly or cure the dents or scratches nicely.
Application
Apply the filler smoothly in even coats and shape it using the applicator or a good spreader like Dynatron 358.
Keep applying in layers while sanding down with sandpaper between dry coats until you get a perfect repaired or cured auto body.
Car Body Filler Frequently Asked Questions
What is the Difference between Body Filler and Putty?

A: Putty is typically softer than filler and it is hence only used in dealing with small impressions or in the final prep stages after applying filler. Filler can be used to fill out larger holes and cracks something which putty cannot do.
Will Body Fillers Crack?
A: It is possible for body fillers to crack when not applied properly. But provided you do not apply it to dents that are deeper than 1/8-inch and give it enough time to cure, the filler should not crack.
What Kind of Body Filler is Used on Overhaulin?
A: They use Evercoat, which also happens to be what many other auto repair TV shows seem to prefer to use.
How Big of a Dent can I Fill with Bondo?
A: Bondo can really fill up those large and troublesome holes. However, Bondo seems to work best on dents up to 1/4-inch deep. That said, the particular type of Bondo that you are using also determines the size of dent you can fill.
Buy on Walmart
3M High Strength Large Hole Repair Kit with 12 fl. oz Compound, Self-Adhesive Back Plate, - Walmart Link
Bondo Body Repair Kit, 00312, Everything You Need to Get Started, 1 Kit - Walmart Link
Bondo Professional Gold Filler, Stage 2, Superior Adhesion Ideal for Vehicles 1998 and - Walmart Link
Bondo Body Filler, Original Formula for Fast, Easy Repair & Restoration of Your Vehicle, - Walmart Link
Bondo 265 Lightweight Filler Can - 1 Gallon - Walmart Link
U. S. Chemical & Plastics All-Metal, 1-Quart (USC-14060) - Walmart Link
Bondo Metal Reinforced Filler - High Strength Filler, Can be Drilled and Tapped - Will - Walmart Link
Buy on eBay
3M High Strength Large Hole Repair Kit with 12 fl. oz Compound, Self-Adhesive Back Plate, - eBay Link
Bondo Body Repair Kit, 00312, Everything You Need to Get Started, 1 Kit - eBay Link
Bondo Professional Gold Filler, Stage 2, Superior Adhesion Ideal for Vehicles 1998 and - eBay Link
Bondo Body Filler, Original Formula for Fast, Easy Repair & Restoration of Your Vehicle, - eBay Link
Bondo 265 Lightweight Filler Can - 1 Gallon - eBay Link
U. S. Chemical & Plastics All-Metal, 1-Quart (USC-14060) - eBay Link
Bondo Metal Reinforced Filler - High Strength Filler, Can be Drilled and Tapped - Will - eBay Link
Conclusion for Car Body Filler Buyers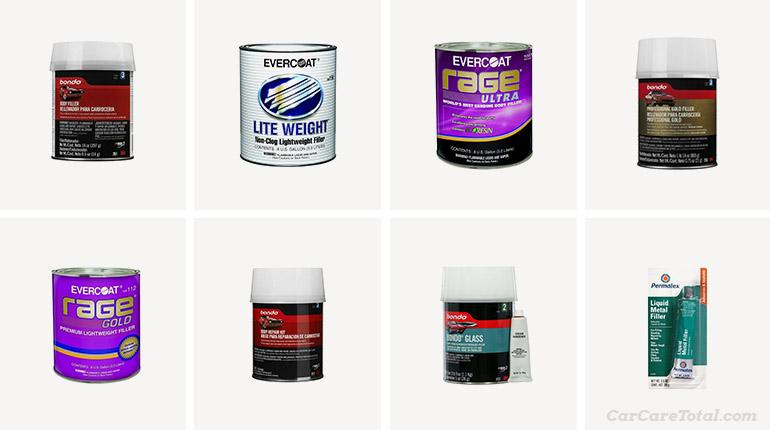 Choosing the best body filler for repairing dents and scratches on your vehicle should not take a lot of effort as you now only need to pick one option from our lost above.
And to help narrow down your choices further, the 3M Bondo 261 is our best overall as it is a top quality product from a reputable brand that cures fast and works on different surfaces.
For those looking for the best value for their money, the Evercoat 156 is what we would recommend, while the 3M Bondo 233 is the best option fro professional use.