Driving with your dog in the car is always fun because you have a friend to keep you company, especially if you are going on a long journey.
Dogs also love cars but the problem is that they might be unclean in which case they will mess up your interior with dog hair, muddy paw prints, and dirt.
To avoid this, install a dog seat cover, which is designed to protect the car's interior and seat upholstery so that it becomes easier to maintain the car once you arrive at your destination.
This cover should be waterproof and have a tough, durable construction so as to handle the dog's roughness.
The products reviewed below are the best car seat covers for dogs that you can find in the market, and the goal here is to make it easier for you to find the most one for your car.
Top Car Seat Covers for Dogs by Editors' Picks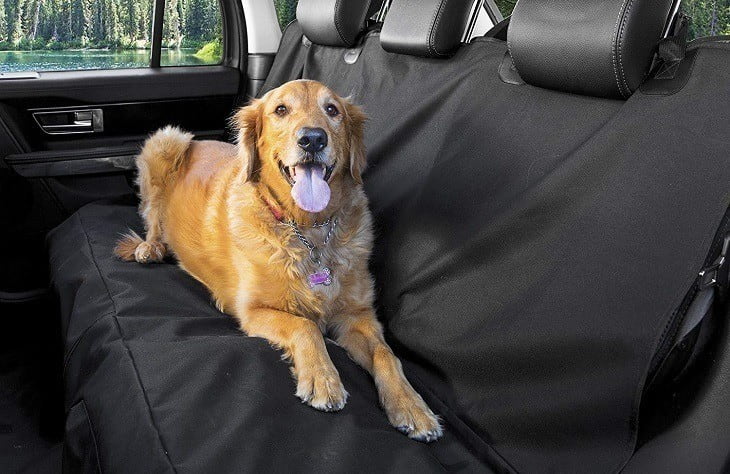 Summary of 7 Best Car Seat Covers for Dogs
IMAGE
PRODUCT
FEATURES

1. 4Knines USA Based (Best Overall)

54-inch wide convertible hammock/ standard bench cover
Velcro openings for seatbelts and child safety latch access
Seat anchors and headrest straps for support

2. BarksBar Luxury

60 x 64-inch convertible backseat bench cover
Tough triple layered waterproof construction
Made using colorfast polyester

3. Plush Paws Products PS-REG-BL

55 x 58-inch convertible backseat cover
Tough and durable Oxford 600D construction
Velcro openings for seat belts

4. BarksBar Chen-p-003

54 x 58-inch backseat convertible cover
Heavy-duty polyester construction
Does not fade

5. NAC&ZAC NAC-5884

56 x 63-inch convertible hammock/standard bench
Sturdy polyester construction
Easy to clean

6. Epica FBA_1009371832

Comfortable, cushioned 3-layer design
56 x 47-inch backseat bench cover
Water, oil and stain resistant

7. Urpower SC-014

20.5 x 40.1-inch heavy duty polyester front seat cover
Non-slip rubber underside, seat anchors and a headrest buckle for support
Built-in side skirts
1. 4Knines USA Based - Best Overall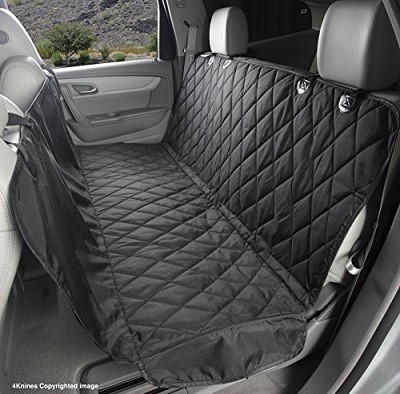 If you are looking for a convertible hammock dog back seat cover, then this is one of the best options to consider because it can be attached to the front headrests to keep your dog secure and prevent it from messing up your car, or tucked in when carrying your baby or other passengers.
Though expensive, it provides complete protection using its waterproof quilted top and non-slip bottom layers so as to keep any moisture from penetrating through, are made using very durable materials that will last a lifetime.
Apart from the non-slip bottom layer, this seat cover also features seat anchors and headrest straps to keep it in place so that any dog mess is fully contained.
Since it is waterproof, 4Knines' dog seat cover is very easy to clean, with the option of hosing, wiping or even giving it a thorough cleaning in a washing machine.
Other features include regular (54 inches wide) and XL (60 inches wide) size options, Velcro openings for seatbelt and child safety latch systems, and black, grey or tan options to match your vehicle's interior.

---
2. BarksBar Luxury Car Seat Cover for Dogs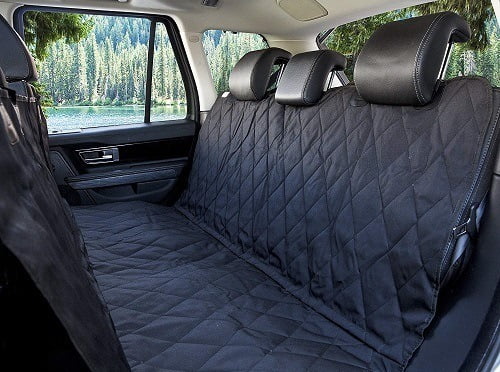 Size: 60 × 64 inches
Material: Polyester
For any large truck or SUV, this luxury pet seat cover is the best one to use because it is very large in size (60 × 64 inches), making it ideal for the large back seats in these big cars. However, there is also a smaller and cheaper standard size (54 × 58 inches) for smaller cars.
Regardless of the dimensions, each cover has a triple-layered waterproof polyester construction that is designed to keep any moisture from dropping down to the car seat below while providing extra comfort, featuring a quilted pattern for a high-end feel.
On top of this, the material is color-fast, which means that it does not bleed into the seat or fade when machine washed. It is also free of azo dyes and heavy metals such as mercury and arsenic, making it very safe to use.
Anchorage is provided in 3 ways using tuckable seat anchors, buckle straps that go around the headrests and a rubberized non-slip backing. Front headrest straps are also available for converting it into a hammock.

---
3. Plush Paws Products PS-REG-BL Car Seat Cover for Dogs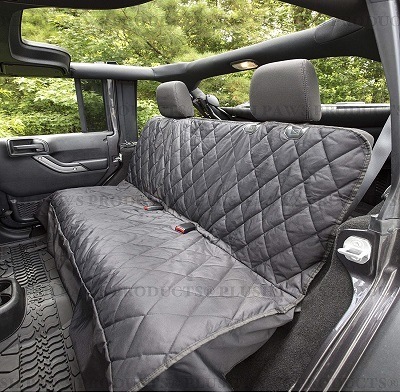 Size: 55 × 58 inches
Material: Oxford 600D
Plush Paws Products' pet seat cover stands out due to its dog protection safety features, in which it comes with 2 harnesses and 2 seatbelts that are meant to keep your canine safe and secured on the seat as you drive. This also lets you focus on driving with minimum distractions.
The unit also features seat belt slots that give allowances to help secure kids and other pets using the car's own seat belts.
For most standard cars, trucks, and SUVs, this would fit perfectly on the back seat as it measures 55 × 58 inches in size. However, there is an extra-large option for bigger vehicles, measuring 63 × 65 inches and both are available in black, grey or tan for different interiors.
Though quite expensive, this product is convertible into a hammock and it is made using 600D Oxford waterproof breathable fabric that is soft, easy to clean, chemical free and reinforced at the pressure points using extra layers of fabric.

---
4. BarksBar Chen-p-003 Pet Seat Cover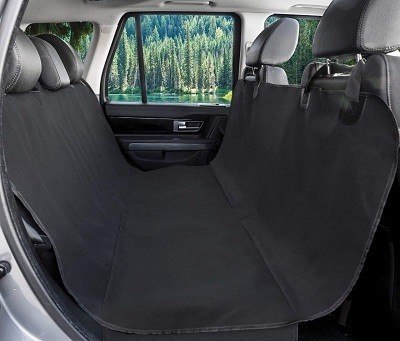 Size: 54 × 58 inches
Material: Polyester
Durability is a very desirable aspect in every product and this pet seat cover by BarksBar incorporates the use of a long-lasting design.
This can be seen in its heavy-duty waterproof polyester construction that is sturdy enough to handle the pet's roughness while still maintains high levels of comfort.
The material is also colorfast and is tested to withstand extreme temperatures so it does not fade and will not damage your vehicle's interior.
With such a structure, the cover protects your car's backseat bench from dirt, spills, hair, fur, moisture, and scratches, and can be extended into a hammock to keep the dog safe at the back and also to prevent this debris from falling over to the mats on the floor.
Fixing the unit is also quite easy as it features snap-on buckle straps for tying around the headrests, seat anchors and a rubberized back. This also means that it can be easily removed for cleaning, in which you can vacuum, wipe or machine wash the cover.

---
5. NAC&ZAC NAC-5884 Seat Cover for Dogs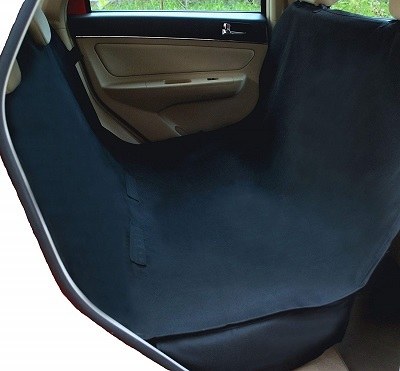 Size: 56 × 63 inches
Material: Polyester
Nac&Zac's hammock convertible dog seat cover is quite a large 56 × 63-inch unit that is suitable for large cars, trucks, and SUVs, and it features side flaps that protect the sides of your seat from muddy paws as the dog jumps into the car.
For safety, Velcro openings are built-in to give allowances to the seat belts so that you can secure your child at the back. The cover also has a clear silicon non-slip backing that helps secure it in place, and this is enhanced using reinforced headrest straps and seat anchors.
The product is made of a strong polyester material and contains 3 layers, with the middle one being a waterproof PE fabric that keeps moisture from penetrating to the car seat while also providing no smell and no harm to your pet.
Even though very strong, the polyester is quite soft and this makes it easy to clean via machine washing, wiping or vacuuming.

---
6. Epica FBA_1009371832 Pet Car Seat Cover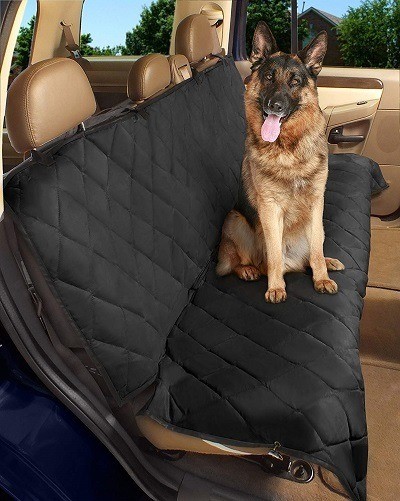 Size: 56 × 47 inches
Material: Suede, Polyester
Luxury is incorporated in this back-seat cover's design in the form of a 3-layered construction that is built to be very comfortable.
Basically, the top layer consists of a microsuede fabric that is water, oil, and stain-resistant and has a high-quality diamond quilt pattern, while the bottom layer consists of a polyester pongee fabric.
In between these is a polyester filling/ synthetic fiber layer that provides a soft, luxurious and comfortable cushion, and hence its name. Furthermore, these layers create a breathable structure that is more even comfortable for your pets.
Fixing the unit is quite easy because it is designed with anchors that fit easily into the car's seatbelt system so as to secure the cover in place while headrest handle-straps hold it upright.
However, you get no hammock or side flaps but the comfort awarded makes it worthy to consider.

---
7. Urpower SC-014 Seat Cover for Dogs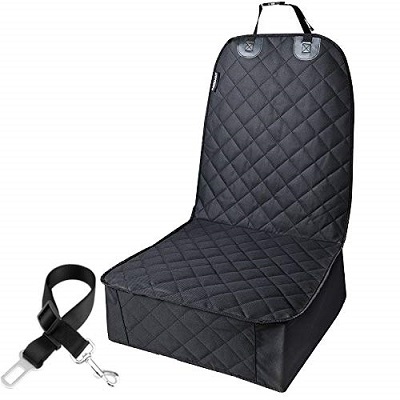 Size: 20.5 × 40.1 inches
Material: Polyester
Urpower's black cover is easily the best front seat cover for dogs owing to its universal fit. This is because it measures 20.5 × 40.1 inches and although side skirts are included, this is a common size that can fit in most car's front seats.
That said, the piece's side skirts ensure that the dog does not make the side of the seat dirty as it jumps in with its dusty or muddy paws.
For firm placement, a non-slip rubber underside keeps the cover in position while seat anchors and a quick release headrest buckle enhance its grip and make it easy to install.
High quality, heavy-duty polyester is used to build the unit's structure, and it includes 4 layers for additional comfort. This design is easy to maintain because it can be vacuumed, wiped or machine washed.

How to Buy the Best Car Seat Covers for Dogs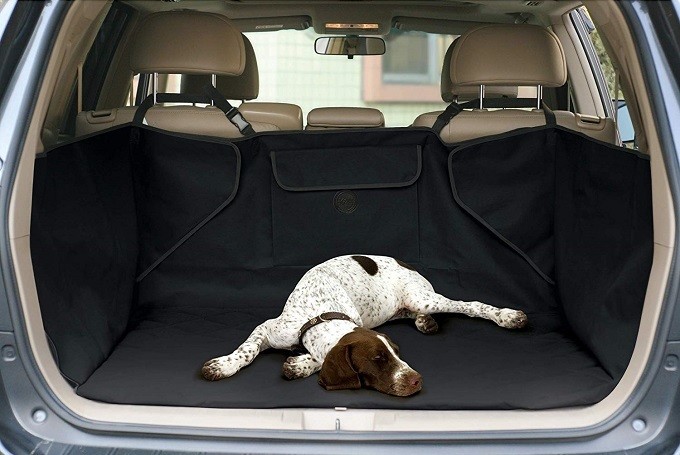 1. Types of Car Seat Cover for Dogs
Back Seat Cover
As the name suggests, a back-seat cover is meant to be placed above the back seat and there are two varieties of this. One is a basic bench type that takes the outline of the seat while the other is a hammock type, which is suspended using the front and rear seat headrests.
The hammock type is definitely better because it protects the pet from tumbling over in case of hard braking and also keeps all the dirt and debris from falling over.
Some important things to check, though, about back seat covers is that they should have openings for seatbelts and should have a strong and durable construction.
Front Seat Cover
Front seat covers are used on the front seats and basically, they should also have sturdy construction.
Car Door Cover
Dogs like to poke their heads out of the car when you roll down the window and to do this, they usually put their front paws on the window frame, scratching and messing up the car door in the process.
To avoid this, a car door cover keeps the paws away from the door's finish so as to reduce damage.
Cargo Cover
Cargo covers are really great because they enable you to give your dog a lot of room in the cargo space of your car. However, there are a few issues with this type of cover.
One, you can only use it in an SUV, though minivans and station wagons also have usable cargo space. Two, with the dog in the cargo area, monitoring it can be quite difficult.
Buying Guide : Overall, back seat covers are very popular because they are spacious and practical. However, you should buy this product according to your needs.
2. Material
Some of these seat covers are made using polyester, oxford 600D and others have a blend of the two. Regardless of the material used, the most important thing to do is to ensure that the cover is at least tough and durable, as well as waterproof so as to prevent urine from penetrating through.
3. Comfort
Apart from being tough, durable and waterproof, comfort is also a key factor to consider and this is usually provided be a foam or fiber layer. With this, you will ensure that your friend is superbly comfortable for the entire journey.
4. Size
Whether it's a back or front seat cover, or a cargo cover that you want to buy, always ensure that it will fit in your car. This means that you have to have your car's seat measurements so that you buy the best fitting size.
5. Easy to Install and Clean
After purchasing, the next thing is usually installation then maintenance. For easy installation, check that the cover has things such as Velcro straps for seatbelt allowance, snap-on buckle straps for the headrests and seat anchors.
This way, it will also be easy to remove when it is time for cleaning. Speaking of cleaning, ensure that the cover you get is at least machine washable for automated maintenance.
However, vacuuming, wiping and hosing are also good cleaning options to have, especially when dealing with tough stains.
Read More: 7 Best Shop Vacuums for Cars
Conclusion
Car seat covers for dogs are mostly defined by what you see, but there are some few features that are hidden such as waterproof properties. All in all, getting a good cover might be challenging if you do not know what to look for.
However, after going through the content above, you should be in a better position to pick the best car seat cover for dogs.