When you buy a new car, you get really possessive with keeping it new and protected from wear and tear. And car seats are one of the major things that you have to worry about. That is why you need to look for the best car seat covers to protect them.
Car seat covers are available in different material, size, and styles. And so it solely depends on the buyer when it comes to making the buying decision.
But, when it comes to choosing a car seat cover you will not only need to go for something that is protective enough but also looks good on your vehicle and is easy to maintain.
To help you find something that fits these demands below we review 7 top-rated car seat covers and provide a handy buying guide.
Top Car Seat Covers of 2021 by Editors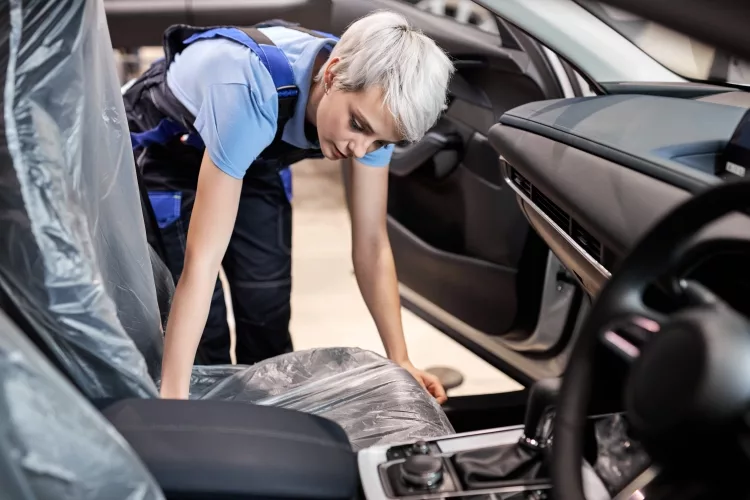 Summary of 7 Best Car Seat Covers
IMAGE
PRODUCT
FEATURES

1. BarksBar Car Seat Cover (Best Overall)

Material - Polyester
High-quality and durable material
High end luxurious feel
Easy to install and clean

2. Urpower SC-014

Material - Polyester
Perfect for pet owners
Non slipping and sliding
Completely waterproof

3. Leader Accessories 10203

Material - Soft Towel
Custom built for athletes
Soft and waterproof material
Quick installation and fits all vehicles

4. Big Ant ZDTB07

Material - Rubber
High-quality and breathable rubber pad
No-slip sole
Firm and durable accessories

5. FH Group FB102GRAY114

Material - 3D Air Mesh
Complete seat cover set
Super comfortable
Easy to install and clean

6. Copap IASC-010F

Material - Premium Saddle Blanket
Beautiful design and prints
Super comfortable material
Great value for cash

7. Edealyn QJ-JJ0098-Beige-3D

Material - PU Leather
Super comfortable material
More durable overall construction
Easy to install
1. BarksBar Car Seat Cover - Best Overall
Material: Polyester
Dimensions: 11.1 x 2.7 x 13.5 inches
BarksBar makes this amazing pet front car seat cover from high-quality polyester to ensure maximum durability so that you will not need to replace it for a long time.
The product has tripled layered waterproof PU to keep water out of the seats. And the quilted pattern in the seat cover provides a more luxurious feel. Plus, the built-in rubber gives non-slip backing and hold the cover at one place.
The high-quality material does not emit any color on washing. The premium components are free of AZO dyes and heavy metals such as mercury, lead, or arsenic, etc.
There is no affect of changing weather conditions on the cover. It does not get extremely hot or cold as the weather change.
This top-rated car seat cover is also super easy to install and it will only take a few minutes and cleaning it is also equally easy as it is machine washable.
For a 1-pack seat cover, this one is a little pricier but the quality makes it worth it and you can be sure of getting value for your bucks.

---
2. Urpower SC-014 Car Seat Cover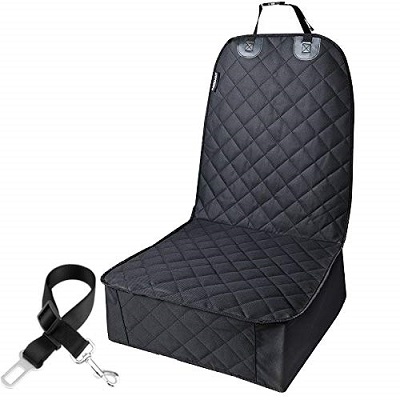 Material: Polyester
Dimensions: 2.6 x 8.2 x 11.2 inches
Urpower makes this car seat cover for all those pet owners that are always getting their car seats ruined by their rowdy pets.
The material is waterproof with 4 layered waterproof PU for additional comfort. This way, the seat is protected from pet hair, water, mud, dirt, and claw marks.
Near the headrest, there is a quick-release buckle. Plus, there is built-in rubber nonslip backing which restrain the seat cover from slipping down.
The seat is very easy to clean and installing it will also not take a lot of effort. You can simply put it inside the washing machine and wash it. Or even better, you can clean this with damp cloth.
The fit is universal, so you don't have to worry about finding the appropriate fit for the car seat as it is suitable for cars, trucks, and SUV.
While the material could have still been better, it is quite tough and should last long enough for most users.

---
3. Leader Accessories 10203 Car Seat Cover
Material: Soft Towel
Dimensions: 12.2 x 10.1 x 2.2 inches
If you are an athlete that works out a lot and is always sweaty, this seat cover by Leader Accessories is custom built for you.
Yes, while it is made of soft towel material, this product is completely waterproof and makes a good seat cover for swimmers, runners, and yoga enthusiast.
The material is 100% sweat-absorbent and bacteria resistant. You can wash it with hand or in a washing machine as well which makes maintenance easy
The fit is universal which means it will work for any vehicles and installing it is also fast and easy.
The design and nature of the materials means that this seat cover slips quite often, but it is easy to secure it in place with a little inventiveness.

---
4. Big Ant ZDTB07 Car Seat Cover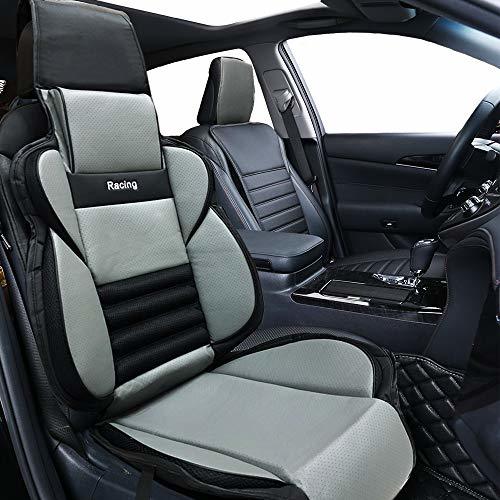 Material: Rubber
Dimensions: 20 x 19 x 0.8 inches
This Big Ant product is different from all the others mentioned in our list as it is a seat cover that provides protection for the seating area only.
To start with, this one is made of rubber and does not require any special fitting on the seat. You can simply place it just like a loose seat cover and it can fit any vehicle seat
The material helps in keeping the seat from heating up in summers and becoming extremely cold in winters. This way, you will not feel discomfort as the season changes.
Also, its only because of the great hold of rubber products that the seat will never fall off of the seat.
This product is water resistant and cleaning it is also quite convenient as you can easily use a damp cloth to clear the dirt and debris from the seat.
When compared to other options on our car seat cover review, this one is a little pricier. However for such a high-quality rubber seat pad it is worth it.

---
5. FH Group FB102GRAY114 Car Seat Cover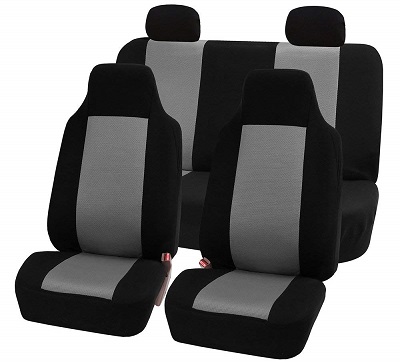 Material: 3D Air Mesh
Dimensions: 11 x 5 x 15 inches
This product from FH Group is a set of seat covers that includes 2 high back covers, 1 bench cover, and 2 separate headrest covers and it ensures you have enough covers for all the seats on your standard saloon cover.
The 3D air mesh fabric is quite durable and comfortable and you can easily clean it in the washing machine and then set it open to air dry.
The bench cover fabric is almost 52 inches in length that covers pretty much all back seats in different cars. That is why this product is suitable for different automobiles whether it is a car, truck or SUV.
These seat covers are not completely waterproof, but you can easily take care of this with a cheap waterproof lining.

---
6. Copap IASC-010F Car Seat Cover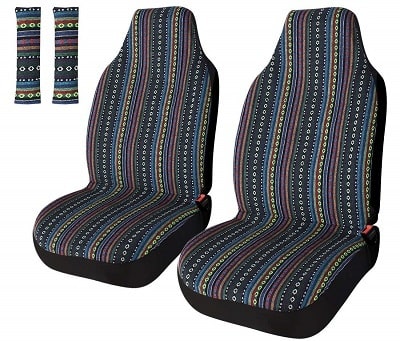 Material: Premium Saddle Blanket
Dimensions: 12.5 x 8.1 x 4.8 inches
Copap IASC-010F is a good car seat cover option for the budget buyers. And the front of the cover features beautiful stripe print that will add more glamour to your car.
The saddle blanket material with 3 mm foam padding makes the seat extremely comfortable and breathable. It can refurbish the old car seats or provide a fancy look to the new ones.
The fit is universal so you don't have to worry about it fitting your car or not. and the set includes 2 pieces of front seat covers and 2 pieces of safety seat belt pad protectors.
The fabric used to make these car seat covers is not completely waterproof but it should still be able to keep most of the water or fluids away from your seats.

---
7. Edealyn QJ-JJ0098-Beige-3D Car Seat Cover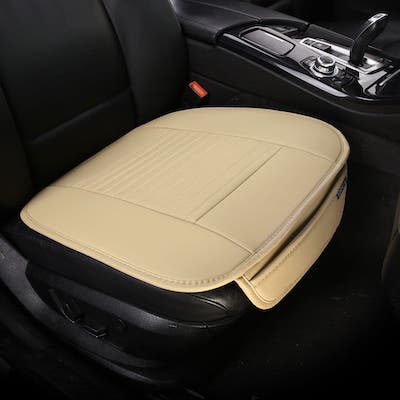 Material: PU leather
Dimensions: 23 x 21 x 3 inches
With a PU leather seat cover like this one by Edealyn, drives become more comfortable no matter how long they might be.
This premium quality comes in various color options designed to give your vehicle the much needed glamour and is suitable for most midsize and compact vehicles.
Both the pouter material and padding are designed to be super comfortable and for maximum breathability and this will be a super easy cover to install.
For a one-piece seat cover, this one is quite expensive but for such a high-quality product it is hard to get anything better without spending more.

How to Buy the Best Car Seat Covers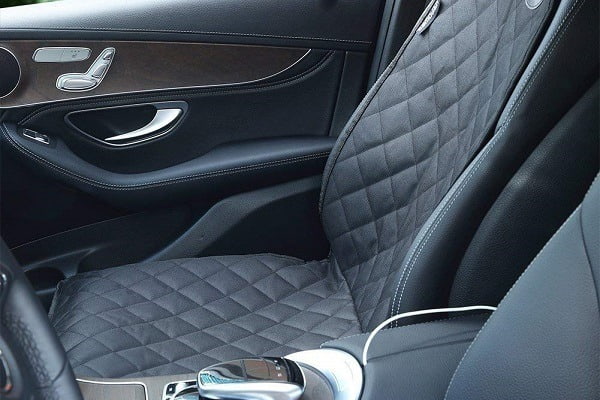 Car seat covers come in handy for everything from protecting your seats from wear and tear and UV rays to preventing pet damages.
But because not all will provide these benefits you need to choose the best ones by considering the following important things.
1. Fit
The fit is always the first factor to consider when choosing a car seat cover because if what you buy does not fit well it will create an unsightly look.
You can either purchase a cover that has universal fit or one with a custom fit or is specifically built for your seat types and size.
The good news is that these days you can purchase model specific car seat covers which are always better than the universal fit ones as they provide an excellent fit.
2. Full or Bottom Car Seat Cover
There are two types of car seat covers available in the market. Full covers are the ones that conceals the entire seat whereas bottom covers only protect the seat and not the upper back rest.
While there is not a lot of difference in both the covers if you look at it cost-wise the level of protection they offer obviously differs.
If you want advice then we will ask you to buy full car seat covers so that you don't have to worry about anything getting torn or dirty.
3. Material
There are two prime types of materials used to make car seat covers. We will discuss them below.
Fabric Covers : These are the most popular seat covers because they are available in variety of designs, textures, and shades.
Plus, these are inexpensive when compared to their leather counterparts. But more than anything, the best part is that these are more accommodating to rough use.
Also, most of the fabric covers don't conduct heat which means that they neither get too hot or too cold with the changing weather.
But, they are not as durable as leather car seat covers but at the same time, they don't require a lot of upkeep and care. Plus, the fact that these are hand washable means you don't have to worry about them getting dirty.
Leather Covers: Leather is the other common car seat cover material and it is known as the luxury car seats cover because of the high buying and maintenance cost.
They can suit any kind of car interior and available in all sort of colors. Most people purchasing leather seat covers buy faux leather because original leather is very difficult to purchase.
Cleaning the leather covers is pretty easy and it only takes a leather cleaner and cloth piece to remove the stain marks.
As far as drawbacks are concerned, there are a few with leather covers such as they get super hot in summers and extremely cold in winters which causes a lot of discomfort.
Buying Advice : While leather seats look extremely posh, they have a good number of drawbacks. If you don't mind maintaining them then there is nothing better than leather car seat covers.
But we personally recommend fabric seat covers because they require less maintenance and are available at affordable cost. Especially if you have pets then there is no better alternative to fabric seat covers.
4. Ease of Cleaning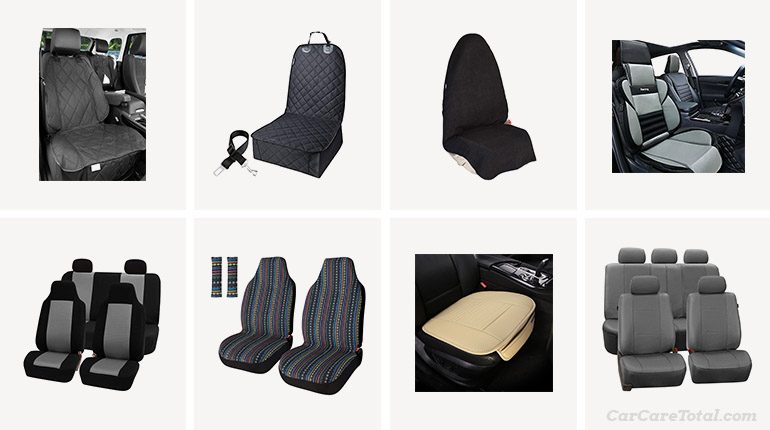 If you use your car often, then your car seat covers will get dirty soon and so you need to clean them. Hence, when choosing seat covers, you need to think of how easy they will be to clean.
It is best to purchase something that is easy to maintain and wash. The machine washable ones will give you the easiest time. Also, those that are easy to remove and reinstall ensure you do not waste a lot of time cleaning them.
Conclusion
You need to keep your car seats well protected and concealed from possible damage to ensure they maintain a good look and maximum comfort. And there is not better way to do this than with a good car seat cover.
But not just any will do as you need to choose the best car seat covers by considering factors like the material, fit and ease of cleaning.
This piece explains these factors in detail and we also go a step further to provide some top-notch recommendations with our review.