Oxidation causes iron to rust and this is the single biggest weakness for anything made from steel. If your car has fallen victim to rust, don't worry because a rust converter can magically heal it.
Rust converters may vary slightly but they all have the same working principle based on chemistry.
The first step is converting the rust itself into iron tannate using tannic acid. This effectively kills the rust. The second step is creating a protective cover on the surface against oxidation agents using 2-Butoxyethanol.
These two processes combine to create your average rust converter, although different manufacturers offer different options which may or may not benefit you, depending on the problem at hand.
In this rust converter review, you'll learn about the best rust converters in the market and additionally get a buying guide to help you make the right choice.
Top Rust Converters of 2021 by Editors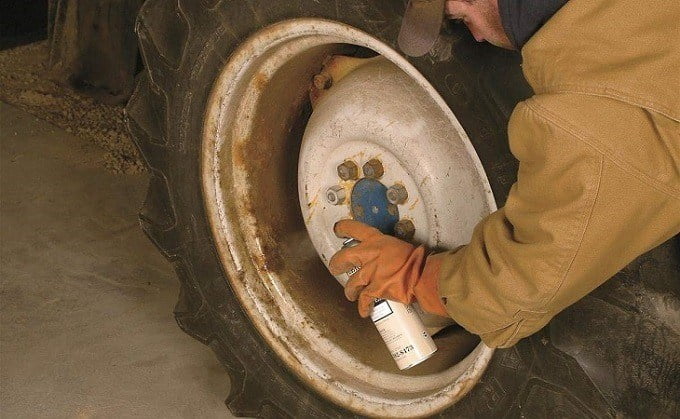 Summary of 7 Best Rust Converters
IMAGE
PRODUCT
FEATURES

1. Evapo-Rust ER012 (Best Overall)

Easily removes all levels of rust
Non-toxic and biodegradable formula
Offered at a good price

2. VHT SP229

Easy to apply rust converter
Stops rust immediately on contact
Works on fiberglass and body filler as well

3. PlastiKote 624

An organic and non-toxic formula
Creates a strong and paintable surface
Does not cause foaming or bubbling

4. Star Brite 092322

Biodegradable rust converter formula
The bottle includes a spray head
Fast curing time of just 2 hours

5. FDC 20358

Professional grade formula
1 gallon is enough for 500 sq. ft
Stops rust immediately and seals permanently

6. Product Name6. Gempler's RCQ

Eco-friendly formula
Efficiently stretches up to 125 sq. ft
Easy to apply by brush or spraying

7. Gempler's 127787

Rust converter in convenient can
Ideal for hard to reach areas
Each can covers up to 24 square feet
1. Evapo-Rust ER012 - Best Overall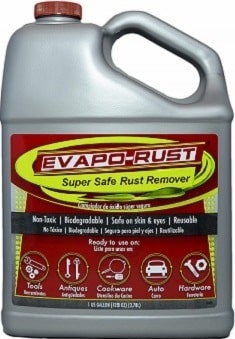 Volume: 1 gallon
Application Method: Panting, spraying
Evapo-Rust is a top-rated rust converter, known for its high quality and its non-toxicity. This rust converter produces results effectively and it's reusable as well. It's non-toxic and has no unpleasant odors.
It is biodegradable and non-corrosive, which means it's safe for the skin and the eyes. You are free to use this rust converter even beyond your car and in the house for household items.
You'll need a funnel to pour the liquid back into the container for storage. This is because of the rather small container opening, else it's easy to store without any worries.
It also takes time to work its magic, but when it does finish, you get great results and that's all that matters.


---
2. VHT SP229 Rust Converter

Volume: 10.25 fl. ounces
Application Method: Spraying
VHT Specialty Products makes an impressive offer here for those on the search for the best rust converter spray. This one comes in a 10.25-oz can and it's ready for spraying straight out of the can.
It stops rust immediately on contact and additionally blocks any future rusting on the part. You'll need to leave it for a full 24 hours to cure completely though, as it turns from a clear liquid into a black metal, which forms a protective coating on the metal piece.
On the downside, you can only get this formula in this 10.25-oz can, which may be too small for large projects. You can also only spray it, so there's no chance for other application methods. Still, each can comes with all the necessary instructions for using it.

---
3. PlastiKote 624 Rust Converter

Volume: 16 fl. Ounces
Application Method: Painting or spraying
From PlastiKote comes the 624 rust converter, which is a completely organic formula. This means that it's entirely safe on the environment and it leaves neither hazardous nor toxic materials from use.
This Plastikote rust converter formula bonds strongly with the rust on your metallic object or part to form an entirely new and very strong metallic surface. This new surface can get painted after 24 hours and you can even sand it first to create a smoother surface.
PlastiKote guarantees that it won't cause a bleed through stain on top coats, making it one of the best automotive rust converters.
Easily converts your rusting parts to a hard metal
Works using an organic and non-toxic formula

---
4. Star Brite 092322 Rust Converter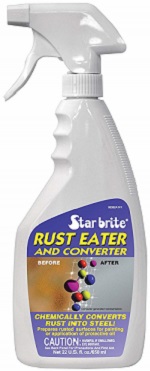 Volume: 22 fl. ounces
Application Method: Spraying & brushing
While you'll have to wait for 24 hours with most of the other products on this list, this one offers you a very fast curing time of just 2 hours. This means that you can either paint or be done with the metal part in just 2 hours.
The bottle also comes with a spray head, allowing you to easily spray the solution wherever you need it. You can also use brushing or dipping if that's better for you.
This offer does have a drawback though, and that's the phosphoric acid in the formula. This makes it corrosive and potentially irritating to the skin and eyes, but it's biodegradable, so it's still environmentally friendly.
Fast-acting formula quickly makes rust solid
Biodegradable formula is safe for the environment

---
5. FDC 20358 Rust Converter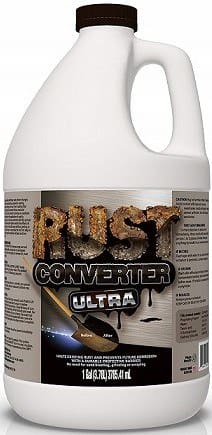 Volume: 1 gallon
Application Method: Brushing and spraying
If you want the best rust converter on the market, then FDC makes you a good offer here with their Rust Converter Ultra. It offers you a very durable bond, coupled with economical use.
You'll get a coverage of up to 500 square feet from 1 gallon of this formula and this beats most of the competition. The formula also stops rust immediately, as well as preventing further corrosion.
For disadvantages, this formula does have a higher price but which can easily be justified by its quality. It also takes up to 48 hours to cure completely, which is far from the fastest on this list.

---
6. Gempler's RCQ Rust Converter

Volume: 1 quart
Application Method: Brushing and spraying
Here's another rust converter that you can also stretch out. The 1-quart bottle can cover up to 125 square feet, which means one gallon of it will reach up to 500 square feet.
The application is easy and can get done with a brush or by spraying. This formula also functions as a very good primer for painting on, although it needs up to 48 hours to cure.
Another downside is that it's only available in 1-quart bottles, so you may need to do some calculations if you're working on more than 125 square feet.

It's also Eco-friendly, made from a water-based formula, which is non-flammable and completely safe for the environment.

---
7. Gempler's 127787 Rust Converter

Volume: 13 fl. ounces
Application Method: Spraying
There are times when you just need to touch up small rusty areas or when you are working on a larger project but you also need to work on harder to reach areas.
Simply direct the can to spray it wherever you want and the rusting stops, plus you get a strong protective coat. Each can will handle up to 24 square feet, which amounts to over 200 square feet per gallon.
The only down part to this spray formula is that it comes in a rather small can and it can only get sprayed. So it's not ideal for large projects.
It also needs 2 days to fully cure, but if you've got the time and like convenience, then it's an attractive offer.


How to Buy the Best Rust Converters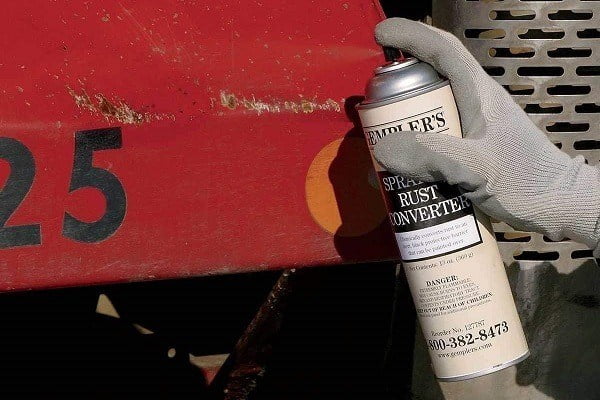 It's important that you understand the different features of a rust converter and how to work with them. This understanding is necessary for you to choose the best rust converter offer and to get the results that you want.
These factors are as follows but before continuing, do keep in mind that rust converters primarily work on metals that contain iron and that you may need to brush or sand off most of the rusted metal flakes before applying the converter.
1. Application Method
Different manufacturers package their rust converter in different ways. Some come in aerosol cans while others come in small bottles or in even larger containers.
The project you have at hand will help you to decide which type of container or application method will be the most convenient for you. If you are working on a small piece or area, then an aerosol rust converter would be a great idea.
If you have to work on a large piece like an entire rim, then a larger container that you could use a brush to paint with would be more convenient than a little spray can.
2. Drying Period
Rust converters work based on chemical reactions which take time to complete. You'll always be safe if you leave between 24 to 48 hours after the application to either paint it over or do something else with the piece.
The problem though is that you could be in a hurry or have limited time for one reason or the other. In such cases, you are better off with certain rust converters that promise shorter curing times before you can paint them over.
For all other situations, the converter will come with instructions anyway, so you'll always know exactly how much time to work with.
3. Clean Up
Some rust converters are easier to clean up than others. While many products on the market will easily stain your clothing and skin, you'll find certain offers out there that promise you can easily wash off their formula using just soap and water.
It's recommended that you wear protective gear when working with rust converters anyway. This is not just because of stains but because they are also toxic.
4. Toxicity
Rust converters are often toxic because they include phosphoric acid, which can cause irritation and inflammation if it comes in contact with the skin.
Although there's no danger of severe burns here, it's still advised to wear protective eyewear and gloves to cover your hands, preferably rubber gloves.
5. Durability
Last but not least, is the new coating's durability. Some manufacturers offer converters that don't need painting or coating in any way to protect it from the weather, while most manufacturers expect you to paint it over for some protection.
Conclusion
We've reached the end of this best rust converter review and you've seen all the available products and what each one has to offer.
From an extremely strong protective coating to the ability to get spread over a wider area and easier application, different companies offer different features that make each offer unique.
This final choice, therefore, is yours to make, based on how much work you need to get done and on which offer provides you with the best features you need.