Whether you are a professional driver that has to cover hundreds of miles every day or just a regular car owner that has to commute to work daily, you need your car seat to be as comfortable as possible.
And with the Everlasting Comfort Car Seat Cushion, that is just what you get. It has an ultra-comfortable memory foam material and an ergonomic U-shape to ensure comfort and relieve pain. And this is further bolstered by a compact and portable design.
Everlasting Comfort Car Seat Cushion Review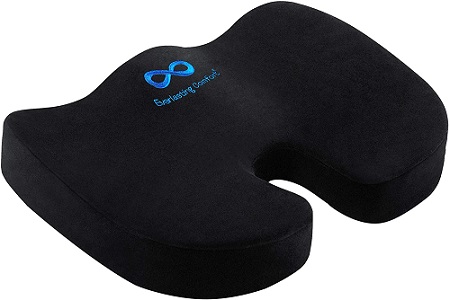 Specs
Product Name:

Everlasting Comfort Car Seat Cushion

Product Weight:

1.9 pounds

Product Dimensions:

17.5 x 13.5 x 2.8 inches

Brand Name:

Everlasting Comfort

Material:

Pure memory foam

Shape:

U-shaped

Color Options:

4 (Black, Red, Blue and Navy Blue)
Features
Orthopedic U-shaped design
Heat-responsive cushion
Versatile design for various uses besides car seat cushion
Non-slip rubber bottom prevents sliding
Machine washable for easy maintenance
Lifetime guarantee for quality assurance
What We Like
Bottom Line
A super comfortable car seat cushion made from pure memory foam and will be perfect for relieving coccyx, tailbone, back, and leg.

Detailed Reviews for Everlasting Comfort Car Seat Cushion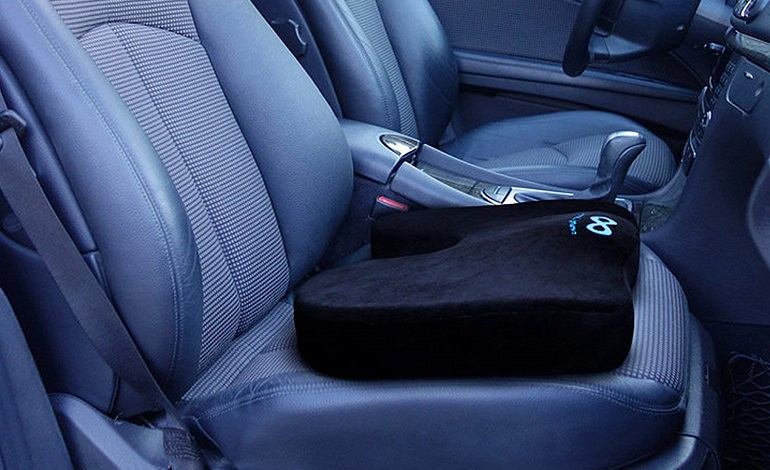 If you are looking for an instant and reliable solution for common body pains that often result from having to sit down for extended periods when driving, this Everlasting Comfort cushion is a perfect buy.
This car seat cushion is designed to provide instant relief for coccyx, tailbone, sciatic, hip, back and leg pain. And it will provide this instant relief thanks to the ultra-comfortable memory foam material that does not have any additives.
This pure memory foam filling also provides comfortable support and helps to correct bad posture which is one of the main causes of pain.
Quoting the manufacturer, "We use a U shaped ergonomic design recommended by orthopedic surgeons and medical doctors across the globe for treatment of chronic or acute pain by alleviating pressure in strategic areas." Hence, if the quality does not give you enough assurance, these recommendations should.
The only drawback here is that it seems to be a little narrower when compared to others like Clever Yellow 13, and it also does not have that characteristic wedge shape of the latter.
Universal Comfort: Conforms perfectly to the body
Unlike many other car seat cushion options out there, this one seems to be made for all kinds of drivers. Hence, if you are looking for something that provides a more universal comfort, it will work well for you.
The universal comfort stems from its ability to conform perfectly to your body and ensure a more customized fit. This cushion will hug your body perfectly and ensure you are comfortable no matter how long you are driving.
Its heat-responsive technology is what ensures universal comfort. This technology allows the memory foam material to respond to the heat the body produces so that support is provided to the areas that need it most. Better yet, even with the universal fit or comfort, this cushion will still retain its shape after use.
Design: Sleek and modern
Because you do not want to add something to your car that will end up looking awkward or out of place, the design of the car seat cushion you choose also matters a lot. But, with this one from Everlasting comfort, the design will hardly be an issue as it is sleek and modern.
Apart from being sleek, the exterior also has a soft material that adds to the comfort, and it comes in bold colors that will ensure it will go well with any car interior color and style.
While still at the colors, another element that many users will love is that this car seat cushion will allow you to choose from 4 color choices which are black, blue, navy blue and red. And this allows you to perfectly match your pillow to the vehicle's interior.
Another element of the design that many users will appreciate is the U-shape. The ergonomic U-shape is not just for aesthetics, but also one of the reasons this is a super comfortable cushion. This shape helps to alleviate pressure in different parts of the body for pain relief.
Also, you will never have to worry about keeping the car seat cushion in place as it has a non-slip rubber bottom that will ensure it will not keep sliding off the seat when driving. This textured bottom also allows you to use it in other places such as office chair, wheelchair, and couch.
Portability: Small and easy to carry around
Chances are you will want to use this Everlasting Comfort cushion in different paces besides your cars such as the office or couch as it is super comfortable to sit on. The good news is that it will make this easy as its smaller size makes it super easy to carry around.
The cushion is around 17.5 inches at its widest point. This means you can easily pack it even in a backpack as it will take up very little room, while still leaving a lot of space for other things, which makes it effortless to carry around.
Better yet, it is also only around 1.9 pounds, which means it will not add a lot of weight to any backpack that you might carry it in. And with the contoured design and non-slip bottom, it will also be easy to get a secure grip when carrying it by hand, which makes it even more portable.
The only thing that some users might not like is that it does not include a carry handle or even a carrying bag like many other car seat cushions in its class such as the Vive 818323020199.
Ease of Cleaning: Effortless as it is machine-washable
You need to clean your car seat now and then to ensure maximum hygiene. A clean one also feels better and more comfortable to use. Luckily, cleanup will be more effortless when using this particular one as it is machine washable.
When your Everlasting Comfort cushion gets dirty or after using for some time, you will only need to remove the cover, pop it into your washing machine and a few minutes later it should be spotless. The memory foam hardly ever needs any cleaning, but a simple wipe down with a damp cloth and air drying should keep it neat and clean.
Also, the soft exterior does not stain easily, and neither does it collect things like pet hair. Hence, you will hardly have to deal with stubborn stains or get some hard to remove fur and hair all over the cushion.
Price: Fairly priced given its quality
The quality, comfort and the pain-relief that you will get when using the Everlasting Comfort Car Cushion, makes it is worth every buck you pay for it. For most drivers, anything that makes daily drives pain-free is worth it no matter its price.
That said, this car seat cushion costs just about as much as you would pay for a pure memory form car seat cushion from most other top brands that make them besides Everlasting Comfort. Hence, by all parameters, it is quite fairly priced.

Conclusion on Everlasting Comfort U-Shape
An ultra-comfortable car seat cushion that is also designed to offer instant pain relief and to be highly portable.
Anyone that is looking to make their car seat super comfortable will love this pure memory foam cushion with heat-responsive technology. The cushion provides a custom fit, and it is very effective at relieving different kinds of driving pains, and you can easily carry it around.