When you are out camping, it is important that you get hot water in your RV. Especially if you are out with a few people and the weather is cold.
However, the main problem with the RV inbuilt tank is that it is limited in capacity and most RV tanks can hold only 5 to 10 gallons of water. This is not enough for those camping in a small group.
This is where the RV tankless water heater comes into play. It will allow you to heat an unlimited supply of water from any source in a matter of seconds.
Now, you can enjoy the hot water at any time of the day and not worry about water capacity anymore.
Editors' Picks: Top Rv Tankless Water Heaters of 2021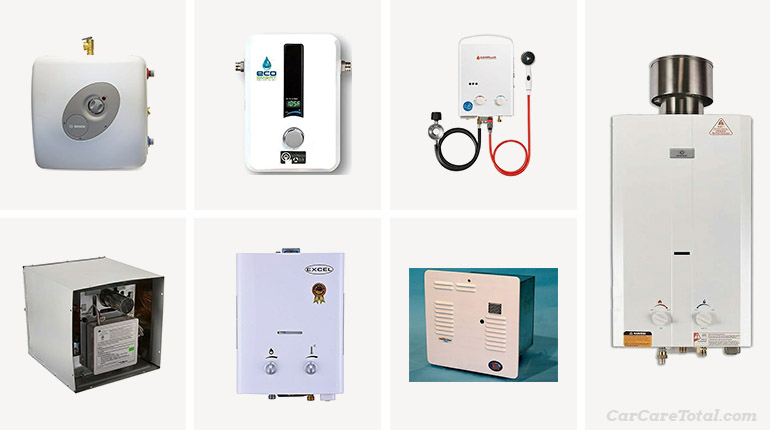 Summary of 4 Best RV Tankless Water Heaters
IMAGE
PRODUCT
FEATURES

1. Bosch Tronic 3000T (Best Overall)

Small and compact. Does not take a lot of space
Can heat water quickly and efficiently
Has wall mounts at the back for easy installation
Available in different capacities

2. EcoSmart ECO 11

Comes in different sizes and capacities
Front digital display
Water temperature and flow can be controlled
Versatile. Can be used anywhere

3. Girard 2GWHAM

Durable and quality build construction
Efficient and silent operation
Easy to install

4. PrecisionTemp RV-550

Small but heavy-duty in operation
Excellent build construction. Durable and long-lasting
Water temperature can easily be adjusted
1. Bosch Tronic 3000T - Best Overall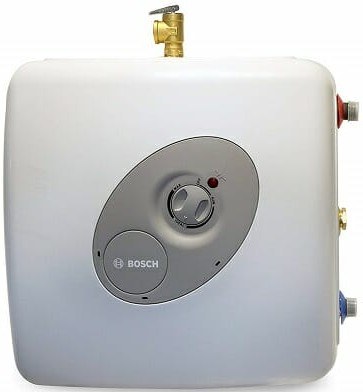 The Bosch Tronic 3000T is a small and compact electric tankless heater for RV. Indeed, this mini water heater uses 120 V and 12 A to heat up the water and is very efficient. This is not a problem as most RVs are able to output this type of power capacity.
Besides, this model has a power capacity of 1440 Watts, making it a very powerful water heater that can even rival your home electric shower water heater's capacity and power.
Indeed, it's capacity of 7 gallons makes it able to have a constant reserve of hot water, so you do not have to wait for the Bosch Tronic 3000T to heat the water. Therefore, it creates a seamless shower experience. Simply turn this mini-tank water heater on, and you will instantly get hot water.
One of the best things about this model is installing both horizontally and vertically for more installation flexibility.
When installed horizontally, it has a 5.1 gallons water capacity and vertically, a 7 gallons capacity. Furthermore, there are dedicated wall mount brackets at the back for easy installation.
The only caveats we note with this top-rated RV tankless water heater is that it may not be as durable as other models, and it requires a fair bit of electricity to work.

---
2. EcoSmart ECO 11 RV Tankless Water Heater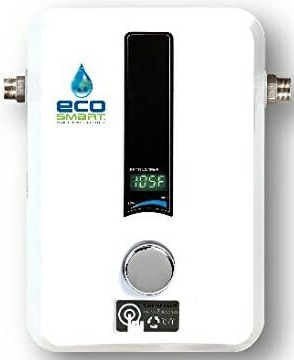 Power source: Electricity
Water flow: 1.5 GPM
Capacity: 2 gallons, 2.5 gallons, 3 gallons, and 3.5 gallons
The EcoSmart is a popular model that is highly rated by many electric RV tankless water heater reviews online. The reason is quite simple. This model simply works and comes in a wide range of styles and sizes to suit your need and purpose.
The EcoSmart 11 can heat up to 1.5 gallons per minute, which is more than enough for a casual shower. In addition, this model uses internal technologies that allow you to save more water and, therefore, greatly increase this electric heater's efficiency. In fact, the manufacturer claims that it can save you up to 50% of your water heating costs.
Note that this is a 240 V electric water heater, and you will need a converter if your RV outputs 120 V to make this unit operational. But one of the best things that we like about this product is that it works just like a regular shower providing you with a lot of control over the water temperature as well as over the water flow.
All in all, if you need a 240 V electric heater for you RV, the EcoSmart 11 is one of the best electric RV tankless water heater especially that it can be used in the home as well. We highly recommend it even if the price is a little high.
The price could have been a little bit more cost-effective

---
3. Girard 2GWHAM RV Tankless Water Heater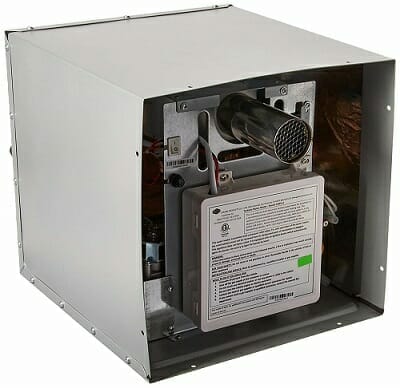 Power source: Propane Gas
Water flow: 1.5 GPM
Capacity: 1.5 gallons
The Girard 2GWHAM emphasizes build quality and efficiency. The fittings in this water heater have been made so that it will universally fit any type of RV plumbing.
Best of all, there is a wide range of user options on this tankless water heater, including, of course, the ability to adjust the temperature of the water as well. Additionally, the metal build construction of this minimalist water heater is excellent.
Furthermore, it uses a brushless motor that is extremely silent and vibration-free. You will almost not here this model run during operation.
Moreover, installation is extremely easy in this model and everything is clearly marked. Even if you have never installed or done RV plumbing before, you will have no problem installing the Girard 2GWHAM in an hour or 2.
Although, keep in mind that this model does not come with an external control system, it is more difficult to operate your average electric heater. Also, it is more expensive considering its water flow rate and capacity.
But despite all those, the Girard remains one of the best on demand RV tankless water heaters on the market especially when it comes to efficiency and build construction.
No external controls. More difficult to make adjustments when compared to other models

---
4. PrecisionTemp RV-550 RV Tankless Water Heater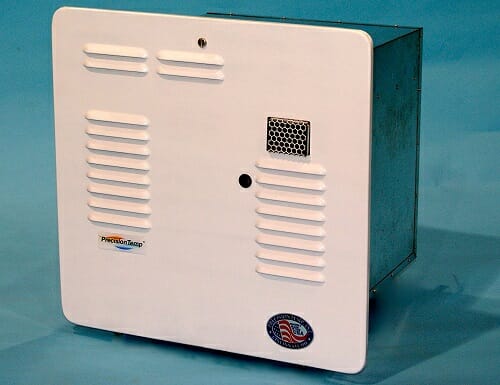 Power source: Propane Gas
Water flow: 1 GPM
Capacity: 1 gallon
The PrecisionTemp RV-550 is a small and minimalist tankless water heater that does not require a lot of space to work. In fact, the manufacturer claims that this model works similarly to 10 gallons tank but requires half the space.
Best of all, this model is made in the USA and there is strict quality control which ensures that you are getting the best quality tankless water heater for the money.
This model has been designed in a way that it is very flexible, and you will be able to use it almost anywhere, from an RV to even as a regular shower water heater in your home.
Suppose you need a small and yet reliable tankless water heater. In that case, the PrecisionTemp RV-550 is rated by many as being one of the best RV tankless water heater based on a size to performance ratio.
Just keep in mind that this model is more difficult to install that most other models we have reviewed so far. Also, the water flow of 1 GPM means that this model will have difficulty powering larger shower heads like a large rainfall shower head.

How to Buy the Best RV Tankless Water Heaters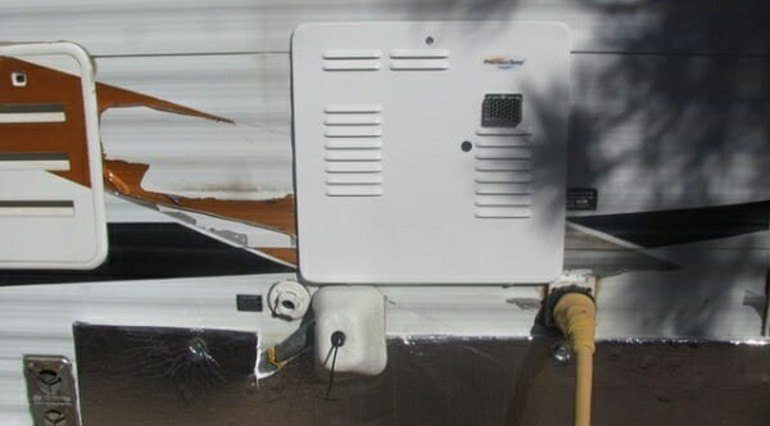 1. Power source
The power source is the most important consideration when purchasing an RV tankless water heater. Most water heaters run on either electricity or propane gas. If your RV is able to output either 120 V or 240 V with high amperage, then an electric water heater makes a lot of sense.
On the other hand, for more flexibility, a propane gas tankless water heater is cheaper to run in the long term. However, it will require the purchase of at least a 20 lbs propane tank for it to work.
2. Capacity
The capacity is simply the amount of water that the tankless water heater can heat before you start getting cold water. If you want to get a reliable and efficient water heater, a capacity of 1.2 gallons or more is what you should aim for.
3. Water consumption
When camping in an RV, water is a big issue because it is extremely precious and you do not want to waste it.
Therefore, it is important that your tankless water heater remains respectful of your water reserve and consumes as little water as possible.
Thankfully, many models are highly efficient and able to work with a low water pressure and help you save up to 50% on your water output.
4. Water flow
In a tankless water heater, the water flow is measured in GPM (gallons per minute). The higher the water flow, the more heavy-duty and powerful the tankless water heater will be as it is able to heat more water in less time.
However, the caveat with a high GPM is that it consumes more electricity or propane gas depending on your power source.
Therefore, you need to find the right balance between power consumption and GPM. In general, a GPM of 1.2 to 1.8 is more than enough for an RV tankless water heater.
5. Price
When purchasing a top-rated RV tankless water heater, it is important to make a budget and then stick to this budget. Thankfully, this device remains quite affordable for an RV accessory, and you can get a high-quality model for less than $300.
6. Storage Space
The storage space is possibly one of the most important factors to consider. Especially considering that the RV is generally limited in space and that your RV shower area is most likely even more constricted.
Luckily, RV tankless water heater technologies have advanced so much that you can now get a very performing water heater that consumes half the space of a regular shower heater for almost the same performance.
7. Easy to install
If you plan to install your RV tankless water heater yourself, then it is important to pay attention to how easy it is to install this device.
To make it as easy as possible to install, ensure that your tankless water heater has wall brackets as well as a clearly marked water inlet, outlet and power source for the connections.
If you do not have experience installing an RV tankless water heater, you should stay away from models that state that they are "wall vented".
In general, this will imply that you will need to cut your RV wall for the outlet. It is best to stick with a model with wall brackets as this is the easiest RV tankless water heater to install.
Conclusion
As we have seen, the tankless water heater allows you to heat an unlimited supply of water quickly and easily. This is ideal for those out camping in a small group and regularly use the shower.
Best of all, the tankless water heater is most of the time maintenance-free an extremely easy to use, similar to your regular shower water heater at home.