Driving can become more challenging, tiring and unpleasant when you have to cover long distances, or have back problems, and your car seat is not comfortable enough. But, you can easily makes things more pleasant with the best car seat cushion.
Car seat cushions ensure you maintain proper sitting angle and posture to minimize back pain and make long drives more bearable. And they also make the car seat more breathable for you.
But like with all other vehicle accessories, you will need to choose from a myriad of options.
However, we are here to make the choice easier for you, and we do this with a review of 7 top-rated car seat cushions and with a handy buying guide.
Top Car Seat Cushions of 2021 by Editors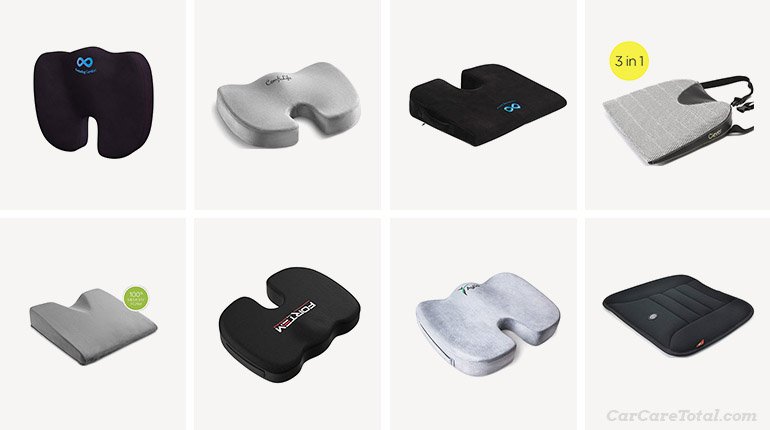 Summary of 7 Best Car Seat Cushions
IMAGE
PRODUCT
FEATURES

1. Everlasting Comfort Car Seat Cushion (Best Overall)

Ultra-comfortable and heat responsive

U-shaped ergonomic design

Small and portable

Supports all areas that require attention

Soft exterior fabric



2. Comfilife SYNCHKG080643 (Best Comfilife Brand)

Comfortable cushion from a trustworthy brand
Great for back pain and sciatica
Built-in handle
Removable and machine-washable cover

3. Everlasting Comfort 4336311022 (Best for Long Driving)

Comfortable and well-designed for long drives

Heat responsive technology

Non-slip rubber bottom

Extremely soft outer fabric



4. RaoRanDang Car Seat Cushion(Most Comfortable)

Comfortable 3-layer memory foam

Spacious and supportive enough

Completely dustproof waterproof and oil resistant

Non-slip bottom



5. Clever Yellow 13 (Ergonomic)

Ergonomically designed with a coccyx cut-out
Firm, no-flatten design

Adjustable straps keep it in place

Removable and washable cover

6. ComfySure HE MFCP-0472 (Best Memory Foam)

High-quality memory foam

Maximum muscle support

Versatile uses
Portable and easy to clean



7. Fortem The Extra Mile FRTM-17-14-SC (Best Budget)

More budget-friendly

Extra thick memory foam

Highly breathable mesh cover

Non-slip bottom

Lightweight and portable
1. Everlasting Comfort Car Seat Cushion - Best Overall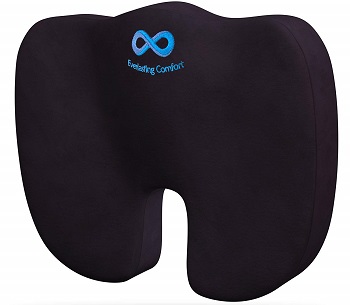 Dimensions: 17.5 x 13.5 x 2.8 inches
Material: Memory Foam
This ultra-comfortable product from Everlasting Comfort is designed to be heat responsive, which ensures it responds to heat and conforms to your bottom for custom fit. And this is what makes it our best overall car seat cushion.
The premium memory foam car seat cushion is also designed for versatility because, besides a car seat, you can also use it on the plane, train and various other places. And it is also small and portable to make it easy to carry around.
This top rated car seat cushion supports the tailbone, hips, spine, lower back, and all those areas that require quick attention for pain relief.
The design also includes a soft exterior for extra comfort and easy cleaning. And the gel rubber bottom prevents slippage. You can also buy it with confidence as it is backed by a lifetime replacement guarantee.
Because the outer fabric seems quite thin, it is easy for some users to assume that it will not last, but in most instances, it will last almost as long as the memory foam. Also, it could be a little wider, but for average size adults, it should still be good enough.
More Detailed: Everlasting Comfort Car Seat Cushion Review

---
2. Comfilife SYNCHKG080643 - Best Comfilife Seat Cushion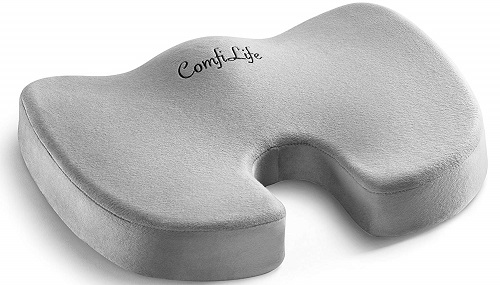 Dimensions: 17.7 x 13.7 x 2.8 inches
Material: Memory Foam
ComfiLife has been making top quality cushions for many years now, and it is known for making products that help with pain relief and support a healthy posture. And if you are looking for the best car seat cushion for sciatica, this model is our top recommendation.
The cushion has a rear cut designed to provide the best support to the tailbone. It is made from top-notch quality memory foam for excellent support and durability.
Because it is further dressed in zippered velour cover, it should be super easy to wash. And you can easily carry it around thanks to the built-in handle.
There is also a non-slip rubber bottom that keep the cushion in place even when you keep adjusting your seating position. Plus, it is ideal to use on almost any hard surface besides a car seat.
And although it might look and feel relatively smaller, it should still be large enough for most adults.
More Detailed: ComfiLife SYNCHKG080643 Review

---
3. Everlasting Comfort 4336311022 - Best Car Seat Cushion for Long Driving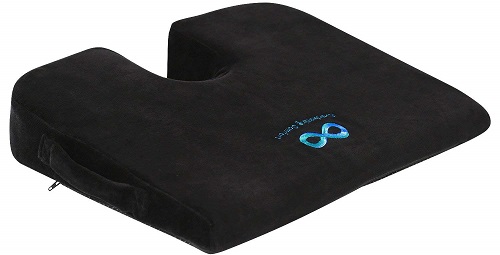 Dimensions: 13.5 x 8.6 x 5.5 inches
Material: Memory Foam
You can expect Everlasting Comfort to have the best car seat cushions for long drives for you as they hardly ever disappoint, and this wedge cushion is enough proof.
It is made with medical grade memory foam that provides maximum comfort and ensures it will serve you for a long time. Plus, it is shaped ideally to support your back and tailbone to ensure minimal stress on these sensitive areas.
While the outer of the cushion is extremely soft, the back has non-slip rubber grip that holds it at one place when in use.
This car seat cushion is also a portable product that you can easily carry anywhere. Plus, it comes with lifetime replacement guarantee to give you assurances that it will last.
For the heavier than average individuals, this cushion might not be very ideal as the foam does not seem dense enough, but for everyone else, it is perfect.

---
4. RaoRanDang Car Seat Cushion - Most Comfortable Car Seat Cushion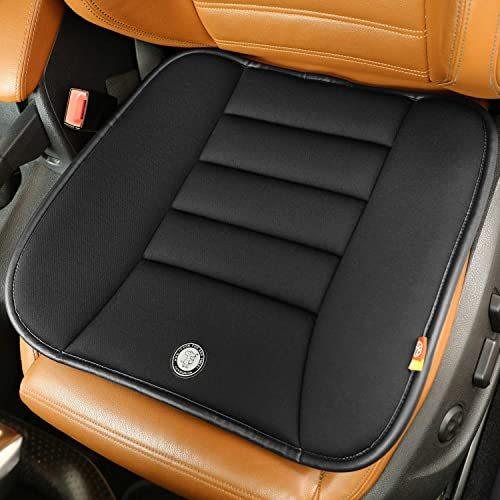 Dimensions: 18.5 x 1.2 x 21.3 inches
Material: Memory Foam
Memory foam car seat cushions are always the best as they are comfortable and supportive enough. And this 3-layer model by RaoRanDang is as good as they get and is made to be super comfortable.
Another thing that makes this one of the best memory foam car seat cushions out there is that it provides all round comfort as it is spacious enough, supportive and highly breathable.
And it is also dust proof, waterproof, and oil resistance, and the cover is removable and washable for easy maintenance. This seat cushion is also not too thick to cause problems.
You will also never have to worry about slippage when sitting on this cushion as the bottom is designed to be non-slip. Also, it is lightweight and portable to ensure you can carry and use it anywhere.
For longer drives, this might not be the best cushion given its relatively thinner profile, but for regular short city drives it is perfect.

---
5. Clever Yellow 13 - Ergonomic Car Seat Cushion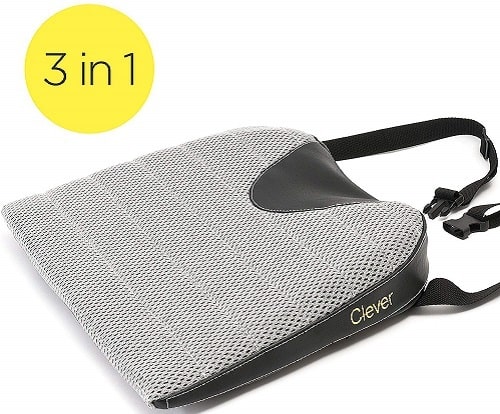 Dimensions: 18 x 15 x 3 inches
Material: Mesh with Memory Foam
Clever Yellow's U-shaped orthopedic wedge comes in an ergonomic design that includes a coccyx cut-out that helps with sciatica and tailbone pain. This will make long drives pain-free and more comfortable.
The material and shape of the cushion is also good at minimizing pressure on lower spine to ensure users get a more comfortable sitting position.
Although the cushion is quite steep, it still provides 3 inches lift. The elevated position will also be suitable enough to not bother the back of the user.
The cushion is dressed in a gray colored cover that not only looks nice, but is also removable and machine washable for easy cleaning.
And to keep the cushion at the right place, it has got buckles that goes around the back of the car, and its size will be ideal for almost any car seat. Many users will also love that it does not lose its shape and that it will not flatten.
When compared to other seat cushions on our list, this one looks a little overpriced. But, despite being the priciest item among our review, its quality and comfort make it worth it.

---
6. ComfySure HE MFCP-0472 - Best Memory Foam Car Seat Cushion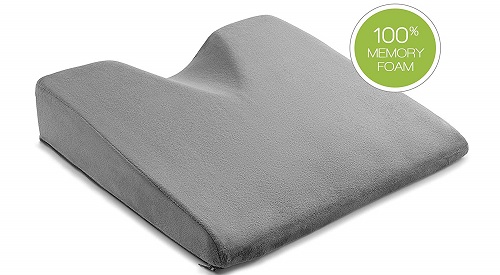 Dimensions: 13.8 x 3.1 x 15.8 inches
Material: Memory Foam
ComfySure makes this high-quality memory foam car seat cushion to offer maximum support and comfort for long drives.
It is filled with high-density therapeutic grade memory foam, that easily takes the shape of your body type and will also ensure maximum breathability.
This is an ergonomically designed product that relieves coccyx, tailbone, and sciatica pain and offers all round muscle support when you have to sit in the car for long periods.
Because of its compactness, you can easily pack and take it with you anywhere, and it will also be ideal for other applications besides use in a car. And the non-slip mechanism at the back of the pillow will keep it from slipping down.
Although the brightly colored fabric gets dirty easily, it is removable and washable for easy maintenance and hence not a huge concern

---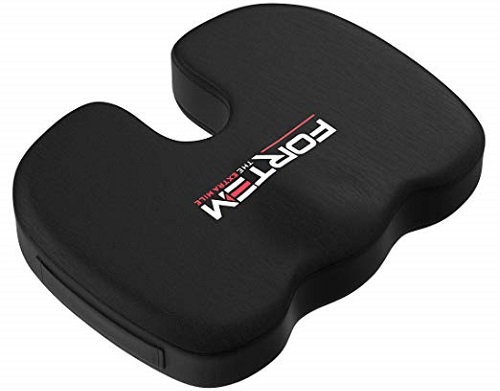 Dimensions: 17.5 x 13.5 x 3 inches
Material: Thick Memory Foam
Comfort and pain relief are at the heart of this budget-friendly car seat cushion as it is designed to contour perfectly to your body for maximum comfort without spending much.
It is made of extra thick memory form, which makes it comfortable enough for long drives. And the ergonomic design will make it perfect for your problematic back or spine.
The high-quality memory foam is finely encased in mesh material cover that absorbs sweat and moisture for maximum breathability. And it also helps to keep the cushion clean as it is removable and washable.
The non-slip bottom design helps to keep the cushion in place for your long drives, and this is also a portable cushion that you can use in various places.
When sitting on this set cushion, at first it can be quite stiff and uncomfortable, but once it heats up, it will soften and contour to your body perfectly. And even if the cover picks up pet fur easily, it is easy to remove and wash.

How to Buy the Best Seat Cushions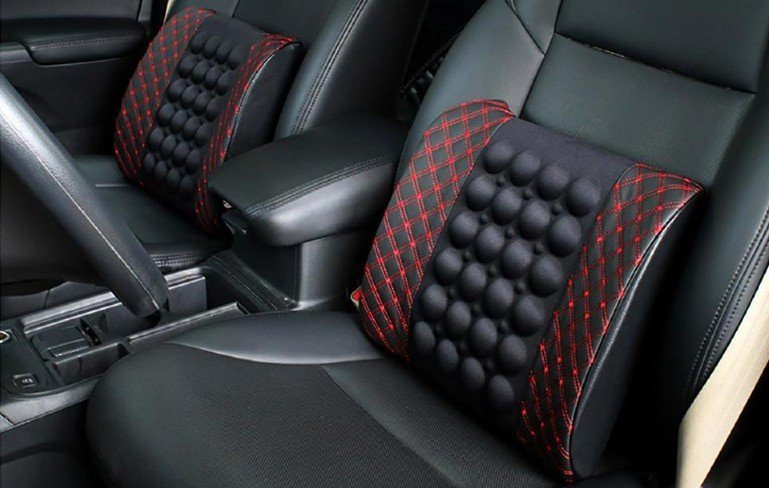 You need to consider the following important points when shopping for a good car seat cushion.
1. Ergonomic Support
Any cushion that you buy for your car seat should be ergonomically designed to ensure maximum support and comfort.
There are different things that you will need to look for in an ergonomic cushion. But, a U-shaped cut-out like what you get on the Everlasting Comfort 4336311022 is the perfect example of this.
Also, the overall design should be well-contoured to conform to the shape of your body and cradle the buttocks perfectly.
2. Style of Car Seat Cushion
Car seat cushions come in different styles, and so before you decide anything else, you will need to first choose the style to buy. And the most common ones are memory foam, inflatable and wedges.
Memory Foam : Memory foam car seat cushions like Comfilife SYNCHKG080643 are the most popular types, and they can be extremely helpful for individuals with spinal pain, lower back pain, sciatica, or tailbone injuries.
These cushions will also mold according to your physique to ensure a more customized seat, but they will not work for everyone as some users might find them a little too hard.
Inflatable : These cushions are best suited for those that are unsure of seat height or the firmness that they may require. Inflatable cushions like Vive 818323020199 are extremely versatile car seat cushions, and as their name suggests, they require inflation before use.
This style of cushion makes it possible to customize the firmness by increasing or reducing the air you put in.
Seat Wedges : Seat wedges such as ComfySure HE MFCP-0472 are designed to encourage better sitting posture. They achieve this by making your pelvis sit a little higher than what a typical car seat cushion provides.
The wedge shape is what sets them apart from the other styles, and they will in most cases be made with memory foam material.
Buying Advice
These different styles of car seat cushions are meant for different purposes, and so there is no one style that will work for everyone.
But, if you have health concerns such as back pain or spinal problems memory, foam cushions are often the best, while the inflatables are ideal for those looking for something easy to pack and more customizable.
And the wedges are ideal when you want to maintain proper posture to prevent back and spine problems.
Read More: 7 Best Car Seat Massagers
3. Dimensions
Size is another important factor to watch out for when shopping because, the car seat cushion you buy need to be ideal for your body height and weight. Also, the cushion should fit the car seat perfectly.
To ensure the size is right, you need to check the dimensions of the cushion and match them to your car's seat and make sure it will be a perfect fit.
That said, something that is at least 15 inches wide, should be good enough for most users.
4. Material
Material determines durability and comfort. Hence, it will also be a crucial factor to consider when shopping for the best auto seat cushion. When it comes to the material, you will need to consider both the outer and inner materials.
Read More: 7 Best Leather Cleaners and Conditioners
For the exterior materials, the most common options are PU leather, polyester, and rubber. Memory foam, composite sponge and bamboo, on the other hand, are the most common options for the interior material.
The material you choose will depend on your preferences and what you find most comfortable. However, you should buy a material that is washable for easy maintenance.
5. Ease to Clean
One thing that is certain is that your car seat cushion will get dirty after some time. To ensure that you have an easy time cleaning it, a wise idea would be to buy something with a removable cover.
Those that are also washing machine safe are also more preferable as you will never need to hand-wash them.
Frequently asked questions
Do Seat Cushions Help Back Pain?
A: Yes, they are very effective at back pain relief because, besides being supportive, they ensure you maintain proper posture. Poor posture when driving is one of the causes of back pain.
Is Memory Foam Good for Seat Cushions?
A: Yes, memory foam is perfect as it is super comfortable, and it will conform to your body perfectly to customize the comfort.
Are Coccyx Cushions Any Good?
A: Yes, these cushions are perfect as the cut-out helps with pressure relief on different muscles. They make sure that there is no excess and unnecessary pressure on the coccyx, tailbone, sciatic nerve, spinal discs, hips and legs.
Conclusion
You will not need to spend many hours comparing different products looking fro the perfect cushion for your car seat as our review will help you narrow down your options.
That said, the Everlasting Comfort Car Seat Cushion takes our best overall spot as it is ergonomically designed, super comfortable, heat responsive and also highly portable.
However, if you go for long drives a lot, the Everlasting Comfort 4336311022 will offer you more comfortable drives as it is designed to relief pain from extended sitting.