As its name suggests, the trunk organizer is a wonderful and practical way of organizing your various accessories, gear, and groceries in your trunk.
Whether you plan to go out camping or simply want to stay organized with your groceries in the vehicle, you will greatly benefit from having the best trunk organizer.
The trunk organizers come in different forms and sizes and have various compartments to suit your needs and purposes.
If you are fresh on the market for a good trunk organizer, we have you covered!
We have handpicked a selection of some of the best trunk organizers for the money. Without any further ado, let's see how they perform and if they are worth the purchase or not!
Editor's Recommendation: Top Trunk Organizers of 2021
Summary of 7 Best Trunk Organizers
IMAGE
PRODUCT
FEATURES

1. Trunkcratepro TC-PRO (Best Overall)

Conveniently collapsible design

Heavy-duty Oxford polyester fabric

Perfect size for most vehicle trunks

Heavy-duty handles

2. Drive 5841750360 (Best Value for Money)

Great quality for the money

Tie-Down Strap System

Easily expandable folding compartments

Reinforced carry handles

3. Rola 59001 (Best for Groceries)

Perfect design for grocery organization

Fold flat design

Moveable interior dividers

Non-slip base material

4. Fortem FRTM-TO (Best Collapsible)

Quick and easily collapsible

Reinforced base plates

Non-slip bottom strips

Strong carry handles

5. Tuff Viking VT-001 (Best Heavy-duty Construction)

Heavy-duty 1680D oxford polyester
Versatile 3-in-1 design

Fully-lined interior

Adjustable tie down straps

6. Starling's AU-CTO-PARENT (Best for SUV)

Perfect size and design for SUVs

Non-skid and waterproof bottom

High-quality oxford polyester material

Strong and unbreakable buckles



7. Higher Gear FBA_HGP00010 (Innovative Car Storage)

Innovatively designed for use convenience

More affordable

Heavy-duty material

Reinforced padded handle

Non-slip rubber feet
1. Trunkcratepro TC-PRO - Best Overall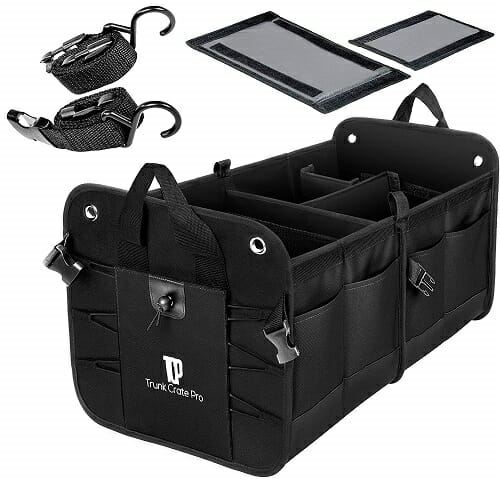 Dimensions: 23.6 in x 14.6 in x 12.5 in
Weight: 4.4 lbs
Material: Oxford Polyester Fabric
One of the best things about the Trunkcratepro is that it is actually a foldable bag that also retrofits as a trunk organizer. This collapsible design makes it highly convenient and is one of the main reasons it is our best overall.
It is made from a heavy-duty Oxford polyester fabric that will last a long time and can accommodate all sorts of accessories with ease.
Best of all, since it measures only 23.6 inches at its widest, it should be able to fit into any type of vehicle, including the trunk of a small car.
Additionally, the weight of 4.4 lbs is also fairly acceptable. This and the heavy-duty handles make this trunk organizer super easy to carry around.
We also like that this trunk organizer comes in various colors to suit your preference. Hence, it is a good-looking and yet highly functional trunk organizer that can be used in a wide range of situations And you can also get it in an extra-large size if this one does not suit your needs.
The weird looking outer pockets and the limited customization options due to the less flexible divider are only minor annoyance that do not take anything away from this trunk organizer.

---
2. Drive 5841750360 - Best Value for Money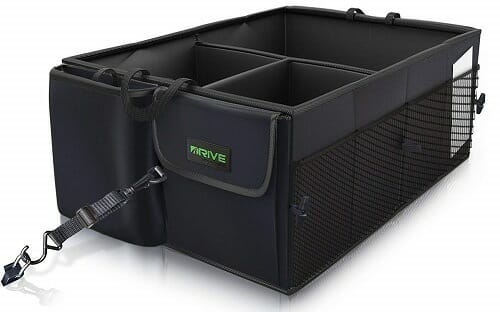 Dimensions: 23 in x 17 in x 10.8 in
Weight: 3 lbs
Material: Oxford Polyester Fabric
One of the best things that strike you immediately with this Drive Auto trunk organizer, is its excellent build construction and more affordable price tag that will ensure you get the best value for your cash.
Indeed, this model is also built from a high-grade Oxford polyester fabric that is very durable and long-lasting.
Additionally, this product is lightweight at only 3 lbs, which is significantly lighter than other models, despite being almost the same size and having the same build construction.
Furthermore, it comes with a unique tie-down strap system that can be tied anywhere to ensure you never have loose clutter. And packing up your stuff should be super easy with the easily expandable compartments.
Reinforced carry handles will make taking this trunk organizer in and out of your vehicle easier, while the sturdy side panels ensure that it maintains a good shape and structure when in the vehicle and as you carry it.
The snap clips on the straps seem a little weak and are also prone to rusting, but the good news is that it will be a long time before you ever need to worry about this.
Beside providing different color options, Drive Auto Products also has a 2-pack size option for motorists looking for more storage space.

---
3. Rola 59001 - Best for Groceries
Dimensions: 38 in x 15 in x 7 in
Weight: 9.1 lbs
Material: Non-slip Material
The Rola 59001 is a trunk organizer that has been built specifically for groceries. Indeed, it has several compartments that will accommodate your various groceries and it is also quite spacious so that there will not feel cramped during travel.
Moreover, its dimension of 38 inches is quite big and makes this model ideal for a large vehicle like an SUV only. In addition, it has 2 carry handles at the side, which makes it easy to carry by 2 people if you need to.
Best of all, this trunk organizer also folds flat for easy storage and has a rigid base that will keep it stable enough when in use. Also, there are some movable interior divider to ensure easy luggage organization.
You will not need to worry about the trunk organizer sliding in case you make an emergency stop as the non-slip base is effective at keeping it in place.
For some vehicles, 38 inches might be a little wide, but it should still fit well for most models. It is also relatively heavier compared to others on our list, but 9.1 pounds is still quite manageable.

---
4. Fortem FRTM-TO - Best Collapsible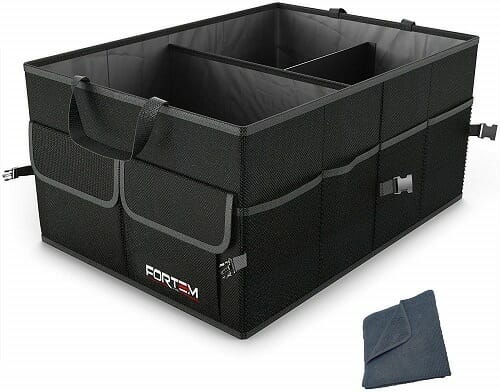 Dimensions: 21.5 in x 16 in x 10 in
Weight: 1.4 lbs
Material: 600D Polyester Fabric
This Fortem trunk organizer is not big on looks. Indeed, it has a very generic look especially when compared to other models in this trunk organizer review. However, it comes in a quickly and easily collapsible design that makes it highly convenient.
Additionally, it has an excellent build construction from 600D polyester that is lightweight and very durable. With the reinforced base plates, it is one of the sturdiest on our list.
This trunk organizer has a decent number of storage compartments that will allow you to organize accessories and gear more appropriately.
Keeping it in-place should not be a problem as the base is non-slip, and there are also some secure straps included to allow you to tie it down.
This trunk organizer has some sturdy handles to make it more portable. To crown it all, it is waterproof and super easy to clean up.
Look-wise, this is not the most aesthetically pleasant organizer, but it makes up for what it lacks in appearance with a superior build quality and performance.

---
5. Tuff Viking VT-001 - Best Heavy-duty Construction
Dimensions: 23 in x 14.5 in x 12.5 in
Weight: 4.25 lbs
Material: 1680D Oxford Polyester
The Tuff Viking is a high-quality trunk organizer built from a tough 1680D Oxford Polyester material. Also, it is a versatile 3-in-1 trunk organizer that can retrofit as a carry bag if you want to.
It was built with one thing in mind, to be a superior product that is not only extremely durable, but also has the ideal width to fit inside the trunk of any type of vehicle.
This trunk organizer has a full-lined interior that will help protect it from spills and water splashes to protect your valuables, and it also makes cleanup a breeze as you can easily wipe it clean with a damp cloth.
It includes adjustable tie down straps that prevent it from moving around even when driving in adverse conditions.
The bottom can be a little slippery, and this is also one of the priciest items on our review. However, both are still not enough concerns to be the deal breakers.

---
6. Starling's AU-CTO-PARENT - Best for SUV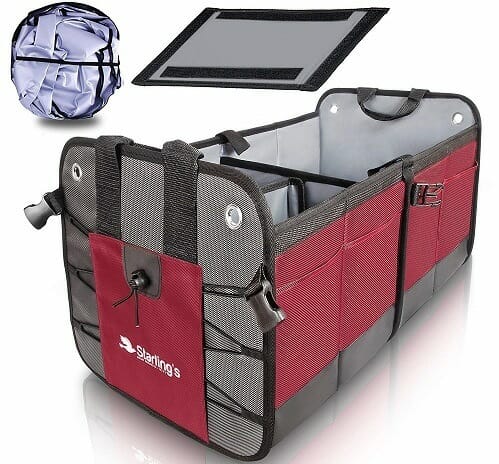 Dimensions: 23.6 in x 14.6 in x 12.5 in
Weight: 4.65 lbs
Material: 1680D Oxford Polyester
Starling's AU-CTO-PARENT adopts a multipurpose design that makes it versatile and an excellent companion to any vehicle, from an SUV to a Jeep to a car.
It is mostly made from a 1680D Oxford Polyester material that is very durable, waterproof and long-lasting. The base is waterproof to ensure water does do not enter from below, and it is also non-slip to keep the organizer in place.
Securing it is also made easy by the inclusion of some strong, unbreakable buckles that are designed to provide many years of service and should last as long as the rest of the trunk organizer.
Organizing your stuff is made easier by the inclusion of multiple compartments, several pockets and some flexible but highly sturdy dividers. And it is backed by a lifetime warranty to give you some durability assurance.
The side pouches are a little on the smaller side, but you will be surprised at just how useful they will be despite their size.

---
7. Higher Gear FBA_HGP00010 - Innovative Car Storage
Dimensions: 23 in x 14 in x 12 in
Weight: 4.2 lbs
Material: 600D Polyester Fabric
This Higher Gear trunk organizer come in an innovative foldable design meant to ensure that user will have an easy time storing and organizing anything they want to carry on their trunk.
It is very durable and long-lasting oxford polyester bag, which allows it to carry any type of accessories without scratching or damaging the trunk organizer. And despite the superior build quality, it is also one of the cheapest on our list.
What we like about this trunk organizer is the presence of reflective lights on the outside that makes it safer, especially at night. Also, it has some adequately padded handles for easy carry and non-slip base to keep it in place.
Moreover, this is a versatile trunk organizer that will fit any type of vehicle, from a car to an SUV since it has a standard width of 23 inches, which is the ideal size for a trunk organizer.
Indeed, despite not having many individual storage compartments, this model remains one of the best automobile trunk organizer on the market.

How to Buy the Best Trunk Organizer
1. Purpose
First and foremost, before buying a trunk organizer, you need to understand your need and purpose.
By knowing your purpose, you will be in a better position to choose a trunk organizer that fits your need.
For example, a trunk organizer for camping purposes for the whole family will be different from a trunk organizer for grocery shopping.
2. Collapsible or Foldable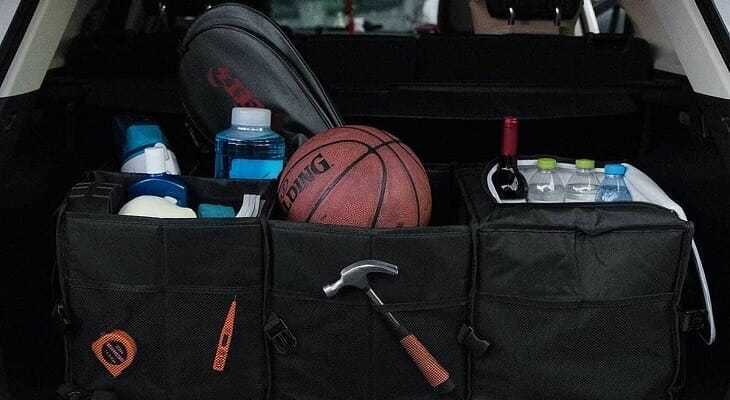 As you may have seen, there are 2 main types of trunk organizers on the market. The collapsible trunk organizer and the foldable trunk organizer.
The main difference between those 2 types is that the collapsible trunk organizer like Fortem FRTM-TO can be collapsed into a much smaller size for storage when not in use.
On the other hand, the foldable trunk organizer such as Rola 59001can be folded, and can sometimes be retrofitted as a shoulder bag.
However, for most models, the difference between the collapsible and affordable trunk organizer is nonexistent as manufacturers sell them under the same description.
3. Material
Possibly the most important aspects to take into account when buying the trunk organizer.
The material or the build construction of the trunk organizer will dictate how heavy-duty and durable it will be.
In fact, the more durable the trunk organizer, the more long-lasting and abuse it can withstand.
In general, most trunk organizers are made from a durable material like polyester. However, as you may know, there are several grades of polyesters.
We recommend that you keep an eye out for material like "Oxford Polyester Fabric ", "600D Polyester" or "1680D Polyester" to ensure that you are getting a quality build construction in your trunk organizer that will last you a long time.
4. Size
Of course, you need to purchase a trunk organizer based on the size of your own vehicle trunk. You cannot go with a trunk organizer that exceeds your vehicle trunk size.
Once you have that figured out, go ahead and choose your trunk organizer based on the size that matches your vehicle trunk size the closest possible.
This is to ensure that you have a tight fit in your trunk and there is no play. Something between 15 and 40 inches long is often good enough for most vehicle trunks.
5. Number of Compartments
Possibly the most important aspect of the trunk organizer is the compartments.
By having different compartments, you are better able to organize your various accessories which makes it easier to find.
However, you do not need more compartments than you will use. This is where you need to have a clear vision of the type of accessories that you will be storing in your trunk organizer.
For example, if you mostly use and need to store only 5 accessories most of the time, then it is a good idea to choose a trunk organizer that has 5 to 7 storage compartments.
Indeed, many models like OxGord HGTB-01 are also built in such a way that you can either fold or unfold various compartments in the trunk organizer based on your need and trunk size.
6. Ease to carry
The weight of the trunk organizer will dictate its portability and easy to carry.
Of course, the lighter the trunk organizer, the easier it will be to carry. However, you should never sacrifice usability for portability.
In addition, the trunk organizer is usually built from a polyester fabric that is heavy-duty and lightweight.
Most of the time, your average trunk organizer will be in the range of 3 lbs to 5 lbs which is easy to carry by almost anyone. And some like OxGord HGTB-01 will weigh a little over 1 pound making them super lightweight.
Frequently asked questions
Why do I Need a Trunk Organizer?

A: They will provide an easy way to carry things in your trunk. Also, with a trunk organizer, you can easily keep the trunk need and uncluttered. And it will prevent the items you are carrying from getting damaged as they will not keep rolling around.
How much Weight can Trunk Organizer Support?
A: It depends on various factors such as the material used to make it and how tough it is. Some can hold even up to 50 pounds or even more, while other will hardly hold anything over 10 pounds.
How do I Secure a Trunk Organizer?
A: Most will come with straps to help secure it on your vehicle and a non-slip base to prevent them from slipping. If what you buy does not have any of these things, you can use Velcro strips or tape to secure the organizer.
A: Yes, but only if the model you have has the space to accommodate them, and the design allows you to use extra compartments.
Conclusion
There are several types of trunk organizers to suit different needs and purposes. And in our list we showcase different ones to cater to all kinds of potential users out there.
But, while every model on our list is top notch-quality, the Trunkcratepro TC-PRO takes our top overall spot thanks to the conveniently collapsible design, heavy-duty material and perfect fit for trunk.
However, with its more affordable price tag and excellent build-quality, the Drive 5841750360 will give you the best value for your bucks.