As cars age, gasket issues will naturally come up, and you often need to either change the faulty ones or use a sealer to keep them functioning correctly.
Gasket sealers help fill up any gaps left by the worn-out or aging gasket to prevent leaks and ensure the gaskets remain in place. Sealants create a last line of defense, and it is often good to use them even when installing new gaskets.
However, like gaskets, these sealants are available in various types from different manufacturers. To help you find the best gasket sealant for your vehicle, we review some top-rated models and explain what to consider as you shop.
Editor's Recommendation: Top Gasket Sealers of 2021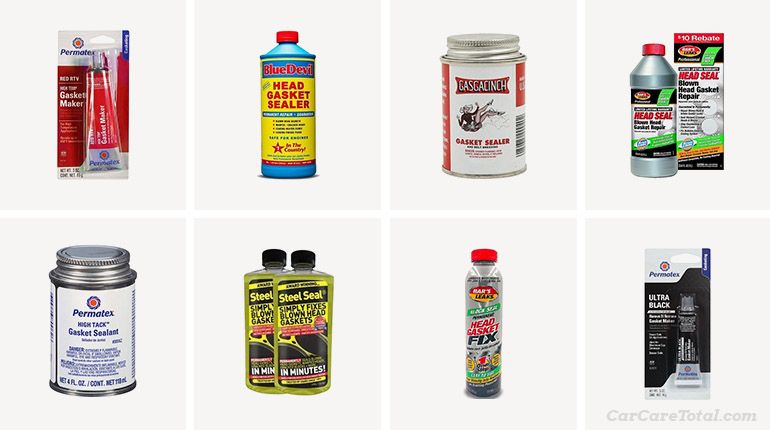 Summary of 7 Best Gasket Sealers
IMAGE
PRODUCT
FEATURES

1. Permatex 81160 (Best Overall)

Suitable for high-temperature application
Replaces any cut gasket
Usable on various vehicle components

2. BlueDevil 38386 (Best for Head Gasket)

Repairs head gaskets permanently
No solid or particulate matter
Safe & easy to use

3. Gasgacinch 440-A
(Most Flexible)

Remains flexible after curing
Ideal for radiators & head gaskets
Gasoline, oils, & high-temperature resistant

4. Bar's Leaks HG-1 (Best for the Money)

Great value for 33.8 fluid ounces of gasket sealant
Reinforced with carbon fiber
Antifreeze compatible formula
No flushing required

5. Permatex 80062 (Best Fast-Drying)

One of the fastest drying gasket sealers
All-purpose formula
Gasoline, antifreeze, & kerosene resistant

6. Steel Seal CYL001 (Easiest-to-Use)

Easy-to-use head gasket repair
Seals the leak in minutes
Usable in all 4 cylinders

Safe on cooling systems

7. Bar's Leaks 1111 (Best for Leak Stop)

Liquid technology stops leaks fast
Works with all anti-freeze types
Repairs blown head gaskets
1. Best Overall: Permatex 81160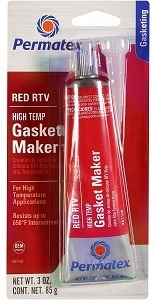 Size: 3 ounces
Container: Tube
Setting Time: 1 hour
The Permatex 81160 is our best overall gasket sealer as it does a fantastic job sealing gaskets and has a lot more to offer. This sealer can withstand high-temperature applications up to 650 degrees Fahrenheit, which is more than most others out there.
This heavy-duty gasket sealer can withstand temperatures as low as -65 degrees Fahrenheit, which means it will maintain peak performance in any weather or condition.
Motorists appreciate that it makes a reliable "formed-in-place" gasket, which is more resistant to cracking, shrinking, and migrating. Also, it can replace almost any cut gasket, and you can use it to coat pre-cut gaskets to make them more reliable.
You can use this sealer effectively on different vehicle components such as oil pans, valve covers, water pumps, timing covers, and much more, making it quite handy to have around.
The downside of this formula is that it is not sensor or gasoline safe. These shortcomings do not take anything away from the fact this is an effective enough gasket sealer.

---
2. Best for Head Gasket: BlueDevil 38386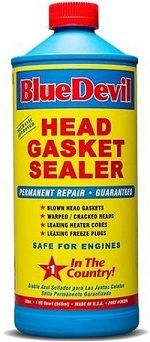 Size: 32 ounces
Container: Plastic bottle
The 32-ounce BlueDevil 38386has a unique formula that repairs blown head gaskets to ensure you do not have to incur the cost of permanent replacements.
With this gasket sealer, you get a solution with no solid or particle matter that can damage the engine, making it a safer product to use. Besides safety, this product also takes little effort to use as its application is more straightforward.
What's more, versatility is at the heart of the formula as this sealer will work on a range of parts, including warped or cracked heads, leaking freeze plugs, and heater cores.
You need to flush your engine's cooling system before applying it since it's not compatible with antifreeze. While this means some extra work for you, it is still not enough to be a deal-breaker.

---
3. Most Flexible: Gasgacinch 440-A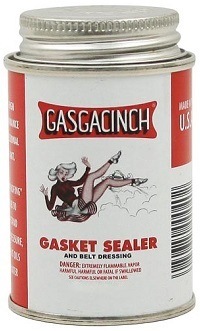 Size: 4 ounces
Container: Can
Unlike most hard-curing sealers in the market, the Gasgacinch 440-A remains flexible, which comes with many advantages. For instance, this makes it easier to assemble and disassemble an engine. Better yet, flexibility makes it easy to remove residue as you only need to rub it away.
Because this sealant is very fluid, it flows into small imperfections on the metal surfaces much quickly to create an even better seal.
You can use it on all kinds of metallic surfaces, including aluminum, carbon, magnesium, lead, titanium, copper, and even natural rubber and cork.
It's also resistant to high heat, gasoline, and all kinds of oils. When cured, it has high peel strength, high shear strength, and it resists vibration, dampening, and fatigue.
Although this sealant will not come in an easy to apply tube like many others on our list, the application is still fairly easy. Also, the relatively higher price tag stems from superior quality and effectiveness.

---
4. Best for the Money: Bar's Leaks HG-1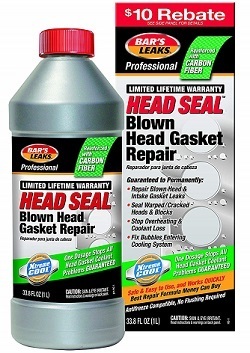 Size: 33.8 fl oz
Container: Plastic bottle
Setting Time: 45 minutes
For a highly effective gasket sealant that comes in a 33.8 fluid ounce container, the Bar's Leaks HG-1 comes at a fantastic price, which ensures you get an excellent value for your money.
This formula has a carbon fiber reinforcement to quickly and tightly seal any cracks in your car's engine block or head. Besides being safe for use on both diesel and gasoline engines, this sealant is antifreeze compatible and will not require any flushing.
This sealant needs just 45 minutes of your time to fix the leak, and your car will stop showing signs of a blown head gasket. Bar's Leaks also guarantees that the repair is permanent and backs it with a lifetime warranty.
Like many other gasket sealants, this one can clog some radiators, which is more so the aluminum ones. But, you can easily avoid this issue with proper use and following the provided instructions.

---
5. Best Fast-Drying: Permatex 80062
Size: 4 ounces
Container: Can
Setting Time: Few minutes
Permatex 80062is a super-fast drying gasket sealer that will set in just a few minutes, ensuring you get to finish the job much faster. In addition to fast-drying, it also dries to a non-brittle film and remains tacky for the entire time it is on the vehicle.
This sealant is ideal for various purposes and withstands an impressive temperature range of between -65 and 500 degrees Fahrenheit.
Also, users love that besides being sensor-safe, its formula will resist gasoline, kerosene, butane, propane, and many other vehicle fluids, including antifreeze, to make it ideal for any engine.
The few cons for this sealant include that the container does not make it easy to apply, unlike those packed in tubes, and it can be hard to remove without lacquer thinner. However, the application should be easy enough if you follow the directions, and the fact it is hard to remove means it is more effective.

---
6. Easiest to Use: Steel Seal CYL001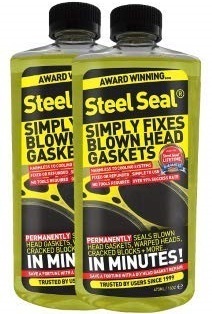 Size: 16 oz
Container: Bottle
Setting Time: Few Minutes
If you prefer an easy to use DIY gasket sealer, the Steel Seal CYL001is perfect as it is among the easiest to use on our list. What's more, with this product, you do not need any tools when sealing the gaskets.
This gasket sealer offers more long-lasting results as it seals blow head gaskets, warped heads, and other components permanently. Better still, it works for all engine sizes and types up to 8 cylinders.
Steel Seal CYL001 will not harm any cooling system, and you can use it for sedans, vans, pickups, SUVs, trucks, and even bikes. Regardless of where you are using it, this gasket sealer will seal in just a few minutes.
This gasket sealer could be a little thicker and also requires you to flush the cooling system. However, the thinner consistency allows it to get into small imperfection easily, and if you know what to do, flushing a cooling system should not be a tedious task for you.

---
7. Best for Leak Stop: Bar's Leaks 1111

Size: 24 oz
Container: Plastic bottle
Setting Time: 15 minutes
For motorists with leaky gaskets, the Bar's Leaks 1111 will be a fantastic choice as the formula seals the leaks fast and effectively. However, this product is also useful when dealing with cracked cylinder heads and blocks.
With this gasket sealer, you do not need to empty out the antifreeze as it is compatible with all kinds of antifreeze and is safe for use on any cooling system.
Overall this sealer is easier to use than other types out there as you will only need to pour it directly into the radiator.
This sealer might not be very useful for large cracks, given its consistency, as it will probably also leak out. However, for typical gasket leaks, this product is more than enough.

How to Buy the Best Gasket Sealers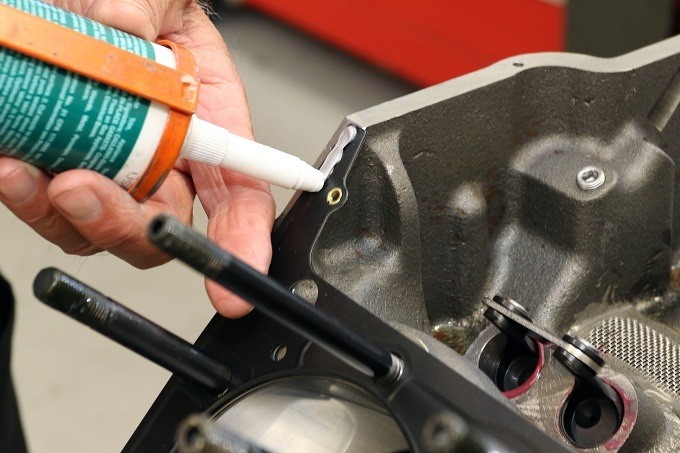 1. Compatibility
One crucial factor to consider when choosing a gasket sealer is its compatibility with the specific part of your car's engine.
For instance, some gasket sealers can easily get dissolved by gasoline, so you can't use them in the head gasket or any other situation where it might come in contact with gasoline.
Others like the Permatex 22072 formulated for heavy-duty use or high-temperature applications. Also, some sealers harden after application, with others remain flexible permanently, so it is up to you to choose what suits your specific needs.
2. Head Gasket Sealer vs. Replacement of the Gasket
The head gasket is the most critical gasket in a car because it keeps the engine running smoothly and reliably. If your car's head gasket fails, you can either use a sealant or replace it entirely, depending on the situation.
Signs of head gasket failure is usually overheating, whitish exhaust smoke, and steadily depleting coolant levels.
If the head gasket is damaged or blown, the best solution is to change it, especially if the engine is leaking a lot. In such cases, even the best gasket sealer won't be of much help here.
However, a slightly damaged head gasket can be repaired with a gasket sealer if the leak isn't significant. Using a gasket sealer is the cheaper solution in such cases, but it is sometimes just a temporary one for the problem.
3. Waiting Time
Gasket sealers work in different ways, with some needing a lot of time to set, while others need almost none at all. Longer set up time means you have to wait more before you can use your vehicle.
Hence, something fast-curing will always be more convenient as it saves you more time. You need to look for something that sets in under one hour. But, a sealer that only takes a few minutes to set like the Permatex 80062 is even better.
4. Ease of Application
This is another issue that you'll have to decide how important it is to you. Gasket sealers come in different container types and have varying application methods.
While the manufacturer will try to make each sealer as easy to apply as possible, it's still left for you to decide if it's something you can work with or not. Something that only requires you to pour it in the radiator like the Steel Seal CYL001 will give you an easier time.
Conclusion
The best gasket sealer for your car depends on the exact problem and how you wish to solve it. But, you can be sure there is something that suits your needs in our list above.
From this list, the Permatex 81160 is our best overall option because besides setting fast enough, it can withstand higher temperatures and provide highly effective sealing.
If you are looking for something that will give you great value for money, the Bar's Leaks HG-1 is our recommendation.