Painting a vehicle takes some skill, time, and effort. Also, you need the surface to be smooth and uniform for the best results. But with an epoxy primer, this should not be a problem.
The epoxy primer is a resin-based sealer, that once cured, produces a non-porous surface. This surface is quite hard, but you can sand it easily to a smooth finish that is easy to paint.
Moreover, the epoxy primer will allow you to paint more uniformly, resulting in a more professional paint job. One more advantage is that epoxy primers are very durable and long-lasting, so they will help keep the vehicle surface in great shape for a long time.
If you are fresh on the market for the best epoxy primer, our review below has you covered as we provide some fantastic recommendations.
Top Epoxy Primers of 2021 by Editors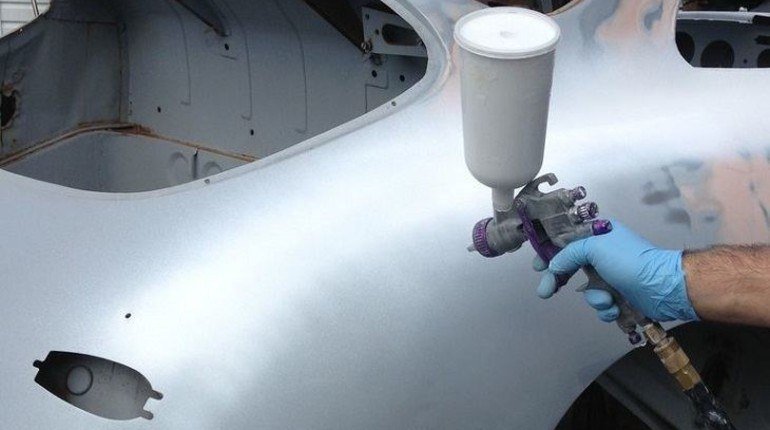 Summary of 5 Best Epoxy Primers
IMAGE
PRODUCT
FEATURES

1. Speedokote SMR-260B-Q/261-8 (Best Overall)

Super-fast drying in just 30 minutes
Superior adhesion to most surfaces
Safe & nonreactive

2. Speedokote SMR-260G/261 (Best for the Money)

Large volume for excellent value
Easy application & leaves a smooth texture
Works as both primer & sealer
Does not oxidize or corrode

3. UCS 2K 50771 Z (Best Spray)

Convenient spray application
Adheres to all metal surfaces
Highly resistant to corrosion

4. Custom Shop KEP406-QT (Best Anti-Corrosive)

Superior anti-corrosive properties
Adheres to a wide variety of surfaces
Dries in under 30 minutes

5. Eastwood 2K 14149Z (Most Durable)

Leaves a tough & durable coat
Easy-to-use aerosol bottle
Provides a smooth & even coverage
1. Best Overall: Speedokote SMR-260B-Q/261-8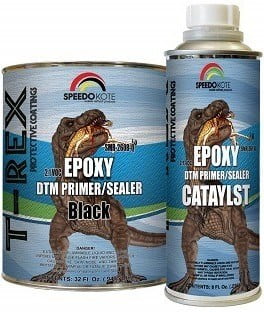 The Speedokote SMR-260B-Q/261-8 is our best overall option as it cures super fast in just 30 minutes and has a lot more to offer, such as superior adhesion. Better still, this epoxy primer can work on a wide range of surfaces, from steel and aluminum to fiberglass and even plastic if you have to, making it very handy to have around.
You can use either a regular paintbrush to apply this primer or use a spray gun, making it more flexible for maximum user convenience. Because it is a safe and non-reactive product, it will not degrade or corrode easily.
Another thing we like about this top-rated epoxy primer is that it not only acts as an epoxy primer, but it is also an excellent sealer. If you have a small hole to seal, then you can use the Speedokote SMR-260B-Q/261-8.
You will need to mix this primer with some solvent as it is a bit thick. Furthermore, some experience may be required to get the right product consistency and good results. But, all these are things you can quickly figure out.

---
2. Best for the Money: Speedokote SMR-260G/261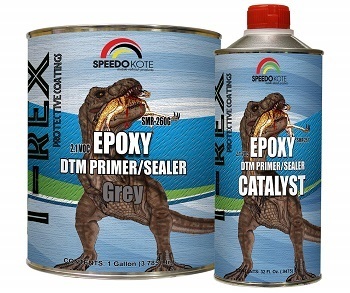 What separates the Speedokote SMR-260G/261 from the rest of the competition is that it provides excellent value for money. Despite being a top-quality product, it comes in a sizeable 1-gallon container at a great price to ensure you get fantastic value.
The application is straightforward, as this primer adheres to any surface quite well and smoothly. What's more, once cured, the primer becomes very tough, and you can shape it any way you want using a sander.
Further, this product allows you to store it for an extended period without degrading. The container is metal, but it will never corrode or oxidize. Hence the primer's quality will not be affected by the bottle material.
If you're looking for a premium grade epoxy primer that acts as a sealer, the Speedokote SMR-260G/261 is also a great choice. Besides priming surfaces, this product is a highly effective sealant.
However, this epoxy primer is a little bit thicker than competing brands, making spray applications a little hard. But, you can always thin it to your liking without affecting the effectiveness or quality.

---
3. Best Spray Epoxy Primer: UCS 2K 50771 Z

If you don't like the inconvenience of applying your epoxy primer using a paintbrush, you can always opt for a sprayable model like the UCS 2K 50771 Z.
This spray epoxy primer is straightforward to apply, and it uses a unique nozzle to deliver spray gun quality results. Curing is also fast to ensure you never waste any precious time waiting for it to harden.
Once you have the primer on the surfaces, you can get maximum corrosion resistance and an excellent build. The primer will also be easy to sand for a nice, smooth finish.
You can use this product on a wide variety of surfaces as it will adhere well to all kinds of metals and other materials like fiberglass. And a little of it goes a long way as the 14.1-ounce bottle easily covers around 4 to 6 square feet.
The high-pressure build-up inside the canister can make you lose the nozzle. But, you should be okay, provided you do not shake this canister excessively. Also, the shorter shelf life is typical of many spray epoxy primers.
Note: You need to be careful not to store this epoxy primer in hot temperatures as pressure may build up inside and cause a safety hazard.

---
4. Best Anti-Corrosive Epoxy Primer: Custom Shop KEP406-QT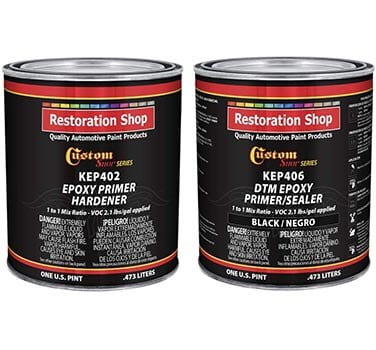 Suppose the main reason for buying an epoxy primer is to prevent surfaces in your car from rusting. In that case, the Custom Shop KEP406-QT is a perfect choice as its formula will deliver superior anti-corrosive properties.
What's more, this product uses an advanced resin technology to provide superior adhesion to all kinds of metals, other materials like fiberglass, and even clear coat surfaces.
There is no time wasting when using this primer as it will dry in just 30 minutes to allow the application of another coat or further work on the surface. Also, this epoxy primer offers excellent salt spray resistance. And it is easy to mix with the simple 1:1 mixing ratio.
Users might find this epoxy primer a little hard to apply when using rollers or brushes. However, this should not be the deal-breaker as this product is for spray application.

---
5. Most Durable Epoxy Primer: Eastwood 2K 14149Z

With the 2-component formula and proprietary technology, the Eastwood 2K 14149Z will give you a durable and long-lasting finish to ensure it is a long time before you need to reapply.
Besides being durable, this epoxy primer covers the surface more evenly and smoothly to ensure you end up with a more pleasant finish.
And the aerosol bottle sprays like a spray paint gun to ensure you have an easy time with the application. What's more, it has a long pot life of up to 48 hours.
Because this epoxy primer will adhere to all kinds of metals from steel to aluminum and other materials like fiberglass, it is ideal for use in various vehicle parts.
For a 12-ounce bottle, the Eastwood 2K 14149Z is a little pricier. However, a little of it goes a long way to ensure you still get good value for money.

How to Buy the Best Epoxy Primer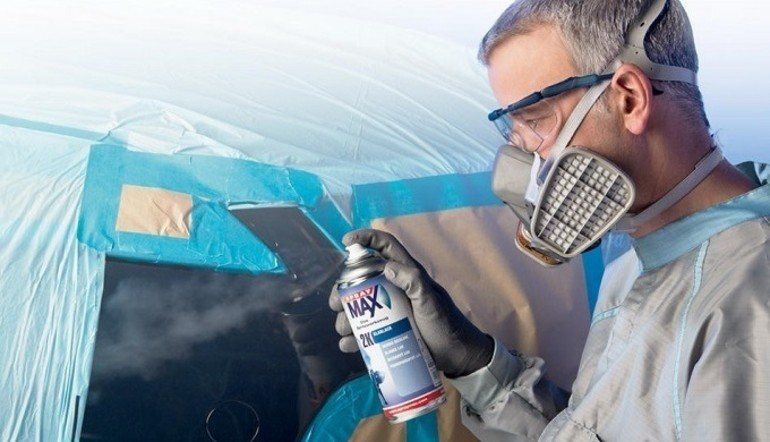 1. Types of Epoxy Primer
There are 2 types of epoxy primers on the market. The aerosol can and the large bottle or bucket.
Aerosol Can: The aerosol can is a spray epoxy primer with a single formula that mixes both the hardener and the base epoxy primer. One of the biggest advantages of the spray epoxy primer is its maneuverability and convenience when it comes to application.
However, due to the relatively small aerosol can size, this type is usually only the best epoxy primer for small DIY jobs where you do not have to paint large surfaces.

Large Bottle: The large bottle epoxy primer is the most popular type you can purchase on the market. As its name suggests, it comes in a large bottle or a metal can, and it is generally a two-part product.
It comes with the base epoxy primer and a hardener in separate bottles. You need to mix the two before you can apply. The advantage of the large bottle of epoxy primer is that it gives you more control over the amount of epoxy primer you can mix to prevent wastage.
Additionally, since the large bottle of epoxy primer comes in either a bottle or a metal can, you can close and store for future use. But, this epoxy primer tends to be more expensive.
Buying Advice: The choice between the two types should be obvious as the aerosol is perfect for small DIY projects, while the large bottle or bucket primer is ideal for larger projects.
2. Surface Application
The surface where you will apply the epoxy primer is one of the most important aspects to consider. These products do not adhere to all surfaces, so you need to make sure what you buy suits your intended use.
Hence before setting on any product, you need to check the surfaces it can adhere to, as most manufacturers state this clearly on the description.
Something that can adhere to a wide variety of surfaces like the Speedokote SMR-260B-Q/261-8 is always a better buy as it will be more useful to have around.
3. Ease of Use
Epoxy primers are not very difficult to use as even absolute beginners can do it, and you do not need any experience. If you can paint, then you can apply the epoxy primer.
However, some types are still easier to use than others. For example, a spray epoxy primer like the UCS 2K 50771 Z will give you an easier time than the bottle ones. Spray types will not need any mixing, and you do not have to get a separate spray bottle to use them.
4. Corrosion Resistance
Another aspect that you need to consider when purchasing an epoxy primer is corrosion resistance. Corrosion is one of the biggest threats to any metal surface, and so a product that can prevent it always makes a great buy.
The best automotive epoxy primers on the market will not chip away or degrade under any condition because they are more resistant to corrosion, temperature, and humidity.
An excellent example of this is the Custom Shop KEP406-QT, which offers superior anti-corrosive properties to give the surface maximum protection from rust and corrosion.
Frequently asked questions
Does Epoxy Primer Stop Rust?
A: Yes, epoxy primers are, in fact, one of the best ways to prevent rust on a metal surface. They seal the surface to prevent oxygen from coming in to ensure no formation of rust or corrosion. Some go a step further by incorporating compounds that inhibit corrosion like zinc phosphate in the formula.
Read More: The Best Rust Prevention Spray for Car
Is Epoxy Primer Waterproof?
A: Most epoxy primers are entirely waterproof and will keep water and moisture out of the surface. However, there are still some cheap ones in the market that are porous and can hence absorb moisture.
Is Epoxy Primer Safe to Spray?
A: Yes, and some products will even come in an aerosol spray bottle to ensure quick and easy application. You can also thin out most that come in buckets for safe and effective spray applications.
A: Yes, and in fact, the epoxy primer will work best on bare metal as it adheres well since there are no imperfections or impurities that can prevent it from sticking to the surface.
Can I Use Epoxy Primer on Bedliner?
A: Yes, coating truck beds is one of the most common applications of the epoxy primer. They form a good base or undercoat for bedliners. Using epoxy primer when coating a truck bed with a bedliner ensures you end up with a smoother and more long-lasting coat.
Conclusion
The epoxy primer provides a professional, smooth, and durable coat for the vehicle surface, and it is instrumental when preparing the body for painting or applying other things like bedliners.
With our review for recommendations, now finding the best epoxy primer should take little effort. That said, the Speedokote SMR-260B-Q/261-8 is our top overall recommendation as it dries super fast and adheres well to almost any surface material.
However, if you are looking for something that will give you a good value for money, go with the Speedokote SMR-260G/261.