Antifreeze and coolants were originally two different liquids used in automobile cooling systems, but these days, they've become the same liquid.
Antifreeze prevents your car's cooling liquid or coolant from freezing in the winter or other low-temperature conditions. A coolant, however, prevents the water in the cooling system from boiling at standard temperatures.
As you can imagine, most car engines will overheat and eventually break down without antifreeze/coolant in the system. The variety of offers in the market, however, make this selection process a little difficult for first-time buyers.
This best antifreeze and coolants review therefore aims to simplify that buying process for you by providing you with a list of the top offers in the market and a buying guide to make the selection process easier.
Editor's Recommendation: Top Antifreeze Coolants of 2021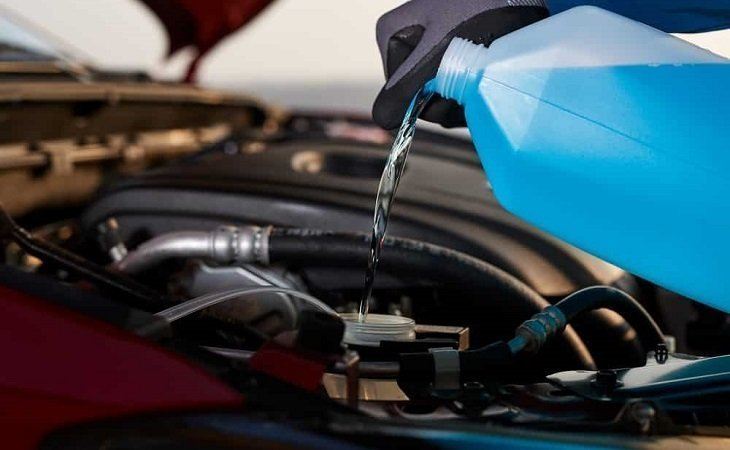 Summary of 7 Best Antifreeze and Coolants
IMAGE
PRODUCT
FEATURES

1. Ford VC-3DIL-B Orange (Best Overall)

Orange-colored for diesel and gas engines
Comes with 50-50 water premix
Bittering agent prevents accidents

2. Ford VC-7-B Gold

Concentrated solution helps save money
Offers wide protection from -34 to 265 Fahrenheit
Includes a bittering agent against accidents

3. Valvoline Zerex G-05

Works on many different cars
Phosphate-free formula
Rated fro 5 years or 150,000 miles

4. Honda OL999-9011

OEM offering for Honda & Acura Vehicles
Includes corrosion protection
Rated to last 5 years or 60,000 miles

5. Valvoline MaxLife 719005

Universal coolant
Mixes and works with other coolants
Also lubricates gaskets and seals

6. Valvoline ZX001

Universal coolant for gas and diesel engines
Concentrated formula allows flexible dilution ratios
Rated up to 5 years or 100, 000 miles service life

7. Engine Ice TYDS008

Powerful and ready-to-use antifreeze coolant
Works great in high-performance engines
Features a completely biodegradable formula
1. Ford VC-3DIL-B Orange - Best Overall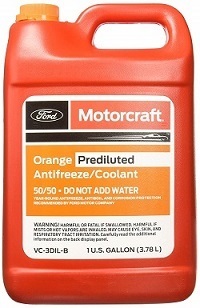 Ford's VC-3DIL-B is a top-rated antifreeze and coolant for Ford, Mercury, and Lincoln vehicles. It will also work in other engines that meet Ford's specifications.
The 1-gallon container comes pre-diluted with a 50/50 mix of this antifreeze and purified water. This means that you simply just need to pour it in and that's it.
It comes with everything that you need for both gasoline and diesel engines, letting your engine work in temperatures as low as -34 degreesFahrenheit and as hot as 265 degrees F.
For downsides, it includes ethylyne glycol, which isn't very environmentally friendly and being pre-diluted also means that it costs more.
In addition to antifreeze and anti-boil protection, this formula also features an anti-corrosion function to help maximize your engine's lifespan.

---
2. Ford VC-7-B Gold Antifreeze and Coolant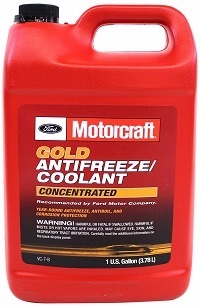 Although the previous Ford offer comes pre-mixed, this one comes fully concentrated and designed to get mixed with distilled water in a 50/50 ratio.
It's a yellow-colored coolant, made for both gasoline and diesel engines, with a -34 degrees F antifreeze feature, a 265 degrees F anti-boil feature, and corrosion protection as well.
Being ethylene glycol based, however, you can't really call this an environmentally friendly antifreeze, but its price is good and it also includes a bittering agent to stop pets and babies from drinking it and getting poisoned.
For cons, you'll need to mix it with distilled water first before use and secondly, it's also designed specifically for only Ford and related vehicles.


---
3. Valvoline Zerex G-05 Antifreeze and Coolant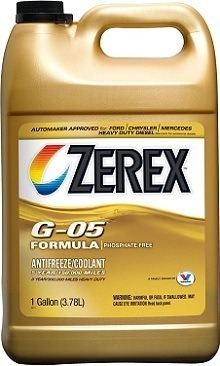 This offer for a Valvoline Zerex offers you one of the best antifreeze and coolants in the market for engines needing a HOAT (Hybrid Organic Acid Technology) system.
It's rated to work on a range of vehicles, including Mercedes, Cummins Deere, Isuzu, CAT and a lot more.
Designed for use on both diesel and gasoline engines, this formula offers a lower concentration of silicate and a total absence of phosphate, although it includes a good anti-corrosion system.
Bing concentrated means that you'll have to dilute it according to instructions. It's rated at 5 years or 150,000 miles or 3 years and 300,000 miles for heavy-duty use.

---
4. Honda OL999-9011 Antifreeze and Coolant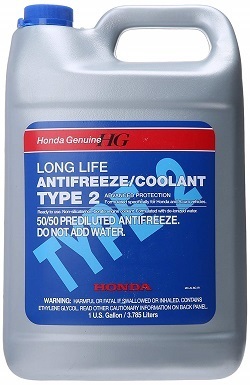 So far, we've only looked at Ford-specific antifreeze/coolants, but if you're a Honda guy or chic, then here's a specially formulated antifreeze for Honda and Acura vehicles.
This formula offers advanced protection for the engine, including protection from corrosion for the cooling system's components.
It's also a pre-diluted formula and while this makes it easy to use, it also makes it less cost-effective. The formula, however, is silicate and borate-free, making it a little friendly to the environment.
It still includes ethylene glycol though, for aluminum components protection, so it's not entirely environmentally friendly. Honda rates it, however, for up to 5 years or 60,000 miles.

---
5. Valvoline MaxLife 719005 Antifreeze and Coolant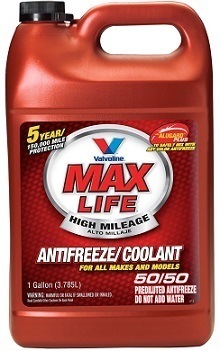 Valvoline's Maxlife 50/50 antifreeze/coolant is specifically designed to provide as many cars as possible with a high-quality coolant and antifreeze without compatibility issues.
Including Aluguard Plus makes it one of the best engine antifreeze and coolants for universal application because it lets OAT, IAT, and HOAT chemistries work together.
This formula works to prevent freeze-ups and boil-overs in all car makes and models, including sedans and light-duty trucks.
It's, however, not ideal for high-performance engines and being pre-diluted makes it less cost effective. It lubricates gaskets and seals anyway, making it ideal for high-mileage vehicles. Valvoline rates it for up to 5 years or 150,000 miles.

---
6. Valvoline ZX001 Zerex Antifreeze Coolant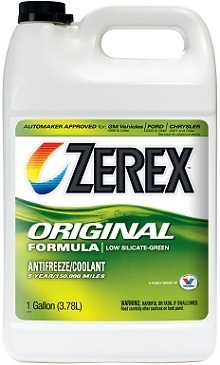 Zerex is a family brand of Valvoline and so, practically belongs to the best antifreeze and coolant brands. This formula comes fully concentrated, so it's left for you dilute it as you need.
Its features depend on its level of dilution, with a 50/50 dilution with water creating a -34 to 265 degrees F range, while a 70/30 rate with water offers a -90 to 277 degrees F temperature range.
This formulation works on both gasoline and diesel engines, and although it comes with a low-silicate content, it still has ethylene glycol, which makes it environmentally hazardous.
Valvoline recommends using a supplemental additive if you are planning to use it on heavy-duty systems. Else it works great on small and light-duty engines.

---
7. Engine Ice TYDS008 Coolant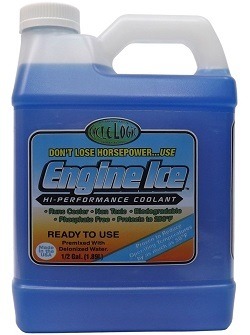 Here's a product for those looking for the best coolants for high-performance cars. It's a blue-colored formula, designed to keep the engine at the right temperature for optimal performance.
It's also biodegradable and environmentally friendly because it's made using propylene glycol, unlike most other formulas that use ethylene glycol, which is toxic.
Downsides include a relatively higher cost and additionally because it's pre-mixed with water.

This formula is additionally phosphate free and reduces the engine temperature by an extra 10 degrees F. In addition, propylene glycol helps to cut gasket and seal failures in the water pump system.

How to Buy the Best Antifreeze & Coolants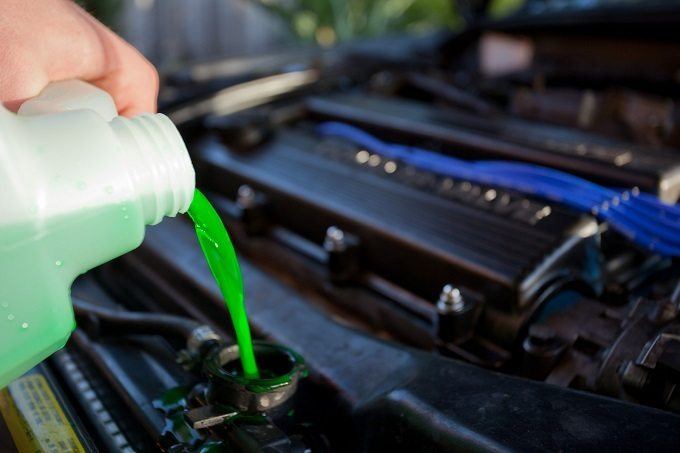 Antifreeze and coolants come in a wide variety, so you need to have some basic understanding if you want to choose the right product for your vehicle.
Following is a listing of the important aspects of antifreeze/coolants that you need to consider and keep in mind when making your choice.
1. Types of Antifreeze and Coolants
Antifreeze coolants have evolved over the years, with better technologies invested in creating more effective and durable formulas.
There are three major types of antifreeze and coolants based on the technology that they got manufactured with. These three types are as follows:
Inorganic Acid Technology (IAT). This type of antifreeze/coolant is the bright green antifreeze that most people know. It is, however, an older formula and has since been replaced by better formulas that get used in newer cars.

You won't find IAT coolants in most vehicles made since the turn of the century because it has silicates and phosphates, which make it bad for the environment. It also includes the toxic ethylene glycol and should get changed every 30,000 miles or 2 years.

Organic Acid Technology (OAT). With organic acid technology coolants, you get a more environmentally friendly formula that isn't much of an issue if it happens to leak into the environment because it includes neither phosphates nor silicates.

It includes ethylene glycol, however, and the recommendation if to flush once in five years or after about 150,000 miles. This makes it a better antifreeze that finds use in many new vehicles. It also comes in different colors.

Hybrid Organic Acid Technology (HOAT). This one is also available in different colors and has silicates for corrosion inhibition. It's however, developed to specifically protect aluminum engine blocks.

Most of its other features are the same, such as containing ethylene glycol and needing a flush every 150,000 miles or five years. It also contains other additives for more features.
2. Fuel Types
Coolants were originally developed differently for gasoline and diesel engines, each needing different additives to make it perfect for that type of engine that it's made for.
Most antifreeze and coolant offers that you'll get in the market today, are, however, compatible with both gasoline and diesel engines. But, always check to make sure.
3. Formula
It's additionally important that you understand that different antifreeze formulas are ideal for different types of cars, so it's better to stick to what you've used, rather than switching to something new.
You should also avoid mixing different coolants together, especially those with different colors. Most formulas need you to use them as they are, while others need you to mix them with water. It's important that you follow these instructions.
If you ever find your car low on coolant and you have no option to buy the right type of coolant for it, keep in mind that it's okay to top off your radiator with water and slowly drive to the next gas station.
4. Operating Temperature
You'll find that most antifreeze and coolants will offer to keep your engine working perfectly between low temperatures of -26 degrees F and highs of 250 F.
This is an ideal temperature range, but it's left for you to make sure that any product that you are about to buy offers this range or any other range that better fits your needs.
Asides from the major factors above, there are other less important features that you may need to keep an eye on when choosing a particular product for your car.
Some formulas include extra leak-repair additives or environmentally friendly anti-corrosion additives. Also, make sure that it comes with a service life that's long enough for your car and its condition.
Another important point is having a bittering agent. Since many pets and children get attracted to the bright colors and sweet taste of antifreeze, it's important to deter them from drinking it and a bittering agent is one such good deterrent.
Conclusion
Coming to the end of this antifreeze and coolants review, you must have seen just how varied the different formulas are and how important it is to choose correctly.
From the universal solutions to the more environmentally friendly propylene glycol formulas and those designed for high-performance engines, you can see that there's an offer for every budget and engine type.
In the end, it's left for you to choose the right antifreeze coolant for your vehicle because you're the only one that knows exactly what your car needs and what you can afford.