Headlights allow you to see where you are going when driving at night or under the rain/snow and also when it becomes foggy. For great visibility, you need to have good bulbs like the popular halogen headlight bulbs.
With the best halogen headlight bulbs on your vehicle driving in low light conditions become easier and safer as they provide excellent illumination.
But, you can get halogen headlight bulbs with different features and in various models from other brands. Hence, you need to understand what defines a good one and the factors to look for when shopping.
However, we have you covered as we make shopping for these bulbs more effortless with our review of top 7 halogen headlight bulbs and a detailed buying guide that showcases the important things to watch out for.
Top Halogen Headlight Bulbs of 2021 by Editors' Picks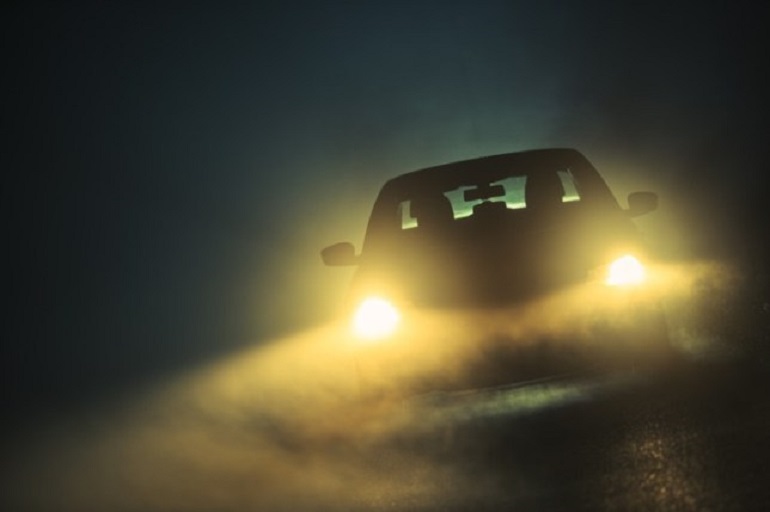 Summary of 7 Best Halogen Headlight Bulbs
IMAGE
PRODUCT
FEATURES

2. Philips 12362B1 (Best Overall)

1,350 lumens and 4,100 Kelvin color temperature
OEM quality seal
DOT compliant
High temperature and vibration resistance

1. Philips 12972XV+S2

3,700 Kelvin color temperature
Longer light beam
High-quality glass and coating
Straightforward installation

3. Osram 64150NBU-HCB

1,550 lumens and 3,400 Kelvin color temperature
More robust and resilient coil
Pleasant light effect
Back glare-reducing blue ring coating

4. Philips 12972B2

1,500 lumens
OEM quality seal
Quick and easy installation
Wide compatibility

5. Agptek APH07

1,500 lumens and 5,000 Kelvin color temperature
Highly affordable for a 2-pack
High quality materials and coating
Super easy installation

6. Sylvania 9006SU.BP2

1,000 lumens and,100 Kelvin color temperature
Excellent downroad visibility
Tri-band technology for a whiter light
100% street legal

7. Sylvania 9007XV.BP2

1,350 lumens and 3,200 Kelvin color temperature
Enhanced downroad visibility
Robust filament and proprietary gas mixture
DOT approved and street legal
1. Philips 12362B1 - Best Overall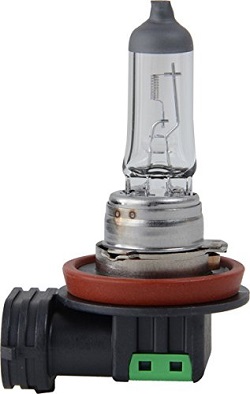 Power Source: 12V, 55W
Lumens: 1,350 lumens
Color Temperature: 4,100 K
Life Expectancy: 200 hours
Philips model 12362B1 is one of the best H11 halogen headlight bulbs out there thanks to a bright enough light output and a highly durable overall construction.
This bulb comes in a pack of one, and it is one of the cheapest items on our halogen headlight bulbs review, and even if you buy two, they will still be quite affordable.
The bulb is designed to produce a brighter light with an output of up to 1,350 lumens and color temperature of around 4,100 K to ensure you get a whiter beam.
With this Philip bulb, you can also be confident that you are getting something highly durable as the UV-quartz glass is stronger than typical hard glasses that you find on other halogen bulbs.
Also, the bulb is designed with higher resistance to extreme temperatures and vibration.
Given that there is only one bulb in the pack, the chances are you will need to buy two packs which means extra cost. But, the quality makes it worth it.

---
2. Philips 12972XV+S2 Halogen Headlight Bulb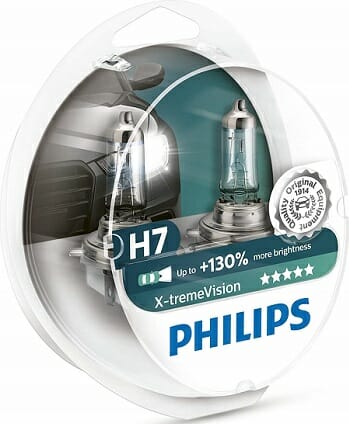 Power Source: 12V, 55W
Color Temperature: 3,700K
Life Expectancy: 450 hours
When compared to a standard halogen bulb, the Philips X-treme Vision will produce up to 130% more light. And so whether you are driving in the middle of the night or on a foggy day, you can be confident of getting top-notch visibility with these bulbs.
These DOT compliant halogen bulbs will not only offer great light output but also do that without compromising on the life of the bulbs, and so it will still be many years before you need to change it.
Another feature that makes this one of best halogen headlight bulb for car out there is that it also has a longer light beam than many others.
With these bulbs, you will get a beam that is up to 45 meters longer than what you get from standard halogen bulbs to help increase reaction time.
Like with most other Philips halogen headlight bulbs, these ones are made from high-quality UV-quartz glass and high-precision coating for increased durability.
Compatibility seems to be an issue with these halogen bulbs as they do not fit some vehicles. But, they should work for a majority of vehicles on the road.

---
3. Osram 64150NBU-HCB Halogen Headlight Bulb
Power Source:12V, 55W
Lumens: 1,550 lumens
Color Temperature: 3,400 K
Osram makes the Night Breaker high-performance halogen headlight bulbs for the car owners that not only want a bright light but also something that produces a pleasant lighting effect.
These bulbs are designed to create a very appealing look when both on and off. This effect stems from the partial blue coating and silver cap.
Each of the two bulbs will produce 1,550 lumens and with a color temperature of 3,400 K. Their light beam is up to 35 meters longer than what you get from standard halogen bulbs to ensure you get better visibility and increased reaction time.
Besides enhancing the lighting effect, the partial blue coating helps to minimize glare. But, there is also a partial cobalt coating on the glass body that will help to produce a whiter light.
With the more robust coil design, you can also be sure that these bulbs will be more resilient and hence better suited to handle extreme temperatures.
For some vehicle owners, the light that these bulbs produce might still not be white enough. But for halogen bulbs, they are still good enough, and if you still want super white light, you might have to go for LED or HID.

---
4. Philips 12972B2 Halogen Headlight Bulb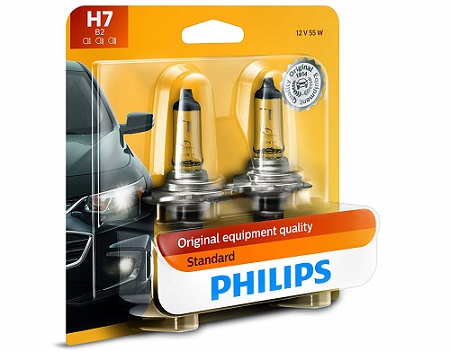 Power Source: 12V, 55W
Lumens: 1,500 lumens
Life Expectancy: 450 hours
Although this Philips product is among the cheapest items in our review, it is still one of the best H7 halogen headlight bulbs out there, and not just because it is from a top brand but also because it performs well.
This top-rated halogen headlight bulb comes as a pair to ensure you replace both bulbs at a go for uniform light output, and it is widely compatible with most car headlights.
Like many other Philips halogen headlight bulbs, these H7 bulbs are made with the stronger UV-quartz glass for increased durability, and they are able to withstand extreme temperatures and vibration.
And with the high humidity and UV resistance, you can be confident that these bulbs will not die out on your prematurely. Also, they are quite easy to install.
A larger and more robust filament would have been better as what is used on these bulbs is relatively thinner. But it is still great quality and will work well enough and for a long time.

---
5. Agptek APH07 Halogen Headlight Bulb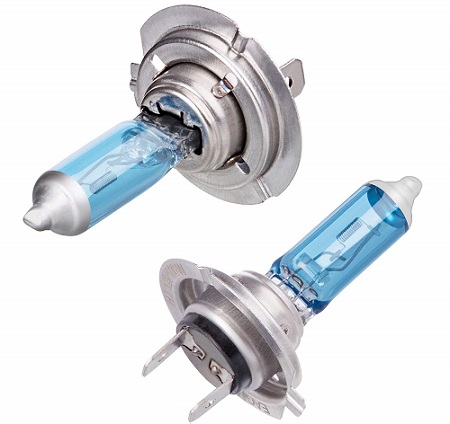 Power Source: 12V, 55W
Lumens: 1,500 lumens
Color Temperature: 5,000 K
It is hard to think of a pair of 55-watt halogen headlight bulbs that offers a better value than the Agptek H7.
They have a color temperature of 5,000 K which makes them the brightest halogen headlight bulbs on our list.
Versatility is also a key feature of these halogen bulbs as they are designed to be used on either a car or motorcycle depending on the model that you pick.
You can be confident that they are high-quality enough to serve you well for long enough as they come with E4 and E13 certification which also means they are safer and more reliable.
Provided you choose the right model and have a compatible vehicle, these halogen bulbs will be a perfect fit for your headlights and are also easy to install.
The high-quality materials that include a UV-quartz glass and steel base also help to make these halogen bulbs highly-durable but they are still not as durable as the stock bulbs.

---
6. Sylvania 9006SU.BP2 Halogen Headlight Bulb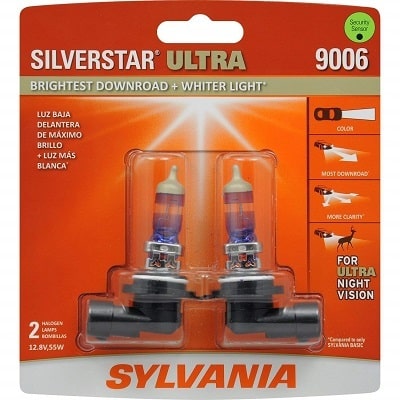 Power Source: 12.8 V, 55W
Lumens: 1,000 lumens
Color Temperature: 4,100 K
Life Expectancy: 200 hours
Few other bulb manufacturers have been in business longer Sylvania as the company has been making different types of bulbs for various applications for more than 100 years now.
Their 9006 Silverstar white halogen headlight bulb is one of their most popular products thanks to the whiter light output. The whiter light can be attributed to their patented tri-band technology.
With these halogen bulbs on your headlights, you can be confident of always getting great downroad visibility so that you can see different aspects of the road better when driving at night.
The bulbs have an output of 1,000 lumens which might not be the brightest but is still bright enough, and with a color temperature of 4100K. They also come as a pair for both your headlights and they should be straightforward to install.
Being one of the priciest items on our list, some buyers might find these headlight bulbs a little overpriced but for a pair of bulbs, the price is still acceptable.

---
7. Sylvania 9007XV.BP2 Halogen Headlight Bulb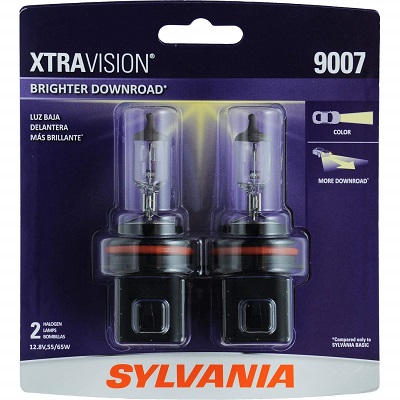 Power Source: 12.8 V, 55/65W
Lumens: 1,000/1,350 lumens
Color Temperature: 3,200 K
Life Expectancy: 375/80 hours
If you are on the market for the best factory-style bulbs for your vehicle , Sylvania 9007 XtraVision is your best pick. And this is thanks to the wide compatibility and the good value for a pack of two.
Like many other halogen bulbs from Sylvania, they are designed to offer better downroad performance, and so you can be confident of getting improved overall lighting ahead of you and from all directions.
Depending on the wattage, you can get either 1,000 or 1,350 lumens from these halogen bulbs. And if you prefer the maximum brightness, they will serve you for at least 80 hours and for up to 375 hours on the lower lumen output.
These are 100% street legal halogen bulbs that do not increase glare, and they use a unique filament design for high performance and to enhance durability.
While this halogen headlight bulb seems to have less white light than other top models in its class, it should still offer more than enough light for low light and night driving.

How to Buy the Best Halogen Headlight Bulbs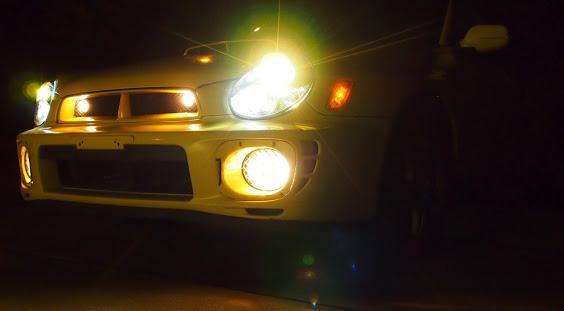 Driving at night and under rainy and foggy conditions is always easier and safer with good halogen headlight bulbs in your vehicle. And to make sure you pick the best halogen headlight bulbs for night driving from the many options out there, you need to keep the following important things in mind.
1. Compatibility
Whatever halogen bulb you choose needs to fit your vehicle to be of any use to you. Luckily, many halogen bulb manufacturers will make them in various sizes and types to suit different kinds of vehicles and a few will also have a more universal fit.
To avoid the hassle that comes with buying bulbs that do not fit your vehicle such as having to return them, you should be certain of the size you need. And this means you need to check your vehicle's make, model and the year it was made.
Also, you can use the specific part number if you have it or can get in the vehicle's manual or manufacturer's website.
2. Legality
Before you buy halogen headlight bulbs, you should make sure that they are legal to use on your local highway and anywhere else you might want to drive to in future.
Different jurisdiction will have set rules and standards that headlights have to adhere to, and if your bulbs do not meet them, you can land into trouble.
For example, you cannot just replace the bulbs on your factory halogen headlights with HID bulbs because most jurisdictions will require you to do a complete headlight upgrade.
Additionally, you should also check for certifications on the halogen bulbs such as the OEM ones as they are a good indication that it meets the required standards.
3. Brightness
The level of brightness that the halogen headlight bulb produces will determine how useful it will be when driving at night and other low visibility conditions.
It should be obvious that the brighter the bulb the better it will be, but it is also important to make sure that you know the actual amount of brightness that you will get.
Checking the total lumens that the bulb provides is a great way to determine whether what you buy is bright enough for you. And something with at least 1,000 lumens should be bright enough for most car owners.
4. Range
A headlight bulb's range is how far away from your vehicle the light will reach. It is important to make sure that the halogen bulbs you buy reach far enough for safe nighttime driving.
Also, a long-range bulb can give you more reaction time because you will be able to spot danger or hazards when you are still far away.
Hence, as you buy halogens bulbs, you need to make sure that you get something with the longest range possible to get a longer field of vision.
5. Color Temperature
As you shop for replacement halogen bulbs for your headlights, you will also need to consider the color temperature as it also affects visibility.
Color temperature is measured in Kelvin and the typical halogen headlight bulbs are between 3,000 K and 5,000 K, and this means that the light they produce will have a yellowish tint.
This yellowish tint is great for headlights as it will provide great visibility when driving in rainy and foggy conditions. If you go for a halogen bulb with a higher color temperature, you will get a pure white light which is good for those looking to have premium looking lights.
Read More: The Best Fog Lights
But, it is also worth noting that going for bubs with a color temperature of above 4500K means that you will get a bluish tint that is illegal to have in your headlights in some countries.
6. Life Expectancy
Halogen bulbs might not be the priciest automobile component, but you still do not want to have to buy new ones after every few months.
Also, you do not want a bulb with a small life expectancy that can die out on you when traveling at night or at a time when you have not budgeted to buy new bulbs.
Hence, the longer the life expectancy of the halogen headlight bulb the better it will be to have in your car.
On average, you will need to replace your headlight bulbs after every 3 to 4 years, and so whatever bulb you buy should last this long or even at least for a couple of years.
7. Ease of Installation
Headlight bulbs are one of those vehicle parts that most people prefer to install themselves without any professional help. But this will only be possible for you if you buy something that is easy to install.
Provided you pick halogen bulbs that suit your vehicle's model, make and year of manufacture, installation should be straightforward. However, headlight bulbs that also come with clear installation instructions will give you an easier time.
The bottom line is that you should always choose a bulb that you can install yourself without having to spend more money to pay a mechanic to do it for you.
Conclusion
Halogen headlight bulbs are one of the best things you can buy for your car to ensure safer and easier driving at night and in low light conditions. But, like any other vehicle accessories, you need to make sure you choose the best halogen headlight bulbs.
Keeping factors like brightness, color temperature, range and life expectancy in mind when picking your halogen bulbs should make it a lot easier to find something that will serve you well for long.
And our review of top 10 halogen headlight bulbs above will provide some fantastic recommendations. Finally, also make sure that you install the halogen bulbs correctly for them to function well.