HID or high-intensity discharge headlights provide one of the best ways to upgrade your vehicle's factory headlights. These lights are quite similar to halogen bulbs but will include a capsule of xenon gas instead of a wire filament.
The xenon gas capsule in the HID headlights allows them to provide more intense light output. Besides providing brighter illumination, these lights will have a more focused beam than halogen or LED lights and are more energy-efficient.
However, to get all the benefits of these fantastic headlights, you need to choose a good brand. Here we review some of the best HID headlights out there and give you a buying guide to help you with this.
Editors' Picks for Top HID Headlights of 2021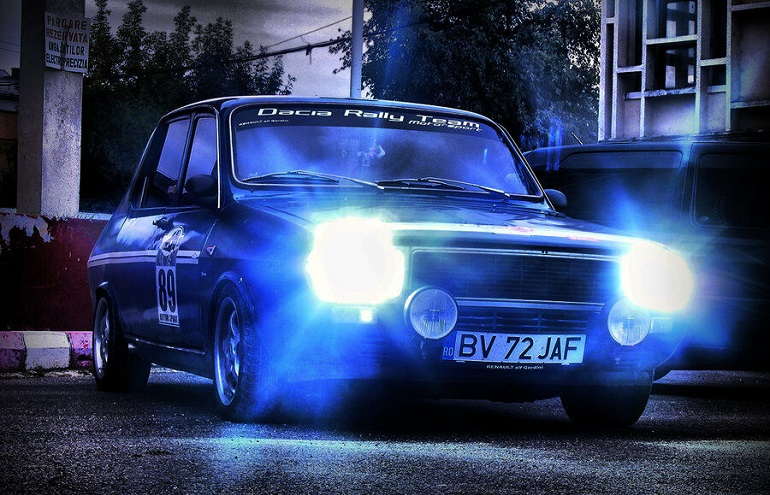 Summary of 7 Best HID Headlights
IMAGE
PRODUCT
FEATURES

1. Philips 42302C1 (Best Overall)

Original equipment quality
High-quality quartz glass
Consumes less energy
High UV & humidity resistance

2. CougarMotor CCD16 (Best Budget)

More budget-friendly
Low energy consumption
Plug-n-play installation
Exact alignment

3. OSRAM D2S CBI (Best Brand)

Direct fit with no modification
Extra blue light
DOT & ECE approved

4. RCP D4S6CA (Easiest to Install)

Fully plug-n-play
Anti-UV quartz glass
Safer design

5. HID-Warehouse 9005 (Universally Compatible)

Wide compatibility
Works with both AC & DC ballasts
Quartz glass tube
No Modification required

6. Car Rover D1B10K-GM (Longest Lasting)

Lasts up to 30,000 hours
100% weatherproof
More durable PPS material base
DOT approved

7. Innovited Premium (Best for All Driving Conditions)

Completely water, dust & shockproof
Long enough lifespan - 5,500 hours
No-flicker design
Easy under 20-minute installation
1. Best Overall: Philips 42302C1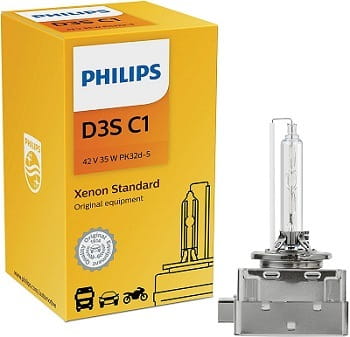 Power: 35W
Lumens: 3,400
Color Temperature: 4,200K
Lifespan: 2,500 hours
The Philips 42302C1 is our best overall HID headlight as it is an original equipment manufacturer quality product that will give you the light performance of a new car.
Better yet, these headlights are more energy saving as they consume up to 50% less energy when you compare them to stock lights.
The overall build quality is also fantastic to ensure that these lights serve you for a long time besides providing superior light quality. Philips uses a UV-quartz glass that is stronger and will be more resistant to vibrations and high temperatures.
With the UV-coating technology, these bulbs can withstand harsh sun rays for a long time. This coating and the fact that the lights are more resistant to moisture makes them ideal for all driving conditions.
While the installation seems a bit challenging, you should still be able to install these headlights on your own with a little patience.

---
2. Best Budget: CougarMotor CCD16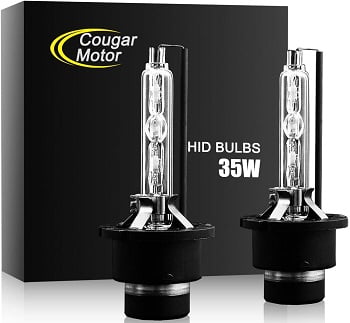 Power: 35W
Lumens: 7,600
Color Temperature: 6,000K
Lifespan: 3,000 hours
Motorists shopping for the best HID headlight bulbs on a tight budget should give the CougarMotor CCD16 a try. These are budget-friendly bulbs that will still give you up to 7,600 lumens.
Besides the smaller price tag, they also consume less light to minimize battery drain. And many users love the 6,000K color temperature as it provides a more natural daylight light output.
Because these are just plug-n-play headlights, even novice motorists will have an easy time installing them. One more thing users love is that they have an exact alignment to ensure they always deliver a tight beam pattern.
The bulbs seem prone to flickering as they do not have a built-in anti-flicker mechanism, but you can quickly fix the issue by buying one separately. Also, the slight yellowing over time does not affect the light quality.

---
3. Best Brand: Osram D2S CBI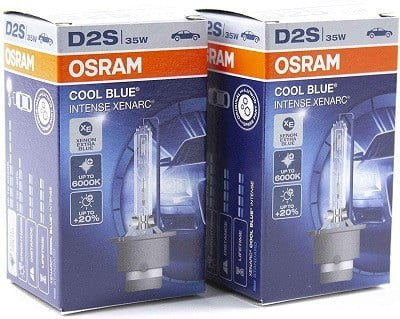 Power: 35W
Lumens: 3,200
Color Temperature: 6,000K
Lifespan: 1,800 hours
Osram is famous for its top-quality bulbs that provide a brighter light output with brilliant color. If you are looking to buy the best HID headlight brand, their Osram D2S CBI will be a fantastic choice.
What makes these headlights fantastic is that they will fit perfectly with no need for any modification. Better still, they are a direct replacement for various HID headlights from different brands. Also, they provide an extra blue light that is more pleasant thanks to a unique filling system.
The unique light effect ensures other motorists can easily see you on the road, thanks to a more stylish, individual design. With the DOT and ECE approvals, the lights are street legal both in North America and Europe.
The 1,800-hour lifespan is relatively shorter when you compare this product to others on our list. However, the good news is that it will still be much more durable than other headlight types out there.

---
4. Easiest to Install: RCP D4S6CA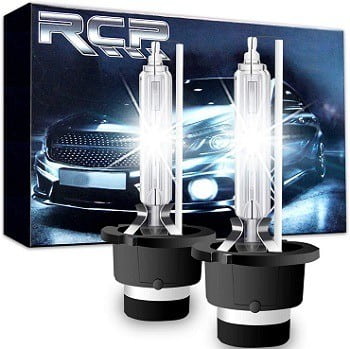 Power: 35W
Lumens: 3,200
Color Temperature: 6,000K
Lifespan: 2,500 hours
With the fully plug-n-play design of the RCP D4S6CA, you can be sure of having an easy time when it comes to the installation, and the job should also be much quicker. Better yet, these bulbs come with everything you need to replace your damaged HID bulbs.
The bulbs have an anti-UV quartz glass that does not crack easily or fade to ensure you get many years of service. With the precise focal length, you will get light that is the same as what new cars provide with a perfect beam pattern and no glare.
You can drive in different environments and conditions with these bulbs. They are more resistant to heat, oil, and wear as they use high-quality wires and other materials. These materials include a high-quality PPS base.
There are some hot spots on the projector beam pattern, but it is not too bad, and it will hardly be an issue as it does not affect the quality of the light.

---
5. Universally Compatible: HID-Warehouse 9005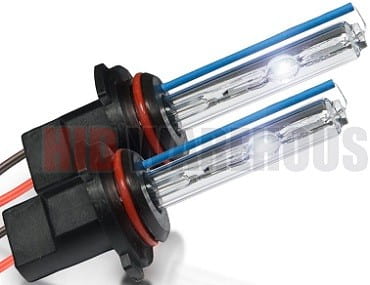 Power: 35W
Color Temperature: 8,000K
The wide compatibility of the HID-Warehouse 9005 headlights is what makes them a fantastic buy. They are compatible with both 35 and 50-watt ballasts, can work with most aftermarket HID kits, and are suitable for use with AC/DC ballasts.
Installation is straightforward as these 100% plug-n-play headlights. It should also not take a lot of time or require any modification. Once installed, you can be sure these headlights will give you a long service life as they have a glass quartz tube and sturdy base.
The base is also water and heat resistant to ensure the elements will not affect the headlights' functioning. And like many other HID headlights, these consume less energy when compared to halogen stock lights.
You will still need to buy several things to install these lights as they do not come as a complete package. But, for their price, this should not be a deal-breaker. Also, the few plastic components do not seem to affect the durability significantly.

---
6. Longest Lasting: Car Rover D1B10K-GM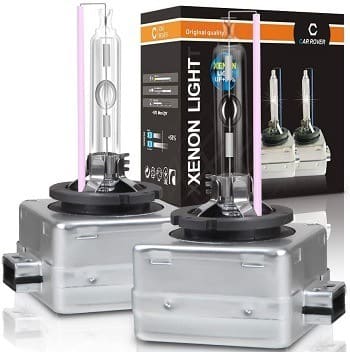 Power: 35W
Lumens: 3,200
Color Temperature: 10,000K
Lifespan: 30,000 hours
With a service life of up to 30,000 hours, Car Rover D1B10K-GM is the best HID headlights pair for you if you do not want to change your bulbs for many years to come. And to make sure they last even longer, they have a more durable PPS base that offers superior high temperature and corrosion resistance.
These are entirely weatherproof headlights to ensure you will never have any issue regardless of the driving conditions or climate, making them very ideal for use all year round.
When it comes to the actual light output, you will get at least 3,200 lumens, but what makes these headlight bulbs unique is that they deliver perfect beams every time with no dark spots.
While the color temperature is more cool white than brilliant white like most motorists prefer, the good news is you still get excellent visibility, which is all that matters.

---
7. Best for All Driving Conditions: Innovited Premium
Power: 35W
Lumens: 3,300
Color Temperature: 6,000K
Lifespan: 5,500 hours
No matter the typical weather or road conditions you drive in, you can be sure the Innovited Premium will serve you well. These headlights have a 100% shock, water, and dustproof construction that withstands almost anything for long service life.
Apart from the all-conditions use, these headlights have a no-flicker design for consistent illumination. Better yet, they come with a Canbus to ensure you always get a perfect beam consistently.
These are plug-n-play headlights that take under 20 minutes to install, and for most vehicles, you will not need to do extra wiring or need to use resistors.
The headlight dust cover might need some modification for some vehicle types, and there is quite a lot of wiring to do. Luckily, both issues do not take anything away from the fact that installing these headlights is a breeze.

How to Buy the Best HID Headlights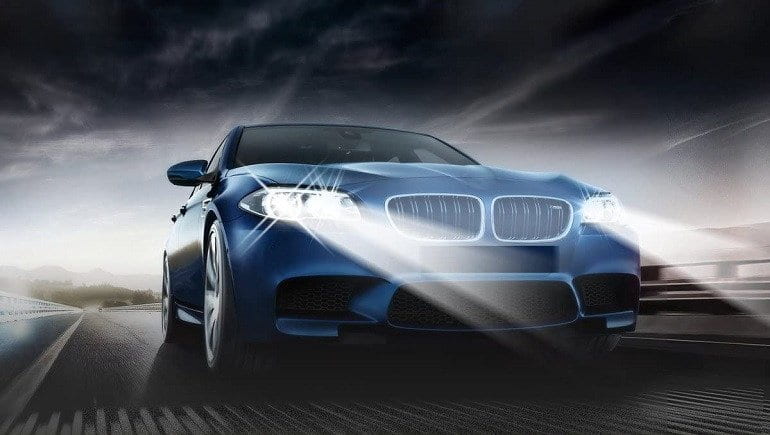 1. Legality
No matter how good the HID headlights you buy might be, they need to be legal in your jurisdictions for them to serve you well. If they are not permitted, you are likely to land in trouble if you use them.
Because rules and laws on the kinds of headlights you can have on your vehicle varies from one place to the other, you need to check the specific requirements in your area. For example, in some countries, it can be illegal to have blue HID headlights.
An excellent way to ensure the light is legal is to check the certification. If you are in the USA, something with DOT certification is often okay, while an ECE certification is a good indication that the headlights are legal for use in Europe.
2. Ballast
HID headlights will have two main ballast classifications: alternating current (AC) and direct current (DC). Here both ballast options have their merits and shortcoming.
The DC ballasts run on a single but continuous voltage, which gives them a greater energy output. However, they are not very energy efficient, and you can end up with fast-draining battery issues. Also, DC ballasts tend to produce quite a lot of heat.
On the other hand, with the AC ballasts, the current is converted before it is sent to the bulb. These ballasts produce less heat, are more affordable, and more energy-efficient. For the cons, the energy output is not as high as what you get with DC ballasts.
3. Brightness
Brightness is perhaps the most vital point that you will need to consider when choosing HID headlights. Here you want to make sure you get the brightest HID headlight to maintain excellent visibility when driving.
To make sure you get a bright enough light, you need to check the lumen count, and the higher the number, the brighter the HID headlight.
Most of these lights will give you anything from 2,000 to 10,000 lumens. Hence, something that provides 7,600 lumens like the CougarMotor CCD16 should be bright enough for most drivers.
4. Color Temperature
Color temperature impacts the visibility and determines whether the HID headlights you buy will be legal to use in your area. For example, in places like the US, only white light is considered street legal.
Color temperature is measured in Kelvins (K), and most HID light will produce between 4,000K and 10,000K. On the upper end up (10,000K), the light color is light blue, while on the lower end of this range (4,000K), you get a yellowish light.
For a more natural white or daylight color, you need something in between, such as 6,000K.
5. Lifespan
One of the most significant advantages of the HID headlights is that they are more long-lasting, so you will not need to change them as often as the stock light.
However, the actual lifespan you get will vary from one model to the other. But, you can typically expect to get a service life of anything from 1,000 to 50,000 hours.
That said, a model with a 30,000 hours service life like the Car Rover D1B10K-GM should be a fantastic choice.
How to Install HID Headlights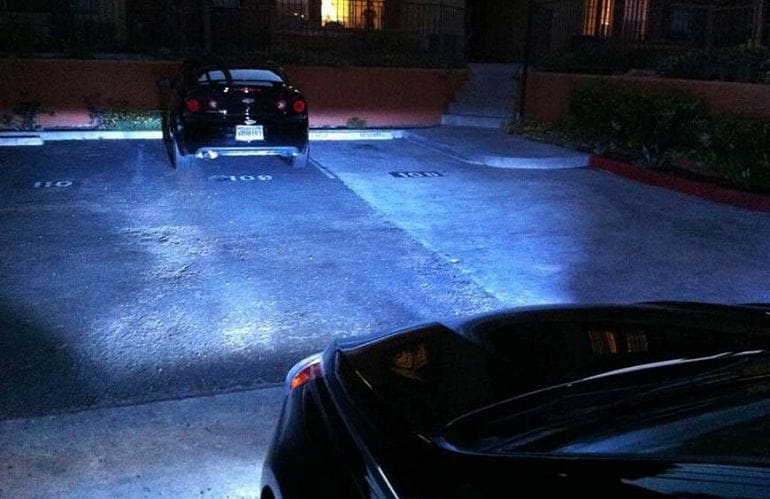 HID headlights are relatively easy to install, and with a little patience, a few tools, and by following the manufacturer instructions, almost anyone can install them. Here is what you need to do.
Step 1: Locate the Main Light
Because you want to replace the main light with the HID headlight, the first step should always be to locate it. Here you need to open the hood and then turn on the headlights but not the high beam. Once you find the main lights, you should switch them off before they get hot.
Step 2: Remove Main Headlight
The next step is to remove the light. For this, you have to open the back cap on the headlight's assembly and then carefully twist off the light from its socket. And to remove it from the socket, you need to unclip it from the wiring using the lever or clip.
Step 3: Install the HID Bulbs
With the old or stock light removed, you can now install the HID bulbs. In most instances, you will need to install the ballast adaptor, and a 2-part HID bulb. The easiest way to do this is by starting with the bulb and then installing the adapter afterward.
Step 4: Do the Wiring
Once the bulb and adapter are in place, you should now connect the wires. There will often be about five wire connections coming from the HID bulb. You need to clip them to wires inside the vehicle and ballast, but it should be easy to tell which goes where from their unique shapes.
Step 5: Install the Ballast
Now you can install the ballast. Here the most important thing is to make sure that you get all the connections right and leave everything secure. The connections here also have a specific shape to ensure it will be easy to tell the clips to use. Once this is done, you should test the lights, and if they are okay, you only need to secure the ballast adapter, and you are done.
Conclusion
If you want to replace your stock headlights with something that delivers higher light output, consumes less power, has a long life, and gives you more color options, you need to find the best HID headlight.
Luckily, finding the right ones for your vehicle only now requires you to choose from our list above. And to make the choice easy, the Philips 42302C1 is our best overall model as they are OEM quality lights that consume way much less energy and have a fantastic build.
For motorist shopping for something more affordable that still provides adequate lighting, the CougarMotor CCD16 will be a more appropriate choice.