Driving in foggy conditions can be challenging and dangerous, even for the most experienced drivers, as there is minimal visibility. Even with the best headlights, you will still face issues as they reflect fog. What you need for such adverse conditions are the best fog lights.
Fog lights are specially designed to improve visibility when driving in inclement weather, such as foggy or rainy conditions and even under drifting snow and dust.
Unlike traditional headlights, they do not reflect off the fog and instead focus the light on the road ahead to improve visibility. Besides ensuring safety when driving in inclement weather, these lights also look cool on the vehicle.
Here, we review a few top-rated fog lights and explain how to choose the right one to make it easier to get the perfect model for your vehicle.
Editors' Picks for Top Fog Lights of 2021 Led Halogen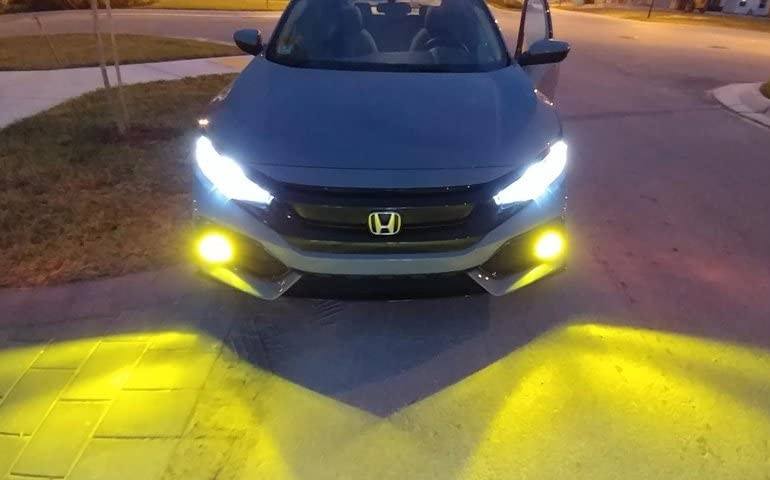 Summary of 7 Best Fog Lights
IMAGE
PRODUCT
FEATURES

1. Alla Lighting 8542095912 (Best Overall)

Perfect color temperature, 3,000 K
Super bright 3,200 lumens LEDs
360-degree beam angle
Plug-n-play installation

2. Cougar Motor 8542095832 (Longest Lifespan)

Lasts up to 60,000 hours
Upgraded beam patterns
Superior heat dissipation

3. SiriusLED BKH8 (Best Inexpensive)

Highly affordable
High-quality projector lens
Built-in current stable driver
Aluminum heat sink

4. Calais Extremely H3 (Best Waterproof)

IP68 waterproof rating
3,000 K golden yellow color temperature
Non-polarity design

5. Sylvania 9145 (Best Halogen)

Proprietary xenon halogen gas technology
Top allow coating for a sleek appearance
DOT compliant & 100% street legal

6. Xprite R4IN (Best for Jeep)

Specially designed for Jeeps
Super bright with 5,600 lumens output
High-quality, sealed housing

7. Z-Offroad SJ-011253C (Best for Dodge)

Wide Dodge compatibility
High-performing LED chips with 5,000 lumens output
Solid & durable construction
1. Best Overall: Alla Lighting 8542095912
Type: LED
Lumens: 3,200
Color Temperature: 3,000 K
Lifespan: 30,000 hours
The Alla Lighting 8542095912 is our best overall fog lights option as it provides the perfect color temperature, is bright enough, and has a perfect beam pattern to ensure excellent illumination.
These are 3,000 K color temperature bulbs that deliver the perfect yellow light to cut through the fog much better. Additionally, they have super bright LEDs that provide up to 3,200 lumens and include a 360-degree beam angle for wide and superior-quality illumination.
You never have to worry about the fog lights overheating. They have an effective heat dissipation mechanism that uses 6063 aviation aluminum material housing and a built-in IC driver.
What's more, these are plug-n-play fog lights that take little time and effort to install. Most motorists should have them in place and ready to use in just a few minutes.
Like many other fog light models out there, these can sometimes flicker a little. However, this is often a result of poor installation, and there are different ways of ensuring they do not flash, such as using an anti-flicker harness.
Provides an ideal color temperature for inclement weather
Bright enough for all condition
Better heat dissipation
Perfect beam pattern with wide coverage
Super easy to install
Not completely flicker-free

---
2. Longest Lifespan: Cougar Motor 8542095832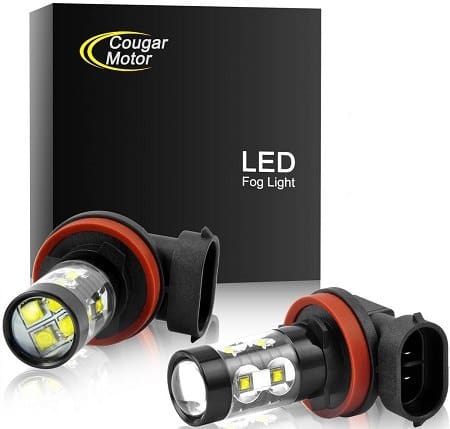 Type: LED
Lumens: 2,400
Color Temperature: 5,000 K
Lifespan: 60,000 hours
With a service life of up to 60,000 hours, the Cougar Motor 8542095832 has the longest lifespan on our fog lights review. Therefore, if you want something guaranteed to give you great service for many years, this is a perfect choice.
One of the main reasons for the super long service life is that these bulbs have a more efficient heat dissipation mechanism to ensure they run cooler than most others. They have a 6063 aviation aluminum housing that acts as a radiant heat sink.
These fog lights provide an improved beam pattern that comes from the use of high-quality Cree LED chips and an optical projector lens. You also never have to worry about short-circuiting as the bulbs have adequate protection. What's more, they are plug-n-play to ensure you have an easy time with the installation.
Although the housing has several plastic parts, you do not have to worry about it melting, given that these bulbs have an efficient cooling mechanism. Also, the color temperature could be better, but 5,000 K is still good enough for cutting through the fog.
Long lifespan
Runs much cooler
Provides a perfect beam pattern
Effective short-circuit protection
Simple plug-n-play installation
Housing is not entirely metal
Not the best color temperature

---
3. Best Inexpensive: SiriusLED BKH8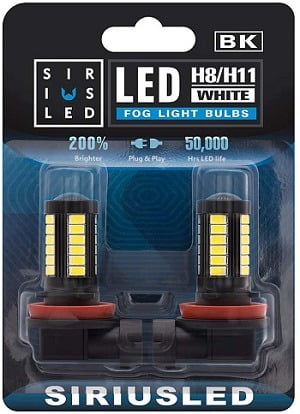 Type: LED
Lumens: 800
Color Temperature: 6,500 K
Lifespan: 50,000 hours
The SiriusLED BKH8 is a more affordable fog light for motorists shopping on a tight budget. Despite the smaller price tag, these lights still provide up to 50,000 hours of service life and have a natural white 6,500 K color temperature.
Also, they have an aluminum heat sink design to ensure the LEDs maintain optimal working temperature without overheating for a longer lifespan.
Better still, they have a built-in stable current drive to accommodate wide working voltage and prevent short-circuiting for a more stable performance.
With the high-quality projector lens, these bulbs make the light more focused for better illumination. When it comes to the installation, they give you an easy time as there is nothing much to do since they are plug-n-play.
These bulbs provide a combined 800 lumens, which are relatively low compared to others on our list, but they should still be bright enough to help you navigate most foggy conditions. They do not seem to lock in place very securely, but you can be sure they will not fall off when driving.
More affordable
Effective cooling mechanism
Wide working voltage and adequate short circuit protection
High-quality lens makes the light more focused
Hassle-free installation
Low light output
Not very secure

---
4. Best Waterproof: Calais Extremely H3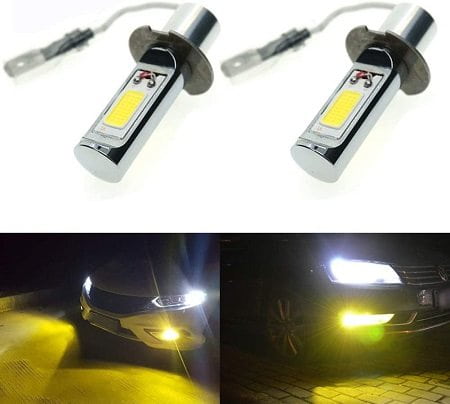 Type: LED
Lumens: 2,000
Color Temperature: 3,000 K
Lifespan: 50,000 hours
With an IP68 waterproof rating, the Calais Extremely H3 is the best aftermarket fog lights option for those looking for something completely waterproof for use in adverse weather. Additionally, they provide a 3,000 K color temperature, a bright yellow shade to cut through the fog and rain with ease.
These fog lights have a non-polarity design that makes them easy to install and ensures they are a direct plug-n-pay for most vehicles.
Calais Extremely H3 uses an aviation aluminum material for the housing to ensure rapid heat dissipation so that the lights always run cool for long service life. You can be confident of getting at least 50,000 hours of service from these bulbs.
The few demerits for these fog lights are that they display dashboard error and flicker a little on some vehicles. However, this mostly happens on European cars with a build-in Can-Bus system, but a load resistor should solve this.
Completely waterproof design
Provides an excellent color temperature for adverse weather
Easy installation on most vehicles
Rapid heat dissipation
Displays dashboard error on some vehicles
Can sometimes flicker

---
5. Best Halogen: Sylvania 9145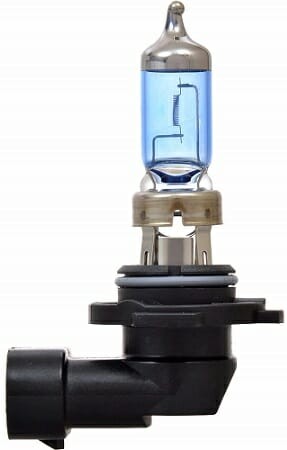 Type: Halogen
Lumens: 750
For motorists that prefer the more traditional halogen fog lights, Sylvania 9145 is the right choice. These lights use proprietary xenon halogen gas technology to provide optimal light transmission and color.
The overall construction is highly durable as everything from the housing to the lens is heavy-duty to ensure the lights serve you well for a long time.
These lights also have a silver mirror top coating that gives them a sleek design to ensure they look fantastic on your vehicle. Additionally, these are DOT compliant and 100% legal street lights.
Like any other halogen fog lights, these seem to run quite hot. Additionally, the lights are not very bright as they have an output of just 750 lumens. However, for halogen fog lights, they are almost as good as it can get.
Provides optimal light transmission and excellent color
Safe and legal for street use
Highly durable overall construction
Sleek overall appearance
Not very bright
Runs quite hot

---
6. Best for Jeep: Xprite R4IN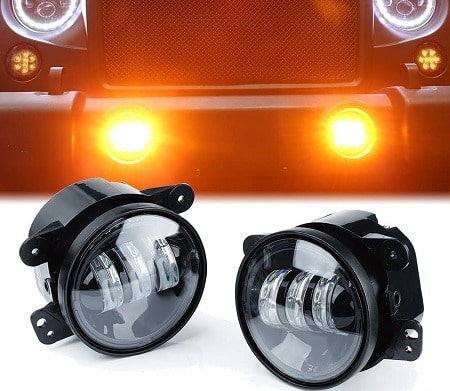 Type: LED
Lumens: 5,600
Color Temperature: 6,000 K
Lifespan: 50,000 hours
If you drive a Jeep and are looking to give your factory fog lights an upgrade, the Xprite R4IN will be a fantastic choice as the lights can fit a wide variety of models.
With an output of 5,600 lumens, these are the brightest fog lights on our list, so you can be confident they will improve visibility remarkably even in the thickest fog.
Besides being super bright, these lights are also of superior quality with sealed, all-weather housing. Additionally, they have an IP67 waterproof rating to make them water, dust, and fog proof. What's more, the lights are easy to install as they are a direct OE replacement and come with conversion cables.
These lights are not entirely flicker-free, and you can sometimes get minor flickering. However, an anti-flicker harness should help fix this.
Fits a wide variety of Jeep models perfectly
Super bright with high light output
Well-built with a sealed all-weather housing
Easy installation and OE replacement
Not completely flicker-free

---
7. Best for Dodge: Z-Offroad SJ-011253C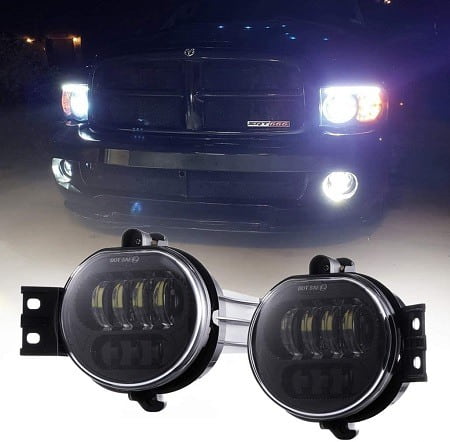 Type: LED
Lumens: 5,000
Color Temperature: 6,000 K
Lifespan: 50,000 hours
For Dodge drivers, the Z-Offroad SJ-011253C is a perfect fog light choice. These lights can fit most Dodges made after 2002, and besides providing excellent visibility, they help spice up the look with their sleek appearance.
The light output also makes Z-Offroad SJ-011253C of the best LED fog lights for trucks. They provide up to 5,000 lumens, which should be bright enough when driving in inclement conditions, and they have a more natural white 6,000 K color temperature.
The durable overall construction helps ensure these lights serve you for many years. What's more, they have some long-lasting LEDs that can last up to 50,000 hours. Overall, these fog lights are relatively easy to install and height adjustable for easy customization.
For trucks that do not come with stock fog lights, you may need to buy an extra wiring harness. But, this should not be an issue as you will not spend much. The beam length is also not the best, but you still get at least 50 to 60 feet, which is quite decent.
Fits a wide variety of Dodge models
Highly durable construction
Delivers a high light output
Adjustable height
Quick and easy installation
May require extra harness
Beam length is not very good

Fog Light vs. Driving Light vs. Long Range Light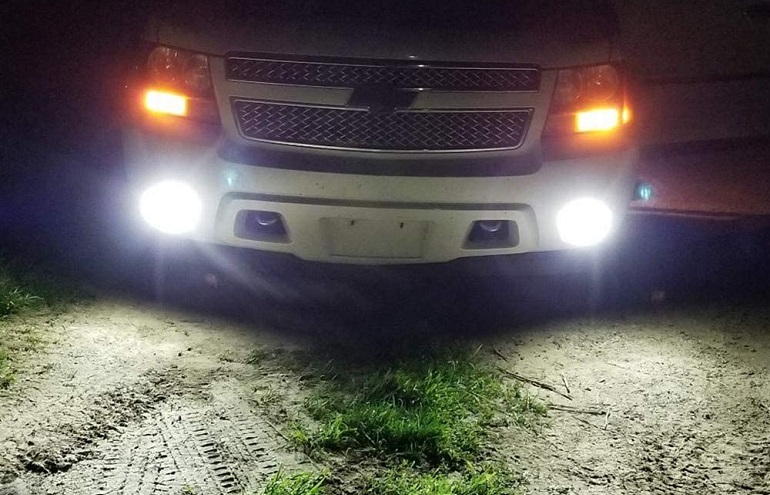 1. Fog Lights
Fog lights are specially designed for use when driving in treacherous weather, and they complement the regular driving lights for most vehicles.
They have a very wide, low, and short viewing pattern to increase visibility in front of the vehicle by ensuring the light is not reflected by the fog. When visibility is low, these lights help make things clearer in shorter distances, just like dipped headlights.
But due to their limited range, fog lights are more effective when driving at low speeds than at high ones.
2. Driving Lights
Driving lights are for long-range viewing when you are driving in low light conditions. These lights provide a broader and more powerful beam that makes them very useful on highways, where you need to see further out to spot potential hazards like wildlife.
However, given their superior brightness, these lights are not meant for use when driving in busy roads where there are many other cars on the road as they can blind oncoming drivers.
The rectangular beam that generates a high-intensity glare in the driving lights makes them ideal when driving at high speeds. As for the visibility, these lights illuminate the road's sides to provide better visibility than the average high beams.
3. Long Range Lights
Long-range lights have a highly focused beam that allows drivers to see wider distances. As their name suggests, they have an extremely focused beam to ensure they irradiate further out for a clearer view than many other light types.
These lights are mostly recommended for use when off-roading and driving at high speeds. Because these lights provide a much higher concentration of light than regular driving lights, they can be incredibly blinding for drivers on oncoming vehicles. Hence, they are not suitable for street use.
How to Buy the Best Fog Lights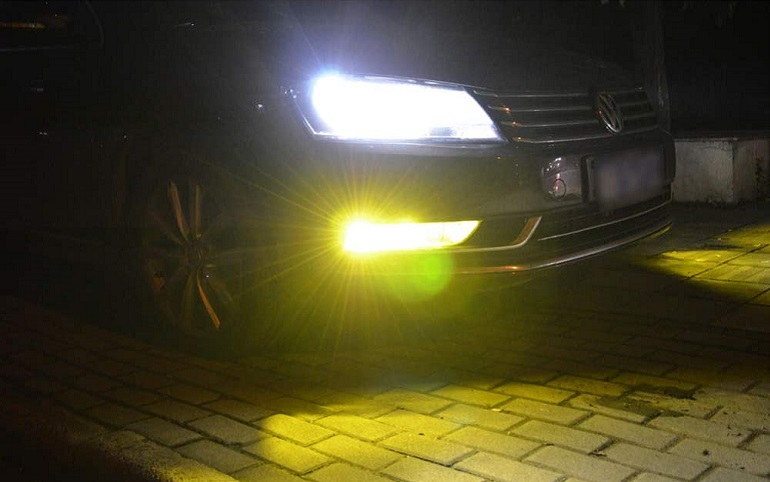 1. Legality
Legality should be one of the critical factors to take into account as you choose fog lights. If what you buy is not legal in your area, it does not serve you any good since you cannot use it.
As laws vary from one place to another, you need to check your area's specific requirements. For example, some countries will not allow blue lights even for the fog lights. In others, particular certifications like DOT compliance are necessary for the lights to be street legal.
2. Compatibility
The fog lights you choose also need to be compatible with your vehicle to ensure they provide a good fit and work well with the specific electrical system.
Typically, the fog lights are for mounting on the bumpers, and so you need to check whether the bumper you have on your vehicle can accommodate them.
A visual inspection of your bumper and other things like the sockets should help you determine compatibility before buying the fog lights.
3. Longevity
Although these lights might not be the priciest, you still do not want to keep buying them every few months. Hence, before settling on any model, check the longevity.
One of the first things to consider is the lifespan of the LEDs, and here something that can last at least 30,000 hours should be good enough. However, a 60,000 hours lifespan model like the Cougar Motor 8542095832 is an even better buy.
Besides long-lasting LEDs, good fog lights should have a durable overall construction with a heavy-duty housing and other components like lens and wiring.
4. Brightness
Given that illuminating the road ahead in inclement weather is the primary purpose of the fog lights, whatever you choose needs to deliver enough brightness.
The best way to measure the brightness of fog lights is by using the total lumen output. Here you can get models that provide as little as 800 lumens per pair, like the SiriusLED BKH8. While this can still be enough when the weather is not too treacherous, you are always better off with brighter ones as they work well in almost any condition.
That said, a pair that provides at least 2,000 lumens should be good enough, but 5,000 lumens one like Z-Offroad SJ-011253C is fantastic.
5. Beam Distance
While fog lights provide a wide variety of beam patterns, it is vital to make sure that whatever you choose has a perfect beam distance. Here, the further out the bulbs can illuminate, the better.
However, to ensure you do not blind approaching drivers, fog lights with a wide horizontal beam range and a relatively shorter vertical range are the best. They still provide good enough illumination without blinding other road users.
6. Ease of Installation
Fog lights should be easy to install to ensure you can even mount them yourself without incurring an extra cost of paying a professional for the installation.
Easy to install fog lights minimize the likelihood of damaging other vehicle equipment and wiring when mounting them.
Those that come in a plug-and-play design with some clear direction on everything you need to do during the installation are the best.
7. Cooling Features
All fog lights, just like any other light types, produce some heat, and this is regardless of whether they use LED or halogen bulbs. Hence, to ensure you get something long-lasting, it is essential to consider its cooling features.
Models that have heat dissipation features like cooling fins or use a material that helps cool them down are always the best as they run cooler and offer a longer service life.
Fog Light FAQs
Is It Illegal to have Fog Lights on when it's not Foggy?
A: In most jurisdictions, it is illegal to drive with fog lights when it is not foggy since they can dazzle or distract other drivers, leading to temporary blindness. However, you can use them when it is not foggy, but it is raining, snowing, or dusty.
Can I Use Fog Light as Headlight?
A: No, you cannot and should not use the fog lights like headlights, given they produce a different kind of beam. Also, they differ in other things like the brightness and mounting position, which affects their functioning.
What Color Fog Light is the Best?
A: Yellow and white are the two best colors for fog lights, but they will be ideal in different driving conditions. The yellow fog lights are suitable for adverse weather, such as heavy fog and rain or snow, as they provide a clearer vision. On the other hand, white fog lights are best for driving in remote conditions with little to no traffic.
Can Fog Lights Blind Other Drivers?
A: Yes, if you do not use fog lights correctly or mount them in the wrong spot, they can blind oncoming drivers. The high brightness they produce can dazzle drivers and cause temporary blindness. However, this should not happen if you adjust the lights correctly and switch them off when you approach other vehicles.
Conclusion for Fog Light Buyers

Fog lights are essential for safety when driving in treacherous weather. However, it is even more important to make sure you get the right ones for your wellbeing and other drivers on the road.
But finding the best fog lights is now all about picking one model from our list above. From this list, Alla Lighting 8542095912 is our best overall product as it is bright enough and provides the perfect color temperature for driving in foggy conditions.
However, if you are looking for something inexpensive that still does a good job, go for the SiriusLED BKH8, while the 60,000-hour service life Cougar Motor 8542095832 is perfect for those looking for something with a long lifespan.