Whether you want some excellent bulbs to replace burnt stock ones or upgrade what you have to something better, LED bulbs should always be one of the first options you consider.
With the best LED headlight bulbs, you get a higher light output than other headlight bulb types. Additionally, LED bulbs are energy-efficient, illuminate the road better, and are also more long-lasting.
But, given the popularity of these bulbs, there are plenty of options to pick from in the market. This article helps make your choice more straightforward with a comprehensive review of some top-rated LED headlight bulbs and a buying guide.
Editors' Picks for Top Led Headlights Bulbs of 2021
Summary of 7 Best LED Headlight Bulbs
IMAGE
PRODUCT
FEATURES

1. Sealight Scoparc S1 (Best Overall)

Bright enough 15,000-lumen bulbs
Perfect beam pattern
Fanless design
Fast, tool-free installation

2. Beamtech H11 (Best for Race Track)

Excellent light beam pattern
Plug-n-play for most vehicles
Aviation aluminum 6063 heat sink

3. Fahren F6A-H11 (Best Premium)

Premium-quality overall build
Efficient cooling system
Perfect beam pattern
IP68 full waterproof

4. Auxito HB-1908 (Brightest)

Ultrabright with 16,000 lumens output
360-degree illumination
Perfect fit mini lamb body
Can-bus ready design

5. Hikari HB3 (Best for the Money)

Great value for cash
Uniform & adjustable beam pattern
Efficient & effective cooling system

6. Nineo H11 (Best Universal Fit)

Fits most vehicles
360-degree adjustable beam angle
Efficient cooling system

7. Torchbeam T2 (Glare-Free)

No-glare beam pattern
High-tech turbofan
Plug-n-play design
1. Best Overall: Sealight Scoparc S1
Lumens: 15,000
Color Temperature: 6,000 K
Lifespan: 50,000 hours
Sealight Scoparc S1 takes our top overall spot as it is bright enough and provides a good beam pattern. Also, it is well-built and super easy to install.
These bulbs provide a combined 15,000 lumens, which should be adequate for almost any driving conditions. What's more, they provide a natural daylight color temperature of 6,000 K for the best visibility.
The beam pattern is also excellent as it does not have any glare or dark spots to minimize stress and exhaustion when driving. Additionally, it will be many years before you need to replace them as they last up to 50,000 hours.
Being a fanless design, you never have to worry about replacing or repairing faulty fans, ensuring you get a quieter operation.
Installation is also relatively straightforward as you do not need any tools. Most motorists take under 10 minutes to set up these bulbs.
For the shortcomings, this model has both the high and low beam integrated into one bulb, but this does not seem to affect its overall performance significantly and should not be a deal-breaker.

---
2. Best for Race Track: Beamtech H11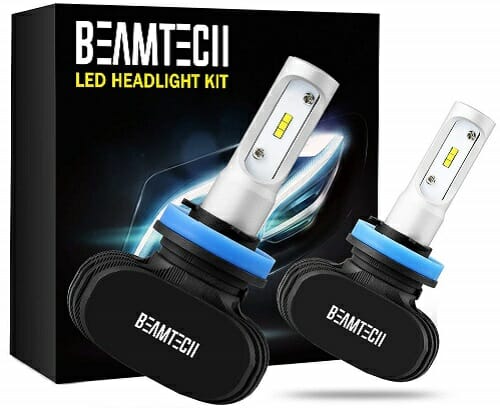 Lumens: 8,000
Color Temperature: 6,500 K
Lifespan: 30,000 hours
Beamtech H11 is a perfect choice if you want the best aftermarket LED headlight bulbs for the race track. These bulbs provide the perfect beam pattern with a narrow light emitting strip that is great for rally and race tracks.
The bulbs provide a more natural white 6,500 K color temperature, and they last at least 30,000 hours, which is still quite good. Additionally, these bulbs have a more efficient heat sink mechanism that uses aviation aluminum 6063.
What's more, the bulbs have a fanless design to ensure a quieter operation, and they come in a plug-n-play design for quick and easy installation on most vehicles.
While these headlight bulbs could be a little brighter, their 8,000 lumens combined output is still enough to ensure excellent visibility for hundreds of meters ahead. Also, you should be able to figure out the dust cover.

---
3. Best Premium: Fahren F6A-H11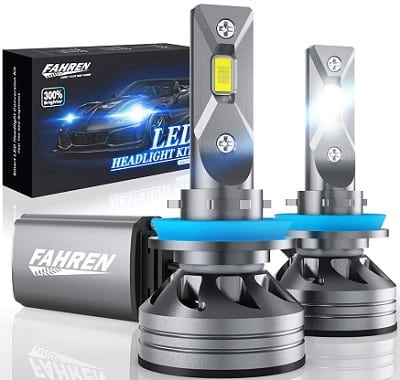 Lumens: 10,000
Color Temperature: 6,500 K
Lifespan: 50,000 hours
The Fahren F6A-H11 is a premium-quality model that is well-built and designed to provide excellent illumination for maximum visibility.
These bulbs include a highly effective cooling mechanism that uses an aviation-grade aluminum body and a unique hollow-carved heat sink to dissipate heat faster and efficiently.
Besides running cooler, these top-rated LED headlight bulbs provide an excellent beam pattern to ensure you get further, broader illumination. Also, this beam pattern does not blind oncoming drivers and has no glare.
With an IP68 rating, these are entirely waterproof bulbs. What's more, they are easy to install, and the job should take under 10 minutes.
While these bulbs are not fanless, the included fan runs quietly, and you hardly ever notice it, meaning it is never a concern. The heat sink also seems relatively smaller, but the good news is that it still does a great job.

---
4. Brightest: Auxito HB-1908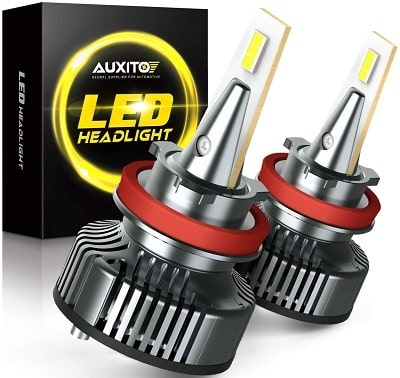 Lumens: 16,000
Color Temperature: 6,500 K
Lifespan: 50,000 hours
With a 16,000 lumens output, the Auxito HB-1908 is the brightest option on our LED headlight bulbs review. Additionally, these bulbs provide up to 360 degrees illumination for better beam focus with no dark spots.
Furthermore, they are made for a long service life with a whole aviation aluminum body that is super sturdy. Besides being durable, the aluminum body works with the 12,000 RPM cooling fan to ensure the bulbs always run cooler.
The mini-sized lamb body ensures the bulbs fit into the stock housing and the sockets much better with no modification required. Since these bulbs come in a can-bus ready design and have an upgraded driver with built-in intelligent IC, they are error-free for most vehicles.
Although the fan is quite loud, you hardly hear it from your car when driving, so it is hardly a significant concern or deal-breaker.

---
5. Best for the Money: Hikari HB3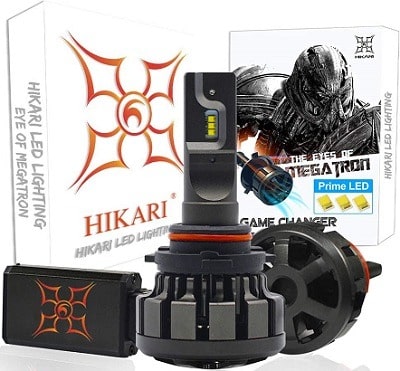 Lumens: 12,000
Color Temperature: 6,000 K
For a pair of 12,000 well-built LED headlight bulbs, the Hikari HB3 comes at a great price tag and hence ensuring you get excellent value for your cash.
Another thing that makes these some of the best LED bulbs for cars is they have a perfect beam pattern, which is also adjustable to ensure you always get better vision.
What's more, the bulbs have an upgraded cooling system with aviation aluminum housing to ensure cool operation.
These bulbs seem to flicker a little, but this is an easy fix with a proper anti-flicker harness. Similarly, the fan is quite large and hence noisy since you can even hear it when standing outside. Luckily, this does not affect the quality of the light you get.

---
6. Best Universal: Nineo H11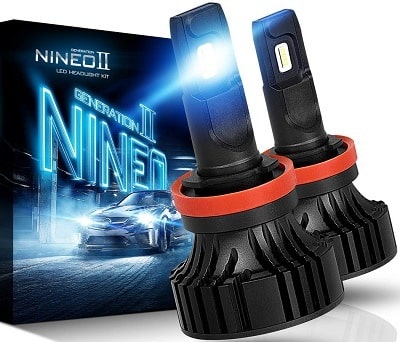 Lumens: 12,000
Color Temperature: 6,500 K
Lifespan: 30,000 hours
The universal fit of the Nineo H11 means you can use these bulbs on almost any vehicle, and hence they will be a good buy for motorists not sure which headlight bulbs to buy.
These bulbs allow for easy adjustment of the beam angle as they have a 360-degree adjustable mount bracket. They also have an ultra-thin body design to ensure more uniform lighting and get a broader view angle.
Furthermore, the LEDs cool more efficiently as they have a unique coverless dual ball bearing fan that ensures maximum cooling for long service life. When it comes to the installation, you should have an easy time as these are plug-n-play bulbs you can install in just 20 minutes.
Although the provided instructions are a little too basic, the good news is there are plenty of helpful videos online that should give better directions.

---
7. Glare-Free LED Headlight Bulbs: Torchbeam T2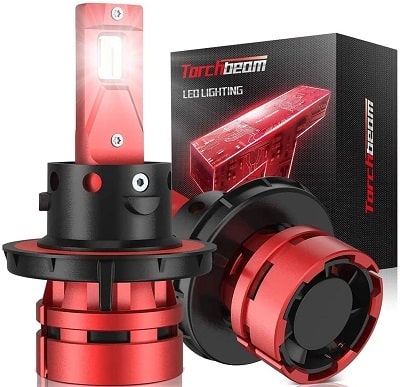 Lumens: 12,000
Color Temperature: 6,500 K
Lifespan: 50,000 hours
The no-glare beam is one of the key reasons why the Torchbeam T2 one of the best LED headlight bulb on the market. Despite being bright enough with the 12,000 lumens output, these bulbs do not blind oncoming drivers.
Motorists love that these bulbs run cooler than many others out there. They make use of high-tech turbofan that ensures you get up to 50% better cooling.
Additionally, they are long-lasting bulbs that can serve you up to 50,000 hours and work well in all weather conditions. Better still, these are quick and easy bulbs to install, and you can have them on your vehicle in just a few minutes.
These bulbs do not seem to be completely flicker-free, but in most instances, this is hardly noticeable. Furthermore, you can always fix this with a simple anti-flicker harness. Despite being a little larger than stock, the bulbs still fit well.

How to Buy the Best LED Headlight Bulb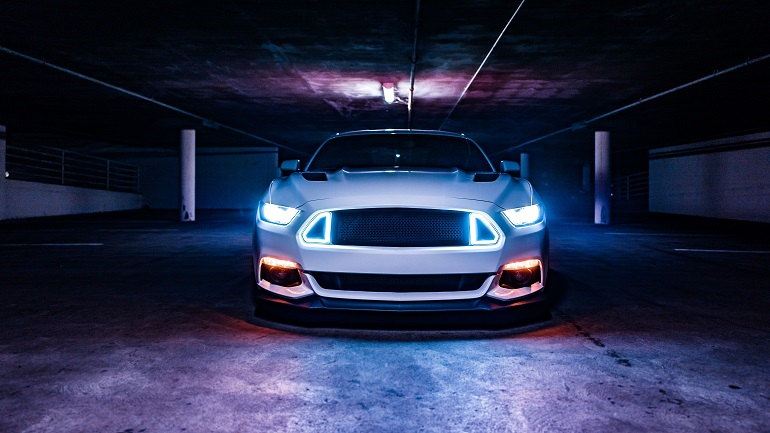 1. Legality
As you choose LED bulbs for your headlights, it is vital to make sure that whatever you buy is legal to use on the roads you drive on frequently.
In most places, LED bulbs that provide visibility of between 50 and 100 meters are legal. Such lights are bright enough to enhance visibility without blinding other drivers on the road.
It would help if you kept in mind the specific rules and laws in your particular area because some places do not allow certain color temperatures such as blue and others that are not cool daylight white.
2. Compatibility
Besides legality, you also need to make sure the LED bulbs you choose are compatible with your vehicle or headlights. The good news is that most manufacturers clearly state what their bulbs work for, so you just need to check keenly.
Some bulbs can fit your headlights directly without doing much, while for others, you need a conversion kit to make them work.
Checking your vehicle's handbook, consulting an expert, or even doing an online search are some easy ways to determine the compatibility of a bulb before buying.
3. Brightness
Your choice of LED headlight bulbs also needs to be bright enough to ensure excellent visibility. When it comes to brightness, the total lumens output should give you a clear idea of what to expect.
A pair of bulbs that provide at least 6,000 lumens is good enough as they ensure you get visibility of up to 500 meters. But, 8,000 lumens like what you get with the VoRock8 R2 is even better as the bulbs illuminate up to 700 meters.
But, for those looking for the brightest LED headlight bulbs, the 16,000-lumen Auxito HB-1908 is a perfect choice.
4. Color Temperature
The color temperature you get from the LED headlight bulbs also matters a lot as it affects the visibility. Although these bulbs come with different color temperatures, it is essential to make sure you know the right one for your headlights.
Bulbs with a lower color temperature, such as 2,700 or 3,000 K, produce warmer light that is not bright enough to illuminate the road ahead of you. These bulbs provide a more pleasant color but are not very safe for driving. Those with a color temperature of between 3,500 and 5,000 K are much better as they illuminate further out and broader areas.
However, the LED bulbs that provide a cool or daylight white color temperature between 5,000 and 6,500 K, like most on our list, are the best for your headlights. Such bulbs have the most expansive and furthest field of view.
5. Lifespan
Although LED headlight bulbs are much more durable than most other types, the lifespan still varies from one model to another. Therefore, it is crucial to consider the actual service life of the bulbs before buying.
Something that can last at least 30,000 hours is good enough as it will be many years before you have to replace the bulbs even if you use the vehicle daily. But, a 50,000 hours lifespan like what you get with the Fahren F6A-H11 is an even better option.
6. Ease of Installation
You do not want to pay someone to install something as simple as an LED headlight bulb for you. Therefore, when deciding which model to buy, you need to consider the ease of installation.
Plug-n-play LED headlight bulb kits that come with simple and easy to follow directions are always the easiest to install. Additionally, those that do not call for any modification or require you to invest in a conversion kit are the best.
FAQs
Q: What Conditions are LEDs Ideal for?
A: LED bulbs are better equipped for handling extreme weather conditions. They are much better for use when driving in very hot or cold temperatures and for rainy or foggy conditions. Additionally, their superior illumination makes them great for driving in very dark areas.
Read More: The Best Fog Light
Q: Will LED Lenses Yellow?
A: No. In most instances, LED lenses do not yellow, even as they age. The lenses have a polycarbonate material with ultraviolet additives that will not be affected by the sun. They also have a hard protective layer making it hard for them to yellow over time.
Q: Can I Upgrade to LED Headlights from Halogen Headlights?
A: Yes. Most aftermarket LED headlight bulbs are retrofit kits for vehicles with factory halogen headlights. But, it is still essential to make sure the specific LED bulbs you choose are legal.
Q: Do I Need to Replace Both LED Headlight Bulbs at the Same Time?
A: Although headlight bulbs often burn out at different times in many instances, it is a great idea to replace both. Doing so ensures you maintain the same level of brightness. Changing headlight bulbs is quite a hectic task, so it is always better to change both simultaneously.
Q: What is the Difference between LED and Halogen Headlights?
A: Halogen headlights are the factory lights you get with most vehicles. They are incandescent light bulbs that use a tungsten filament and halogen gas for transferring current. LED bulbs, on the other hand, move current through a semi-conductor. LEDs last at least 20,000 hours, while most halogen bulbs hardly last longer than 1,000 hours.
Read More: LED vs. Halogen Headlight
Q: What is the Difference between LED and HID Headlights?
A: HID headlights are brighter than LED headlights. However, the HID lights reflect light back when driving in foggy conditions, which can blind other drivers on the road. LED headlights often have the perfect color temperature and do not blind other drivers, provided you align them correctly.
Read More: LED vs. HID Headlight
Conclusion
LED headlight bulbs run cooler than most other types, are brighter, and provide one of the lengthiest service life to ensure the best value for money.
For our recommendations, the Sealight Scoparc S1 is our best overall model as the bulbs provide a perfect beam pattern; they are super bright and offer a quiet fanless operation.
However, for motorists looking for LED headlight bulbs for a rally or race track use, the Beamtech H11 is an unbeatable choice, while the Hikari HB3 provides the best value for money.