Headlights are crucial components of a car and so they demand good care from the user and this can only be done with the best headlight restoration kit.
Whether the headlight has road grime and mud, fogged or UV rays have caused discoloration, you can easily restore them with a restoration kit.
A good headlight restoration kit consists of various components that not only scrub away the imperfections from the headlights but also help them in retaining the fine coloration and luster.
And with a huge pool of options available in the market, you need to know how to pick the ideal one for you.
But, this is what this piece is all about as we provide a review of top 7 headlight restoration kits and a comprehensive buying guide to help make the choice a more informed one for you.
Top Headlight Restoration Kits of 2021 by Editors
Summary of 7 Best Headlight Restoration Kits
IMAGE
PRODUCT
FEATURES

1. Sylvania HRK.BX (Best Overall)

Restores shine and clarity
Simple 3 step use
Removes haze and corrosion
Lifetime warranty

2. 3M 39008 (Best for Cloudy Lenses)

Easy dull and cloudy lenses restoration
Works on different vehicle lights
More budget-friendly




3. Meguiar's G1900K (Best Plastic Kit)

Perfect for plastic headlights
Comers complete with everything you need
Fast and easy to use
Serves multiple purposes

4. Wipe New HDL6PCMTRRT (Best Value for Cash)

Provides great value for money
Restores headlights ion seconds
Super gentle on the surface

5. Mothers 07251 (Quick & Safe Restoration)

Fast and safe restoration
Works for a variety of surfaces
Leaves a tough and protective coating
Removes yellowing and stains




6. Meguiar's G2970 (Simple 2-Step Restoration)

Simple 2-step use
Great overall quality
No extra tools needed

7. Turtle Wax T-240KT (Cheap & Efficient)

Highly affordable but efficient
Conceals all marks and scratches
Fast and easy cleaning
Works on a variety of surfaces
1. Sylvania HRK.BX - Best Overall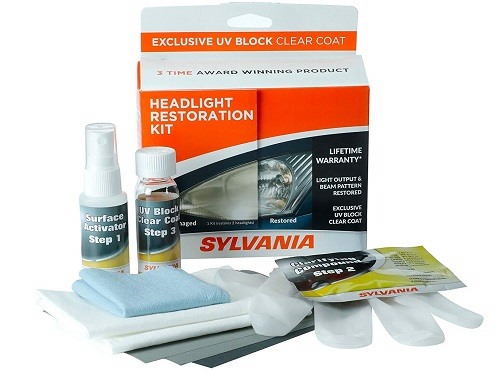 Sylvania is a century old and one of the most established companies in automotive lighting. They are not only in successful manufacturing of automotive lights but they also produce finest aftermarket products as well.
This top rated headlight restoration kit is one of a kind and it is equipped with all the important components which shoes why many vehicle owners trust Sylvania.
The kit includes a surface activator that helps in softening the plastic surface dirt while giving a room to sand and smooth.
Also, there is a UV block clear coat applicator that helps in restoring the lost shine to the headlights.
Whether the headlights are damaged through UV rays or the fog, everything can be fixed with this amazing product. You can correct scratches, dullness, damage or even discoloration of the headlight lens with this kit.
This restoration kit might be a little harsh for some more delicate plastic material but for majority of headlight materials it works well enough.

---
2. 3M 39008 - Best for Cloudy Lenses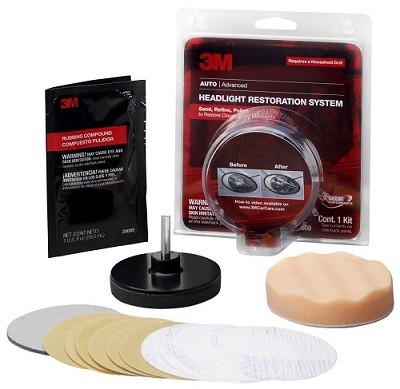 This restoration kit from 3M is one of the best selling and most economical kits and will be perfect for the budget shoppers.
It includes a sanding disc that helps in eliminating harsh and stubborn scratches ans dirt. Plus, there is a polishing pad which will help in bringing back the lost shine on the lens.
All the components are safe products to use and they suit all kinds of plastics. You just have to read the instructions carefully before starting with the process.
While this headlight restoration kit will not be enough for several uses, it is sufficient to serve for a thorough one-time use for both the headlights.

---
3. Meguiar's G1900K - Best Plastic Headlight Restoration Kit
If you don't mind spearing a decent amount of money on headlight restoration kit then there is no product better than this one from Meguiar's.
This kit can make your headlights look brand new regardless of whether it has climatic damage or scratches or even yellowing of the lens as everything can be fixed with this kit.
The package contains a 4 ounces bottle of Plast-X clear plastic cleaner which makes the first step.
Then there is a wool pad which will help in the process of scrubbing the stubborn dirt off the lens. Plus, the sanding and finishing pads that make the last step which is giving the headlights a nice shine.
This might be the priciest item on our review but it is still fairly priced given the quality and the good job it does.

---
4. Wipe New HDL6PCMTRRT - Best Value for Cash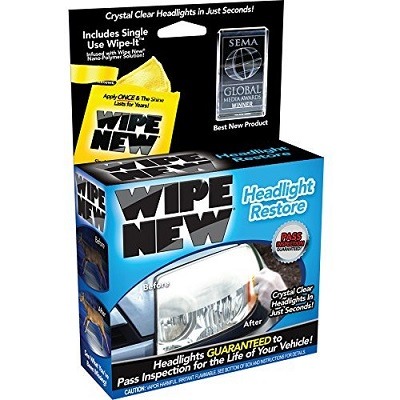 Wipe New makes this headlight restoration kit for anyone looking for something that offers the best value for cash. And it comes in a 6-pack to ensure you have enough product for several uses.
Plus, the application is quick and it works instantly and it has been guaranteed to make your headlights pass inspection. First you just have to apply the polish on the lens and allow it to dry. After some time, simply wipe the headlight with a smooth microfiber towel.
This product is suitable for all kind of plastics and it does not cause any damage to the headlights as it is very gentle on the surface.
And while it might not be the cheapest option on our list it still offers great value for cash. Also for severely damaged headlights it might not be very effective but for regular restoration it is an excellent product.

---
5. Mothers 07251 - Quick and Safe Restoration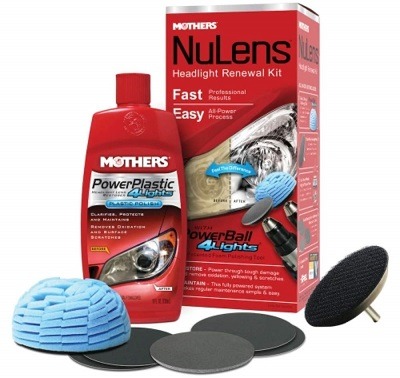 Mothers 07251 is created to effortlessly and efficiently restore the headlights with utmost ease and it is suitable for all kinds of smooth and shiny plastics.
Other than that, it works wonderfully on acrylic headlights as well and provide crystal clarity. The kit includes 3-inch backing plate, PowerBall 4Lights polishing tool, Restoration Discs, and a polish bottle.
There are general steps that should be followed for the restoration process. This product can easily abolish discoloration and stain marks from the headlights. And it can also remove yellowing, smudges and scratches.
It takes not more than 1 step to clean the headlights and give them sparkling new form. This product is quite amazing in performance and rapid plus single time usage will last for many years.
There is no UV sealant in the kit but this should not be a problem as you can buy it separately as it is quite inexpensive.

---
6. Meguiar's G2970 - Simple 2-Step Restoration
If you are looking for top-rated headlight restoration kit, you can be confident that Meguiar's always has you covered. And their model G2970 is one of their most amazing options.
There are many reasons for why users have appreciated this product so much. First of all, this make cleaning extremely simple and easy. It does not require extra tools and overall process is quite simple.
This product is professionally used for the kind of results that it generates. It clean oxidized, discolored, and hazy headlights.
Also, it creates a sheath of protection on the top of the headlight which protects it from future damage and discoloration for at least 12 months.
Plus, there is a headlight restorer which comprise of sanding and polishing agents to offer spectacular finish to the headlights. Therefore, it results in enhanced visibility.
While the sandpaper quality might be a little wanting, it should still do a good enough job and hence it should not be a big concern.

---
7. Turtle Wax T-240KT - Cheap and Efficient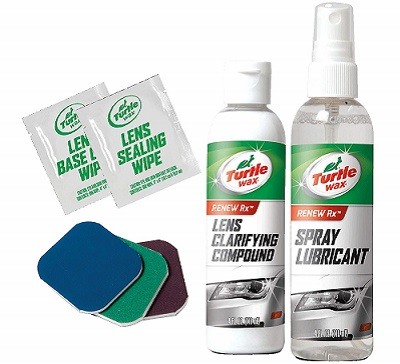 The restorer kit from Turtle Wax is the most affordable product in our review.
The kit comprises of 3 restoration pads in various grits from 2400 to 8000. Then there is a spray lubricant for enhanced cleaning, lens clarifying compound and lens sealing wipe to protect the lens from possible damage.
All the components of the kit are meant to serve a particular purpose. They do the job splendidly and help in bringing back the lost shine of the headlights.
The best thing about this kit is that it is not only meant for plastic headlights but it works equally well on glass as well. However, the glass headlights have lesser complications.
It takes not more than 5 minutes with this kit in hand to give a brand-new look to the headlights. And you can use it on a variety of surfaces from lenses to plexiglass and plastic.
Using this headlight restoration seems to take a little extra effort but it is still fast enough and only takes some getting used to.

How to Buy the Best Headlight Restoration Kits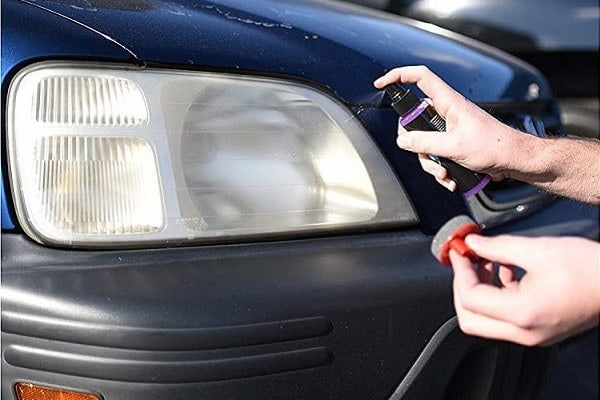 A dull headlight is not just bad for the outlook of your car but it is also a huge safety hazard for nighttime driving as it affects visibility greatly.
And to help ensure you never put your life and that of other road users in dangers you need to choose a good headlight restoration kit by considering the following factors.
1. Headlight Material
Different kits are comprised of different kind of sprays that you use on the headlights. If the spray is not meant for a particular material then it can cause further damage.
To make the right purchase, you should always check the material of the headlights and buy an appropriate product that suits it.
2. Inclusions
Most of the kits include three prime products. These make up the three main steps of headlight restoration.
Surface Activator: Basically, this helps in softening the plastic so that it does not demand a lot of force for cleaning. The imperfections and impurities rise up to the surface that you can clean with ease.
Sand & Polish: Both these products are used as a single step in restoration process. They make one of the prime components of a kit.
UV Block Applicator: In order to guard the newly restored headlight from instant damage, the UV block applicator is used. It helps in protecting the headlight from the damage of sunlight.
But also note that different restoration kits will include different kinds of products but these are the most common inclusions that you should definitely look for.
3. Ease of Use
Surely, you are not spending your hard-earned money on something that is complex to use and takes up a lot of your time. Hence, any headlight restoration kit you buy should be straightforward to use.
4. Protection
The main purpose of using a headlight restoration kit is to preserve and protect the headlights. And so you should only purchase safe products that don't include a lot of chemicals and can guard the headlights from the elements and other forms of damage.
How to Fix Foggy Headlights
Driving in the colder areas, the headlights tend to get foggy. But these can be conveniently restored. Certainly, you cannot get a headlight replacement, every time you find fog to grow on them. The proper solution is to restore the foggy headlights. And here is how to do it.
Step 1: Hand Wash
To start with, you should first take out the headlights and wash them by hand. Make sure to handle them with care so that no scratches appear on the surface. Now, wet sand them from lowest grit to the highest.
Step 2: Check for the Scratches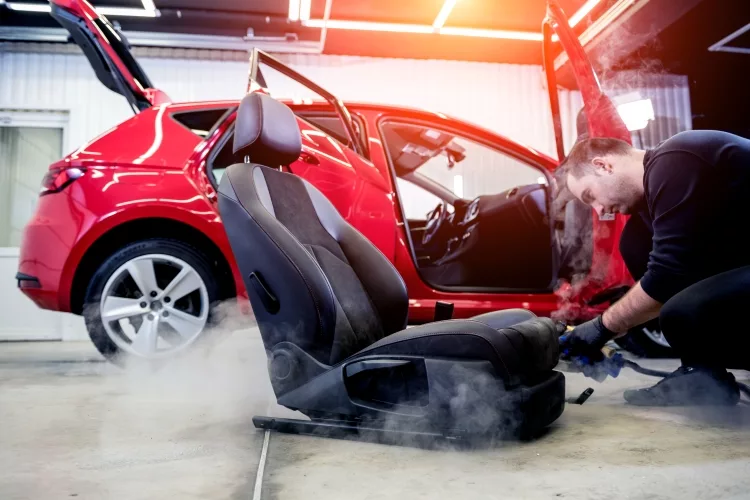 If there are any scratches visible then use a polishing compound and polish the fine scratches using the highest grit sandpaper.
Step 3: Touch-up
After this step, you have to give the final touch to the headlights. This will be done using a soft buffing pad which will gently give the final touches to the headlights.
Step 4: Sealant
After finishing this, you can now apply a new and fresh layer of sealant on the surface to give it better shine and luster.
Other Ways of Cleaning Your Headlights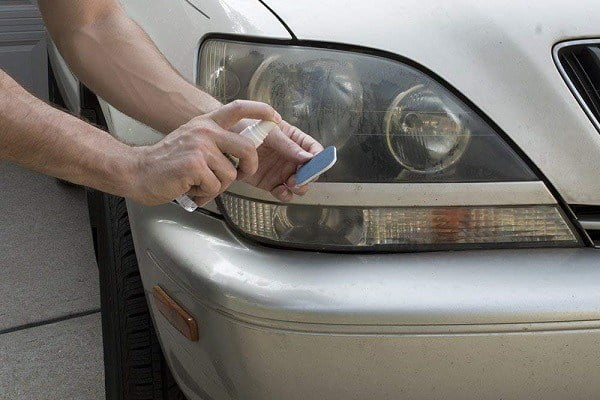 If you are not using a complete restoration kit there are some other quick products that can be used to effortlessly clean the headlight lens.
And the good news is that all these other components used for the clean-up can be easily found in the market. Let's take a look:
1. Sandpaper
The sandpaper is considered as an alternative for restoring the headlight but it comes with a major risk. While using the sandpaper, you are sort of shaving off a layer of the plastic/glass which means that it will be more prone to future damage.
It can be an effective method but we don't recommend it because of the obvious risk of damage that comes with it.
2. Vinegar
Most of the DIYs and home cleaning projects include vinegar. It is a cheap and highly efficient option. Vinegar is made of active formula that disinfects things.
In order to clean the headlight, a very small proportion of vinegar should be sprayed on the headlight and then a clean cloth is used to wipe off the dirt and imperfections away.
3. Polish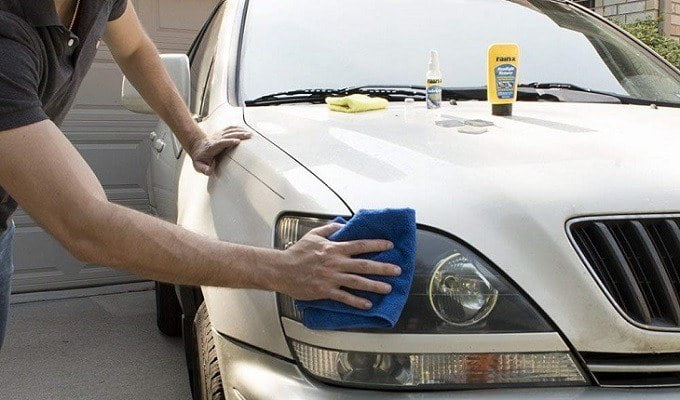 Another effective cleaning agent for the headlights is the polish. It is categorized same as vinegar. While this can give you satisfactory results, it will still demand a lot of effort in the cleaning process.
In order to work this process out, you may have to remove the lens and apply the polish. However, if the lens is extremely damaged then you should avoid using polish and pressure on it or else it will break in your hand.
Conclusion
The need for a headlight restoration kit is dire for every automobile owner as it helps ensure safer driving by improving nighttime visibility.
But, at the same time, finding the best headlight restoration kit can be confusing for the buyers because there is a mammoth of choices available in the market. However, watching out for factors like headlight material, ease of use and what is included on the kit should make things easier for
Furthermore, our review of top 12 headlight restoration kits will provide some amazing recommendations and now you only need to pick one.
Sources
How to Clean Foggy Headlights - Bridgestone
How to Clean Your Car's Foggy Headlights - The Manual