A car's headlights are among its most important safety features. It allows the driver to see in the dark and avoid obstacles that may cause an accident.
Although car headlights haven't changed much over the decades, the headlight bulbs themselves have seen so much change that many drivers are unaware of the differences in headlight bulbs.
Headlight bulbs have evolved over the years, from halogen to High-Intensity Discharge or HID bulbs, and then to Light Emitting Diode or LED bulbs.
This headlight bulbs review will take you through a list of the top headlight bulbs in the market and then show you the differences between these bulbs and what to look out for when making a choice.
Top Headlight Bulbs of 2021 by Editors' Picks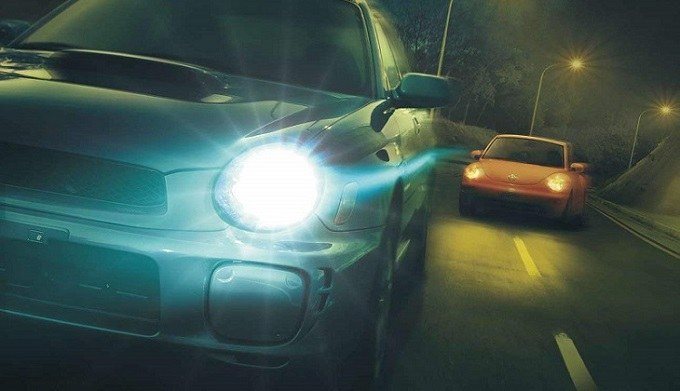 Summary of 7 Best Headlight Bulbs
IMAGE
PRODUCT
FEATURES

1. Philips D1S (Best Overall)

High-quality HID bulbs with 3,350 Lumens
Available in all socket types
Comes from a reputable manufacturer

2. BeamTech Bulbs

High-intensity 8,000 Lumens output
Uses only 25 Watts of power
Available for many socket types

3. Philips 12362B1

Standard halogen bulb for those who need it
Comes from a reputable light bulb brand
Can produce up to 1,500 Lumens per bulb

4. Philips VisionPlus

Produces 60% more light than standard halogens
Quality bulbs from Philips
Good price for a pack of two

5. Philips 9006-B2

Quality Philips halogen bulbs
Comes in a pack of 2 bulbs
Available for a range of sockets

6. Sylvania H13XV.BP2

Unique design shine farther without glaring
Both bulbs produce 2,700 Lumens combined
DOT approved and totally legal bulbs

7. SNGL 55W

Impressive 12,400 Lumens of combined output
Adjustable base for installation flexibility
Comes with a 2-year warranty
1. Philips D1S - Best Overall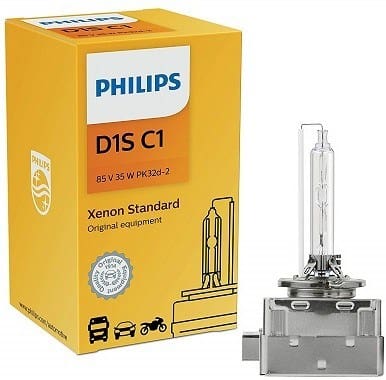 Type: HID bulb
Lumens: 3,350
Voltage/Power: 85 Volts, 35 Watts
Color Temperature: 4,200 K
Philips is a well-known maker of electrical appliances for over 100 years, so it shouldn't come as a surprise that one of the best HID headlight bulbs will come from this company.
The bulb produces a 3,350-Lumen bright light at a color temperature of 4,200 Kelvins, making it the ideal HID bulb for those who need high-performance HID lighting for their cars.
In order to protect consumers from inferior products, Philips also includes a Certificate of Authentication (CoA) on each bulb, which allows any customer to check the certificate online and make sure it's an original Philips product.
You should note that these are HID bulbs and so you need to replace both headlight bulbs at the same time to make sure of balanced light beams from both. The only issue here is that this Philips bulb's price is rather high and it's just for a single bulb.

---
2. BeamTech Bulbs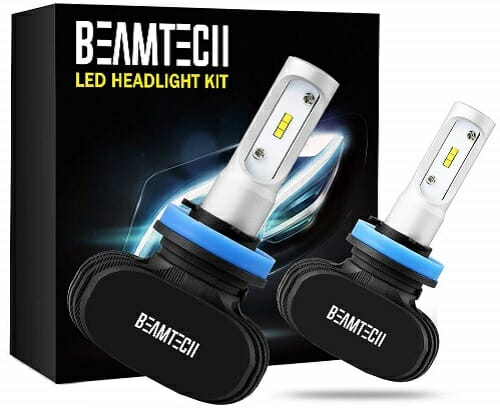 Type: LED conversion kit
Lumens: 8,000
Voltage/Power: 25 Watts
Color Temperature: 6,500 Kelvins
Lifespan: 30,000 hours
You could have no interest for an HID bulb and would rather upgrade your vehicle's stock halogen lamps with LED lambs using a conversion kit. In this case, BeamTech offers you just the right kit to get the conversion done.
This package offers you the best H11 LED headlight bulbs, although it's also available for other sockets types like H1, H7, and the others.
Each bulb produces 4,000 Lumens, bringing the total to 8,000 Lumens at a color temperature of 6,500 Kelvins pure white light.
Downsides include the high cost of LED lights and manageable ingress protection rating of just IP-65.

The many advantages of switching to LED lights include a long working lifespan of over 30,000 hours, their low power consumption of 25 Watts per bulb, and the ever decreasing cost of LED headlights.

---
3. Philips 12362B1 Headlight Bulb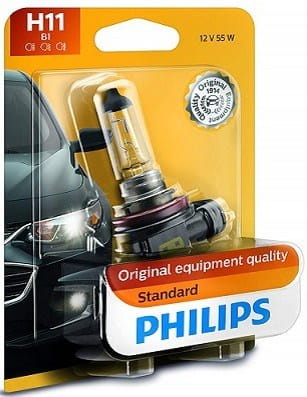 Type: Halogen bulb
Lumens: Around 1,200 Lumens depending on socket
Voltage/Power: 12.8 Volts, 55 Watts
Color Temperature: Around 3,000 Kelvins
Lifespan: Around 300 hours
Some people are not yet ready for a headlight upgrade or they simply don't want it for their cars. If you are one of those and you need to replace your headlamps with just high-quality halogen bulbs, then Philips offers you the best halogen headlight bulbs here.
The price is low but it's for just one bulb and you do know that you'll need to buy a pair of bulbs to change both headlights at a go for the best results.
When compared to LED bulbs for instance, then a halogen doesn't look impressive at all, but if you need a halogen bulb for your vehicle, then that's great because Philips makes the arguably best halogen headlight bulbs.
This bulb gets offered in a range of different socket types and it produces around 1,000 to 1,500 Lumens, depending on the socket. Its color temperature is also around 3,000 Kelvins and it works with 55 Watts.
On the other hand, all these features pale in comparison to a LED bulb, which can produce over 6,000 Lumens at a 6,000-Kelvin pure white light, using less than half of a halogen's 55 Watts.

---
4. Philips VisionPlus Headlight Bulbs
Type: Halogen bulbs
Lumens: 1,780
Voltage/Power: 12.8 Volts, 55 Watts
Color Temperature: 3,200K
If you still need a halogen bulb but feel that you deserve a better deal, then take a look at this best affordable headlight bulb offer from Philips.
The Philips VisionPlus range of halogen bulbs offers you up to 60% more light and lets you see up to 80 feet farther down the road than standard halogen bulbs.
Philips also offers Vision and X-treme Vision bulbs as part of a halogen upgrade series. This allows you to install high-performance halogen bulbs in your car that give the looks and feel of HID lights while remaining halogen bulbs.
The downside is that they just produce about 1,700 Lumens at a rather warm 3,200 Kelvins, which is nothing near an LED bulb's performance. Halogen bulbs also have shorter lifespans.

They are cheaper because they come in a set of 2 bulbs per package, but this does not make them inferior for any reason. Philips is a great name to buy from because the company has been known to make top-rated headlight bulbs for many decades.

---
5. Philips 9006-B2 Headlight Bulbs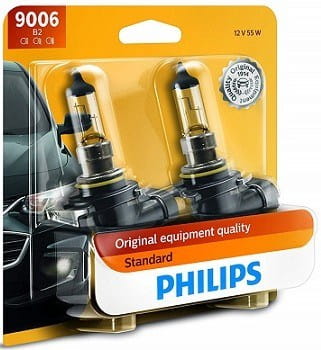 Type: Halogen bulbs
Lumens: 1,200
Voltage/Power: 12.8 Volts, 55 Watts
Color Temperature: 3,000 Kelvins
Lifespan: Around 250 hours
Philips makes the best replacement headlight bulbs because the company places so much focus on the quality and dependability of their products.
This offer is for a pair of Philips standard bulbs instead of the single packs that you'll still have to get two packets of, anyway. The pair of bulbs is also nicely priced while maintaining Philips quality standards.
Do note that this is the best affordable headlight bulb, perfect for those on a budget or for people who have to stick to standard halogen bulbs for one reason or the other.
Although very affordable, the disadvantages associated with this package is the low-Lumen output of the bulbs, as well as their yellowish 3,000-Kelvin color temperature, and shorter lifespan.

---
6. Sylvania H13XV.BP2 Headlight Bulbs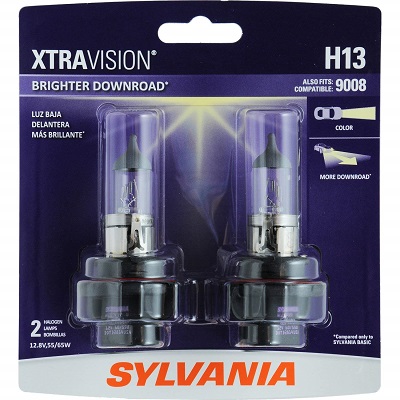 Type: Halogen bulbs
Lumens: 1,350
Voltage/Power: 12.8 Volts, 55 Watts
Color Temperature: 3,200 Kelvin
Lifespan: 375 hours
Sylvania offers you the best H13 halogen headlight bulbs here. Unlike other manufacturers like Philips, who offer different versions of their bulbs for different socket types, Sylvania offers this bulb strictly for H13 sockets and for nothing else.
The package has 2 bulbs, each with a light intensity of 1,350 Lumens, making a total of 2,700 Lumens for the pair. Color temperature is standard for halogen bulbs and measures 3,200 Kelvins.
These Sylvania bulbs are definitely not the brightest headlight bulbs in this review but they do have a unique design from Sylvania that allows them to shine farther down the road without glaring oncoming vehicle drivers.
On the flip side though, they are still halogen bulbs and so, they consume much more power for less light than HID and LED bulbs. They also cost more than the Philips Standard and VisionPlus bulb pair offers above.
On the brighter side, they are DOT approved, which means they are 100% legal, so you can install them without worry.


---
7. SNGL 55W Headlight Bulbs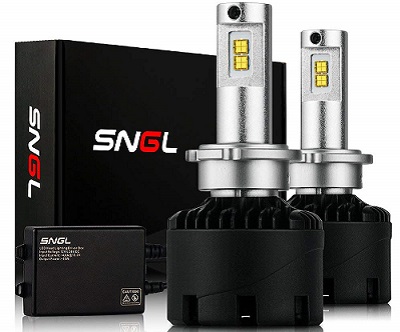 Type: LED bulbs
Lumens: 12,400 combined
Voltage/Power: 110 Watts combined
Color Temperature: 6,000 Kelvins
Lifespan: 50,000 hours
Once you've made up your mind to get the best headlights for your ride, then it's time to find the best LED headlamps. This SNGL package offers you two super bright bulbs with a 6,000-Kelvin white light color and 12,400 Lumens of brightness.
Needless to say that these here are among the best white bulbs for your special car. So, if you are looking for the best LED headlight bulbs to give your ride that slick look and to instantly turn the darkness into day wherever you are, then take a closer look here.
SNGL adds a fan-cooling system to help maximize the LED chips lifespan up to over 50,000 hours. The bulbs also feature anti-interference features, plus they are CANbus ready to interact with your car's onboard computer.
The only issue here is their high price and relatively high power consumption, although they output an impressive 12,400 Lumens of brightness, which makes it kind of worth it.

You should note that this package includes a complete conversion kit to upgrade your car's halogen or HID stock lights to super bright LED lights. Installation is plug-and-play, the bulbs are IP-67 waterproof, and SNGL backs it with a 2-year warranty.

How to Buy the Best Headlight Bulbs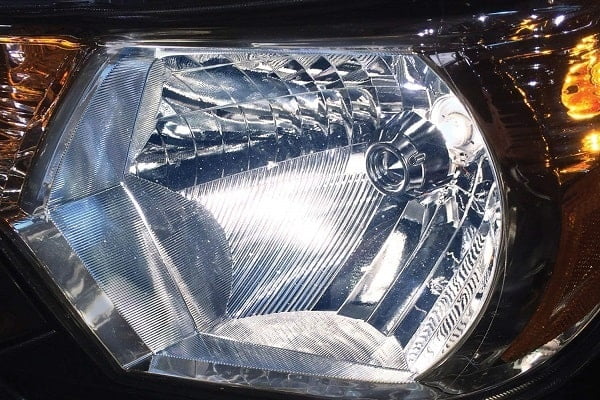 If you've tried changing your car's headlights for the first time, you'll find yourself confused by the different types of headlight bulbs out there and their different terms.
You'll need to understand these light bulb differences so you can choose the best headlight bulbs, however, and following is a list of the most important factors to consider when choosing a headlight bulb to buy.
1. Compatibility
There are different bulb models and socket types available. These standards got developed to allow manufacturers the ability to customize their cars with different headlights.
For halogen bulbs, you have socket types ranging from H1 to H11 and further, while HID bulbs come in D1, D2, D3, and D4 versions.
You can either check the bulb that you're about to change for its model number or use online services like on Amazon, where you enter your car's model and it gives you a matching bulb.
If you're upgrading from halogen to either HID or LED bulbs, then you'll still need to find a conversion kit that matches your car headlight's sockets.
Read More: LED vs. HID Headlights
2. Single & Double Beams
Another issue you'll need to consider is whether the bulb is a single or a double beam bulb. All cars need to have a low beam for seeing short distances and a high beam for seeing a longer distance.
Some headlights have a separate bulb for the low and high beams, while others have a single bulb that can switch between a high and low beam by itself. You should know which type you have or need.
3. Types of Bulbs
There are three major types of light bulbs that you'll find in an automobile headlight and they are as follows:
Halogen: Halogen bulbs are the oldest and the most popular of these three types of bulbs. They are also the cheapest of the three, but they have the shortest lifespans of 300-500 hours and they also have the dullest lights.

High-Intensity Discharge (HID)/Xenon: HID bulbs use Xenon gas to produce high-intensity lights with color temperatures around 4,500 Kelvins, which is higher than the 3,200 Kelvins of halogen lights. HID bulbs also last up to 5 times longer than halogen bulbs.
Light Emitting Diode (LED): LEDs are the latest technology on the market. They use less energy than the other two types of bulbs but produce much brighter and whiter lights than them.
More detailed: click here
4. Legality
The legality about the upgrade of your vehicle's headlight bulbs depends on the jurisdiction you find yourself in. These laws are in place to prevent drivers from installing headlights that may blind oncoming traffic.
For most situations in the US for instance, the only way to legally upgrade from halogen to HID or LED bulbs is to either change the entire headlight installation or to use a headlight that has already gotten converted and tested to comply with the new bulb type.
If you're not upgrading then you've got nothing to worry about, else, you need to make sure that you know what you're doing.
5. Brightness
The brightness of a light refers to its rays' intensity and it's usually measured in Lumens. Halogen bulbs are the least bright with around 1,400 Lumens, while HID bulbs are much brighter with over 3,000 Lumens on average.
LED bulbs are the brightest with an average of 6,000 Lumens. They also use less energy than the other two bulbs to produce this much brightness, making them the best headlight bulbs overall.
6. Color Temperature
A bulb's color temperature refers to how warm or cool its light appears and this gets measured in Kelvins or K. For reference, a candlelight, for instance, measures 1,500 Kelvins, while a sunrise or sunset is about 3,200 Kelvins.
Halogen bulbs come in at around 3,200 Kelvins, while HID measure in at 4,500 Kelvins, which is about the value for a midday sun. LED bulbs are the brightest at an average of 6,000 Kelvins.
7. Warranty
Different manufacturers offer different warranty durations for their products. If you are comparing two otherwise identical products, then the one with the longer warranty should get a plus vote.
Conclusion
We've reached the end of this best headlight bulbs review and it's time for you to make your choice. As you must have noticed, there are plenty of offers out there but your choice will depend on your needs.
You can either choose the standard or enhanced halogen bulbs if you want to play things safe and make do with bulbs that have less than ideal lighting.
You can also get a little adventurous and either upgrade your headlights to HID or to LED headlights, the choice is yours alone to make here.
Sources: