Bottom Line
A powerful car subwoofer that delivers great sound quality and is built to provide an easy and neat installation.

Rockville RW10CA Review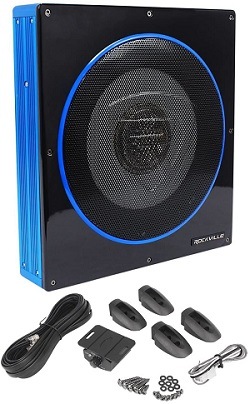 Rockville never disappoints when it comes to car subwoofers, and their 800-watt RW10CA is a perfect choice for anyone looking for a powerful under car seat subwoofer.
Because the amplifier is built-in to the subwoofer, the installation is also neater without too many wires crisscrossing around. And motorists will also have an easy time with the operation as it has some straightforward controls.
Sound Quality: Loud and powerful enough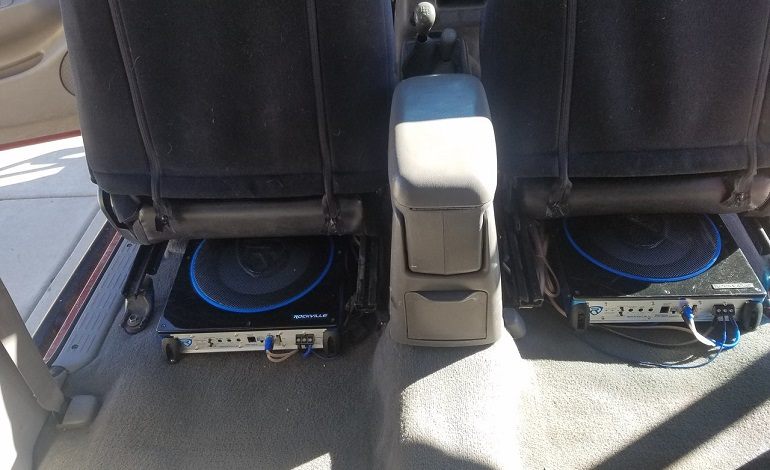 For an 800-watt car subwoofer, one can rightfully expect nothing short of the best sound quality from the RW10CA as it has more than enough power to ensure the sound is perfect.
This subwoofer delivers a sound that is both better and louder than what you get from some models that claim to provide a 2,000-watt or even higher output. And this is because this a true 800-watt max speaker that delivers a 200-watt RMS.
Another element that will guarantee that you get powerful sound when using this subwoofer is the 10-inch cone size that will ensure the bass is just deep enough for you. Also, it has a higher 98 dB sensitivity that will allow it to respond to even low power for consistently great sound output.
Read More: The Best Powered Car Subwoofers
Design & Construction: Low-profile but with a solid build
You cannot afford to overlook the design and construction of your subwoofer when shopping as it will affect the overall performance and durability, and hence whether you get value for your money or not.
Because the RW10CA is built for under car seat installation, it will come in low profile design, and it is only 2.7 inches thick. This allows you to easily tuck it under the car seat, and it will fit even the vehicles with little clearance under the car seat as it will not need a lot of space.
Read More: The Best Underseat Car Subwoofers
For, the construction, it is made with heavy-duty plastic housing. Despite not being as good as wooden cabinets, it is still very effective at enhancing the sound quality and will also outlast many wooden housings.
Installation Process: More straightforward even for beginners
Even if you are an absolute beginner, this Rockville subwoofer will still give you an easy time when it comes to the installation as things are quite straightforward. And with the proper tools and the necessary accessories, it should only take a few minutes to set it up.
One of the key things that make installation a breeze is the high-level inputs. These inputs will eliminate the need to remove the receiver as you will not need a remote wire from the receiver to switch the unit on and off. Hence, there will be less work during installation, which makes the process easier.
Also, the manufacturer has both the inputs and outputs in just one side which will not only make the wiring easier but also ensures it will be neater. Better yet, all the inputs and outputs have bold markings to ensure you will have an easy time figuring where each element goes.
Storage: Fits perfectly under a car seat
Besides producing some superior quality sound, this subwoofer will do it without taking up too much space. Hence, storage will hardly be an issue as you can easily fit it under a car seat as it also comes with mounting feet.
And given the low-profile and relatively more compact design, it will also be ideal for storing in a wide variety of other places in the vehicle such as the trunk provided there is enough room. Depending on the vehicle you have, it is also possible to have it on or below the glove box.
Also, another element that will ensure it gives you an easier time with the storage is the powered design as it means there will be fewer cables and wires to deal with since the amplifier is built-in.
Controls & Connectivity: Effortless sound tweaking
For the connectivity, this subwoofer makes use of the high-level inputs as mentioned earlier on. Besides allowing for easier connection and installation, the high-level inputs make use of smart circuits that will allow for smarter operation.
This smart circuit will sense when an audio signal is present and then turn on the radio, and when you switch off what you are playing it will also sense this and switch off the amplifier. This seamless connectivity makes using this subwoofer simpler and more convenient.
Also, it has some amazing controls that are designed to ensure the user is in full control of different aspects of the subwoofer's operation. These controls make it easy to tweak the sound to suit your preferences.
The controls will include a subsonic filter that filters out the low frequencies that the human ear would otherwise not be able to hear, a volume level control, bass boost, and phase control.
Price: Quite affordable for an 800-watt car subwoofer
For an 800-watt peak power car subwoofer the Rockville RW10CA is quite affordable, and to get a more powerful under car seat subwoofer than it, you will need to spend at least double what its cost.
Also, this subwoofer is even more affordable than many other Rockville models with similar or close specifications. But, the only catch here is that it will not come with the various add-ons that most of these other Rockville subwoofers will include.
However, for the price, the fact that it will come with mounting hardware and remote bass knob means that it will give you excellent value for your cash.
Competition: Rockville RW10CA vs. Rockville USS10
Rockville RW10CA and Rockville USS10 are two of the most popular models from the brand. Given that they are both 800-watt models, you can be sure that you will end up with something powerful that delivers exceptional sound quality regardless of which you pick.
The price difference between the two is only a few bucks, with the Rockville USS10 being the pricier of the two. Another difference is that the Rockville USS10 is 2.9 inches high, which makes it a little thicker than the 2.7-inch Rockville RW10CA. Hence, the latter is more ideal for tight spaces.
There is also a slight difference with the frequency response as the RW10CA provides 20 to 150 Hz, while the USS10 has a 15 to 125 Hz frequency response. Given that the difference between the two is not that significant, the choice here is mostly up to your personal preferences.
Verdict
A powerful car subwoofer that delivers exceptional sound quality and is designed to make installation a breeze.
800-watt maximum peak and 200 watts RMS make the RW10CA a powerful subwoofer that is unbeatable for its price. Also, it has high-level inputs for easy installation and operation, and it also has some fantastic controls to make it easy to adjust the sound output.
Specs
Product Name: Rockville RW10CA
Product Brand: Rockville
Power: 800 watts peak and 200 watts RMS
Sensitivity: 90 dB
Impedance: 2 Ohm
Dimensions: 12.4 x 13.4 x 2.7 inches
Weight: 14.25 pounds
Warranty: 1-year
Features
800-watt powerful subwoofer
High-level inputs eliminate the need for a remote wire from the receiver
Wired remote control for effortless and precise bass control
All inputs and outputs are on one side for easy installation
Amazing controls for easy operation