Car subwoofers are a must if you want a deep and loud sound in your car. It's a fact that even the best coaxial speaker, which contains a small integrated woofer inside will never sound as loud as an entry-level dedicated subwoofer.
In essence, what a car subwoofer does is displace air inside the speaker cone. The bigger the woofer, the more air it moves around and thus the louder it sounds. It is a simple principle, really.
However, it can be intimidating to get through the technical aspects and find the best subwoofer for your need and means, especially if you have never bought a woofer before. Hopefully, our comprehensive woofer guide and review will help you quickly get your hands on a quality model.
Keep reading for more goodies below!
Editor's Recommendation: Top Car Subwoofers of 2021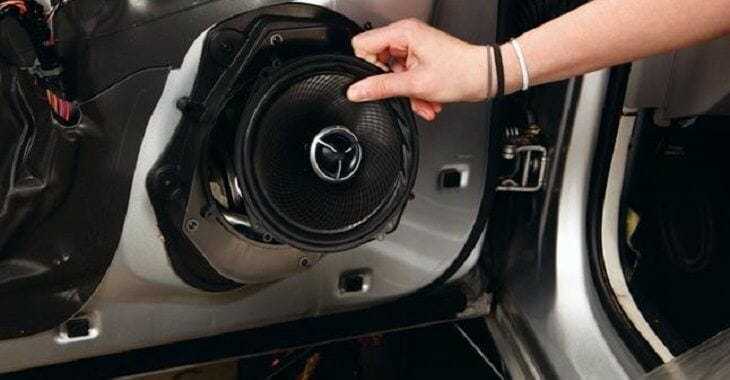 Summary of 7 Best Car Subwoofers
IMAGE
PRODUCT
FEATURES

Kenwood KSC-SW11 Compact Powered Enclosed Subwoofer

1. Kenwood KSC-SW11 (Best Overall)

Small and compact
Easy to install by beginners
Can easily reproduce low frequencies

Boss Audio CXX8 8-Inch Car Subwoofer

2. Boss Audio CXX8

Affordable and value for money
Small and compact
Efficient with a sensitivity of 83 dB
3-year manufacturer warranty

Planet Audio AC10D 10-Inch Car Subwoofer

3. Planet Audio AC10D

Able to produce a rich and powerful bass
Superior build construction
The sound will not distort even at high volumes
Equipped with dual voice coils for better efficiency

Rockville RW10CA 10

4. Rockville RW10CA

Easy to install and use
Small and compact form factor
Thin wires can be used because of their low impedance of 2 ohms

Rockford Fosgate P300-12 Punch Powered Loaded 12-Inch Subwoofer Enclosure

5. Rockford Fosgate P300-12

Excellent build construction. Durable and long-lasting
EQ settings for bass customizations
Equipped with over-voltage and over-heat protection

Planet Audio AC15D 15-Inch Car Subwoofer

6. Planet Audio AC15D

Powerful woofer that can produce a deep and rich bass
Very competitively priced
It can reproduce low frequencies of 25 Hz

Pioneer TS-SW3002S4 12

7. Pioneer TS-SW3002S4

High performance with a power handling of 1,500 Watts
Excellent build construction
Produces a powerful and rich bass
1. Planet Audio AC15D - Best Overall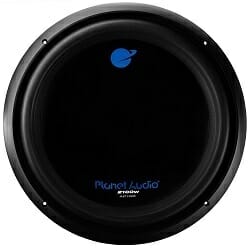 Size: 15-inch
Power Handling: 2,100 Watts
Impedance: 4 Ohms
Sensitivity: 88 dB
Planet Audio AC15D has the largest cone in this review. The 15-inch cone can displace a lot of air making this woofer sound powerful and deep. In fact, this subwoofer is the loudness that you will encounter in this review.
Additionally, its ultra-low resonant frequency of 25 Hz enables this woofer to produce even deeper and low-range frequencies.
In terms of power, you will need a powerful amplifier of at least 2100 Watts to power this puppy.
Note, this is a ported subwoofer model and will need a closed enclosure for it to work as intended. The Planet Audio AC15D is definitely one of the best subwoofers for the car out there. It is powerful and produces a deep and harmonious sound.

---
2. Kenwood KSC-SW11 Car Subwoofer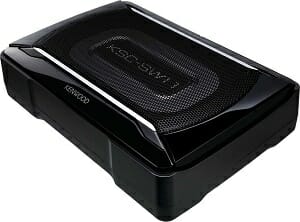 Size: 7.8-inch
Power Handling: 150 Watts
The Kenwood KSC-SW11 is a small and compact subwoofer for those who have a limited space in their car but still want a powerful bass.
This model is meant to be installed under the seat, or in other tight spaces, where it uses the confined space to create a deep and powerful bass when playing.
Further, the installation is easy and this unit can even be remotely controlled for ease of use. Clearly, this model is focused on ease-of-use and ease of installation.
However, also keep in mind that with its power handling of 150 W, this model is quite weak when compared to other models in this review. Also, you do not get any wiring with this purchase so you will need to buy it separately which adds to the cost of this subwoofer.


---
3. Boss Audio CXX8 Car Subwoofer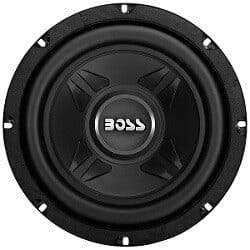 Size: 8-inch
Power Handling: 600 Watts
Impedance: 4 Ohms
Sensitivity: 83 dB
The Boss Audio CXX8 is a small and extremely affordable woofer with an 8-inch cone. Since the cone is so small, the bass is punchy and sharper. It is a good woofer for a small car with little space in the boot.
Despite its small size, it has a decent power handling of 600 Watts which shows that it can output some serious bass when paired with a capable amplifier.
Even the cone is made from polypropylene for durability and fast responsiveness. It has a decently sized voice coil of 2-inch for clearer sounds. And, a 2-inch voice coil should evacuate heat faster and produce better midrange frequencies.
Furthermore, the 49 Hz resonant frequency allows this woofer to reproduce lower frequencies better. This makes it a good candidate for those who listen to electronic music or other music with a lot of low-range frequencies.
Its small size and strong performance make this model from Boss Audio one of the best subwoofers for the money. However, keep in mind that this is an entry-level speaker that does not have the best build construction and the bass itself is not the most powerful out there. But, considering its small size and affordable price, it is an excellent grab.

---
4. Planet Audio AC10D Car Subwoofer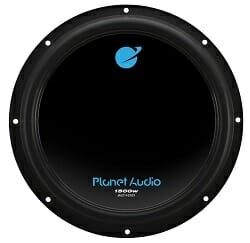 Size: 10-inch
Power Handling: 1,500 Watts
Impedance: 4 Ohms
Sensitivity: 87 dB
Consistently rated by many users as the best 10-inch subwoofer, the Planet Audio AC10D is a powerful woofer that can produce a deep and rumbling bass.
On the downside, its high power handling of 1,500 Watts and sensitivity of 87 dB means that you will need a decent amplifier to power this woofer.
But if you do have the power, this woofer can produce a low-range and powerful bass due to its exceptionally low resonant frequency of 39 Hz.
Further, this unit has a very good build quality for the price and should not create any sound distortions as the cone is from a tough polypropylene material with rubber surrounds.
All in all, it is a good buy at a fairly affordable price. Just remember that you need to pair this subwoofer with a capable amplifier of at least 1,500 Watts to get the most out of it. Additionally, you also need an enclosure because you don't get one with this purchase.

---
5. Rockville RW10CA Car Subwoofer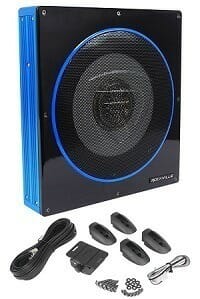 Size: 10-inch
Power Handling: 800 Watts
Impedance: 2 Ohms
Sensitivity: 90 dB
The Rockville RW10CA is one of my favorite woofers in this review. It is very easy to install and equally easy to use.
It is a preamp model that already contains an 800 Watts amplifier inside. No need to purchase a true amplifier with this model.
There's also a lot of versatility, as this woofer provides you with a lot of customizations. It is a good model for those who have never installed a woofer before but planning to get serious about car audio. It is definitely an interesting learning curve.
Further, its exceptionally low impedance of 2 Ohms means that you can use very thin wires for the installation. It will be a cleaner after work as bigger audio cables tend to be messy and difficult to work with.
All in all, this model is an excellent choice for those looking for a compact and easy to install 10-inch car subwoofer. Sure, the build construction could have been better and more durable but for the price range that the subwoofer is offered at, this is easily forgivable.
More Detailed: Click here

---
6. Rockford Fosgate P300-12 Car Subwoofer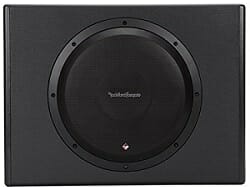 Size: 12-inch
Power Handling: 300 Watts (RMS)
Rockford Fosgate has again created a winner product with the P300-12. But what makes this model a league apart from the rest of the competition is its excellent build construction that makes it very durable. This is the type of subwoofer that will last a long time, even with daily heavy-duty use.
This woofer is an enclosed 12-inch subwoofer that is loud. The 12-inch cone is large and displaces a lot of air, allowing this woofer to create a deep and heart-thumping bass.
Moreover, the enclosure is a closed-loop design made from MDF. This combination of material gives the woofer an optimal performance regardless of positioning.
Installation is easy, and the unit has an automatic sleep mode to conserve energy when not in use. Further, it has a wide range of technologies from heat protection to over-voltage protection, making it a safer woofer to use.
Moreover, there is a dedicated EQ at the back that enables you to do some customizations to the sound, for more versatility.
All in all, we think that this unit is definitely one of the best 12-inch car subwoofers currently on the market even if it is a little pricey.

---
7. Pioneer TS-SW3002S4 Car Subwoofer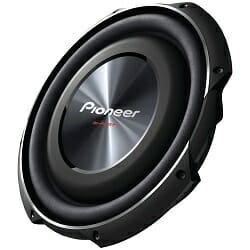 Size: 12-inch
Power Handling: 1,500 Watts
Impedance: 4 Ohms
Sensitivity: 93 dB
The Pioneer TS-SW3002S4 has the right mix of performance, build construction quality, and ease of use. It is a powerful 12-inch subwoofer that requires a fair bit of amp power to operate.
This woofer has a single core voice coil with a high sensitivity of 93 dB, which means that it requires more power to operate. So, efficiency is clearly not its forte.
However, it is a true performer that can produce a very deep bass due to its low 20 Hz resonant frequency and 1,500 Watts peak power.
But what the Pioneer TS-SW3002S4 is truly reputed for is its shallow form factor. It only needs a mounting hole of 3-3/8 inches. Indeed, it does not need a deep hole and it will easily fit most enclosures that can accommodate 12-inch woofers.
The only caveat we can note with this subwoofer is that it has a single voice coil only, so it does not produce the best midrange sound quality. Also, it's a sensitivity of 93 dB is not the best we have seen as this will make this subwoofer more power-hungry and less efficient when compared to other more sensitive models.
But other than that, this is a beast and we highly recommend this subwoofer to anyone looking for a quality model!


Common Subwoofer Sizes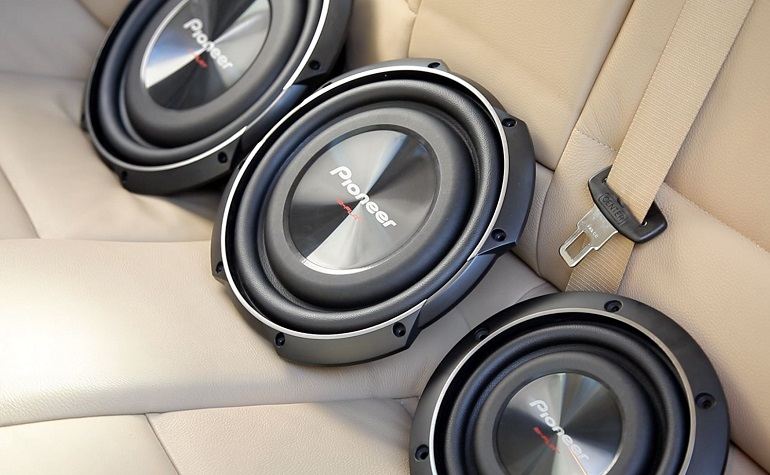 x1. 8-Inch Car Subwoofer
This small car subwoofer has a small cone that displaces a small amount of air only. However, its small size makes the cone more rigid, vibrate faster and procedures a tighter and punchier bass.
2. 10-Inch Car Subwoofer
10-inch car subwoofers do not take a lot of space and their housing will usually fit any car of any size.
And, the bass it produces is neither overwhelming or tiny, making it perfect as a general purpose subwoofer for both movies and music.
3. 12-Inch Car Subwoofer
This subwoofer is exactly midpoint between a 10-inch woofer and a 15-inch one. It has the versatility of a 10-inch model and the power of a 15-inch unit.
4. 15-Inch Car Subwoofer
15-inch car subwoofers are the biggest on the market. They require a lot of space but produce a louder and deeper bass. They come in different forms and are usually favored by car audio enthusiasts for building SPL systems due to their larger cones.
Car Subwoofer Brands
1. Boss Audio
Boss Audio is a Japanese car audio accessory manufacturer that has been making some of the world's top-rated subwoofers since 1973. It is a division of Roland, one of the world's leader in guitar and music instrument manufacturers.
Boss Audio has been making car subwoofers for over 30 years and has a deep knowledge in the field. They have been known throughout the industry for their punchy 8-inches subwoofers, amongst other products.
If you need a quality audio component, Boss Audio will not fail. They make affordable and high-quality types of equipment that are used and loved by millions worldwide.
2. Planet Audio
Planet Audio is an American audio manufacturer with over 19 years experience. This relatively young audio company is known for its innovative designs and deep bass woofers.
Nevertheless, their subwoofers remain affordable to the public and they compete with much bigger players in terms of price to performance. Their specialty is smaller woofers in the 10-inches range, even if they have smaller and bigger woofers in their product line.
We never had a problem recommending any of Planet Audio's products, mostly because we know it will be a quality product.
3. Rockville
Rockville makes one of the highest quality audio products in the world. It is another American company that value craftsmanship and details.
Their car subwoofers have a great attention to detail, and despite their products cost a little more than the competition, it simply doesn't disappoint.
Their woofers give an above than average sound performance and most of all, they are highly durable and long-lasting.
4. Rockford Fosgate
This company is one of the world's most popular and respected names in the car audio industry. It has successfully carved a niche in offering affordable and yet high-quality car woofers.
Their prices are generally highly-competitive and it is hard to find better audio solutions than those offered by Rockford Fosgate. Additionally, this is a company that believes in innovation and their car subwoofer designs are one of the best in the industry.
5. Kenwood
Kenwood has been making car subwoofers for a long time, and audio products even longer. Since 1946, to be exact. It is a smaller Japanese company when compared with other giants in this article. However, they make very competitive products that are durable, affordable and deliver excellent performance.
Over the years, this company has manufactured hundreds of quality audio products that have not disappointed their big followers base. Despite being a Japanse company, Kenwood is very popular in North America.
6. Pioneer
Pioneer is arguably the world's most reputable audio manufacturer. This is a company that makes every type of audio components and does not limit itself to a single niche.
Their car subwoofers are solidly built, deliver excellent performance and yet are still quite affordable. Their build quality may not be on-par with companies like Rockville, but they are most certainly durable and pack a lot of value for the money.
Moreover, they make woofers and speakers of every shape, color, and size. If you are looking for a dependable and quality subwoofer at an affordable price, it is hard to ignore the products made by this company.
How to Buy the Best Subwoofer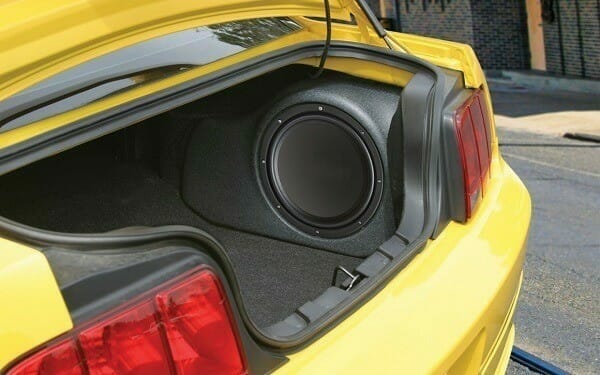 Before purchasing a car subwoofer, there are some important aspects to take into account.
1. Cone Size
In general, if you are not sure, 10-inch cone subwoofers are general purpose and fits everywhere because they have an average size enclosure. Meanwhile, 8-inch cones are even smaller and produce a punchy bass while 15-inch are the largest and loudest.
2. Enclosure Type
The enclosure type and shape affect the quality of the bass. Sealed enclosures usually have faster responses and give you a very deep bass with exceptional music fidelity.
Additionally, some car subwoofer models come with base mounts that allow you to quickly and easily fix your woofer to your boot. Depending on your DIY skills, this may be the safest choice for most people.
3. Amplifier Type
If you do not already own an amplifier and do not plan to purchase one, then it is wiser to choose a powered subwoofer. A powered woofer has an integrated amplifier circuit inside that will boost your music.
It is also smaller in size as most powered subs have small cones. However, it is not as powerful as a dedicated amplifier and an independent car subwoofer.
4. Sensitivity
As a general rule of thumb, car subwoofers with less sensitivity will need more power to function. If you do not have a powerful amplifier, it is best to choose a subwoofer with a high sensitivity.
5. Voice Coils Number
Dual voice coils (DVC) offers you more customization, versatility, and clearer low-frequency sounds. DVC subwoofers have more outputs and usually preferred by audio enthusiasts.
However, they are more difficult to install. Single coils are easier to connect and this is the type beginners should go for as the sound difference is not that clear for most people.
6. Frequency Range
The frequency range is basically how "low" the subwoofer can output sound and change responses within that frequency range. The lower its frequency range, the better the woofer is able to reproduce low-frequency sounds with accuracy.
Your choice of the frequency range will mostly depend on the type of music you listen to. For example, Pop and Rock do not need a very low-frequency subwoofer but electronic music does as there are a lot of low frequencies in that kind of music.
7. Resonant Frequency
Every object has a resonant frequency. It is simply how fast the object vibrates (and emits a sound) when struck. Basically, it's an equation that takes into account the density of the material and the weight.
A car subwoofer with a lower resonant frequency, of say 55 Hz can reproduce lower frequencies better than one with a high resonant frequency of 75 Hz. In general, for deeper and more powerful bass, a lower resonant frequency is better.
8. Impedance
4 Ohms car subwoofers are a standard these days. This low impedance allows you to use factory size audio cables to install without replacing your cables. With 2 Ohms impedance, you can use very thin wires and make your installation more professional and discreet.
However, keep an eye out for higher impedance subwoofers like 8 Ohms as this may mean you need new audio cables.
Conclusion
As we have seen, there are many choices when it comes to subwoofers. They come in different sizes, where the larger the subwoofer, the louder the sound.
However, it is also more expensive. You will need to choose a size based on your budget, car boot size, and loudness desired.