When you want a little more power in your bass, 12-inch car subwoofers are always a safe bet. They are much more powerful than regular sizes like 8-inch or even 10-inch. Best this woofer size can output a heart-pounding low-frequency bass that is free of distortions and make your music sound amazing.
Since it is bigger, it takes a lot of space in a car boot. When installed in a small car, most of the time it will occupy the whole space. However, the boot now acts like an enclosure and further amplifies the bass. Especially when paired with a capable amplifier.
If size is not a concern for you, then this woofer will literally transform your car in a way that is simply not possible using traditional factory fitted speakers.
But of course, not all car woofers are the same. There are some models that are superior to others. Our buying guide was made to help those interested in 12-inch woofers find the best unit for the money.
Keep reading!
Top 12inch Car Subwoofers of 2021 by Editors' Picks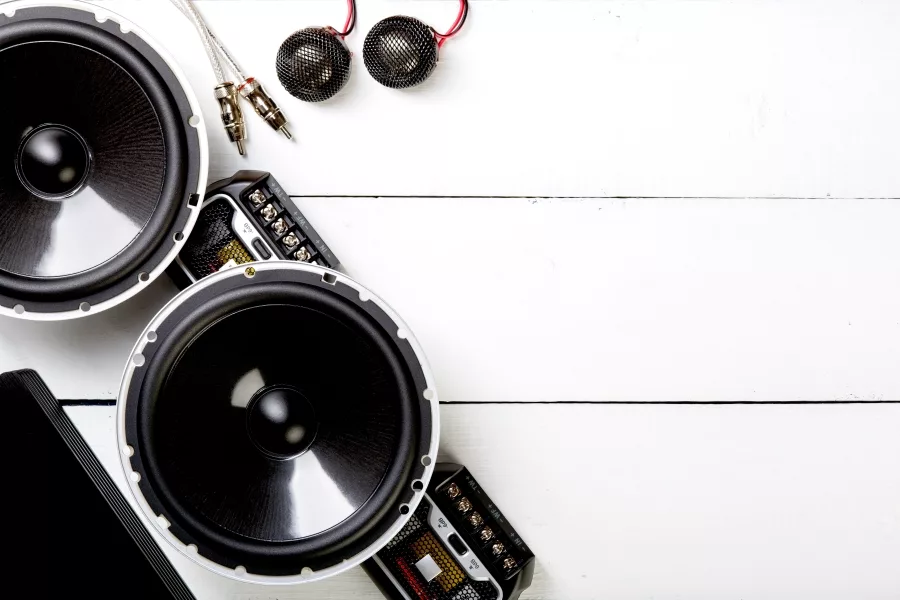 Summary of 7 Best 12-Inch Car Subwoofers
IMAGE
PRODUCT
FEATURES

Rockford Fosgate P300-12 Punch Powered Loaded 12-Inch Subwoofer Enclosure

1. Rockford Fosgate P300-12 (Best Overall)

Easy to install and use. Beginner-friendly
Aluminum heat sink makes it more efficient
Superb build construction
Easy to make audio tunings and can be controlled remotely

MTX Audio Terminator Series TNE212D

2. MTX Audio TNE212D

Dual woofer for rich and deep bass
Heavy-duty and high performing
Clear midrange thanks to its 2-inches voice coils
Low impedance. Thin wires can be used

Rockford Fosgate P2D4-12

3. Rockford Fosgate P2D4-12

Durable and long-lasting build construction
Voice coil produces a clear and crisp midrange
Kevlar reinforced cones for better response

Skar Audio EVL-12 D2

4. Skar Audio EVL-12 D2

High peak power of 2,500 W. Powerful and loud bass
Easy to install by beginners
Thin wires can be used to its low impedance

Rockville RVB12.1A

5. Rockville RVB12.1A

Comes with a pre-amp for better ease of use
Efficient and sensitive woofer
Durable and long-lasting build construction

Pioneer TS-W304R

6. Pioneer TS-W304R

Clear sound even at high volumes
Affordable and excellent quality
Made from composite IMPP for durability

Boss Audio CX122

7. Boss Audio CX122

Affordable and good value
Powerful with a peak power of 1,400 W
Decent sensitivity of 82 dB makes it energy efficient
1. Rockford Fosgate P300-12 - Best Overall
Power Handling: 300 Watts
What makes the Rockford Fosgate P300-12 such a good choice is its convenience and ease of install. It does not have the most powerful power handling we have seen, as it is rated at only 300 Watts.
However, it comes with its own prebuild class D 300 Watts amplifier that produces a clean and deep bass with no distortions.
For better ease of use, an MDF enclosure is already provided with this unit. Moreover, it is quite versatile in terms of music tuning. The user can remote control the woofer without manually tweaking at the back, which can be hard to reach.
There are multiple tuning options, from low pass filtering to bass boost EQ. This allows you to fine-tune the bass to suit a particular taste.
The only real problem with the Rockford Fosgate P300-12 is its price. Also, while the bass is quite powerful, it is not as good when compared to other models in this review. But, when you factor in how easy it is to use out of the box, we think that it is worth the price.

---
2. MTX Audio TNE212D Car Subwoofer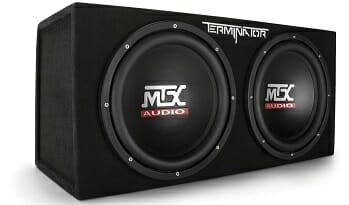 Power Handling: 1,200 Watts
Impedance: 2 Ohms
MTX Audio Terminator Series TNE212D is a different type of woofer. It has a double 12-inch woofer that allows it to produce a rich and vibrant bass sound. This model is not for those with a small car boot, as the enclosure is large and requires some space.
With its 1,200 Watts of peak power, this unit will sound very loud and output a thundering bass when paired with a good amplifier. It is actually meant to play loud at high volumes. The cone is made from polypropylene that is a strong material that can resist brutal vibrations during high volume playback.
Moreover, the 2-inch voice coils do a great job dissipating heat, preventing unnecessary overheating. They also produce exceptionally clear midrange frequencies, that eventually makes the whole soundstage richer and more vibrant.
The only caveats with this woofer is its big dimension and its big size. It is a dual woofer system that won't be at ease in a very small car. But if you do have space for it, the MTX Audio TNE212D will sound amazing.
Quite big. Cannot be used in small vehicles


---
3. Rockford Fosgate P2D4-12 Car Subwoofer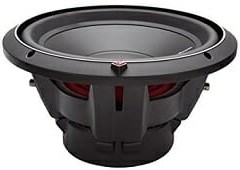 Power Handling: 800 Watts
Impedance: 4 Ohms
The Rockford Fosgate P2D4-12 is one of the most popular subwoofer solutions amongst car enthusiasts. This is a quality sound component that is rated at 800 Watts and can output powerful low-frequency sounds.
Moreover, it is built like a tank and you won't have any durability issues with this product, even if it is abused and played at higher than normal volumes. In fact, at the core of this woofer, we find a very tough kevlar reinforced cone that will not tear or lose its shape over time.
Further, the voice coil in this unit is a little bit bigger than other models, at 2-1/4-inch and made a copper aluminum material. It evacuates heat better and produces crisp midrange frequencies.
The only problem we see with this unit is that for the price, we would have loved to see it come with an enclosure. It doesn't and you will have to check if its dimension will fit your enclosure. If not, you will have to perform some DIY tasks for the installation.

---
4. Skar Audio EVL-12 D2 Car Subwoofer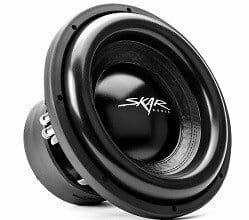 Power Handling: 2,500 Watts
Impedance: 2 Ohms
If we have to choose the best 12-inch car subwoofer in this review then it is definitely the Skar Audio EVL-12 D2. This is a monster woofer with a peak power of 2,500 Watts. Needless to say, it produces a very loud and powerful bass.
Indeed, with its peak power of 2,500 Watts, it must be paired with a powerful amplifier to deliver a clean and deep bass that will not distort even when played at very high volumes. Additionally, the voice coil in this woofer has 4 aluminum layers to dissipate heat more efficiently and produce better midrange sounds.
The foam surround around the cone is very elastic and allows the cone to vibrate freely, thus reproducing sounds in a clearer manner.
Moreover, for those who like to DIY with their woofers, this unit has a 2 Ohms impedance. Which means that you can use very thin wires for the connections. The main advantage of thin wires is that they look professional and clean.

On the downside, this model does not come with an enclosure, so you will need to build one (or purchase it) to accommodate this subwoofer.


---
5. Rockville RVB12.1A Car Subwoofer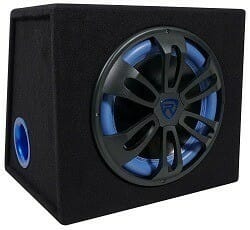 Power Handling: 500 Watts
Impedance: 4 Ohms
The Rockville RVB12.1A is a full woofer system that comes with an AB class pre-amp, installation kit and a powerful 500 Watts woofer along with its enclosure. This unit is by far the most straightforward and easy to use woofer in this entire review.
Most of this ease of use is explained by the fact that this model has a pre-amp installed, so all you have to do is connect the wires to get a clear and crisp sound.
It isn't the most powerful woofer by any means, but for casual music listening it is more than enough. It certainly is a hundred times superior to factory fitted woofers, for sure.
One of the best things about the Rockville RVB12.1A is its high sensitivity of 93 dB. It does not take a whole lot of power to push this woofer, and thus it is more efficient than other models.
Moreover, it has all the traditional features you would expect from a quality subwoofer, like a 2-inch voice coil, durable cone, quality mosfets, and low impedance.
Best, it comes with a complete installation kit for the price. You will not have to invest more money in purchasing wires or RCA cables if you get this woofer. It is all-inclusive. Neat!

However, keep in mind that this model is not the loudest model we have heard. If you like a very loud and punchy bass, there are other more suitable models for the price in this review.

---
6. Pioneer TS-W304R Car Subwoofer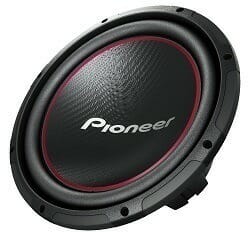 Power Handling: 1,300 Watts
Impedance: 4 Ohms
If the Pioneer TS-W304R could be resumed in a few words, it would be power in a small package. At 1,300 W, this subwoofer can deliver a lot of bass that still remains clear and don't muffle the mid range even when played at high volumes.
Furthermore, as with most Pioneer products, this woofer has an excellent build quality that is strong and durable. It should last even if used daily.
Much of the durability of this woofer is explained by the IMPP cone that is tough and long-lasting. It also has a multi-layer voice coil design that resists overheating and delivers a crisper mid-range.
All in all, this is an affordable woofer solution that does not sacrifice build or sound quality at the expense of price. We recommend it for those who only need a woofer without the enclosure as this model comes bare, without an enclosure.

---
7. Boss Audio CX122 Car Subwoofer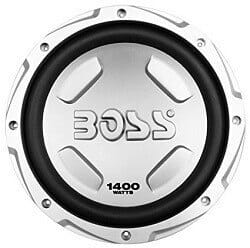 Power Handling: 1,400 Watts
Impedance: 4 Ohms
Boss Audio CX122 is a decent alternative for those with a small budget and still want a powerful bass.
It has a power handling of 1,400 Watts which shows it can play loud and the cone is made from tough polypropylene for durability. Indeed, the performance to price ratio of this Boss Audio is truly excellent.
As for the cone, the lid is made from a special rubber material that offers good frequency responses while helping keep the cone together.
We also like the high sensitivity of 82 dB that helps make this subwoofer a little bit more power efficient.
All in all, this is a bottom of the barrel offer. If you are short on cash, you can consider the Boss Audio CX122 as it still delivers an impressive bass.

However, if you can afford a little more, there are better options in this review because the build construction is sub-par and you don't get an enclosure with this purchase.

How to Buy the Best 12-Inch Car Subwoofers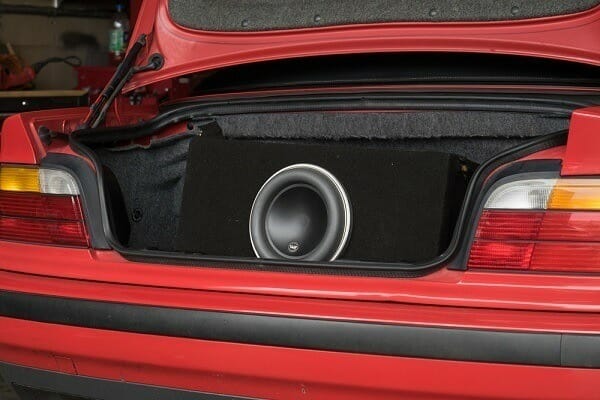 Before purchasing a 12-inch car subwoofer, here are some important things to keep in mind.
Impedance: Most 12-inch woofers generally have an impedance of 4 Ohms. However, for more versatility, we recommend you choose models that have a dual impedance of 2 Ohms.
In general, 2 Ohms woofers also work as 4 Ohms so you have more convenience in choosing the wire size during installation.
Enclosure: Not all 12-inch subwoofers come with an enclosure. Many are sold as a standard woofer, and at first glance, they can easily be mistaken for regular speakers.
You will need to find a matching enclosure for them. Not all cars are compatible with this woofer size so make sure you measure well before buying.
Enclosure Type: A closed type enclosure will produce a deeper and punchier bass. Additionally, take the size of your boot into account as well. Your boot becomes in a way an enclosure for the woofer.
Resonant Frequency: Woofers with a lower resonant frequency will produce a better low range sound without distortions. Therefore, when choosing a woofer, always go with a model with a lower resonant frequency to get the most out of it.
Sensitivity: Part of what makes a subwoofer efficient is its sensitivity. It is a value measured in decibels (dB) and shows how well it can accept power.
A high value means that the woofer is more sensitive to voltage changes and requires less power to reach a certain volume. The more sensitivity the better.
Cone Material: Since the cone is the part in a woofer that moves rapidly and displaces air, it's important that this part is tough. Polypropylene is usually used in cone constructions as it is durable and has excellent frequency responses.
Conclusion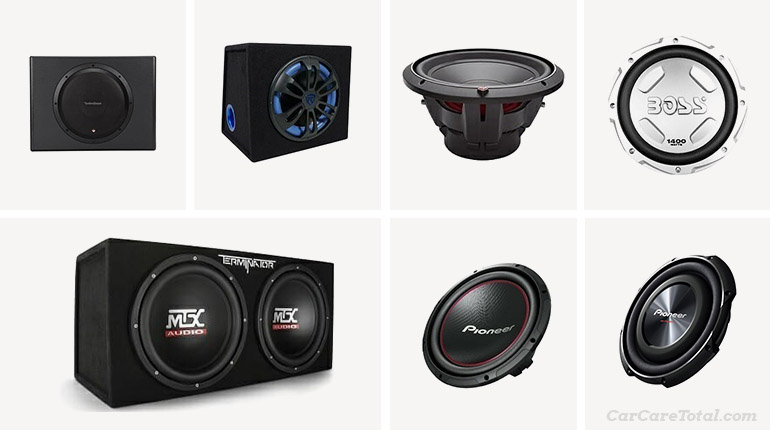 As we've seen, if you have space in your car and need more power then choose a 12-inch car subwoofer. They are affordable and not very hard to install, but they make such a big difference when connected to an amplifier.
Again, the models we have listed are some of the best in the market right now. If you are uncertain, we recommend you go measure your car boot again.
If it fits, then choose a woofer model from our list above. It will make a real difference to your music, regardless of what genre you listen to!