Often, the default stereos fitted in our cars fall short of satisfying the desire for premium, bass-driven audio. If you've experienced such agony, enter the world of car subwoofers.
Subwoofers can transform the music experience in your car by boosting the bass outputs thanks to powerful coils, magnets, and high-power handling.
Since 15-inch subwoofers are not overly big they will fit in compact enclosures, and save space, especially in your car's trunk, while creating a premium audio experience.
In our 15-inch car subwoofer review, we explore some of the leading models and help you choose the best fit for your car.
Top 15inch Car Subwoofers of 2021 by Editors' Picks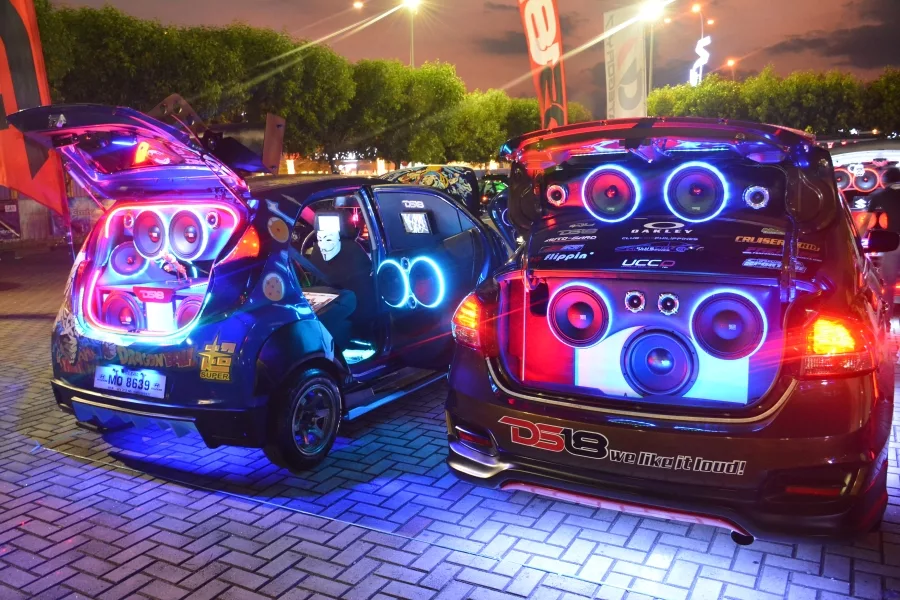 Summary of 7 Best 15-inch Car Subwoofers
IMAGE
PRODUCT
FEATURES

Skar Audio EVL-15 D4

1. Skar Audio EVL-15 D4 (Best Overall)

High 1,250W RMS output power
A strong dual 4-Ohm coil
Competition-grade paper cone
High-quality spider suspension

Planet Audio AC15D

2. Planet Audio AC15D (Best Budget)

Affordable with long-lasting audio
Heat-reducing voice coils
Reduced cone fatigue
Stamped basket for clean audio

Rockford Fosgate P3D4-15

3. Rockford Fosgate P3D4-15 (Best Premium)

Premium aluminum cone & cap
Hybrid stamp-cast basket
Fine nickel-plated terminals
Collar-reinforced voice coil

Power Acoustik BAMF-154

4. Power Acoustik BAMF-154 (Most Heavy-Duty)

High peak & RMS power combo
Strong 4-layer voice coil
Vented heat-reducing frame
Reliable chemical & UV protection

Pyle PLPW15D

5. Pyle PLPW15D (Best for Stereo Sound)

High-resonance for stereo sound
Enhanced sound clarity
Corrosion-resistant voice coils
Protective non-fatiguing suspension

Rockville Destroyer 15D2

6. Rockville Destroyer 15D2 (Most Powerful)

Superior RMS & peak power
Heat-resistant 4-layer voice calls
Extra-stiff & stable code
Thick sound-enhancing foam

CT Sounds TROPO-15D4

7. CT Sounds TROPO-15D4 (Most Versatile)

High-performance dual voice coil
Deep distortion-free bass
Powerful double-stacked magnet
Heavy-duty basket frame
1. Best Overall: Skar Audio EVL-15 D4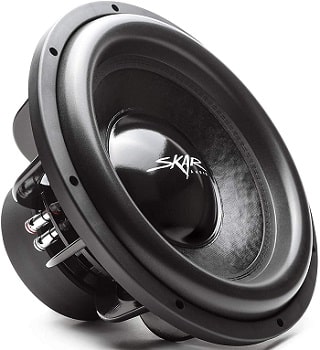 Power Handling: 2,500W (Peak), 1,250W (RMS)
Impedance: Dual 4 Ohm
Sensitivity: 86.1 dB
Resonant Frequency: 20 Hz - 250 Hz
High power handling, a heavy-duty construction, and versatile bass performance make the Rockford Fosgate P3D4-15 our best overall 15-inch car subwoofer.
The entire unit is designed to create a premium & immersive audio experience while in your car. With an RMS power output of 1,250W, the sub will deliver a punch, consistently, allowing you to play deep-bass music for extended periods.
At the heart of this top-rated 15-inch subwoofer is a dual 4-Ohm coil, which is a high-resistance component designed to handle all the power flowing through it. Crowning the coil is a competition-grade paper cone, which has been stitched to a high-roll foam for strength.
Another impressive feature of this subwoofer is its top-of-the-range suspension system, which features the signature red, single damper, two-layer spider by EVL.
At 37.5 lbs. in weight, the Skar Audio EVL-15 D4 is weighty, and switching it around won't be easy. Also, its price is on the higher side, but worth it.

---
2. Best Budget: Planet Audio AC15D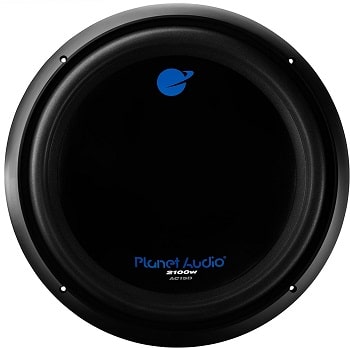 Power Handling: 2,100W (Peak), 1,050W (RMS)
Impedance: Dual 4 Ohm
Sensitivity: 89.0 dB
Resonant Frequency: 25 Hz
Planet Audio AC15D, our best budget 15-inch car subwoofer, offers you high-quality audio and longer play times at a very affordable price.
The subwoofer's cone is made using polypropylene, a material that's both durable and great at producing high-quality long-lasting audio.
It is built using durable voice coils with a dual 4-Ohm impedance. The coils can withstand the high temperatures generated by continuous performance while reducing fatigue on the cone and other delicate components.
Clean and clear audio output is enhanced by a stamped basket, which is designed to offer a strong platform with minimal vibration.
Also, this subwoofer manages to handle a high RMS power of 1,050W, which is premium-grade performance.
On the downside, the Planet Audio AC15D does not come with any mounting screws. We also noted the sub to be a bit lacking in mid-range. You may need to tune it further.

---
3. Best Premium: Rockford Fosgate P3D4-15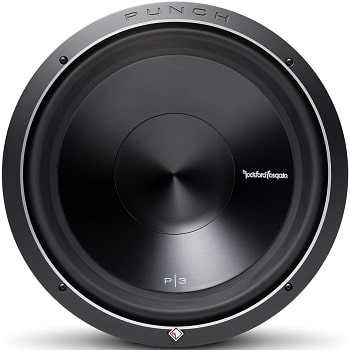 Power Handling: 1,200W (Peak), 600W (RMS)
Impedance: Dual 4 Ohm
Sensitivity: 86 dB
Resonant Frequency: 22.4 Hz
Rockford Fosgate P3D4-15 is our best premium 15-inch car subwoofer, thanks to its adoption of the finest quality components and a state-of-the-art sound-optimizing design.
The subwoofer unit features an anodized aluminum cone and dust cap and goes ahead to implement a special spider venting design that keeps the moto cool. Then there's the new hybrid stamp-cast basket, which boosts the unit's strength under high power.
Its 10-AWG push terminals are customized and nickel-plated to create a premium statement while stepping durability a notch higher.
This system-wide implementation of premium components has a net effect of enhanced bass quality, which is further boosted by the high-temperature dual 4-Ohm voice coil with spun-laced Nomex re-enforcement collar.
Finally, the sub is easy to grip, thanks to a soft-touch rubber over-mold. You won't struggle while handling it.
We were slightly disappointed with the fact that the high-end Rockford Fosgate P3D4-15 comes withalimited warranty of 1 year only. Also, 600W RMS is a bit low.

---
4. Most Heavy-duty: Power Acoustik BAMF-154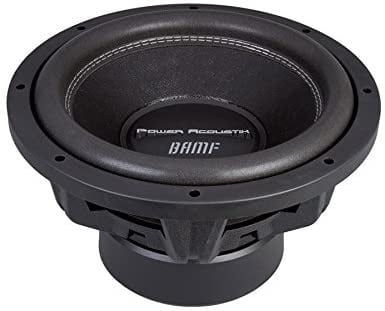 Power Handling: 3,800W (Peak), 1,900W (RMS)
Impedance: Dual 2 Ohm
Sensitivity: 86.40 dB
A vast range of structural and performance enhancements on the Power Acoustik BAMF-154 make it our most heavy-duty 15-inch subwoofer.
Power handling is one of the areas where the subwoofer excels. It is rated for handling a 1,900W RMS and 3,800W peak power outputs. There's an overcompensating motor structure to increase the speaker's magnetic strength.
The sub handles such high-power outputs with efficiency by implementing a 3-inch 4-layer voice coil with a direct-connect wire to boost transmission.
To prevent heat build-up during peak speaker performance, the sub comes fitted with a vented T-yoke and frame. The same 12mm T-yoke combines seamlessly with a top plate for the improvement of low-frequency dynamics.
Temperature-tolerant adhesives have also been used to help withstand the extreme heat produced by the unit. Then there's the non-transfer spruce pulp cone that is enhanced for chemical and UV resistance.
You will, however, need a big enclosure and amplifier to realize the full power of the Power Acoustik BAMF-154, and the two imply more costs.

---
5. Best for Stereo Sound: Pyle PLPW15D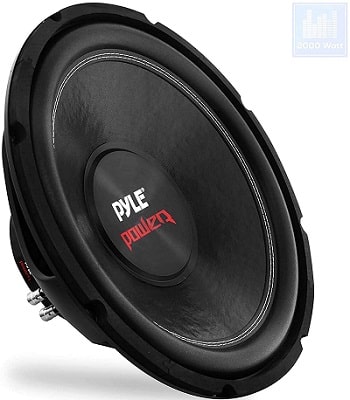 Power Handling: 2,000W (Peak), 1,000 (RMS)
Impedance: Dual 4 Ohm
Sensitivity: 92 dB
If you desire high-quality stereo sound from your car subwoofer, the 15-inch Pyle PLPW15D is your best bet, thanks to its high resonance, which also enhances audio quality.
The sub boasts of a high 92 dB sensitivity, which boosts sound clarity by a significant degree, allowing the unit to produce consistent highs and lows.
For a very low price, you're getting a powerful subwoofer with a high 1000W RMS, and 2000W peak power output. It is designed to produce elevated sound resonance, and its spring-loaded push-down terminals do a great job of maximizing sound quality.
Premium coils have been used on the speaker, to yield dual 4-Ohm impedance. The 4-layer, voice coils are also built to resist corrosion, significantly boosting longevity.
Equipment safe is made possible by a non-fatiguing suspension. Then there's the non-pressed paper cone, and a steel basket (black) to boost subwoofer strength and performance.
An issue we noted with the Pyle PLPW15D is that its entire frame is made of plastic, which is not the sturdiest or most durable, especially compared to metal.

---
6. Most Powerful: Rockville Destroyer 15D2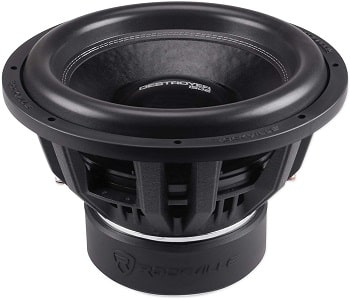 Power Handling: 8000W (Peak), 2,000W (RMS)
Impedance: Dual 2 Ohm
Sensitivity: 88.2 dB
Resonant Frequency: 33 Hz - 1.5 kHz
Boasting both the highest peak power and RMS power handling, Rockville Destroyer 15D2 is one of the loudest 15-inch car subwoofers you can buy today.
This is not your regular sub. It's a top-of-range system capable of an 8,000W peak power output, and 2,000W of RMS power. If you participate in sound system competitions, this is the subwoofer that'll help you win because of its consistent loudness.
It features premium 3-inch, 4-layer American voice coils, which are built to withstand high temperatures of 300℃ - 500℃, and this capacity is aided by an aluminum wire winding around the coil.
Then there's the extra-stiff cone that's thicker and stronger than those on regular subs. The cone allows thus subwoofer to handle high power outputs. And the extra-thick foam does a great job of enhancing sound quality.
The high-performance Rockville Destroyer 15D2 is, however, a pricey unit, especially if you're on a budget. Also, even without an enclosure, the sub is very heavy at 52.92 lbs.

---
7. Most Versatile: CT Sounds TROPO-15D4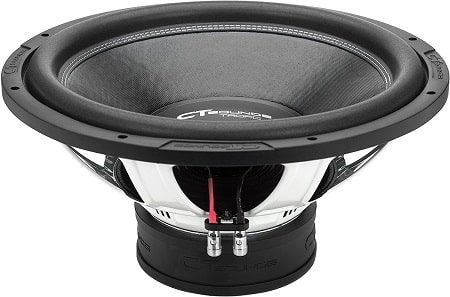 Power Handling: 1,200W (Peak), 600W (RMS)
Impedance: Dual 4 Ohm
Sensitivity: 89.3 dB
Resonant Frequency: 36 Hz
A combination of excellent sound quality, loud bass, premium components, and craftsmanship bring out the versatility of the CT Sounds TROPO-15D4 15-inch car subwoofer.
This subwoofer can get pretty thunderous while producing crisp, distortion-free sound. Its dual voice coils and high 4-Ohm impedance allow the sub to handle high input power at low volume.
Because it comes with CT's powerful double-stacked ferrite magnet (Y30 grade), the resultant force is very high and helps yield explosive bass whenever it's needed.
Component quality is another area where the sub excels. It features a strong heavy-duty basket frame with a high-quality treated foam surrounding it. The frame is made of stamp steel for sturdiness and durability.
The cone is also a premium competition-grade component, which has been reinforced with 3% carbon-fiber for longevity. Overall, the sub's design and built as very pleasing to the eye.
We do wish, however, that the CT Sounds TROPO-15D4's 600W RMS power was higher.

How to Buy the Best 15-inch Car Subwoofer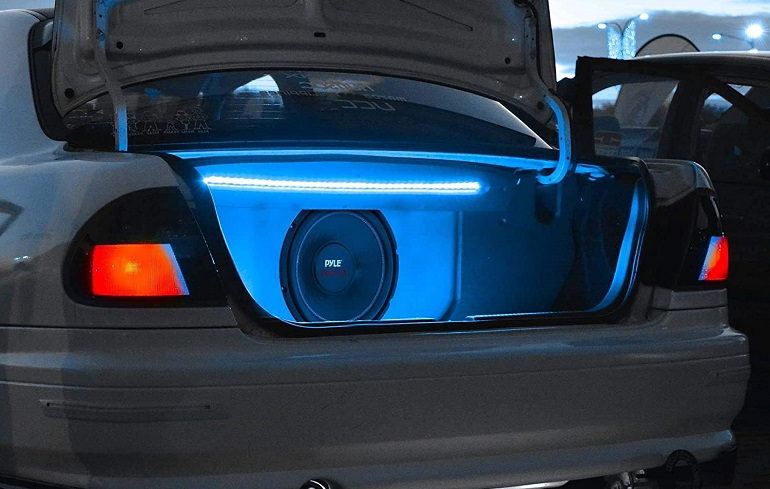 1. Power
When choosing a 15-inch car subwoofer, power output should be a priority consideration.
Typically, there are 2 types of power ratings associated with subwoofers: peak power, and RMS power. Both are measured in watts.
Peak power is the maximum load your subwoofer can handle in short bursts, for instance, during the highs and lows of audio output. It tends to be higher than RMS power.
RMS, on the other hand, is the continuous power load your subwoofer can handle, and this matters more than peak power.
High-RMS subs such as the Rockville Destroyer 15D2 can handle highs of 2,000W in RMS power, which means superior sound output, loudness, and bass.
2. Impedance
Impedance is a measure of a component's opposition to current flow. It may also be referred to as resistance and is measured in Ohms.
High-impedance subwoofers, such as 4-Ohm ones, are popular for their reduced power consumption, compared to low-impedance models. With more resistance comes higher bass.
But even with high impedance, you need an amplifier that matches the subwoofer's performance. 2-Ohm subs are great for applications demanding loud music, thanks to their low resistance.
Ultimately, the impedance you choose for your sub will depend on your audio preferences.
3. Sensitivity
In subwoofers, sensitivity, typically measured in decibels per 1 watt per 1 meter (dB), indicates the amount of volume to expect from the unit given some input power.
Sensitivity shows the ability of a loudspeaker to reproduce audio signals from their input sources.
That's why high-sensitivity subwoofers, such as those with at least 90 dB, are great for detail reproduction, which may translate to better sound clarity, across different power inputs.
But high sensitivity does not always translate to better quality. As sensitivity increases, it may elevate distortion levels. Therefore, you may need to tweak other parameters in your subwoofer setup.
4. Build Quality
Subwoofers come in different build qualities especially given the hundreds of diverse models currently in the market.
But just like any other accessory or appliance, you want to get one that'll last long, while being constantly subjected to the highs and lows of audio performance.
Frame material has a great impact on build quality. Metallica frames, often made of aluminum, guarantee strength and durability.
Cones are also good indicators of quality. Stiff paper codes, including reinforced ones, will remain firm even with high speaker vibrations.
5. Frequency Range
The resonant frequency of a subwoofer (and any object, in general), refers to the range of frequencies that it can reproduce, and is measured in hertz (Hz).
Subwoofers' typical frequency range is 20Hz - 200 Hz. Some can accommodate wider frequency ranges depending on other factors such as amplitude and sensitivity.
Generally, speakers with low-RF are better at reproducing lower frequencies, which is the primary purpose of subwoofers. That said, even higher RFs are great if you want a complete and immersive audio experience from a sub.
6. Voice Coil
In a subwoofer, voice coils are responsible for creating sound waves, which are generated from an input signal.
The coil transmits current, which interfaces with a magnetic force to move the cone, for sound generation. Typically, the current is generated by an amplifier.
Subwoofers can have single or dual coils. The main difference is that the latter setup uses two coils, which are completed by 2 positive and 2 negative terminals. Dual-coil subwoofers are more flexible than single-coil models.
Conclusion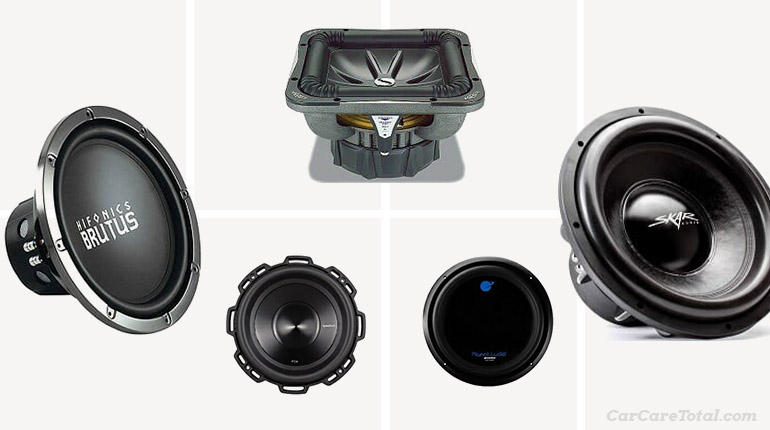 From our 15-inch car subwoofer review, it's clear that these audio upgrades can transform your vehicle's music performance.
If you're looking for the best of them all, choose our top pick, the Rockford Fosgate P3D4-15. It is powerful, durable, and has premium components for excellent sound quality.
If you're on a tight budget but still desire a quality audio experience, go with the Planet Audio AC15D 15-inch subwoofer. It is not only affordable but great for long-lasting audio performance.
And if you're an audiophile who treasures power and loudness, choose Rockville Destroyer 15D2, the most powerful subwoofer on our list.