The 8-inch subwoofers provide a simple but effective way of upgrading your vehicle's sound system. What makes them an excellent buy is that despite still being hard-hitting, these subwoofers come in a more compact size to ensure they do not take up a lot of room on your vehicle.
With the best 8-inch car subwoofer, you can be sure of getting a better sound quality that has a more powerful bass than what your factory sound system delivers. Better still, these smaller subwoofers consume relatively less power.
Here we look at a few top models and provide a buying guide to help you choose the ideal 8-inch subwoofer for your car from the various options out there.
Editors' Picks for Top 8inch Car Subwoofers of 2021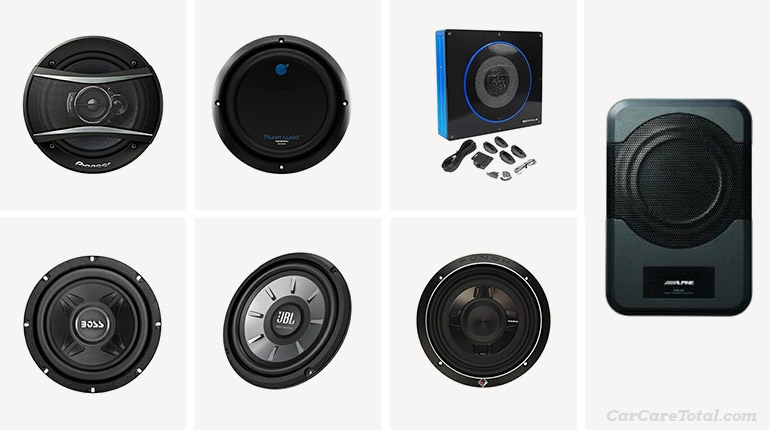 Summary of 7 Best 8-Inch Car Subwoofers
IMAGE
PRODUCT
FEATURES

Rockville RW8CA

1. Rockville RW8CA (Best Overall)

All-in-one with built-in amplifier
Low-profile 2.7-inch thick enclosure
High-level inputs for auto on/off

Rockville SS8P

2. Rockville SS8P (Best Underseat)

Slim, under-seat enclosure
Sturdy, stay-cool aluminum housing
Auto turn-on technology

Boss Audio CXX8

3. Boss Audio CXX8 (Best Inexpensive)

Highly affordable
Rubber surround & polypropylene cone
High-temperature voice coil

Kicker 11HS8

4. Kicker 11HS8 (Best Brand)

Reliable top-brand model
Includes both high & low-level inputs
Ultra-compact for hideaway installation
Fast & easy installation/removal

JBL BassPro SL

5. JBL BassPro SL (Best Shallow Mount)

Shallow profile
High-level inputs with audio sensor for auto-on
3-way protection circuitry

Kenwood KSC-PSW8

6. Kenwood KSC-PSW8 (Easiest to Install)

Straightforward connections for easy installation
Durable built-in class D amplifier
Compact for underseat installation

Alpine PWE-S8

7. Alpine PWE-S8 (Highly Durable)

Rugged & durable cast aluminum enclosure
Auto-sensing speaker level inputs
Convenient side panel controls location
1. Best Overall: Rockville RW8CA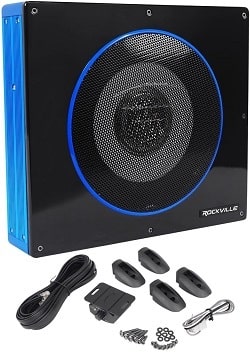 Power Handling: 600 watts
Impedance: 2 Ohms
Sensitivity: 100dB at 1w / 1m
The Rockville RW8CA has everything you can wish for in an 8-inch subwoofer, which is what makes it our best overall option. It is an all-in-one solution with a built amplifier, compact enclosure, automatic on/off, and even remote control.
With the built-in amplifier, you will not need to rig an external one for this 600-watt subwoofer. Additionally, it allows for a neater installation as there are fewer wires. Since the inputs and outputs are on one side, you get even neater and easier wiring.
Rockville makes this subwoofer for easy under-seat installation as it comes in a low-profile design with an enclosure that is just 2.7 inches thick.
When it comes to the actual operation, the subwoofer uses high-level inputs to eliminate the need to have remote wiring from the receiver. The subwoofer's smart circuit detects the audio signal and switches the unit on and off automatically.
The controls that include level volume control and subsonic filter on this subwoofer make it easy to tweak the sound to your liking.
This Rockville subwoofer is not super loud, and you should not expect it to shake your windows, but you can be confident that it will significantly improve your sound system. Also, with a good fan, you never have to worry about the subwoofer running hot.

---
2. Best Underseat: Rockville SS8P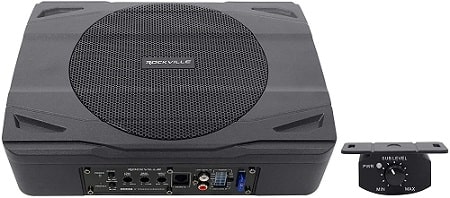 Power Handling: 400 watts
Impedance: 2 Ohms
Sensitivity: 90dB at 1w / 1m
At just 2.8 inches thick, the Rockville SS8P is one of the slimmest models on our list. This compact, low-profile design makes this a great subwoofer for those that prefer an under-seat installation.
This subwoofer offers an all-in-one solution as it has a built-in amplifier. The amplifier is super convenient as it uses a smart circuit system to deliver an automatic on and off functionality.
You can be confident that this machine will serve you well for a long time as the housing is a sturdy aluminum material that always stays cool. Better still, there are some heavy-duty mounting feet.
Other noteworthy things on this subwoofer include thermal, overload/short protection, adjustable input sensitivity, low pass crossover filter, and a bass boost.
The hosing seems to rattle a little at the high settings, but it is only minimal and hardly noticeable. Hence, you can be sure this does not affect the sound quality.
Note: You can also get this subwoofer as part of the Rockville SS8P complete kit with everything you need for installation.

---
3. Best Inexpensive: Boss Audio CXX8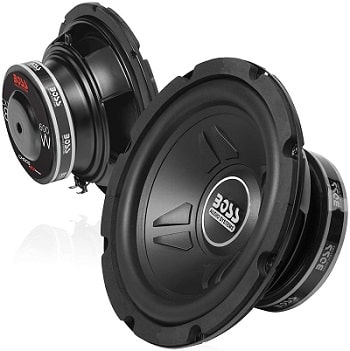 Power Handling: 600 watts
Impedance: 4 Ohms
Sensitivity: 83dB at 1w / 1m
Boss Audio CXX8 is the cheapest item on our 8-inch subwoofer review, and it makes an excellent choice for motorists looking for something affordable but still powerful. Despite the small price tag, the subwoofers provide 600 watts peak power handling and are also well-built.
The construction includes a polypropylene cone that offers excellent sound and is more long-lasting. The surround is rubber to ensure it can take a lot of abuse with minimal wear and tear.
Better still, the two subwoofers have a stamped basket that absorbs and transfers more energy and has better corrosion resistance.
The high-temperature voice coils are an excellent addition as they maintain strength even when subjected to harsh conditions and allow more extended playtime.
These subwoofers require up to 4 hours of breaking-in, which might not impress motorists looking for something for immediate use. However, this is a small issue, given that it helps prevent premature failure and extends the subwoofer life significantly.

---
4. Best Brand: Kicker 11HS8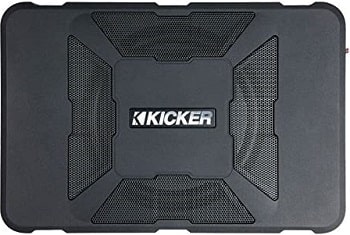 Power Handling: 150 watts (RMS)
Impedance: 4 Ohms
Sensitivity: 91dB at 1w / 1m
Kicker is a brand you can always trust to make some top-quality subwoofers and speakers, which has been the case for quite some time. The Kicker 11HS8 keeps up with the company's reputation as it is a well-built and highly reliable 8-inch car subwoofer.
The subwoofer comes in an ultra-compact design as it is just 3 inches high and 14 inches long to ensure you can easily hide it away under a seat or any other concealed part of the vehicle as you do not need a lot of space.
Because it includes both high and low inputs, you can integrate the subwoofer with most aftermarket and factory systems. Better still, installation or removal is fast and more effortless thanks to the quick connect power plug and nylon straps with Velcro fasteners.
Being the second priciest item on our list, some motorists might find this model a little out of reach, but the performance and quality ensure you get value for every buck.

---
5. Best 8-Inch Shallow Mount: JBL BassPro SL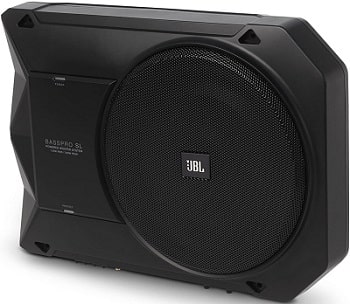 Power Handling: 250 watts
Impedance: 4 Ohms
Any motorist that prefers shallow-mount subwoofers should give the JBL BassPro SL a try as this low-profile and compact unit is just for that.
However, this subwoofer still offers the other top features you can expect from a top-quality car subwoofer, like high-level inputs with an audio sensor that allows for automatic on and off. Better yet, it comes ready for the wired bass remote control.
There are also some handy red and green LED indicators to make it easy to tell the subwoofer status. Better still, the design incorporates 3-way protection circuitry for thermal, short, and overload protection.
Although the provided instructions seem quite vague, you should still figure things out as this subwoofer is not complicated. Some motorists might find the thump a little lacking, but it is more than enough for a 250-watt peak power model.

---
6. Easiest to Install: Kenwood KSC-PSW8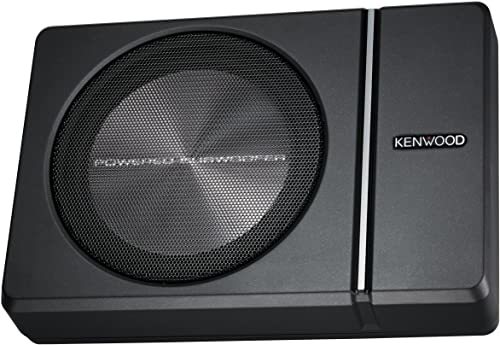 Power Handling: 250 watts
Impedance: 2 Ohms
Sensitivity: 81dB at 1w / 1m
With only a few direct connections and a single harness, the Kenwood KSC-PSW8 is one of the easiest to install 8-inch subwoofers. Even absolute beginners should have an easy time figuring out this unit.
Another element that makes this a fantastic model is that it is not just a powered subwoofer with a built-in amplifier but one that uses a highly durable and powerful class D amplifier to deliver exceptional sound quality.
The ultra-compact design of this car subwoofer allows it to fit nicely under most vehicle seats. And with the wired remote control, the operation should be a breeze.
There are no switches or other controls on the car subwoofer, meaning you always have to use the remote, which can be restrictive. But, the good news is that the remote provides all the necessary controls you need.

---
7. Highly Durable: Alpine PWE-S8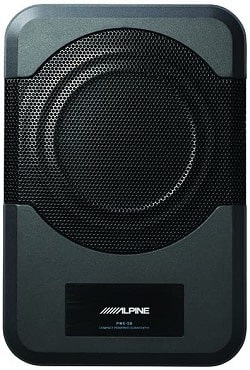 Power Handling: 240 watts
Impedance: 4 Ohms
The Alpine PWE-S8 is a highly durable and rugged subwoofer meant to handle rough rides well without affecting the sound quality you get. This model has a cast aluminum enclosure that can take a lot of abuse for many years.
When it comes to the installation, this model provides an easy time as all the connections and controls are in the side panel. Better yet, its compact design means you can have it almost anywhere, including under or behind car seats and trunks.
There are also auto-sensing speaker level inputs to allow for automatic turn-on, which is super convenient. Another highly convenient feature is the wired remote control input that helps ensure you can control the subwoofer easily from your dashboard.
Alpine PWE-S8 seems quite pricey compared to the other models on our list, but the high price tag reflects its superior performance and rugged build. The hi-pass appears to be picky, but if it does not work for your system, there are other ways of making the connection, such as splicing an AV cable and using it to connect to the car speaker.

How to Buy the Best 8-Inch Car Subwoofer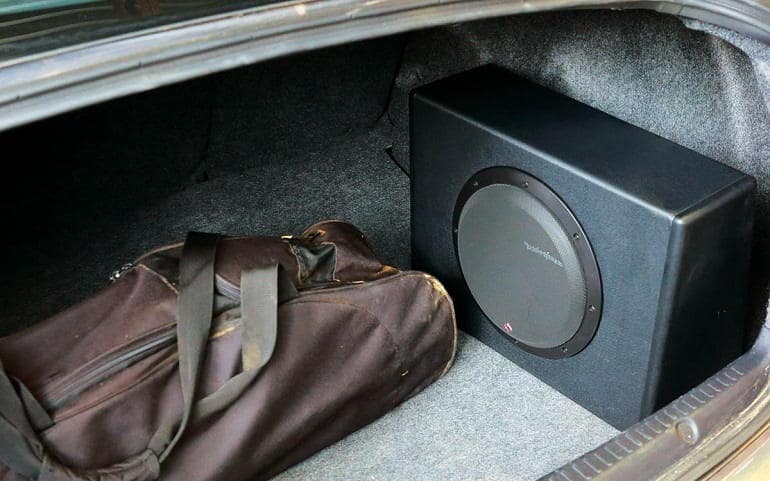 1. Power Handling
A car subwoofer's power handling capability is one of the main determinants of the impact it has on your sound system, and so it is among the first factors you need to consider.
High power handling is always better, but it is crucial to consider both RMS and peak power handling. The peak power is the maximum wattage the subwoofer can handle before burning out, while the RMS is the continuous power handling capability.
You can expect to get anything from 200 to 1,000 watts for the 8-inch subwoofers for the peak power. However, there are still more powerful models out there, such as the 1,200-watt Planet Audio AC8D.
2. Amplifier
As you shop for the best 8-inch subwoofer, it is crucial to decide whether you prefer something with a built-in amplifier or not, and here the decision mostly depends on the sound you want.
Something with a built-in amplifier can save you the cost of buying one separately and save space as you do not have to mount two different devices. Also, a built-in amplifier provides an even louder sound output.
That said, if you prefer a powerful bass output and a more resonant sound, you are better off buying a subwoofer without an amplifier and connecting it to an external amplifier.
3. Resonant Frequency
Resonant frequency measures the lowest possible frequency the subwoofers can resonate to before it starts producing distortions.
Here, the lower the frequency, the better as it allows the speaker to cater to most frequencies in the low-end spectrum of music frequencies. Better yet, it contributes significantly to getting a more resonant bass output.
A resonant frequency of under 50Hz is always preferable for 8-inch subwoofers, but a 39Hz one like you get with the Planet Audio AC8D is even better.
4. Voice Coils
Car subwoofers have either single or dual voice coils. Dual voice coils provide more flexibility as they allow you to add other sound output drivers if you want to enhance your sound even further.
The dual voice coils are ideal for motorists that prefer to customize their sound system as much as possible to suit their specific preferences. However, for those who prefer something that can give their sound system a quick and straightforward sonic upgrade, the single voice coils are perfect.
5. Impedance
Impedance is the electrical resistance of a subwoofer, and it is measured in ohms. Typically, the lower the impedance, the louder the subwoofer.
With that in mind, the 2-ohm 8-inch subwoofers like Rockville SS8P provide a louder sound volume than the 4-Ohm models. Also, the lower resistance means less power consumption, making these subwoofers more energy efficient.
However, the higher resistance subwoofers like the 4-ohm Boss Audio CXX8 provide a softer sound, and they are relatively more affordable.
6. Enclosure Size
Although the cone size is the same for the 8-inch speakers, it is vital to note that the enclosure size differs. Therefore, the space they take up in the vehicle is also different.
The space you have should guide you when it comes to enclosure size, but the more compact the unit, the better. A compact model gives you an easy time when mounting.
Besides the size, you should consider the type of enclosure the subwoofer uses, and here something mounted on a sealed box is always better as it provides deep and precise bass.
Conclusion
The 8-inch car subwoofers provide a simple but effective way of giving your vehicle's sound system an upgrade, and they do all this without taking up a lot of space.
With our review for recommendations, finding the best 8-inch car subwoofer should now not take a lot of effort. From our list, the Rockville RW8CA takes our top overall spot as it is a great all-in-one model with a low-profile design, high-level inputs, and much more.
However, if you are looking for something for underseat installation, go with the Rockville SS8P, while the Boss Audio CXX8 is the perfect choice for those that prefer an inexpensive model.