Powered car subwoofers are designed for user convenience as they eliminate the need to have an external amplifier. This not only saves you space, but also ensures you will not have many wires crisscrossing on your vehicle.
With the best powered subwoofers, you also get an easier time with installation because, they often only have a few plugs, and even beginners should not have any difficulties installing them.
To help you find a good model for your vehicle, here is a review of 10 top-rated powered subwoofers and a buying guide.
Editors' Picks for Top Powered Car Subwoofers of 2021
Best Powered Car Subwoofer Reviews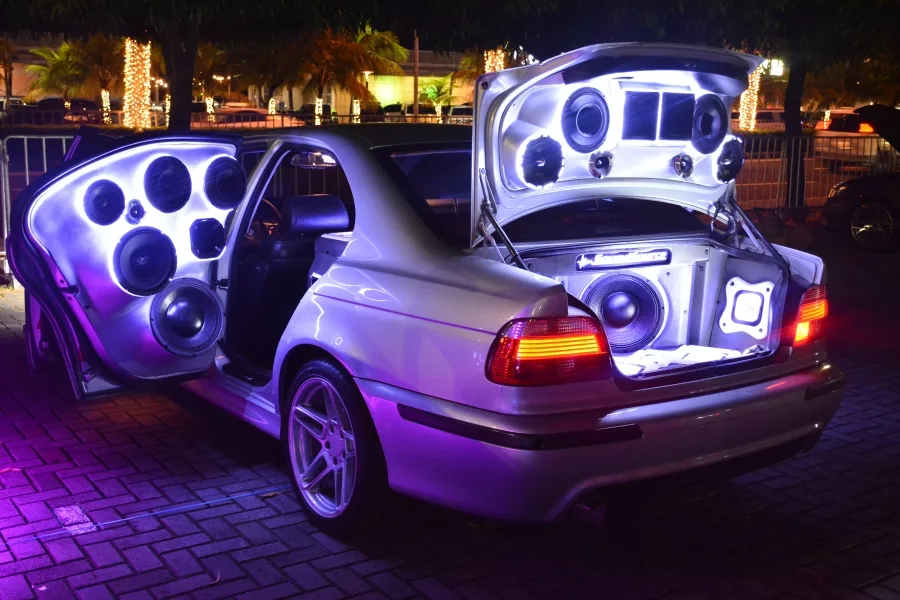 FEATURES

1. Rockville RW10CA(Best Overall)

800-watt peak power

High level inputs

Fantastic controls

Bass remote control included

2. Rockville SS8P(Best Budget)

More budget-friendly

Wire kit included

Smart turn-on circuit

Cast aluminum enclosure

3. Rockford Fosgate P300-12 (Best Self Powered)

Self-contained, all-inclusive system

Closed loop design

Larger 12-inch woofer

Smart auto turn-on/off

4. Kicker 11HS8(Best Hideaway)

3-inch high and 14-inch long
Remote bass control

High and low level inputs

Quick-connect plug and Velcro-fastened straps

5. Alpine PWE-S8 (Best Compact)

Highly compact build

Die cast aluminum construction
Compact shallow mount

Side panel located inputs

6. JBL GT-BassPro12 (Built-in Amplifier)

Powerful built-in amplifier

Slipstream port included

System optimization

Signal-sensing turn-on

Remote level control

7. Kenwood KSC-SW11 (Sturdy Under Seat)

Durable aluminum die-cast aluminum frame

Compact and low-profile

Wired remote control

Easy installation

8. Polk Audio PSW10 ( Extra Bass & Punch)

Maximum bass impact

Clearly-marked back panel

Easy blend with other speakers

Sleek detachable grille

9. Klipsch R-10SW (All-digital Amplifier)

Highly efficient all-digital amplifier

IMG spun copper woofer

Low pass crossover/phase control

Includes line and LFE inputs

10. Yamaha NS-SW300PN (High-end)

Premium quality high end subwoofer

Twisted Flare Port

Front control panel

Beautiful design and finish
1. Rockville RW10CA - Best Overall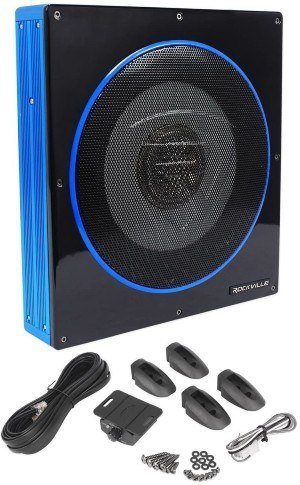 With an 800-watt peak power, the 10-inch Rockville RW10CA is as powerful as it gets for these small powered subwoofers. And being the most powerful on our list, this also makes it our best overall.
The powered subwoofer uses high-level inputs to install a breeze and allows for automatic on and off. With both the inputs and output on one side, you also get a neater installation.
There is a wired remote control for the bass to ensure you are in complete control of the bass output. With the other amazing controls, you will also be able to tweak the sound to your liking.
At only 2.7 inches thick, this subwoofer is designed to fit perfectly under a car seat, which further makes installation neater. Also, note that the company also has an 8-inchoption for those that prefer something even more compact.
Some motorist will not like the provided mounting feet as they do not look very sturdy, but they still do an amazing job. In some instances, you will not even need to use them.
More Detailed: Rockville RW10CA Review

---
2. Rockville SS8P - Best Budget Powered Subwoofer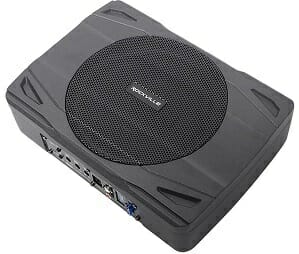 Powered car subwoofers can sometimes be expensive. This is not the case with the Rockville SS8P as it is one of the most affordable powered subwoofers in this review and out there.
Despite its relatively low price, it still packs a punch, and for the price, it still comes with the complete wire kit to make sure you have everything you need to set it up.
This subwoofer provides up to 400 watts, which is quite good for an 8-inch cone subwoofer. And it is designed with smart circuitry to turn it on automatically, which makes it even more convenient for users.
You can also easily tuck it under a car seat as it is just 2.8 inches thick. And you should not worry about burning the fabric as it has a cast aluminum enclosure that will stay cool throughout even when running at peak power.
Also, you can be confident of a sturdy and secure mount as it will come with heavy-duty mount feet.
Although the installation instructions seem a little confusing, installing this powered subwoofer is a breeze, and so this should not be a big concern.
More Detailed: Rockville SS8P Review

---
3. Rockford Fosgate P300-12 - Best Self Powered Car Subwoofer
The Rockford Fosgate P300-12 is one of the best powered car subwoofers on the market. This is mostly thanks to the self-contained and all inclusive system that is very convenient. With this system, you will only need to run the power and ground and get a signal from your source.
The 12-inch cone in the Rockford Fosgate P300-12 is one of the largest on our powered subwoofer review and it displaces a lot of air. This allows it to produce a deep sound that few car subwoofers can rival. But, there is also a 10-inchoption for motorists that may prefer it.
Furthermore, the 300 Watts class D amplifier does a good job powering up the unit, and there are no overheating issues even when used for an extended period.
Another very interesting feature of this model is the closed loop design, which will ensure an optimal performance between the amplifier and woofer. Also, it allows for easy integration with both OEM and aftermarket audio systems.
This subwoofers will also give you an easier time when it comes to operation as it has an intelligent automatic turn on/off system.
Also, it is larger than competing models and require more installation space. Hence, this will be the best powered subwoofer for trucks and other large vehicles that offer generous installation space.

---
4. Kicker 11HS8 - Best Hideaway Powered Car Subwoofer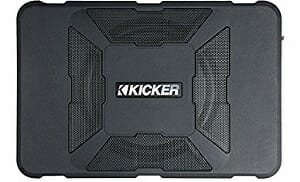 The Kicker 11HS8 is one of the smallest powered subwoofers in this review. It is just a little over 3 inches high and about 14 inches long. These dimensions make it easy to hide away, and it will be perfect for under car seat installation.
This unit rocks a smaller 8-inch woofer cone, but despite its small size, it still manages to output a more than average sound quality.
Furthermore, a 150 Watts pre-amp is fitted in this model to power the whole thing. 150 Watts is more than enough for an 8-inch subwoofer, and it will provide loud and clear sound without any distortions.
There is also a bass remote control that will allow you to make it easy to fine-tune the bass output. With the inclusion of both high and low level inputs, this subwoofer can integrate with any OEM and aftermarket head unit.
Installation should be effortless and secure as this subwoofer will include quick-connect plug and Velcro-fastened straps that also make it easy to remove.
The smaller 8-inch cone is not the most powerful when compared to other models on our review, but for the price and size of this one, it is good enough.

---
5. Alpine PWE-S8 - Best Compact Powered Car Subwoofer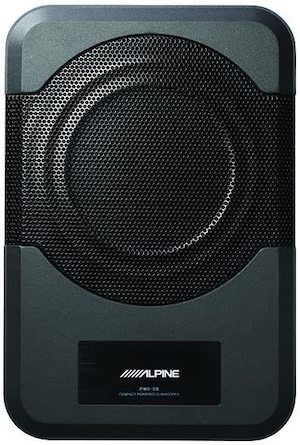 At only 13.5 inches long, this is another super compact powered subwoofer that will be perfect for anyone that does not have a lot of room under or behind the car seat.
Besides the smaller size, this subwoofer is built for a long service life as the die-cast aluminum housing makes it almost indestructible, while ensuring it remains cool even at peak performance.
Installing this 240-watt peak power subwoofer is more flexible as the compact shallow mount makes it possible to install it in different places.
Also, the inputs are conveniently located on the side panel along with control for other things like gain and phase for even easier and more flexible installation.
Sometimes the bass seems a little distorted, but in many instances, this is only so when you turn on the ignition, but it quickly balances out.

---
6. JBL GT-BassPro12 - Best Subwoofer with Built-in Amplifier
The JBL GT-BassPro12 is one of the best amplified car subwoofer in terms of performance. Indeed, it produces a very powerful and deep bass with its 12-inch cone.
The design includes a Slipstream port, that besides eliminating port noise will ensure you get distortion-free bass even at the higher output levels.
There is also superior system optimization on this subwoofer. Here, the amplifier has been precisely matched with the woofer, Slipstream port and enclosure to ensure the best and consistent performance.
With the signal-sensing technology, the subwoofer will be turned on and off as the audio signal is received. This and the inclusion of a remote level control makes this a super easy subwoofer to operate.
The larger enclosure is the main drawback for this powered subwoofer. But, you will only need to sacrifice a little cargo boot space to enjoy its amazing sound quality.
More Detailed: JBL GT-BassPro12 Review

---
7. Kenwood KSC-SW11 - Sturdy Under Seat Subwoofer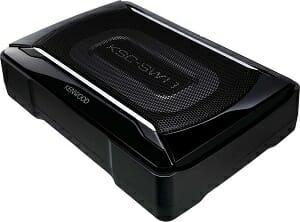 The Kenwood KSC-SW11 is a model made from an aluminum enclosure that absorbs and dissipate heat well. With the aluminum die-cast frame, this subwoofer is also made to offer superior durability.
Overall, this is a compact subwoofer with a low-profile, which means it will fit perfectly under or behind any car seat.
As expected from a company like Kenwood, the sound quality that you get is exceptional as the 75-watt built-in amplifier does a fantastic job.
To make sure that you will an easier time when it comes to operation, Kenwood also provides a wired remote control for volume, frequency and phase control.
150-watt peak power is not very powerful for its price, but for a car subwoofer, this should be enough for many users.

---
8. Polk Audio PSW10 - Extra Bass and Punch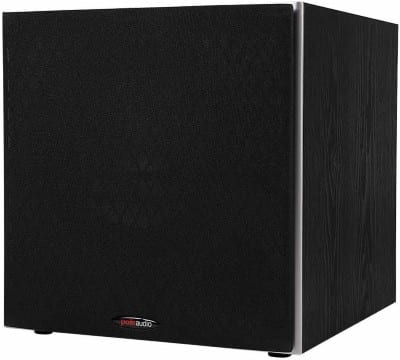 If you are looking to get more bass than your average subwoofer can deliver, the Polk Audio PSW10 is a fantastic buy. This subwoofers packs a nice punch as it makes use of a specially tuned port to give the bass maximum impact.
With this specially designed and directed port, the sub will also remain stable even when you have it at critical volume levels.
This subwoofer will easily blend with other speakers, and this is more so those from Polk, and it will hence be very handy for upgrading your music system.
Operation is guaranteed to be easy even for beginners thanks to the clearly-marked back panel. And there is also a rotary volume control to adjust the subwoofer's volume precisely to go with that of other speakers in the setup.
Also, when it comes to the overall appearance, it will not disappoint as it will come with a sleek, removable grille.
This unit is a little heavy for its size, but its 26-pound weight is still not enough to be a hindrance.
More Detailed: Polk Audio PSW10 Review

---
9. Klipsch R-10SW - All-Digital Amplifier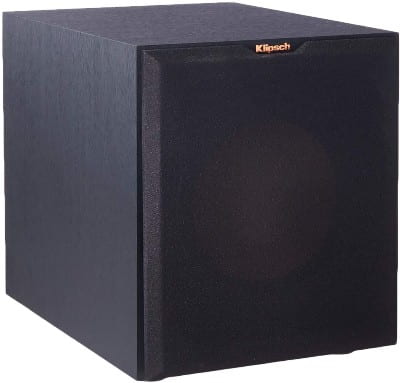 The all-digital amplifier is the start of the show for the Klipsch R-10SW. It is also one of the key reasons it is one of the best powered subwoofer with a built-in amplifier.
This amplifier ensures you get high efficiency and power and accuracy in sound reproduction. It works with the spun copper woofer to deliver an unbeatable overall sound experience.
You can use this powered subwoofer with most Klipsch speakers and others from leading brands out there. The low pass crossover and phase control allows you to blend its low tones to these other speaker.
And because this subwoofer will include line and LFE inputs, it will work with both old and new receivers.
The housing appears to be made from cheap board material or something similar to this. But, this should not be the deal breaker as it is still quite sturdy and is also very useful at enhancing the sound quality.

---
10. Yamaha NS-SW300PN - High-End Powered Subwoofer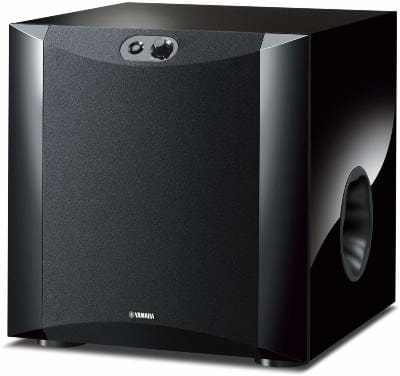 The high-end look of the Yamaha NS-SW300PN is the first element that will draw many people to it. But, the good news is that it also performs as good as it looks if not better.
The subwoofer is fitted with a powerful 10-inch woofer, which has a square wire voice coil, and it works with the highly efficient amplifier to deliver amazing sound quality with a nice bass punch.
Also, this subwoofer has a dual feedback circuit that applies feedback twice to minimize distortion and ensure you get high-quality sound.
Controlling the sound is made easy by the front control panel, and there is also efficient system control and automatic power standby.
Although this is the priciest item on our powered subwoofer review, you can be confident that its build quality, and the sound that you get will give you value for every buck.

How to Buy the Best Powered Car Subwoofer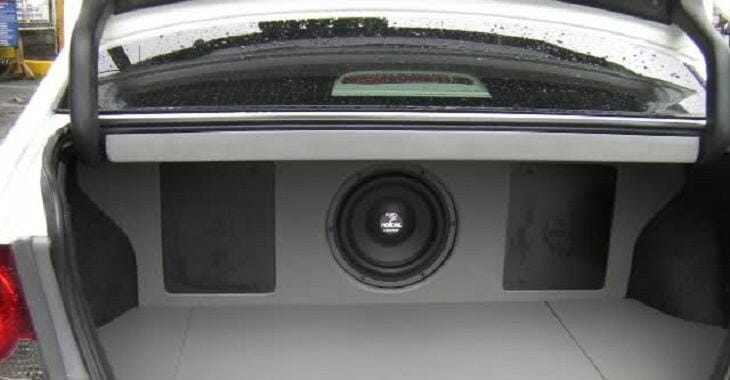 Before purchasing a powered car subwoofer, here are some important factors that you need to take into account.
1. Power Handling
The power handling gives you a good indication of the loudness of the woofer. In general, the higher the power handling, the louder you can expect the woofer to be.
However, power isn't everything. For the best sound, the amplifier needs to be powerful and efficient enough for the subwoofer.
With these subwoofers you can get model with up to 800-watt maximum power output like Rockville RW10CA, but anything that can handle at least 150 watts should be good enough.
2. Enclosure Design
The enclosure design affects the sound of the woofer. In general, a closed loop design tends to give the best bass effect.
Another option is to place the woofer under a seat for better bass reproduction. Of course, this is only possible for models that are compact and have a low-profile.
3. Cone Size
Each powered subwoofer comes with its own cone size. If you want a deep bass, it is always better to choose a size of 10-inch or a 12-inch one like what you get on the Rockford Fosgate P300-12.
For a punchier bass, 8-inches powered subwoofers are amazing. But, keep in mind that the larger the cone the pricier the subwoofer tends to be. A larger one also leads to a larger housing, and hence making the subwoofer bigger.
4. Sensitivity and Impedance
Sensitivity is an important aspect of a woofer. The higher the sensitivity of the powered woofer, the more efficient you can assume the woofer to be as it responds to lower power to produce the same sound.
The impedance is another important factor to consider. What the impedance shows is the type of audio wire you can use during installation.
A woofer with a rated 2 Ohms impedance can be connected with a much thinner wire than a woofer with an impedance of 8 Ohms.
5. Tuning Options
For more versatility, look for powered woofers that provide the ability to fine-tune the sound. They usually have the bass boost EQ and low pass filters at the back.
Moreover, many top-rated powered car subwoofers can even be remotely controlled for even more ease of use.
Conclusion on Powered Car Subwoofer Reviews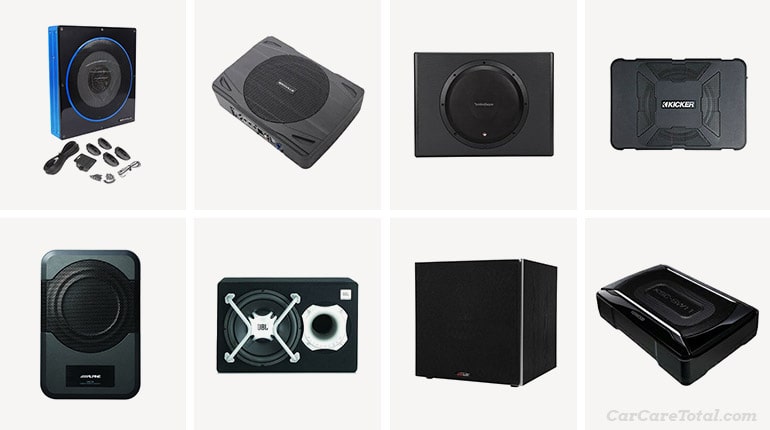 There is at least one powered subwoofer model on our list that will work for you regardless of your preferences.
However, for anyone shopping for something more affordable that still delivers an excellent sound quality and is well built, the Rockville SS8P is our recommendation.
That said, the Rockville RW10CA is our best overall model thanks to the higher 800-watt power output, high level inputs and amazing controls.