If you've experienced subpar music quality from the default stereo that comes fitted in your car, or are not satisfied with its overall audio setup, it's time to upgrade to a 10-inch car subwoofer.
10-inch subwoofers are the sweet spot for subs because they combine compactness and affordability, without compromising on sound quality.
Adding one of these to your car transforms the vehicle's music performance, allowing you to enjoy premium audio, across a wide range of low, medium, and high frequencies.
Check out our review to discover how these audio enhancements can boost your vehicle's music experience.
Editors' Picks: Top 10inch Car Subwoofers of 2021
Summary of 7 Best 10-Inch Subwoofers
IMAGE
PRODUCT
FEATURES

Rockville RW10CA

1. Rockville RW10CA (Best Overall)

Powerful & precise power output
Slim & space-saving design
A wide frequency response

Rockford Fosgate P300-10

2. Rockford Fosgate P300-10 (Best for the Money)

Priceworthy & powerful
Remote & built-in bass control
Reliable protective enhancements

Cerwin Vega VPAS10

3. Cerwin Vega VPAS10 (Best Underseat)

Slim & compact design
RCA 7 high-level inputs
Simplified plug & play setup

Pioneer TS-WX1010A

4. Pioneer TS-WX1010A (Best for Car Trunks)

Optimized for sealed spaces
Powerful 300W amplifier
Efficient remote bass control

Polk Audio PSW10

5. Polk Audio PSW10 (Most Versatile)

Versatile for car & house use
Distortion-reducing enclosure
Easy & straightforward setup

Alpine R-W10D4

6. Alpine R-W10D4 (Most Powerful)

Superior 750W RMS power
Strong Kevlar-treated cone
A rigid motor structure

Sound Storm Labs LOPRO10

7. Sound Storm Labs LOPRO10 (Best High-Efficiency)

Efficient MOSFET power supply
Variable low-pass filter
Flexible high-level inputs
1. Best Overall: Rockville RW10CA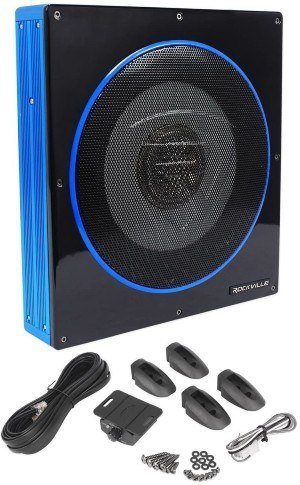 Power Handling: 800W Peak, 200W RMS
Impedance: 2 Ohm
Sensitivity: 90 dB
The Rockville RW10CA, our best overall car subwoofer, combines output power precision, a wide frequency range, and a slim profile to deliver a complete and premium audio experience in your car.
This subwoofer produces 800W peak and 200W RMS power for enhanced bass and loudness. Its output ratings are CEA-2006 compliant, meaning you get the precise performance this sub promises to deliver.
It's an impressively slim unit at only 2.7 inches in thickness and will fit comfortably under your car's seat, saving you space in the trunk, where many subwoofers are naturally installed given their size. This one is space-economical.
Since it comes with a built-in amplifier, installing and wiring the component in your car is easy and hassle-free.
The frequency response of 20Hz - 150Hz allows the sub to process and deliver full-spectrum audio in highs, mediums, and lows.
That said, you need to install the Rockville RW10CA in a well-ventilated area because the absence of free air circulation could cause overheating.
More Detailed: Click here

---
2. Best for the Money: Rockford Fosgate P300-10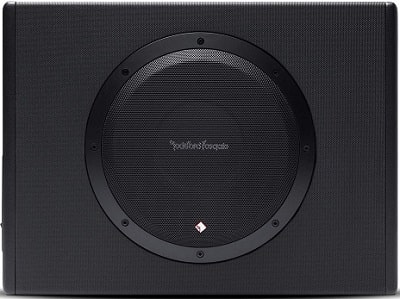 Power Handling: 600W Peak, 300W RMS
A powerful amplifier and adjustable bass EQ combine to pump up the Rockford Fosgate P300-10 10-inch car subwoofer's performance, making it the best you can get for your money.
The subwoofer's amplifier pumps out 300W of CEA 2006-compliant RMS power, which is complemented by the unit's closed-loop design. This design choice optimizes performance across the amplifier and woofer enclosure.
There're plenty of protective enhancements fitted into this sub to make it resilient and consistent. It has a detachable power/ground connector, an intelligent auto on/off function, heat protection, and over-voltage protection.
A neat remote bass level adjustment feature grants you full control over the sub's output. You can also control bass EQ using built-in controls. It comes already fitted in a 5/8-inch MDF, and ready to use.
Despite being a high-performance sub, the Rockford Fosgate P300-10 is chunky, at 23.8 pounds. It's also not compact, so fitting the sub under the seat may not be feasible.

---
3. Best Underseat: Cerwin Vega VPAS10
Power Handling: 500W Peak, 200W RMS
Impedance: 2 Ohm
Sensitivity: 90 dB
The compactness and premium sound quality of Cerwin Vega VPAS10 make it our best underseat 10-inch car subwoofer.
At only 2.6 inches in height, the subwoofer is notably slim and coupled with its flat design, the entire unit sits comfortably under your car's seats. You don't have to install the sub in your trunk, where space is precious.
It offers you 200W of raw RMS power, which translates to premium sound that's aided by a variable bass boost of 0 to +12 dB and a variable low-pass filter of 85Hz to 150Hz. Control flexibility is enhanced by included RCA and high-level inputs.
Because the subwoofer comes with an integrated amplifier, the entire unit supports an easy, plug-and-play setup. The amplifier is enclosed in an aluminum heatsink for effective heat dissipation.
On the safety front, the amplifier is equipped with both power supply and thermal protection circuits.
The only notable omission made by the Cerwin Vega VPAS10 subwoofer is adjustable EQ, but you do get premium sound, regardless.

---
4. Best for Car Trunks: Pioneer TS-WX1010A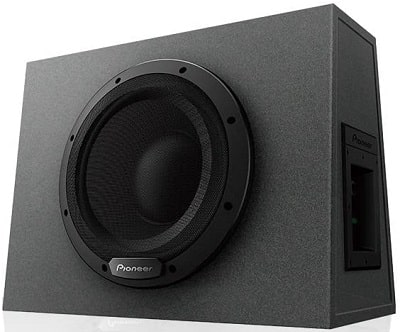 Power Handling:1,100W Peak, 300W RMS
Sensitivity: 112 dB
Optimized for low distortion, high sound output, and high bandwidth, Pioneer TS-WX1010A is one of the best 10-inch car subwoofers you can install in your vehicle's trunk.
It is powered by a 300W (RMS) class D amplifier, which boosts the sub's sensitivity and optimized sound output for sealed and small enclosures such as car trunks. The same amplifier minimizes distortion while simultaneously boosting high bandwidth and output.
There're plenty of features included to enhance system flexibility. You get a low-pass filter, phase control, and variable bass boost to meet the desired performance levels.
For user control flexibility, the system allows you to adjust the input gain and tweak bass output using a wired remote-control knob.
To boost installation flexibility and reduce internal standing waves, the sub has been built on a unique trapezoidal shape that promotes high rigidity. Its enclosure is fully carpet-wrapped to create a durable, non-slip, and scratch-resistant surface.
Disappointingly, the Pioneer TS-WX1010A car sub comes with a 1-year warranty, which is rather short.

---
5. Most Versatile: Polk Audio PSW10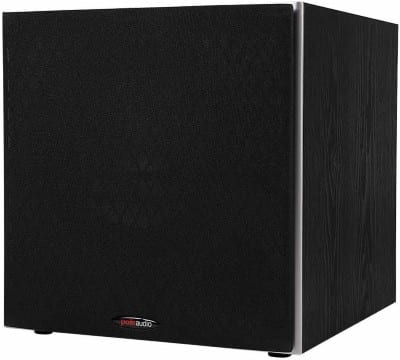 Power Handling: 100W Peak, 50W RMS
Polk Audio PSW10 is a premium & versatile 10-inch subwoofer that you can install in your car, or at home, to transform music and movie experiences.
This dynamic-balance woofer offers a uniquely configured direct port that facilitates the reproduction of accurate bass and depth. This accuracy translates to premium music and audio in both your car and home while watching movies.
Its enclosure is engineered to optimize volume and is tuned to reduce distortion, especially at low frequencies, where bass accuracy counts the most. The enclosure is also braced and dumped on the interior to eliminate resonances that may inhibit performance.
Connecting the subwoofer to your desired system is easy. At the back are 2 RCA audio inputs and 2 spring terminals for speaker input.
If you're an audiophile, the Polk Audio PSW10 car sub may fall short of your performance expectations given its rather limited 50W RMS power output. Also, for car use, the speaker does demand a considerable amount of space.
More Detailed: Click here

---
6. Most Powerful: Alpine R-W10D4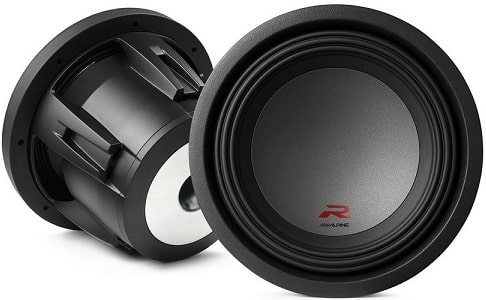 Power Handling: 2,250W (Peak), 750W (RMS)
Impedance: 4 Ohm
The superior power handling and deep bass output of Alpine R-W10D4 make it one of the hardest hitting 10-inch car subwoofers you can install in your vehicle.
This top-rated subwoofer boasts of superior 2,250W peak and 750W RMS power outputs, which are notably high for this class of subs. If you're an audiophile, this is the go-to sub for high-quality and punchy car audio.
To handle this immense power output, the subwoofer comes fitted with a Kevlar-treated cone, which boosts the unit's durability. The cone combines well with a Santoprene surround to support the subwoofer's delivery of hard-hitting bass.
Increased subwoofer accuracy is achieved through the subwoofer's implementation of a new spider-cone-voice coil attachment method. The same system ensures rigidity throughout the sub's motor structure.
On the downside, the Alpine R-W10D4 sub does not come with an enclosure. You will need to acquire this component separately.The additional components needed to maximize the performance of this sub may prove costly.

---
7. Best High-efficiency: Sound Storm Labs LOPRO10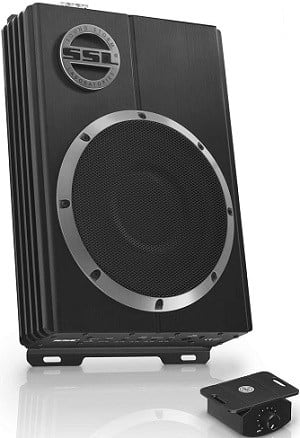 Power Handling: 1200W (Peak), 600W (RMS)
Impedance: 4 Ohm
An industry-leading power supply combines seamlessly with a built-in amplifier to make Sound Storm Labs LOPRO10 a highly efficient 10-inch car subwoofer that minimizes power draw while boosting performance.
The subwoofer is powered by a metal oxide semiconductor field-effect transistor (MOSFET) power supply that improves many performance aspects of the sub. It improves switching speeds, enhances low-power performance, and lowers gate-to-drain feedback capacitance.
Other gains introduced by the MOSFET power supply are lower thermal impedance and higher switching frequencies. The subwoofer has especially proven in resisting the high temperatures often generated at coil level.
For deep and accurate bass, the sub offers a variable low-pass filter that removes all the high notes from the unit. The lows get amplified to the levels a premiums bass sub should reach.
If your car's factory-installed or aftermarket radio does not come with low-level RCA inputs, no need to worry because this sub high-level inputs provide a seamless connection to either of these units.
The Sound Storm Labs LOPRO10 subwoofer does miss out on mounting brackets for a hassle-free installation.

How to Buy the Best 10-Inch Car Subwoofer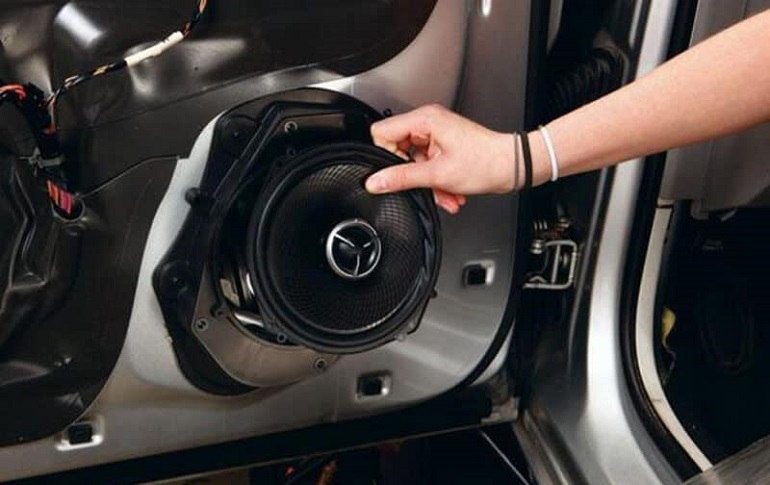 1. Power Handling
The performance of your 10-inch subwoofer depends largely on its power handling, which is represented in peak and RMS watts output.
Peak power is the highest amount of power the sub can handle in short bursts, without distortion or blowing.
RMS power, on the other hand, represents the amount of continuous power the same unit can take. RMS is always lower than peak power, but the former is more important.
For 10-inch subs, RMS of 200W and above translate to high power handling, which contributes to loudness and deep bass over long playback periods.
If enhanced power handling is a priority when choosing a sub, then consider Alpine R-W10D4, which has a high RMS output of 750W.
2. Sensitivity
Subwoofer sensitivity refers to the degree of loudness the unit can reach on given input power. It is measured in decibels (dB).
Sub sensitivity in the 85 dB - 90 dB range is generally considered sufficient for good-quality audio. That's because high sensitivity reduces sound distortion.
It's common for subwoofer sensitivity to exceed 90 dB in many models. Such subs can get loud while still maintaining high bass accuracy. Pioneer TS-SW2502S is one such subwoofer whose sensitivity peaks at 91 dB, making the unit loud with enhanced bass accuracy.
3. Impedance
The resisting property of the subwoofer and other speaker coils is referred to as impedance and is measured in ohms.
You can also think of impedance as the input load the coils can withstand. Most 10-inch subwoofers come with a 4-ohm or 2-ohm impedance.
If you want a hard-hitting subwoofer, aim for a high-impedance model because the coil resistance will enable it to take most input loads from the amplifier effortlessly.
Although a lower-impedance sub may not be suitable for power-pumping amps, it may work great if you want a light-duty unit that's easy on the bass.
4. Cone Size and Material
The subwoofer cone is a vital speaker component that's responsible for creating the up and down movement, which produces the sound we hear.
When it comes to subwoofers, cones have to be strong and well-built to ensure they can withstand the raw power and thump generated across the entire speaker.
A lot of the top 10-inch car subwoofers currently available feature premium cones. The Alpine R-W10D4 has a Kevlar-treated cone while the Pioneer TS-SW2502S4 comes with a MICA injection-molded resin cone for enhanced bass accuracy.
5. Voice Coils
Voice coils are at the core of a subwoofer and pretty much all standard speakers. Coils receive and transmit the input power from a sub's amplifier.
By reacting to the magnetic field surrounding the coil, the cone moves to create sound. Subwoofers may have single or double voice coils. The latter coil structure is more common.
Dual voice coils, especially 4-Ohm ones, are typically preferred because they enhance input power flexibility and allow subwoofers to handle more power from amplifiers.
The same dual voice coils allow wiring of each coil to a separate amplifier channel if you're not for amp bridging.
Conclusion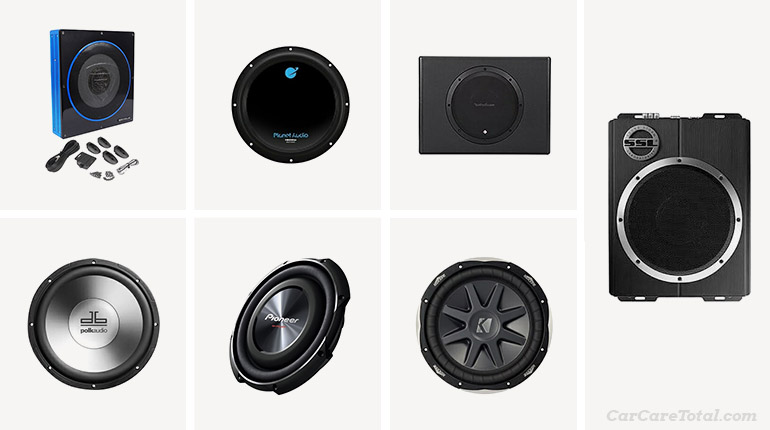 10-inch subwoofers can transform your car's music performance, especially if the factory-installed radio doesn't cut it.
If you want the best 10-inch subwoofer for your car, go for the Rockville RW10CA. The unit is CEA-2006 compliant and its power is optimized for excellent bass performance. It is also slim and space-saving.
If you're looking for excellent value for your money, get the Rockford Fosgate P300-10. It is powerful and highly-optimized for consistent performance across the amplifier and enclosure.
If space-economy is a priority for you, Cerwin Vega VPAS10 is compact, slim, and will easily fit under the car seat.