The AGM batteries are quickly becoming the go-to car battery for many car manufacturers and motorists looking to replace or upgrade what they have.
What makes them fantastic is that with the best car AGM battery, you get superior performance as they typically deliver more power. Additionally, they have higher cold cranking amps, a low discharge rate, and long service life.
If you are looking to upgrade your vehicle's battery with an AGM one, here we help make it easier to separate the top quality ones from cheap knockoffs with a review and buying guide.
Editors' Picks for Top Car Agm Batteries of 2021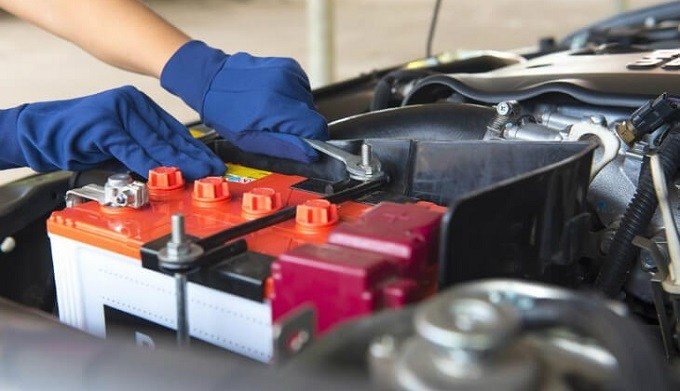 Summary of 7 Best Car AGM Batteries
IMAGE
PRODUCT
FEATURES

1. Universal Power Group UB121000 (Best Overall)

High 100 Ah capacity
Long reserve time of 195 minutes
Mountable in any position

2. Optima 8025-160 (Best for Starting Engine)

Optimal starting power in any weather

Superior vibration resistance
Spillproof construction

3. Optima 8016-103 D34M (Best for RV)

Dual-purpose design for RV use
120-minute reserve capacity
Stainless steel stud posts

4. Weize YTX20L-BS (Best Budget)

Budget-friendly
Low self-discharge rate

Excellent leak resistance

5. ACDelco 94RAGM (Best for Cold Weather)

High cold cranking amps, 850 CCA
High-density negative paste
Improved acid circulation
Robust envelop separator

6. Mighty Max Battery ML35-12 (Best Brand)

Exceptional quality battery by a top brand
High performance in high & low temperatures
Non-spillable design

7. Odyssey PC680 (Fast Recharge)

Fast full recharge in 4 to 6 hours
Corrosion-free studs
Superior vibration resistance
1. Best Overall: Universal Power Group UB121000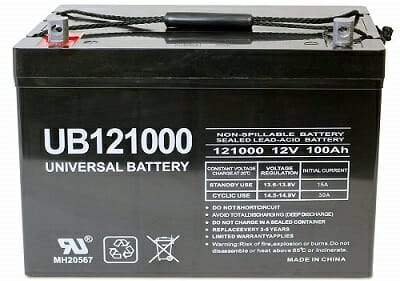 Power: 12V/100Ah
Reserve Capacity: 195 minutes
Warranty: 1 year
The Universal Power Group UB121000 is our best overall AGM battery as it has a high capacity, maintenance-free design, and more flexibility when it comes to mounting.
With a capacity rating of 100 Ah, this battery is perfect when you have many things to power, such as in an RV, as it delivers adequate power and lasts a long time.
Additionally, it has one of the highest reserve times on our AGM batteries review, up to 195 minutes.
Unlike many others out there that still need frequent servicing, it is entirely maintenance-free to ensure hassle-free ownership. Additionally, there is no need to worry about messy spills as it is non-spillable.
When it comes to mounting, the battery provides more flexibility by allowing placement in any position. Therefore, if you do not have a lot of space to spare or are forced to mount your battery in an awkward position, this model is perfect.
Some users do not like that at 60 pounds, this battery is quite heavy, and its one-year warranty is relatively short. However, if you will be mounting it at a fixed place, the weight is hardly an issue, and the short warranty does not take anything from the fact this is a top-quality AGM battery.

---
2. Best for Starting Engine: Optima 8025-160
Power: 12V/44Ah
CCA: 720
Reserve Capacity: 90 minutes
Warranty: 2 years
For motorists looking for a reliable AGM battery they can use to start their vehicle with ease, even in inclement weather, the Optima 8025-160 is a fantastic choice. The 44 Ah battery provides optimal ignition power to ensure reliable starts every time.
Additionally, it offers up to 15 times more vibration resistance than regular lead-acid batteries, ensuring maximum durability.
What's more, it has a spillproof design to allow mounting in any position. Better yet, the battery is small and compact, meaning it takes up little space in the vehicle.
The 90-minute reserve capacity is quite decent and handy for most motorists, and they also love that it recharges quite fast. Better yet, this battery does not require any maintenance at all for its entire service life.
Although the Optima 8025-160 is a little pricier for a starting battery, you can be sure of getting value for every buck you pay for it as it provides outstanding performance.

---
3. Best for RV: Optima 8016-103 D34M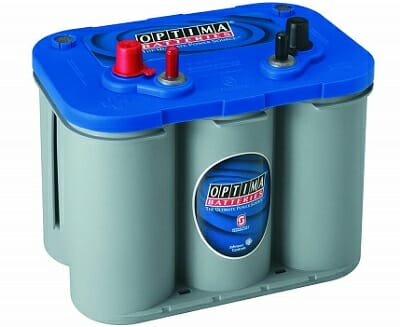 Power: 12V/55Ah
CCA: 870
Reserve Capacity: 120
Warranty: 2 years
If you have an RV, the Optima 8016-103 D34M is the perfect AGM battery for you. It is a dual-purpose battery that is ideal for both starting and deep cycle. The battery offers optimal starting power in any weather with up to 870 cold cranking amps.
Everything about this AGM battery is made to withstand both freshwater and saltwater with ease. Therefore, it is also excellent for marine use as a boat battery.
The battery has some stainless steel stud posts that offer long service life and are resistant to corrosion. Additionally, it has a 120-minute reserve capacity and superior vibration resistance.
Some motorists do not like the packaging of the battery as it seems sub-par. But, provided it does not arrive damaged, this is hardly an issue. The price is one of the highest on our list, but you get what you pay for.

---
4. Best Budget: Weize YTX20L-BS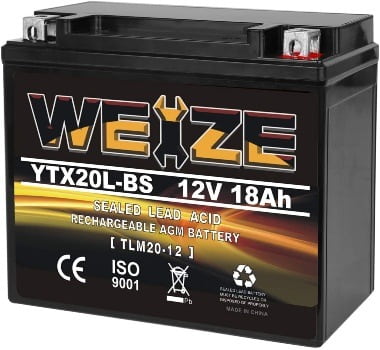 Power: 12V/18Ah
CCA: 270
Warranty: 1 year
Any motorist looking for an AGM battery that delivers exceptional service but is on a tight budget, the Weize YTX20L-BS is a fantastic choice.
This AGM battery works for a wide variety of vehicle types, from ATV and UTV to snowmobiles, and is also great for motorcycles.
This battery is more resistant to leaks, meaning you can mount it in a wide variety of positions. Additionally, it offers high cranking amps for easy starts, and it does not require any maintenance. Also, this AGM battery has a low self-discharge rate to allow you to keep it in storage for extended periods.
Although the 18 Ah capacity is relatively lower than many other options on our list, it is still quite decent for a budget battery.

---
5. Best for Cold Weather: ACDelco 94RAGM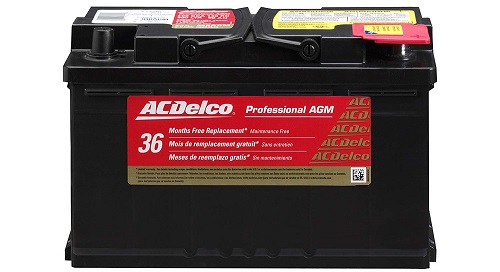 Power: 12V/80Ah
CCA: 850
Reserve Capacity: 140 minutes
Warranty: 3 years
With higher cold cranking amps of up to 850 CCA, the ACDelco 94RAGM is an ideal battery model for use in cold weather as it makes the vehicle easy to start even as the temperatures dip.
Additionally, this AGM battery has a nice vent cap design to help limit acid leakages. Therefore, you get more flexibility when installing it as you can mount the battery in a wide variety of positions.
This battery has a decent 80 Ah capacity and 140 minutes reserve capacity that is also quite good. Moreover, the battery uses high-density negative paste to improve performance and battery life.
A robust envelop separator also allows for improved acid circulation, helping the battery run cooler and preventing shorts.
Some motorists find this battery a little hard to install given its size and design, but things should be easier with a proper long neck tool. Also, the faster self-discharge rate is often not a deal-breaker if you use the battery frequently.

---
6. Best Brand: Mighty Max Battery ML35-12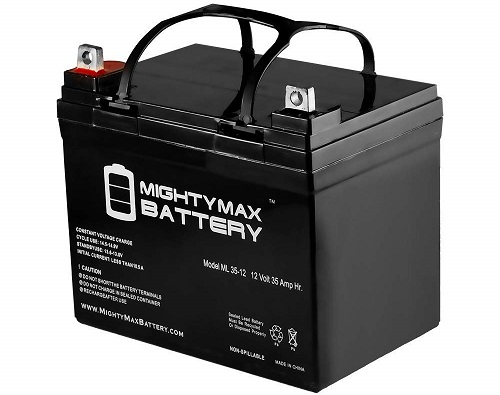 Power: 12V/35Ah
Warranty: 1 year
Mighty Max is a famous battery brand specializing in making top-quality batteries that utilize the finest materials and advanced technology. Hence, if you prefer a top brand AGM battery, the Mighty Max Battery ML35-12 is an excellent option.
The battery is non-spillable, meaning you can mount it in any position with no issues. Besides being spillproof, another element making this a flexible and versatile battery is the universal connector leads that ensure you can use it on almost any vehicle.
This Mighty Max battery works well in both high and low temperatures. Better yet, it offers higher resistance to shocks and vibration for long service life.
While this 35 Ah battery is not as powerful as others on our list, it should still deliver enough power to start and keep most vehicles running.

---
7. Fast Recharge: Odyssey PC680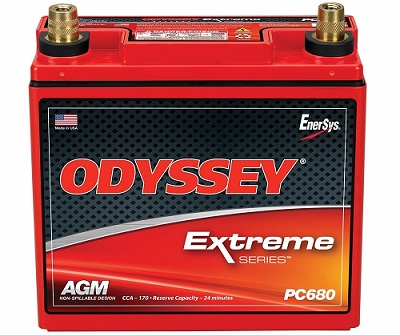 Power: 12V/16Ah
CCA: 170
Reserve Capacity: 24 minutes
Warranty: 2 years
The Odyssey PC680offers one of the fastest recharge times on our list. It takes just 4 to 6 hours to attain a full charge, minimizing the downtimes for the AGM battery.
Durability is also guaranteed for this battery because it has some long-lasting, corrosion-free studs and a solid overall build quality. Additionally, it has superior protection from high impact shock and vibrations for an even longer service life.
Like most other top AGM car batteries, this model is non-spillable to allow you to mount it in any direction.
This battery's two main shortcomings are the lower 170 CCA value and smaller reserve capacity of just 24 minutes. However, for the battery's price and intended use, both are still quite decent.

How to Buy the Best AGM Car Battery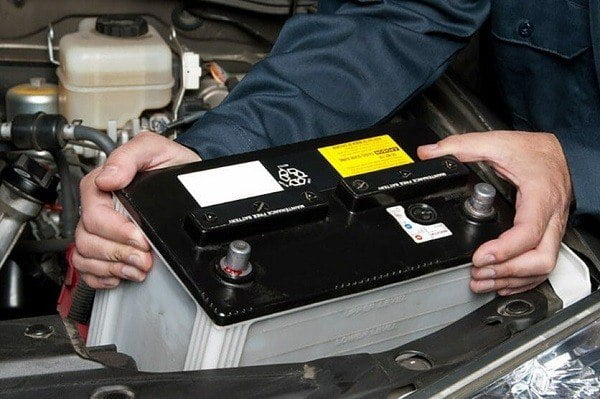 1. Compatibility
Even if an AGM battery promises universal compatibility with most vehicles, you still need to check whether it can work for your car.
Here you need to keep an eye out for things like capacity, which is indicated in amperage per hour (Ah), and voltage to ensure that both are right for your vehicle type and model.
It is vital to remember that a battery with a high capacity requires a bigger alternator or more time to recharge. If you do not use your vehicle a lot or have a small alternator, purchasing a big capacity battery is counterproductive.
2. Reserve capacity
The reserve capacity is the time a fully charged AGM battery takes to discharge at normal temperature.
Compared to a typical lead-acid battery, the AGM has a remarkably high reserve capacity as it is more heavy-duty. In general, you should expect a good AGM battery to have a reserve capacity of at least 50 minutes.
However, this value still depends on your usage. If you do not use a lot of power in your vehicle, a smaller reserve capacity like the 15 minutes you get from the Chrome Battery YTX12-BS can still be enough.
3. Cold Cranking Amps
The CCA or cold cranking amps is the battery's ability to produce a current in cold temperature.
The higher the CCA, the more beneficial the battery is in winter as it will give you an easier time starting the vehicle.
At least 600 CCA is often good enough, but an 870 CCA model like the Optima 8016-103 D34M is even better for those who live in cold regions or are looking for a winter battery.
4. Lifespan
Since the AGM batteries can be quite expensive, you need to make sure what you buy is durable.
Most manufacturers display their battery lifespan directly on the battery itself. It ranges from one year to 5 years. But some like the heavy-duty Odyssey PC680 can last up to an impressive 10 years.
However, also note that typically the longer the lifespan, the pricier the battery. Therefore, you need to strike a balance between cost and durability for the best value.
Conclusion
The AGM battery is unbeatable when it comes to performance, reliability, and durability. That said, like any other type, you need to get the best one for excellent service, and this guide should help narrow down your choices.
For our recommendations, the Universal Power Group UB121000 is our best overall model as it has higher power and reserve capacities and offers more flexible mounting.
The Weize YTX20L-BS, on the other hand, is what we recommend for motorists looking for something more budget-friendly.
Sources
The Advantages of an AGM Battery - Pep Boys