Off-road lights do not only make an off-road vehicle look better, it also improves driving safety and helps to create a richer night-time driving experience.
These auxiliary lightings complement your vehicle's stock headlights to offer better visibility for the trail ahead. You can either opt for a wider view of the trail or for a farther view, which is better suited for high speeds.
Off-road lights are usually mounted on top of the vehicle to offer the widest and furthest illumination possible. Further visibility options include the type of beam produced by the light, of which there are three types.
This best off-road light review focuses on providing you with a list of the top lights in the market, as well as enough information to help you to make the right choice.
Editors' Picks: Top Off Road Lights of 2021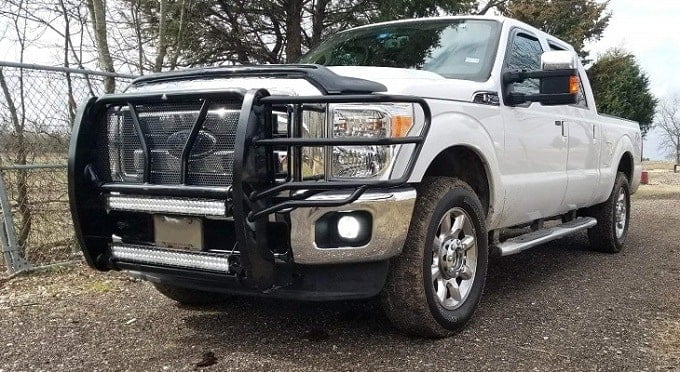 Summary of 7 Best Off Road Lights
IMAGE
PRODUCT
FEATURES

1. Auxbeam 6598343434 (Best Overall)

Two bars with combined 7,200-Lumen output
Offers a combo spot and flood beam
IP-67 rated against water and dust ingress

2. Auxbeam 77718286AX

Set of two LED pods
Each produces 1,800 Lumens at 6,000 Kelvins
Working lifespan of over 50,000 hours

3. Nilight 60001SA

Set of two spot beam road lights
Comes with adjustable mounting brackets
Rated lifespan of over 50,000 hours

4. MicTuning 3B139C

Produces 8,000 Lumens at 6,000 K
22 inches wide and curved light bar
Combo spot and flood beams
Backed by a 2-year warranty

5. Nilight NI06A

20-inch wide off-road light bar
Offers a combo spot and flood beam
Backed by a 2-year warranty

6. Turbo SII Pods

Four light pods with adjustable mounting brackets
The mounting brackets adjust up to 45 degrees
LED chips have a long lifespan over 50,000 hours

7. SLDX E25Z12

Super-wide and curved 52-inch light bar
Package produces over 20,000 Lumens
Includes wiring harness
1. Auxbeam 6598343434 - Best Overall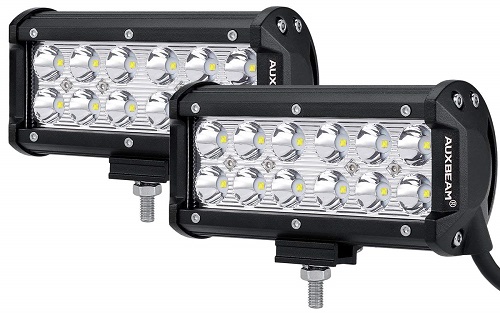 Length: 7 inches
Power: 72 Watts
Lumens: 3,600
Operating Voltage: 9-32 Volts
Auxbeam makes you an offer of the best LED off-road light here with this 7-inch long light bar. It's made using Cree LED chips and there are 24 of them with a 3-Watt consumption each, making it one of the best LED off-road lights.
This brings the total power consumption to 72 Watts, with which the bar produces 7,200 Lumens of brightness. There are also three sections of the bar, which includes a spotlight in the middle, with a 6-LED floodlight on each side.
The spotlights have a 30-degree beam angle to maximize their focus and reach, while the floodlights each have a 60-degree wide beam angle.
The bar also comes with mounting brackets which are adjustable, allowing you to adjust the light beam to your liking.
For the downside, the warranty is only a year long and the rated lifespan is 30,000 hours. Auxbeam, however, rates it IP-67 against water and dust ingress and it enjoys CE and RoHS certifications.
Manufacturer warranty is only one year

---
2. Auxbeam 77718286AX Off Road Lights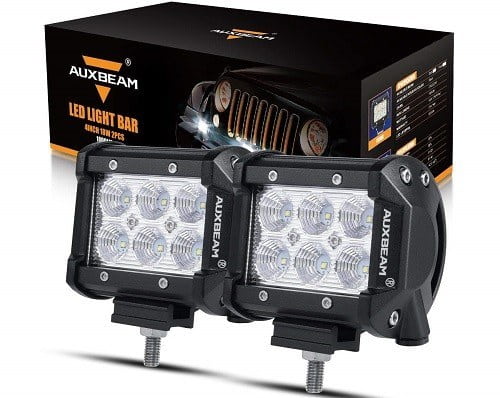 Length: 4 inches
Power: 18 Watts each
Lumens: 1,800 each
There are times you may need something a little out of the ordinary, an approach to your off-road lighting with a level of creativity that gives your vehicle a unique look.
This package includes 2 pieces of 4-inch wide LED pods and although they are not the brightest off-road lights, they each produce up to 1,800 Lumens of floodlight brightness, which is not much but okay.
You can mount them on an ATV, truck, SUV, and on any other useful platform, you can think of. Auxbeam expects the Cree LED chips to last for at least 50,000 hours each, thanks in part to their well-designed heat dissipation system.
Each pod uses 18 Watts and accepts input voltages between 9 and 32 Volts. It produces only a flood beam with a 60-degree beam angle and a 6,000-Kelvin temperature. Auxbeam backs the package with its standard 1-year warranty.

---
3. Nilight 60001SA Off Road Lights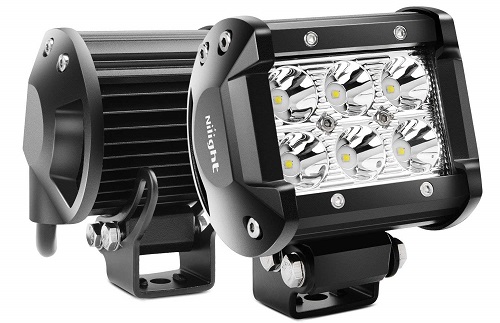 Length: 5 inches
Power: 18 Watts
Lumens: 1,260
Operating Voltage: 9-30 Volts
Nilight belongs to the list of top off-road light makers and this offer here is proof of that. It offers two light pods with a 1,260-Lumen high-intensity output each.
This top-rated off-road light also comes with everything that's necessary for the installation, including mounting brackets and a 2-year warranty.
Each pod produces up to 1,260 Lumens of a spot beam and the chips have a rated working lifespan of over 50,000 hours. It has an input voltage tolerance of 9 to 30 Volts, making it able to use on both 12-Volt and 24-Volt vehicles without an issue.
Nilight builds it with a 6063 aluminum housing for durability and each pod has an IP-67 rating, meaning it can withstand a 30-minute submergence in up to a 1-meter depth. It also has CE, RoHS, and FCC certifications for quality.
This set only offers spotlight beams
There are brighter light bars


---
4. MicTuning 3B139C Off Road Light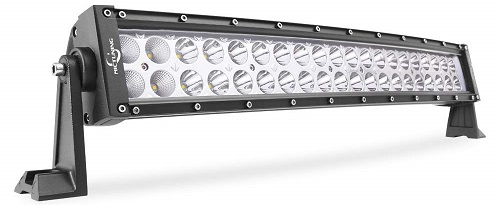 Length: 22 inches
Power: 120 Watts
Lumens: Over 8,000
Are you looking for the best off-road lights for trucks and other large off-road vehicles? This large offer from MicTuning offers you a massive LED bar that's a full 22 inches wide with a light intensity of over 8,000 Lumens.
The light bar is a curved one, made to offer better floodlighting for both the left and right sides, while the center focuses its full 30-degree spotlight beam forward.
MicTuning guarantees that this light stays within the 6,000 to 6,200 Kelvin range and this means that what you get is a pure white light without a blue tint.
The bar is also properly sealed and rated IP-67, which makes it impervious to dust, rain droplets and water up to a 1-meter depth. Its 10 cooling fins is another impressive feature and they help to keep up a cooler temperature and prolong the LEDs lifespan.
For cons, you can't switch between the spot and flood beams, plus this light bar's 120-Watt consumption can be too much for smaller vehicles.

MicTuning offers a 2-year warranty with the possibility to increase it to three if you register. Obviously, the light bar's die-cast aluminum housing holds very well but its output is a mere 8,000 Lumens, which is comparatively inefficient from a 120-Watt consumption.
Produces a 6,000-6,200 Kelvin pure white light

---
5. Nilight NI06A Off Road Light

Length: 20 inches
Power: 126 Watts
Operating Voltage: 9-30 Volts
With its 20-inch width, this light bar features 2-way adjustable mounting brackets for the perfect installation. You can slide the brackets from side to side behind the bar, and you can adjust their angle as well to direct the light's beam.
It comes with a combo light offer, which includes flood and spotlights. They use a total power of 126 Watts to produce a high-quality off-road daylight beam experience, making them one of the best off-road lights for Jeeps.
The light has a 6,000-6,500 Kelvin color temperature, PC lens, and a 6063 aluminum housing with stainless steel brackets. Nilight rates its working lifespan at 30,000 hours and its working voltage between 9 and 30 Volts.
Designed for larger off-road vehicles, this light is also not curved, meaning that all its light output will face forwards. If you are considering higher-speed trail drives, then this is better than curved 20-inch light bars.

---
6. Turbo SII Pods Off Road Lights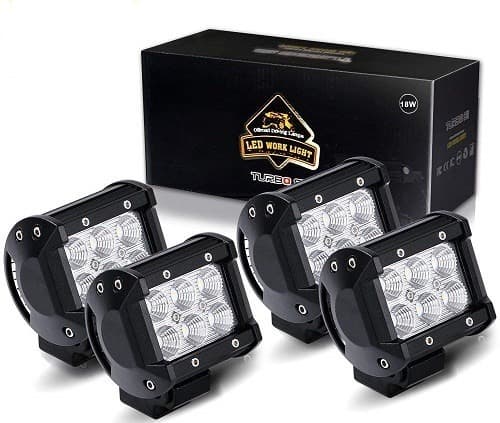 Length: 4 inches
Power: 18 Watts
Lumens: 1,260
Operating Voltage: 9-30 Volts
If you're looking for the best off-road lights for the money, then this set of 4 LED pods come at a low and attractive price and they also offer you a few impressive features.
Each pod features 6 LED chips which combine to use a total of 18 Watts of electricity per pod. This translates to 1,260 Lumens of brightness per pod or over 5,000 Lumens for all four pods.
You are free to install these off-road lights as you please, from 4x4s, trucks, construction equipment and lots of other vehicles that can benefit from these best off-road lights for the money.
Each pod is IP-67 rated, has an over 50,000-hour working lifespan, and comes in a protective 6063 aluminum housing.

---
7. SLDX E25Z12 Off Road Light Bar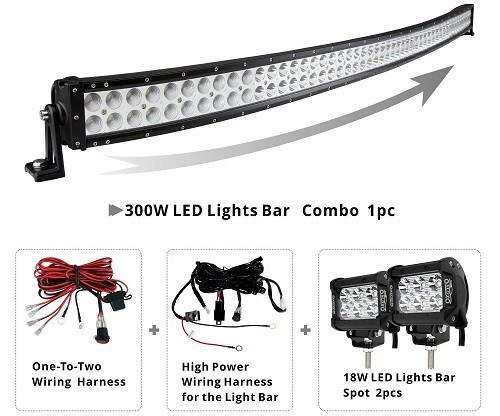 Length: 52 inches
Power: 300 Watts
Lumens: 20,400
Operating Voltage: 9-32 Volts
It's obvious that the best off-road light for jeeps and other off-roaders should be wide and powerful enough to offer the most illumination for the road ahead.
This offer from SLDX is a 52-inch wide monster with 100 individual LED bulbs. It's the brightest off-road lights in this review and additionally includes 2 more LED spotlight pods with an output of 1,200 Lumens each.
The package also includes the wiring harnesses for the large and small lights. The large light draws 300 Watts of power and produces 18,000 Lumens, which is somewhat inefficient. The two pods draw 18 Watts each.
Its curved nature lets this 52-inch power light to illuminate both forwards and its sides for the best lighting experience with a combo pattern that features both spot and floodlights.
The lights are IP-68 rated for the most protection against water and dust ingress, plus SLDX backs the package with a 1-year warranty, which is the shortest on this list.

How to Buy the Best Off Road Lights
Off-road lights are special additions to any vehicle that goes off-road from time to time and their increasing popularity is proof of their necessity.
There are different designs and styles though, each with special features that set it apart from the rest. But at the bottom of it all, there are a handful of characteristics that are important for any off-road light bar.
These characteristics are below, with brief explanations to help you understand what to look out for when choosing an off-road light bar. This information will help you to make the right choice.
1. Compatibility
Your first considerations should concern how compatible the light bar is to your off-road vehicle. Does your vehicle support its voltage range? And does it have enough current to power it?
Other considerations include mounting options and cable length. Does your vehicle offer a proper mounting point and does it fit the cable's range?
If all these questions get sorted out, another question you need to ask yourself is your driving style. This question is important because its answer will help you decide on the ideal beam pattern for your vehicle.
2. Beam Pattern
After a bulb produces light, these rays are then directed towards the road to offer illumination. The way this light gets directed, makes it form a specific pattern on the road and its environment. This pattern is the beam pattern.
There are two major types of beam patterns: Floodlights and spotlights. Combining these two types is also possible and this combination creates the third pattern, called the combo pattern.
Following is a look at these patterns:
Floodlight beam. A floodlight beam has its light spread out widely from the light bar. This creates a pattern that spreads out in nearly every direction and allows the driver to see both what's in front and what's around.
A disadvantage of this pattern is that you can't see far away with eye because the light gets scattered in all directions. It's therefore not ideal for high-speed races but okay for rallying, camping, and lighting up large areas.

Spotlight beam. With a spotlight beam, the light pattern is more focused than with a floodlight. The beam spreads out at a 30-degree angle from the light bar and can reach farther ahead than a floodlight beam.
Spotlights are ideal for faster driving like in races, where the driver has to focus as far down the road as possible.

Combo beam. A third option is the combo beam, which combines a spotlight with a floodlight to create a whole new type of light beam that solves the shortcomings of both spotlights and floodlights.
With a combo beam, you can race, light up large areas, and do most of the activities that are not possible with only a spotlight or floodlight beam because you have both beams in one light.
3. Brightness
In addition to beam patterns, light also comes in different intensities and this gets referred to as brightness. A light's brightness gets measured in Lumens and a high-Lumen value means a brighter light, irrespective of the light's color.
Off-road light bars are comparatively very bright and measure in the thousands of Lumens, with an average value of 5,000 Lumens and upwards.
4. Durability
There are two major factors that determine a light bar's durability. The first reason is the material of the housing, which provides a long life if for it if it's made from a high-quality material like aluminum.
The second reason is the LED chips' quality. These LEDs are the light emitting diodes that produce the light. When they get made from high-quality materials, they will burn brighter and last longer.
5. Ease of Install
One more thing to watch out for is how easy it is to install the light bar. Does it come with mounting brackets and does it offer you the ability to make adjustments?
Also check to make sure that the package includes everything you need for the installation, like a wiring harness with enough cable length.
6. Safety Features
Going off-road is rough and so, you need to make sure that the light bar you buy can withstand the possible challenges of off-roading like water splashes, rains, rock impacts, dust, e.t.c.
A good way to measure such protection is with the ingress protection (IP) rating. An IP rating of 67 or 68 is good because this means that your light bar can withstand most of the challenges that it may face on the trail.
Conclusion
We have reached the end of this best off-road light review and you've seen some of the most interesting and high-quality offers out there.
From small 4-inch light pods to giant 52-inch monsters and every other thing in-between, you have seen that each type of off-road light fills a specific need and so, your choice will depend on what you need.
It's therefore left for you to think about your driving pattern, your type of vehicle, and the type of beam that you need before you make your choice of an off-road light for your vehicle.