What We Don't Like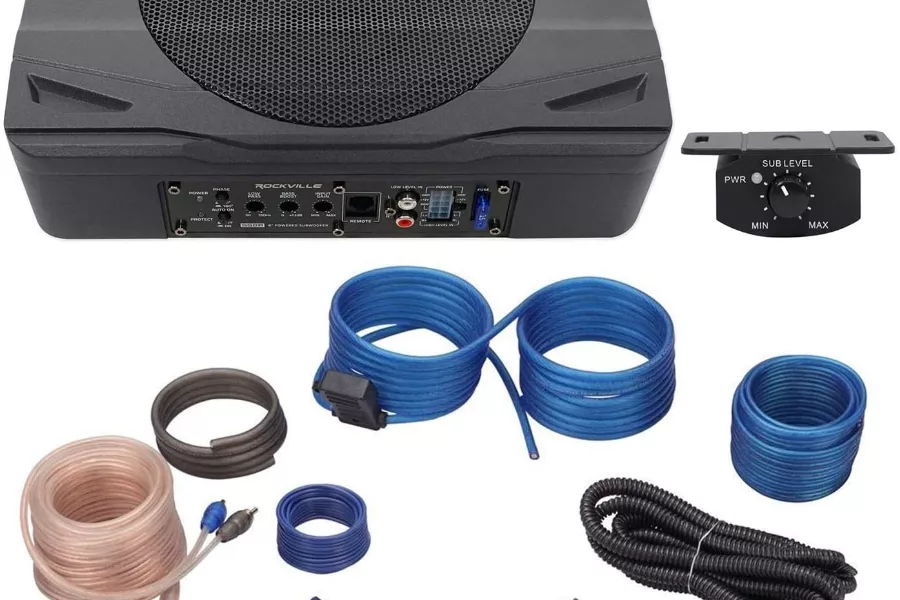 Bottom Line
Despite being a more budget-friendly model, this 400-watt peak power subwoofer with an 8-inch cone still packs a punch and will be perfect for most vehicles.

Rockville SS8P Review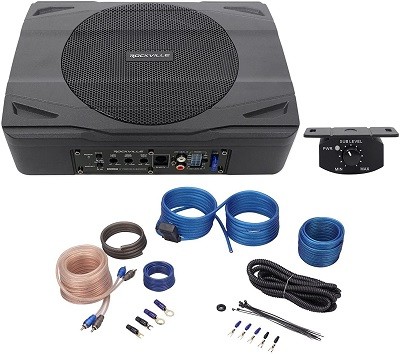 The Rockville SS8P is a powerful 8-inch subwoofer that is designed for installation under a car seat. This subwoofer is powered, which means it has a built-in amplifier that eliminates the need for an external one and will also come at a more budget-friendly price.
Rockville makes this subwoofer with a solid cast aluminum enclosure that stays cool throughout. With its high-level inputs, the installation will be a breeze, and with the various protection circuits, the operation is also safer. But the sound quality is what many motorists love most.
Sound Quality: Great and easy to tweak
For an 8-inch car subwoofer, the sound that you get on the Rockville SS8P is hard to beat. And this is even more so given its smaller price tag.
This subwoofer is slim and smaller than most typical car subwoofers, but it will produce almost the same sound quality that you will get in a full-size subwoofer. It is quite powerful as it delivers 400-watt maximum handling power and 100 watts RMS.
But, perhaps what many motorists will love is that the sound can be easily tweaked to their liking. And so whether you like the lows more prominent or are the kind that prefers bass over everything else, you can fine-tune this subwoofer to your liking.
Also, you will never have to worry about burning out the speaker no matter how you tweak it as it is designed with thermal, overload, short protection circuits.
Design & Construction: Solid built with cast aluminum enclosure
This small car subwoofer by Rockville is made to not only deliver exceptional sound quality but also to do it for a long time as it also has a solid overall construction.
One of the most outstanding elements of its design is the cast aluminum enclosure. This housing can take a beating for a long time. And besides being highly durable, it is also designed to remain cool throughout the subwoofer's operation.
Hence, you can be confident that this subwoofer will not burn the car seat's fabric or any other fabric close by no matter how long you keep it running.
Still on the design and construction, everything else is also made from heavy-duty materials for long service life. For example, the RCA cables have a top of the line 100% copper material, and the outer jacket is a rugged PVC that will provide improved flexibility and exceptional resistance.
Installation Process: Quick and quite easy
You will not have to dread the installation if you buy the Rockville SS8P or even incur an extra cost to pay a vehicle sound system guy to set it up for you. Installation is quite straightforward even for the inexperienced motorist.
First of all, this is a powered car subwoofer, which means the amplifier is built-in, and so you will no need to make any connection from your external amplifier, and this means there will be less work for you.
Another element that will ensure that you have the easiest time with the installation is the high-level inputs. These inputs will allow you to install the subwoofer to both the aftermarket and factory systems. Also, there will be no need to run a wire from your receiver, and installation can also be done even when there are no preamp outputs.
Better yet, all the inputs and outputs are placed on one side of the subwoofer, which means that you will have an easier time locating everything. This design also ensures you end up with a neater installation as no cables and wires are crisscrossing everywhere.
Storage: Slim and space-saving
While many car subwoofers, and this is more so the under-seat types, are known to be quite small, the Rockville SS8P is surprisingly even smaller than most others out there. This car subwoofer is even more famous for its super-slim design.
According to the manufacturer, "The SS8P is an all in one solution to give you great sounding bass in your vehicle without taking up a lot of space." It is just 2.8-inches thick, which means it does not need a lot of clearance, and hence you can place it under almost any car seat.
Furthermore, the subwoofer is a mere 11.3 inches long and 8.3 inches wide, and so you can store it in other places like even the car door for those that might prefer this kind of installation.
For a typical under car seat installation, the provided mounting feet are also low-profile to ensure they will take up almost insignificant space. Hence, with this subwoofer, you can be certain that storage will hardly ever be an issue for you.
Controls & Connectivity: Simple and reliable
One of the elements that will draw many users to this subwoofer when it comes to the controls and connectivity, is the inclusion of a bass control knob. With this control knob, you will have a reliable and effective way to fine-tune the bass output, which is just what many motorists want.
Also, this Rockville car subwoofer will make use of a smart turn-on circuit that is designed to make life easier for you. It will automatically sense when a signal is available and turn on the amplifier, and when you switch off the music, it also senses this and switches it off.
There is also a volume level control that makes it easy to adjust the volume to suit your preferences. And with the subsonic filter, you can easily filter out the sound. Other controls like bass boost, phase control, and input sensitivity further ensure you have full control over the subwoofer.
Price: Quite budget-friendly
The price is where the Rockville SS8P beats most other 8-inch subwoofers from Rockville and many other top subwoofer brands hands-down. It is one of the cheapest options out there, and to get a similar quality model, you will have to spend almost double what you pay for it.
But, what truly makes the price amazing is that despite this being a more budget-friendly model, it still maintains the quality that Rockville has become known for over the years.
Better yet, the subwoofer will also come with a wide variety of accessories and a complete wire kit to ensure that you get even better value for your cash. And because you will not need to pay someone for the installation as it is straightforward, and this subwoofer is built to last, you can be confident of even getting better value for your bucks.
Verdict
Excellent value powered subwoofer that comes at an affordable price tag and with great sound quality.
For an 8-inch subwoofer, the Rockville SS8P is hard to beat as it comes at a budget-friendly price tag and still produces up to 400 watts peak power. Also, it has high-level inputs and a slim design for easy installation. Add this to the amazing controls, and you have a perfect car subwoofer.
Specs
Product Name: Rockville SS8P
Product Brand: Rockville
Power: 400 watts peak and 100 watts RMS
Sensitivity: 90 dB
Impedance: 2 Ohm
Dimensions: 11.4 x 8.3 x 2.8 Inches
Weight: 11 pounds
Warranty: 1-year
Key Features
400-watt peak power is quite powerful for an 8-inch subwoofer
Complete wire kit for easy installation
High-level inputs make installation a breeze
Heavy-duty mount for secure mounting
2.8-inch thick to fit perfectly under a car seat
Thermal, overload and short protection circuits for safe use
Cast aluminum enclosure stays cool at all times