If you love listening to music in your vehicle, the factory system is almost always never good enough, and this is more so when it comes to the bass output. Hence the need to give it an upgrade by investing in the best car amplifier for bass.
With a good amplifier in your vehicle, you will get a more booming bass and several other advantages. The key among them is that it also makes the sound louder than what the factory system delivers and enhances clarity significantly.
Car amplifiers are also very useful for powering subwoofers as the factory system, and their built-in amplifiers might not do a good enough job. Here we review some top models and give you a buying guide to help you pick a good one from the many options out there.
Editors' Picks for Top Car Amplifiers for Bass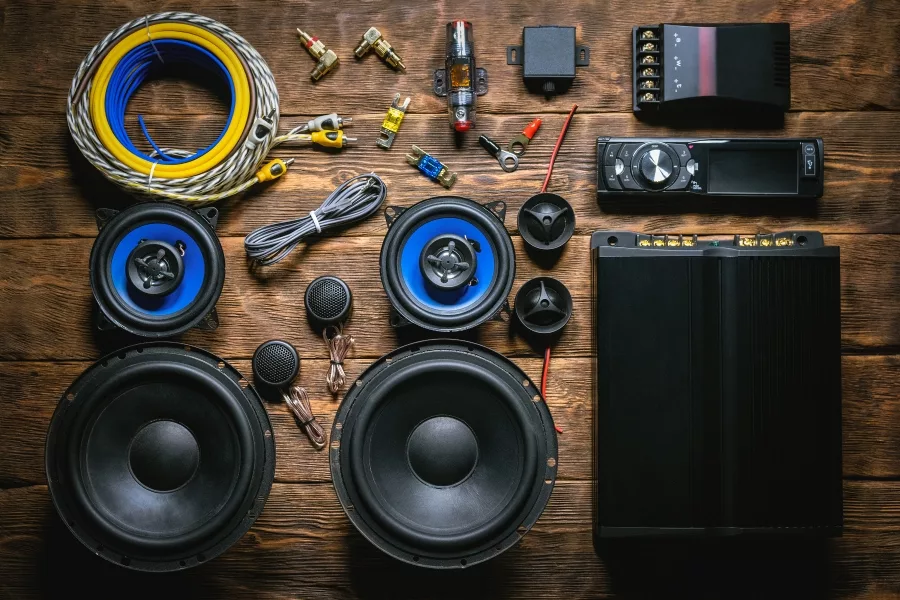 Summary of 7 Best Car Amplifiers for Bass
IMAGE
PRODUCT
FEATURES

1. Rockford Fosgate R500X1D (Best Overall)


Higher efficiency design
Cast aluminum heatsink
Stealth top-mounted control panel
Wired remote included

2. Boss Audio R1100M (Best Inexpensive)


Highly affordable
Remote subwoofer control
Both high & low-level inputs included
More compact design

3. Kenwood 1177524 (Best with Built-In Bluetooth)


Bluetooth connectivity option
Water-resistant remote control
Suitable for multiple applications
Simple wiring for easy installation

4. Kenwood KAC-M3004 (Best 4-Channel)


Multiple channels for versatile setups
Easy installation
Fits almost anywhere

5. Rockford Fosgate PBR300X2 (Best Compact)


Small footprint design
Efficient boosted rail technology
Flexible input

6. Planet Audio TR1500.1M (Best Brand)


Customizable sound
Handy remote subwoofer control
Includes high & low-level inputs
Chrome-plated connections

7. Taramp's HD 3000 (Most Powerful)


More powerful - up to 3,000 watts
Great for both voice & bass
Heavy-gauge wires
Smart cooler fan
Best Car Amplifiers for Bass Reviews
1. Best Overall: Rockford Fosgate R500X1D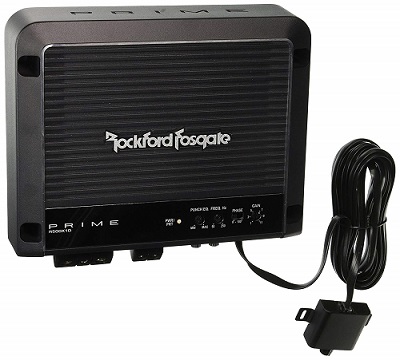 Channel: 1
Power Handling: 500 watts
RMS Power: 300 watts
Impedance: 2 Ohms
The highly efficient design of the Rockford Fosgate R500X1D makes it our best overall car amplifier as it ensures you get superior overall performance.
The top-quality amplifier has a peak power rating of 500 watts at 2 ohms and will never overheat thanks to the efficient cast aluminum heatsink. Better yet, it also has over current and short circuit protection.
Operating this amplifier should be a breeze as it has some friendly top-mounted controls. And with the wired bass remote control, you can adjust the bass conveniently without ever touching the machine.
Other things like the real-time thermal sensing of the output and power supply and the high-level inputs make this an even more fantastic car amplifier.
For the drawbacks, the instructions do not seem very detailed, and the remote looks cheap. However, the installation is still straightforward, even without proper directions, and the remote control is always convenient and should serve you long with appropriate care.

---
2. Best Inexpensive: Boss Audio R1100M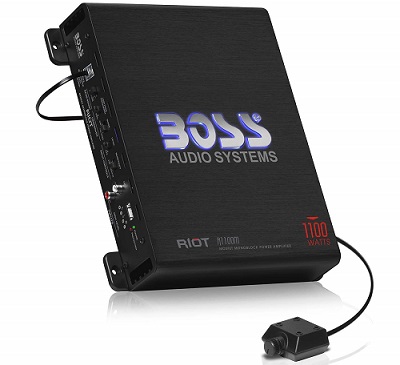 Channel: 1
Power Handling: 1,100 watts
RMS Power: 825 watts
Impedance: 2 Ohms
Boss Audio R1100M is a top-quality car amplifier for motorists looking for something inexpensive to give their vehicle's music system a nice boost. What's more, it is still quite powerful as it delivers a peak power of 1,100 watts.
Because this amplifier will include high and low-level inputs, it should work well with both factory and aftermarket radios. The amplifier has a variable bass boost that makes it possible to adjust the low bass to your liking.
You should not have any issues keeping high notes out of your crossover with the low pass crossover. There is also a wired remote control to make operation more comfortable, and because this is a compact amplifier, you have an easy time fitting it under any car seat.
The vents seem to be in a poor location, but provided you place the unit in an area where you do not block them, you should not have any overheating issues. Also, the instructions could be more precise, but you should still figure things out.

---
3. Best with Built-In Bluetooth: Kenwood 1177524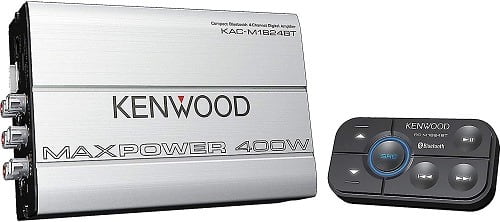 Channel: 4
Power Handling: 400 watts
RMS Power: 180 watts
Impedance: 4 Ohms
With built-in Bluetooth connectivity, the Kenwood 1177524 will give you a wide variety of listening options as you can pair it with different devices.
Besides the wireless connectivity, this car amplifier is also quite versatile as it will be ideal for different applications apart from use on your car, such as marine applications. What's more, it has an IP65 rated remote control with a long wire for easy operation.
Overall, this is also an easy to install amplifier as it has simple wiring, and because it comes in a more compact design, you can mount it almost anywhere on the vehicle. And with its 4 channels, you will have even more setup options.
With a peak power of 400 watts, this is not a very powerful unit compared to others on our list, but it still provides quite a decent bass output.

---
4. Best 4-Channel: Kenwood KAC-M3004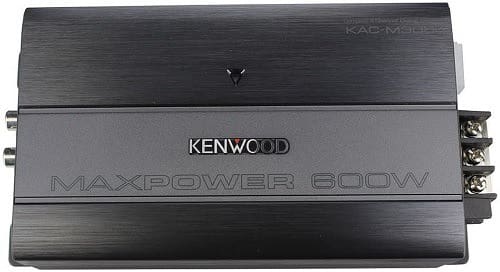 Channel: 4
Power Handling: 600 watts
RMS Power: 200 watts
Impedance: 4 Ohms
If you prefer a multiple channel amplifier that you can easily tweak to suit your specific sound system, the Kenwood KAC-M3004 is your best option on our list.
Besides the multiple channel design, this amplifier allows for easy installation thanks to the high-level inputs that will accept a signal from almost any source. And with the more compact design, it should fit almost anywhere.
You should not have any issues when using this amplifier, even in a moist environment. It has a special coating that keeps water out and is more rugged to withstand the harshest environment.
While the wires could be larger to make them more long-lasting, provided you have a proper connection, they should not burn out quickly. Also, it gets quite hot, but this is typical of most amplifiers in its class.

---
5. Best Compact: Rockford Fosgate PBR300X2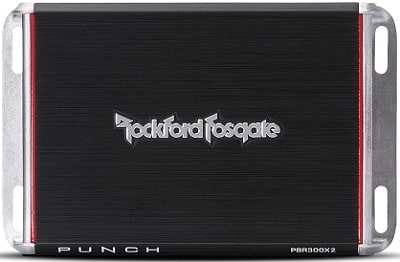 Channel: 2
Power Handling: 300 watts
RMS Power: 200 watts
Impedance: 4 Ohms
The ultra-compact design of the Rockford Fosgate PBR300X2 is its main highlight and perhaps what many motorists will love about this amplifier. With this small footprint, you get to install it anywhere, and it is also ideal for use on other things like motorcycles.
Apart from its compact size, another thing that makes this a fantastic amplifier is it uses the patented boosted rail technology that, besides being more efficient, ensures you get extended bursts of power.
This amplifier gives you more flexibility as it accepts both speaker and RCA level signals to allow you to integrate with factory and aftermarket systems. One more thing motorists will appreciate is the solid overall construction.
This amplifier seems to get quite hot when in use, but if you install in an area where it gets plenty of air, this should not be a big issue. 300-watt peak power is also relatively low but is still enough for this amplifier's size and price.

---
6. Best Brand: Planet Audio TR1500.1M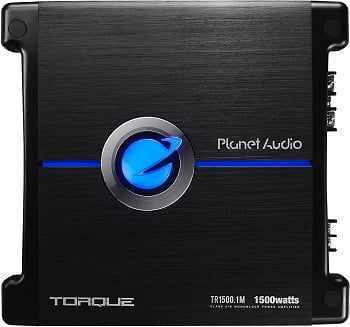 Channel: 1
Power Handling: 1,500 watts
RMS Power: 1,125 watts
Impedance: 2 Ohms
Planet Audio prides in making amplifiers that always deliver superior sound quality while also being designed to last much longer. Hence, if you are looking for something from a brand that you can trust, the Planet Audio TR1500.1M is a choice you will never regret.
This top brand amplifier allows for greater sound customization by including both switchable bass boost and a low pass crossover. And you can quickly turn up the bass without touching the unit as it will come with remote control.
Because this is a more flexible amplifier, it accommodates both OEM and aftermarket sound systems. What's more, the chrome-plated connections will last much longer.
While the wires look quite a small gauge, the good news is that they are surprisingly very high-quality to ensure they can handle the 1,500 watts with no problem.

---
7. Most Powerful: Taramp's HD 3000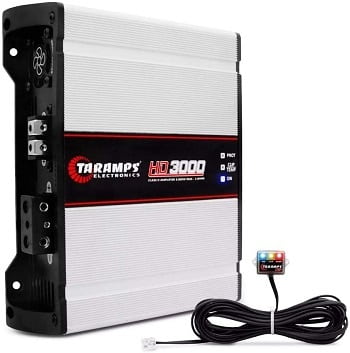 Channel: 1
Power Handling: 3,000 watts
RMS Power: 1,140 watts
Impedance: 1 Ohm
If you are on the market for the most powerful car amplifier, the Taramp's HD 3000 is our recommendation for you. This powerful simplifier has a peak power rating of 3,000 watts at 1 ohm.
With this unit, you will get a significant bass boost and something you can rely on to improve the voice output. And you never have to worry about the unit overheating despite being more powerful as it has a smart cooler system.
The heavy-gauge wires handle the extra power well without burning up. Motorists also love that this unit can work well with both OEM and aftermarket systems as it has high and low inputs to accommodate them.
Although this is the priciest option on our list, it is one of our most powerful amplifiers, and so you can be sure of getting value for what you spend.

How to Buy the Best Car Amplifiers for Bass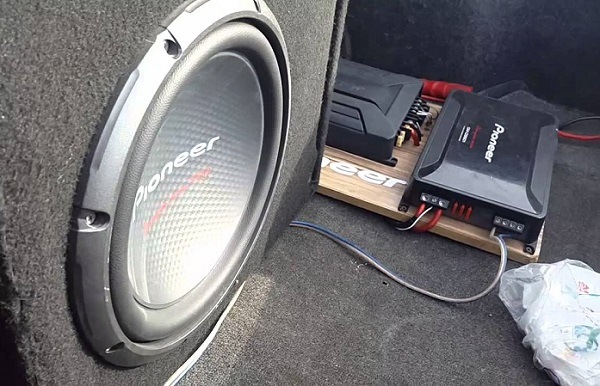 1. Type of Car Amplifier: Based on Class: A, B, A/B, D, G/H
As you choose a car amplifier, the first decision you need to make is the type to buy. While there are different ways of classifying amplifiers, class is the most common method, and here you have to choose from the following five categories.
A: Class A is the most basic car amplifier class, and it uses just one transistor in a linear mode.
B: With a pair of transistors instead of just one, class B car amplifiers will be significantly more efficient than the class A types. The transistors are in a push-pull application, but these amplifiers are a little prone to crossover distortion.
A/B: This class is a mixture of A and B classes, and you find it mostly on the low-cost design car amplifiers. It means that there is a small continuous current when there is no input, and with a high enough input signal, only one of the transistors conducts. But, when the input signal has zero volts, both the transistors will conduct.
D: You often find class D on low-cost solutions for devices that will work as electronic switches instead of linear gain.
G/H: This class improves the A/B in various ways, and both transistors work on the power supply section, meaning if the output power is high, a high voltage power supply will be necessary.
2. Number of Channels
As you shop for the most powerful car amplifier, it is also vital to decide how many channels you need. Most of these machines have between 1 and 6 channels, and each option has its merits.
For example, a single-channel amplifier like the Rockford Fosgate R500X1D and many others on our list provides more power, translating to more significant bass response.
However, a multi-channel amplifier like the 4-channel Kenwood KAC-M3004 provides more setup options, and you can even bridge the channels for extra power. Although these amplifiers still work well for bass, sharing the load between more than one speaker can lower the bass response.
3. Size
The amplifier's size matters a lot, given that most vehicles will not have a lot of space to spare for one, and many do not even have a dedicated spot for aftermarket ones. Hence, if what you buy is too big, you will have difficulties finding room for it in the vehicle.
A good amplifier should be more compact to ensure you can easily tuck it under one seat in the vehicle. Despite the smaller size, it should still not compromise on the power and performance it will deliver.
4. Power
Power is the most critical consideration for motorists when choosing a car amplifier, as it is what determines the bass response you get.
Amplifiers will have peak and RMS power ratings, and to make sure you choose the best model for your vehicle, you need to consider both.
You can expect to get anything from 400 to 5,000 watts for the peak power, while the RMS hardly goes beyond 1,000 watts. Here it is up to you to determine how much power you need and what your vehicle's music system can handle.
Conclusion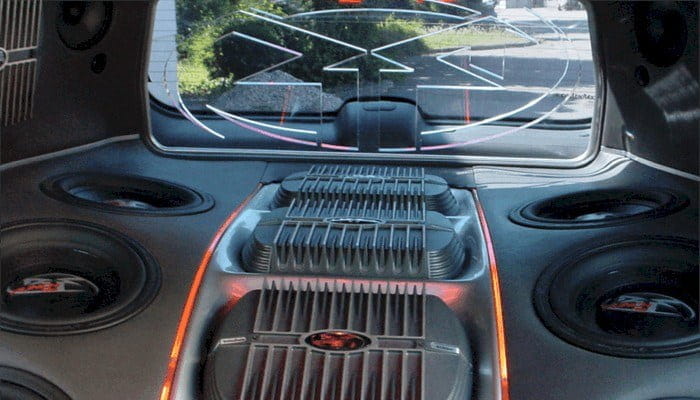 With the best car amplifier for bass, you get one of the most effective ways of improving your vehicle's sound system. Now finding the perfect model is as easy as choosing one from our review above.
That said, the Rockford Fosgate R500X1D is our best overall model thanks to the more efficient design and other things like the cast aluminum heatsink.
For motorists that prefer a more budget-friendly model, the Boss Audio R1100M is our recommendation as it is a more affordable but still high-performing unit.