Your quest to know the reason behind car fires and explosion in movies tend to be a daunting experience. Keep in mind that such a phenomenon tends to occur in real life.
So, do cars explode when catching fire? Not really. Cars tend to run on liquid gas, and it is the reason it cannot blow when setting on fire.
Therefore, a car explosion can only happen when there is a proportion of oxygen, gas, and fire. These cases were sometimes experienced back during the invention of automobiles.
The advancement in motor industry technology guarantees car owners' safety from fire and explosion. Hence, the reason behind the rare cases of a car explosion.
However, there are instances when a vehicle tends to catch fire. The good news is that the confined gas tank hinders the occurrence of an explosion.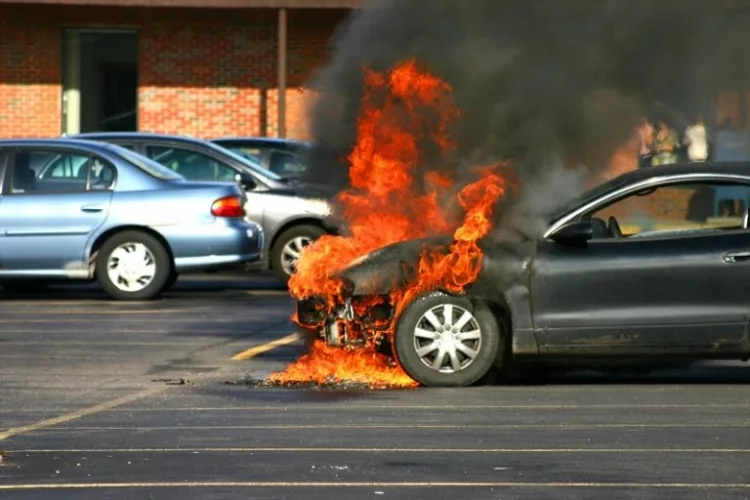 Why Do Cars Catch Fire?
Vehicles tend to catch fire for many reasons. But most of these causes do not result in an explosion. Here are the possible causes:
Road Accident
Most vehicles have a robust design with crumple zones. It helps to offer total protection of the gas tank, engine, and battery in an accident.
However, when a more substantial truck has a head-on collision with a smaller car, it will result in fluid leakage. The proximity of the leaking fluid and heat causes a fire.
Fuel System Leak
Gasoline is a flammable substance present in a vehicle. A leaking fuel system needs to be corrected since it is incredibly dangerous. The car can easily catch fire from a single spark.
Electrical System Failure
Many vehicles have electrical wirings under the hood. The electrical system tends to power the engine, doors, and even the stereo system. Any faulty in the wiring system can result in a car catching fire.
Overheating Catalytic Converters
The hottest part of a vehicle is the exhaust system. The phenomenon usually occurs due to the overworking of the catalytic converters.
The struggle of the catalytic converter to burn off exhaust pollutants result in continuous overheating. The heat may damage the surrounding parts, and this may lead to a fire.
Overheating Engines
Overheating engines tend to cause an increase in the temperature of the oil and coolant. Any spillage of these fluids could spread throughout to the engine bay and ignite a fire. Keep in mind that the overheated engine cannot burst into flames.
Poor Maintenance
We know car maintenance and repair tend to be quite expensive. We recommend having a maintenance schedule. Neglecting the routine could increase the chance of car fires. This could be due to faulty wiring, broken parts, and highly flammable gas leakage.
Electric and Hybrid Vehicle Batteries
There are many car batteries in the market. Each brand claim to be the best and immune to fire problems. But this is not the case. Many vehicles tend to experience fluid leakage, which interacts with these batteries to cause sparks.
Arson
The economic hard times have made many car owners engage in crime. Most of them tend to set their vehicle on fire to get insurance claims. Keep in mind that such criminal offense gets you in state prison.
How to Tell If a Car May Explode?
Car fires and explosions are incredibly uncommon, but they do happen. It is recommended to watch out for any sign of car fire while on the highway.
So, what are the signs that my car may catch fire? Gas leakage, smell burning plastic, electrical system burn, and rise in engine temperature.
Oil and coolants are highly flammable substances carried by vehicles. A hot exhaust system can ignite the leaking fluid.
Besides that, faulty fuses and electrical systems under the hood can cause engine failure. Forcing to ignite the vehicle with burnt fuses could result in fire.
Lastly, a rise in engine temperature could cause damage. If you notice the engine is scorching, then pull the car over and switch off the engine.
All-in-all, consult your professional mechanicwhen you notice any of the above signs. It will help to prevent the occurrence of fire hazards.
What to Do If the Car Is on Fire?
Sometimes noticing signs of car failure can be difficult. But be on the watch out of smoke, flames, and smell of burning rubbers.
Here are some of the crucial tips provided by the National Fire Protection Association. These tips will help to prevent getting burned severely. They include:
Pull Over
The moment you notice the car catching fire, try to signal off the road and pull over to a safe place. Put the vehicle in a parking mode and turn on hazard lights.
Turn Off the Engine
Once the vehicle has been parked, then switch off the engine. It will help prevent further ignition of fire that could further cause damage.
Ensure Everyone is Out
Get out everyone, including your crucial belongings. Do not return into a burning car in the name of saving everything.
Move Away
Move back about a hundred feet from the burning car. So that in the event of an explosion, you are safe from additional injuries.
Call 911
Call the emergency responder once you have taken the above precautions. They will respond promptly to the scene and put off the car fire.
How Dangerous Is A Car Fire?
Extremely hazard. The fire can consume everything present inside the car and even cause severe injuries to the users. It is why you need to move back about a hundred feet after noticing signs of a car fire.
How Often Do Cars Explode?
Car explosions are quite rare, but car fires are frequent. The crumple zone location of the gas tank and engine help to minimize car explosion chances.
Can A Car Randomly Explode?
Not really. There must be a cause of some sort. It can either be internal or external. But the car cannot explode spontaneously from anywhere.
Do Cars Explode When Upside Down?
When a car is flipped, then it will start to leak fluid via the carburetor. The running engine can ignite sparks that cause a fire from the leaking flammable liquid. The explosion could happen when the gasoline is confined and ignited.
Can A Car Engine Explode If It Overheats?
An overheated engine may not cause the vehicle to explode immediately. But driving a car with an overheated engine could cause severe damage. We recommend you pull over and deal with it instead of risking.
Do Cars Explode When You Shoot Them?
Shooting the gas tank when full with a regular bullet will not cause an explosion. However, if the gasoline tank is shot by a tracer round from a high enough distance, it will ignite with air friction and cause a fire.
Can A Car Explode After An Accident?
The chances are slim and none. Modern vehicles have a leak-proof and well-protected gas tank. Hence, the chances of exploding in the event of an accident are slim.
Final Thoughts from Expert
Do cars explode when catching fire? No. The primary source of the explosion in a car is a gas tank. The good news is that modern gas tanks are leak proofed and well protected.
Hence, they will not leak gas in the event of a collision. Also, modern vehicles are designed in a way that they cannot explode but can catch fire.
Therefore, remember to take the necessary precautions and call 911 for assistance. Besides that, move some miles away from the car on fire to prevent additional injuries.