Getting your car scratched is often frustrating, but luckily, a rubbing compound is all you need to get the paint job's glory back.
Rubbing compounds are abrasive materials for restoring a vehicle's paint surface. These products remove old, oxidized paint and polish out scratches to leave the surface looking fresher than before.
However, rubbing compounds come in different forms, sizes, and levels of abrasiveness. Hence, this makes it difficult to choose a good product from the many offers in the market.
In this review, we provide a list of the best rubbing compounds in the market, plus a buying guide to help you make the right choice.
Editor's Recommendation: Top Rubbing Compounds of 2021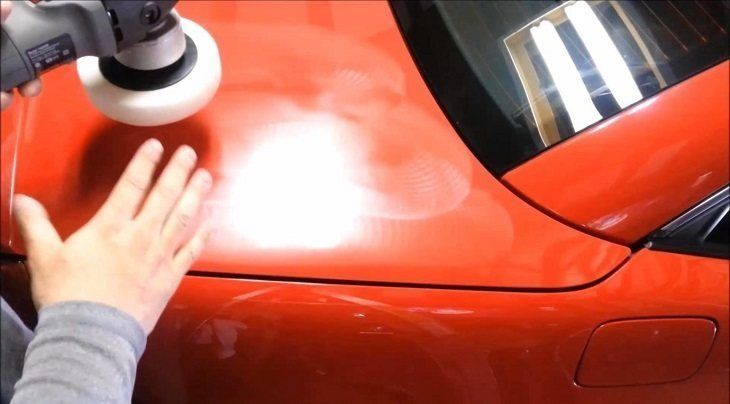 Summary of 7 Best Rubbing Compounds
IMAGE
PRODUCT
FEATURES

1. Griot's Garage 10863 (Best Overall)

Advanced formula
Safe for all paint finishes
More user friendly

Does not contain any fillers

2. 3M 06085 (Best for Coated Surface)

Works on gel-coated surfaces

Fast cutting formula
Leaves a fine finish

Removes oxidation & scratches

3. Turtle Wax T-415 (Best Budget)

More budget-friendly
Silicone-free formula
Safe on all car paints & finishes

4. 3M 05973 (Best for Car Scratch)

Removes 1,200-grit & finer scratches
Fast-cutting formula
Effectively removes stains & oxidation

Leaves a lustrous shine

5. Meguiar's M6732 (Best 2-In-1)

Cleans & shines in one step
Versatile formula
Works well on fiberglass & gel-coats

6. Meguiar's G18016 (Safest)

Clear-coat safe formula
Fast-acting rubbing compound
Produces a super-smooth finish

7. Niteo Products 08610 (Heavy-Duty)

Removes the deep scratches & stains

Universal finish compatibility
Versatile rubbing compound
Very fast-acting formula
1. Best Overall: Griot's Garage 10863

Size: 16 fl oz
Abrasiveness: Medium
Different rubbing compounds use varying technologies, but Griot's Garage 10863 uses a highly advanced formula that makes it more effective at restoring vehicle paint surfaces. The high effectiveness is what makes this our best overall product.
This formula starts with a higher abrasive level, which then goes down as it's worked into the surface. The result is that it gets rid of major irregularities and leaves an ultra-fine finish at the end.
You can use this rubbing compound on all paint finishes with no issues. And unlike others out there, it does not contain any fillers that will only cover up the imperfections. Hence, the finish you see after wiping off the product is the actual finish you get.
With this product's user-friendly nature, you can easily apply and wipe it off without leaving any dust behind. Better still, this compound is applicable by both hand and orbital polisher.
While this product does not seem to do much on chips, it is highly effective at removing all scratches, swirls, and oxidation, which are its primary purposes.

---
2. Best for Coated Surface: 3M 06085

Size: 1 quart
Abrasiveness: Light
The 3M 06085 is a 1-quart fast-cutting rubbing compound that delivers super-fast results. This rubbing compound comes as part of a complete auto detailing system. The fact that it is safe on gel-coated and other coated surfaces are what make it special.
This product is also one of the best rubbing compounds for oxidation and removing deeper scratches. What's more, it works well on both automotive and marine surfaces.
Another thing many motorists will love about this product is that it leaves one of the finest finishes. This finish is as perfect as it gets when using a rubbing compound and hardly requires anything else.
You can also get this product in two other sizes: 16 fluid ounces and 1-gallon bottles.
You should note that this rubbing compound is relatively pricier when compared to others on our review, but the professional-grade results are worth the extra bucks. Also, it could be a little more abrasive, but it still works fine enough.
Note: For maximum effectiveness, the manufacturer recommends that you use this compound with the 3M Perfect-It Compounding Pad.

---
3. Best Budget: Turtle Wax T-415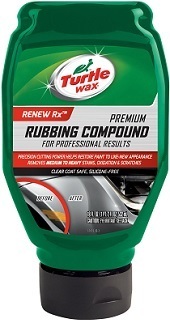 Size: 18 fl oz
Abrasiveness: Medium
For motorists searching for a more budget-friendly rubbing compound that still delivers some impressive results, the Turtle Wax T-415will be a fantastic option.
Despite being a budget option, this product removes 1,500-grit sanding scratches, swirl marks, and most other blemishes. Better yet, this compound restores the surface gloss and is very useful for preparing the surface for waxing.
Because it is a silicone-free product, it will be safe for use even in professional body shops. What's more, you can use this rubbing compound on all finishes without causing any problems.
Application is more flexible as you can use foam pads, cotton, or microfiber and apply by hand or with a polisher.
If you have very stubborn stains and scratches, this might not be the best product for you, but it will be fantastic for all other imperfections.

---
4. Best for Car Scratch: 3M 05973

Size: 1 quart
Abrasiveness: Medium
There's a reason 3M compounds and polishes are popular, and you can easily see that from the 3M 05973. Its high effectiveness at removing 1,200 grit and finer scratches will make it stand out from the rest.
With this rubbing compound, you get a fast cutting formula that ensures you spend less time compounding as it removes all imperfections within a short time and without requiring too much effort from you.
In addition to removing scratches fast, this formula also leaves no swirls behind, making your polishing session easier and faster. Better yet, it effectively removes oxidation, coarse swirl marks, water spots, and lots more.
Users also love that this 3M rubbing compound leaves the surface with a lustrous shine after the application. It is a safe product for use on lacquer, clear coat, and enamel paint surfaces.
For the shortcomings, this rubbing compound is too abrasive for light jobs and a little more expensive. However, the price is just a reflection of the quality, and if you use it correctly, it should still work well enough even for light jobs.

---
5. Best 2-In-1: Meguiar's M6732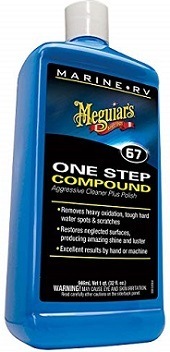 Size: 1 quart
Abrasiveness: Light
Meguiar's M6732offers a 2-in-1 solution, which includes essential oils to clean and shine the surface in one step. This saves you the need to have different products for cleaning and polishing the car and saves you time as you do not have to do both separately.
The top-rated rubbing compound is explicitly designed for fiberglass and gel-coat surfaces. This makes it ideal for use on various surfaces, including RVs and boats. Also, it works great with both hand and machine polishers.
As a rubbing compound, it'll get rid of most scratches, water spots, and heavy oxidation. Then, as a polish, it leaves the surface glossy and looking like new.
Keep in mind that you will still need a wax coat for proper protection. However, this formula already does most of the job of bringing colors back to life. If the results are not long-lasting enough for you, it should not take a lot of effort to re-apply the compound.

---
6. Safest Rubbing Compound: Meguiar's G18016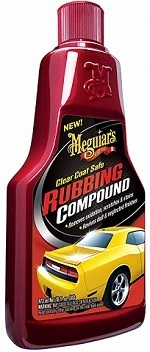 Size: 16 fl oz
Abrasiveness: Medium to Light
Meguiar's G18016 is one of the safest rubbing compounds that you will get out there as you can use it on almost any paint surface or finish, including clear coats. This compound quickly and easily eliminates stains, oxidation, and scratches that make your vehicle look dull or old.
Unlike many other rubbing compounds, which include abrasives that scour and haze the surface you are working on, this one produces a clear and clean finish. What's more, it has a fast-acting formula to ensure you get to finish the job much faster.
It also won't handle heavy scratches and oxidation well. Still, it is clear-coat safe, works amazingly well for fine and medium scratches, and produces superior results at an affordable price.
What some people might find a bit of a let down is that it is for hand application only. So this means going old-school without an orbital polisher or any machine at all. But, it is still quite easy to apply. While some users would have preferred it to be more abrasive, the milder nature makes it safe for even more delicate finishes.

---
7. Heavy-Duty Rubbing Compound: Niteo Products 08610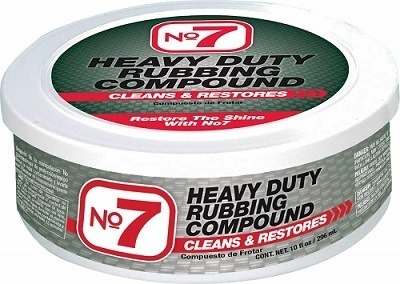 Size: 10 fl oz
Abrasiveness: Heavy
Unlike many products on our list, the Niteo Products 08610 comes in a solid-state. This compound is also a heavier duty option that will remove deep scratches and stains with more ease, making it the ideal solution if you have more heavy-duty cleaning to do.
The formula is universal to allow you to use this product on different paint surfaces and finishes without issues. And besides cleaning these rough surfaces, it will also be very effective at smoothening them out.
One more thing users love is that it restores even the dullest surfaces to a nice shine. This offer is for a single container, but the price is fantastic to ensure you get the best value for money.
However, keep in mind that you will need to smoothen the surface further with a polish before thinking of waxing it. This is due to the heavy-duty nature that makes it impractical for removing light scratches and stains. But, this still does not take anything away from the fact this is a fantastic and effective product.

How to Buy the Best Rubbing Compounds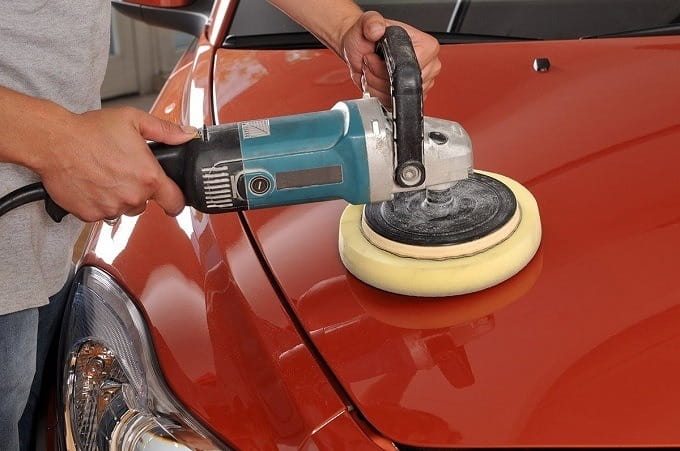 1. Effectiveness
Your first consideration should focus on the type of paint problem you have and the potential effectiveness of a particular rubbing compound on it.
You should note that rubbing compounds come in different abrasive strengths, including light, medium, and heavy-duty like the Niteo Products 08610.
You can remove swirl marks using a light-abrasive rubbing compound, but for deep scratches and heavy oxidation, you need a heavy-duty or more abrasive product.
2. Ingredients
Manufacturers make their rubbing compounds with different materials, so it's left for you to check out each offer to ensure that it has what you want or doesn't have what you don't need.
For instance, many rubbing compounds contain wax, which makes it unnecessary to apply additional wax to the area once you are done polishing with the rubbing compound.
Also, note that some rubbing compounds come as liquids in bottles, while others come as pastes in different container types.
3. Quantity
The volume of product in the container or bottle also matters a lot as it will determine the area you can cover or the number of times you can use the product before having to buy more.
For the liquid rubbing compounds, 16 and 32-ounce bottles are the most common sizes. On the other hand, with the paste types, you can get containers with as little as 10 ounces of product.
When it comes to the quantity, the more the product, the better as it will ensure you get good value for money. Hence, a 32-ounce bottle like the Meguiar's M6732 always makes an excellent buy.
4. Application Method
Another issue that you'll need to consider is how you're going to apply the rubbing compound. Will you do it by hand or with an electric polisher?
Deciding on an application method enables you to get the necessary tools ready. Remember that electric polishers may cost more, but they save you plenty of time and money in the long run.
That said, something applicable by both hand and orbital sander like the Turtle Wax T-230A is the best option here as it will suit all kinds of users and their preferences.
How to Use Rubbing Compounds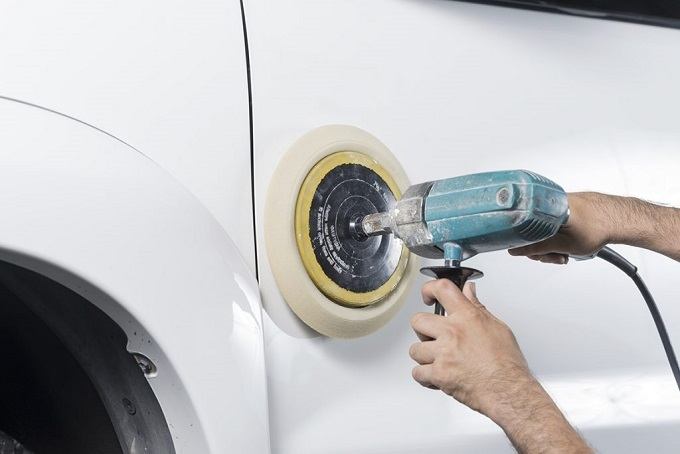 Getting rid of the scratches on your car is a simple and straightforward process with a good rubbing compound. Here is what you need and what to do.
Tools You'll Need
1. A rubbing compound
2. Ultra-fine sandpaper (optional)
3. Soap water
4. Towels and wool pads
5. Orbital polisher (optional)
6. Polish & wax
Step 1. Wash the Surface
For the best results, you need to make sure that the area you are about to work on is as clean as possible. Therefore, you need to wash it with soapy water to get rid of all dirt and grease.
After washing, rinse the area with clean water and dry with a towel. Make sure that the surface is as dry as possible before starting work on it.
Step 2. Sanding Down (Optional)
Step two is sanding down the exact area around the scratch that you want to fix. This step is optional because it depends on the depth of the scratch and your rubbing compound abrasiveness.
If you have a deep scratch and a light-abrasive compound, for instance, you may need ultra-fine sandpaper of about 1,200-3,000 grit to sand down the surrounding area to the same level as the scratch.
Applying shoe polish on the scratch in this situation makes it easy to know when you've sanded down to the exact level. If the scratch isn't very deep, then feel free to skip this step.
Step 3. Applying the Rubbing Compound
This step simply needs you to apply a little amount of the rubbing compound over the scratch and then either scrub it in with a wool pad by hand or using an orbital polisher.
You can check the user instructions to know how much of the rubbing compound you should use. Keep in mind that the goal is to slightly polish off the surrounding paint until they are as deep as the scratch to make it disappear.
Step 4. Polishing & Waxing
Some rubbing compounds are light enough not to need additional polishing, but most times, you'll need to polish the surface after using the rubbing compound and then wax it.
Wax gives your paint job a shiny and protective layer, making the car look fresher than before. Just make sure that you don't wax with the same pad you used for polishing. Also, note that some polishes come with wax, while others don't.
Frequently asked questions
What is the Main Difference between Rubbing Compound and Polishing Compound?
A: Rubbing compounds are abrasive substances for repairing uneven surfaces on the vehicle, such as scratches. Polishing compounds, on the other hand, are formulated to shine and smoothen the surface.
What is the Main Difference between Rub bing Compound and Clay Bar?
A: Clay bars will remove impurities from the paint surface to give it a more sightly look while the rubbing compounds aim to even it out by removing scratches and other imperfections.
Can I Use Rubbing Compound on a Windshield?
A: This depends on the abrasiveness of the particular product you are using. The heavy-duty or highly abrasive types can be too harsh on the glass and hence leaving it with unsightly scratches. But, most light-duty rubbing compounds are safe and effective for use on windshields.
Do I Need to Clean Surface Before Applying Rubbing Compound?
A: For the best results, you will need first to clean the surface. While some products can still provide good results even on dirty surfaces, dirt and other contaminants often reduce most rubbing compounds' effectiveness significantly.
Conclusion
A rubbing compound provides the most effective solution for removing scratches and other imperfections from your paint job. And with this review to give you recommendations, finding the best rubbing compound for your vehicle should be almost effortless.
With that in mind, the Griot's Garage 10863 is our best overall and hence top recommendation as it uses a highly advanced formula, and you can use it on almost any paint type or finish.
But, if you prefer not to spend a lot of cash on the rubbing compound, the Turtle Wax T-415 is a more budget-friendly option for you.
Sources
How to Use Rubbing Compound - WikiHow