Jeep wranglers are excellent towers. Thanks to the robust construction and four-wheel drive mode. But, this depends on a couple of things such as the year of the model and more.
So, how much can a jeep wrangler tow? Well, Jeep towing capacity ranges from 2000 to 4000 pounds depending on the year of the model.
However, there are a handful of jeep owners who tow above the recommended factory limit. Well, this is possible, but you might end up damaging your vehicle in the long run.
Towing is something that needs to be taken seriously. Hundreds of tons beyond the recommended factory limit is only suitable for a short distance.
The good news is that the dynamics in technology help to increase the towing capacity of different models of jeep wranglers. The modern version has a more towing capacity than the older variants.
So, can a jeep wrangler tow? Yes. Jeep wranglers can take you all over the world. The vehicle can navigate around the mountains, through the streams and other rough terrains.
Keep in mind that a jeep wrangler tow hitch can drive you crazy. It happens when towing a jeep beyond the recommended capacity.
We recommend consulting a reputable jeep dealer for advice about the towing capacity of your beast. It will help you plan for your next adventure without hitches associated with jeep towing.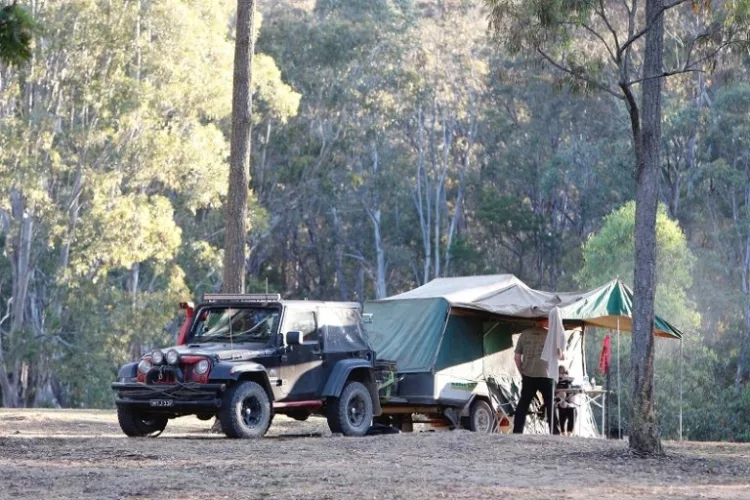 How Much Weight Can a Jeep Wrangler Tow?
Jeep wrangler towing capacity depends on the trim and the engine configuration. It is the reason why one model of jeep wrangler can tow more than the other.
So, how much weight can a jeep wrangler tow? Well, the minimum towing capacity is 2000 pounds, and the maximum weight is 3500 pounds.
However, the improvement in technology has made some models tow more than 3500 pounds. You need to know the dry weight of your jeep before hitting the road to the camping site.
It will ensure you have maximum control over your jeep and arrive at your destination safely. Towing beyond the recommended limit is too dangerous since the vehicle can lose power quickly.
You can refer to the jeep wrangler service manual for specifications of your vehicle. The information will guide you on how many pounds can get a jeep wrangler tow.
Jeep Wrangler Maximum Towing Capacity Chart
| | |
| --- | --- |
| YJ | 2000 lbs |
| TJ | 2000 lbs |
| JK | 3500 lbs |
| JL | 3500 lbs |
| Gladiator | 7650 lbs |
Things that Determine Jeep Wrangler Towing Capacity
How much weight a jeep wrangler can pull depends on several things. Some models pull little weight while others pull more weight.
Here are things to consider when determining the towing capacity of your jeep wrangler unlimited. These factors include:
Engine Specifications
The jeep wrangler is a legendary vehicle when it comes to power and capability. It comes with four powerful and lively engines. It gives you control of your performance on the road.
The 3.6l Pentastar V6 engine has a towing capacity of 3500 pounds while the turbo engine has a low towing capacity. Therefore, check your engine configuration before towing the jeep.
Four-Wheel Drive Mode
The four-wheel-drive system determines how much a jeep wrangler can pull. Towing is quite common among camping enthusiasts. Hence, it implies that the terrain conditions are harsh.
The four-wheel-drive system has an excellent reputation for off-roading. The command can enable you to maneuver around mountains, streams and rocky terrains with ease.
Rugged Construction
Towing through rough terrain requires rug construction. It is one of the features that are common in all jeep wrangler models.
The steel bumper protects the vehicle while the heavy-duty axle distributes the power evenly. These features will give your jeep power to pull campers in different terrains.
How to Tow Jeep Wrangler Safely
Safety is a crucial issue when it comes to towing a jeep wrangler. Here are vital things to put into consideration when towing a jeep:
Increase Turning Radius
Automobiles have an extremely tight turning radius. Hence, it would be best if you were extra careful when turning while pulling a trailer. The best safety measure to put into consideration while towing a trailer is increased a turning radius to provide room for the trailer footprint.
Increase Braking Distance
Towing a load increases the brake distance of your jeep before coming to a stop. Consider soft, smooth stops when applying brakes. The quick stop would make the trailer to fishtail, and this could result in a severe problem.
Hitch Height
The height of the trailer tongue should be levelled to enhance safety when towing. If the tongue is not level then try to adjust. Research shows that levelled tongues make towing smooth and straightforward.
Lubricate Trailer Bearings
Camping trailers have wheel bearings that need to be lubricated. It will help to prevent the bearing from seizing up. Hence, avoid damaging your axle and trailer besides the risks associated with towing.
Final Thoughts from Expert
Towing a jeep wrangler can be both exciting and daunting. Follow the safety tips and use the recommended factory towing capacity.
Increasing the towing capacity beyond the recommended limit could result in a lot of problems and damages to your jeep.
Be sure to check with your jeep dealer and find the exact towing capacity of your jeep wrangler model. Keep in mind how much a jeep wrangler tow tends to differ with the model.