As time goes by, your RV's roof will start showing signs of aging, such as cracks and tears. When this happens, you need to take care of it to prevent further deterioration. But to repair your RV roof, you first need to find the best RV roof sealants.
With a good sealant, you can quickly repair any cracks and dings that may result in water leakage. Water leakage not only ruins the interior of the RV and makes it unlivable but can also significantly affect its overall value.
RV roof sealants come in different types, from tape to liquid sealants. Each type has its merits and shortcomings that make it ideal for specific situations and roof types.
Here we look at some top-rated options in the market and provide a buying guide to help you find the best product for fixing your RV roof.
Editors' Picks: Top Rv Roof Sealants of 2021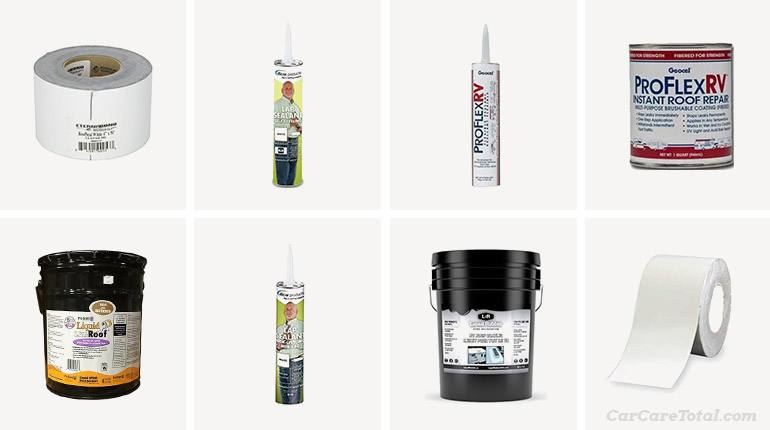 Summary of 5 Best RV Roof Sealants
IMAGE
PRODUCT
FEATURES

EternaBond RoofSeal Sealant Tape

1. EternaBond RSW-4-50 (Best Tape Roof Sealant)

UV-stabilized tape lasts 19 years
Bonds to most roof materials
Waterproof & air tight barrier
Easy one-step installation

Dicor 501LSW-1 Lap Sealant

2. Dicor 501LSW-1 (Best Self-Levelling Roof Sealant)

Self-leveling for a clean seal
Wide roof material compatibility
Color-matched &UV stabilized

Budget-friendly

L R 24101

3. Liquid Rubber RV Roof Coating (Best Liquid Roof Sealant)

Easy paint-like application
1,000% elongation
Protects all kinds of roof materials
Environment-friendly

Geocel 28100V ProFlex Flexible RV Roof Sealant Tube

4. Geocel 28100V (Best Clear & Flexible)

Clear & flexible seal
Non-cracking once cured
Lasts up to 25 years
Mildew & UV resistant

Beech Lane BL-102

5. Beech Lane BL-102 (Instant & Permanent Leak Repair)

Self-priming technology
Permanent leak repair

UV-resistant & weatherproof
Simple DIY installation
1. Best Tape Roof Sealant: EternaBond RSW-4-50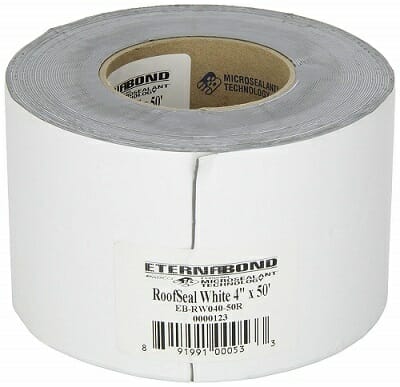 If you prefer a quick, simple, and mess-free way to repair your roof, a tape sealant like EternaBond RSW-4-50 is perfect. With its UV stable backing that will not deteriorate as the temperatures fluctuate, this tape can last up to 19 years, meaning it provides a permanent roof repair.
Additionally, the tape is very flexible as it can stretch up to 700%. This flexibility makes it easier to work with when repairing motorhome roofs. You can install the tape in just one quick and easy step as you only need to apply it over the crack and cut.
What's more, you can use it on a variety of rooftops, including EPDM, TPO, PVC, wood, concrete, metals, and many more. You will not need any additional sealing when using this tape as it creates a waterproof and airtight seal that can remain flexible at temperatures as low as -70°F.
Besides this 4-inch RoofSeal option, this tape is also available in other options like the 2-inch EternaBond RSW-2-50, and the 6-inch EternaBond RSW-6-50.
While it is a little pricey for a tape, it's worth every buck as it does a fantastic job and lasts longer than most other tape sealants. Also, it is not color-matched, but white seems to work fine enough for most roofs.

---
2. Best Self-Levelling Roof Sealant: Dicor 501LSW-1

Many RV and trailer owners turn to Dicor when it's time to seal their roof edges, vent pipes, air vents, and anything else important. Their Dicor 501LSW-1 is a perfect pick when you want a self-leveling sealant that leaves some nice and clean seals.
Besides being one of the best self-leveling RV roof sealants out there, it also works on almost any RV roof material. You can use it on EPDM, TPO, mortar, aluminum, fiberglass, vinyl, concrete, and many other materials.
Dicor sealants are color-matched, allowing you to choose from a variety of colors to match your roof precisely. Also, this is a more affordable option compared to others in our review.
One more thing motorhome owners will appreciate is that the application is simple and it skins over in just 5 minutes, gets waterproof in 4 hours, and is 80% cured within 48 hours.
The nature of this sealant means it will not work well vertically, but for roofs, you will hardly ever need to make any vertical applications. Also, there seems to be little product in the tube, but for the price of the sealant, you still get good value for money.

---
3. Best Liquid Roof Sealant: Liquid Rubber RV Roof Coating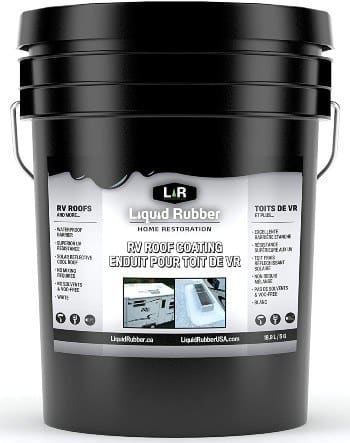 Liquid Rubber RV Roof Coating sealant applies just like paint. Hence, you can be sure it will be super easy to apply as you will only need to brush it onto the roof surface. But, you can also use a roller or even a paint sprayer.
With up to 1,000% elongation, this will be a more flexible roof sealant that you can be sure will prevent adhesion failure for a long time, and it is also UV stable. Besides flexibility, it will also help you protect all roof types as it will adhere to a wide variety of materials.
You can use this sealant with the peace of mind of knowing that you will not be ruining the environment as it has a water-based formula that makes it more Eco-friendly.
This sealant has a relatively long drying time, and so it will remain sticky for quite some time. However, the quality of the seal you get makes it worth the wait.

---
4. Best Clear & Flexible Roof Sealant: Geocel 28100V

The Geocel 28100V roof sealant comes in a clear form that will allow it to work on any roof color, as you never have to worry about it ruining the appearance of the roof color. Better still, you can paint it after application or even apply it over a previous application, and it still adheres well.
The flexible formulation also makes it one of the best motorhome roof sealants as it means it can handle harsh conditions well without cracking or deteriorating. Also, it is non-stringing, making it easy to apply, and if you make any mistakes during application, it is easy to clean up as well.
What's more, it works on all RV roof types as it adheres to wood, vinyl, fiberglass, steel, aluminum, and glass. This sealant sticks very well to most surfaces, including damp ones.
Besides being both mildew and UV resistant, this sealant is also highly durable as it has a service life of up to 25 years.
When dry, this sealant seems a little too slick, something some users might not like. However, this does not make it less effective in any way.

---
5. Instant & Permanent Leak Repair: Beech Lane BL-102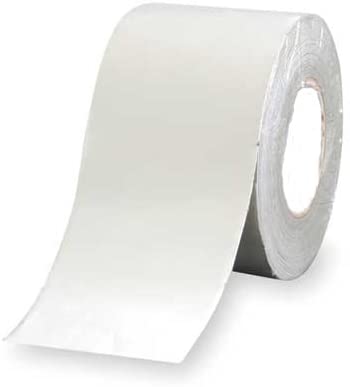 Beech Lane BL-102 RV roof tape sealant uses a self-priming technology to ensure you get an instant seal. What's more, the seal is permanent, and the manufacture also provides a lifetime warranty to give you some assurances of this.
Because this tape is for DIY application, it is super easy to apply. Many uses will also love that besides silicone, it will adhere perfectly to different kinds of material.
Also, you will never have to worry about leaving your RV out in the sun as this tape is UV resistant. Besides protection from the sun, this is also an all-weather resistant tape you can be sure will give you excellent service all year round.
The texture of this tape is perhaps its main drawback, as it can feel a little chalky, but this does not make it any less effective.

---
How to Buy the Best RV Roof Sealants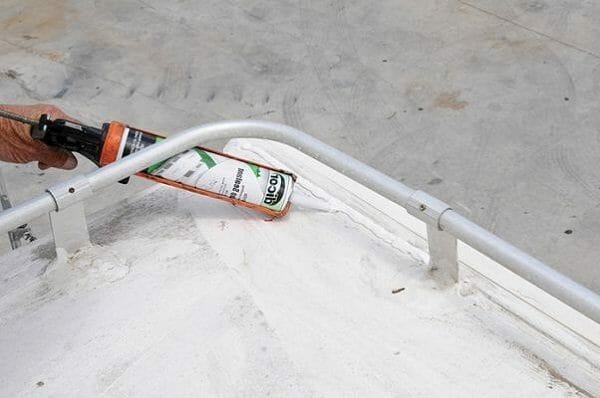 1. Types of RV Roof Sealants
As you shop for an RV roof sealant, you will first need to decide which type to buy. The most common types are liquid, tape, adhesive and self-leveling. Each of these sealants has different characteristics and benefits and will be ideal for different kinds of situations.
1.1 Tape
Tape roof sealants are an adhesive type that will are in a continuous roll for fast and easy application. With this sealant type, you get a neat seal and no mess to clean up afterward.
Also, when using tape sealants like the EternaBond RSW-4-50, there will be no dry time, and so you can paint over the surface immediately. However, tape sealants might not work very well when dealing with massive cracks.
1.2 Self-Leveling
The self-leveling sealants such as Dicor 501LSW-1have an accelerated curing capacity and level out on their own once applied, minimizing what the users need to do for quicker application.
Self-leveling sealants are great when you want your seals to be as clean as possible. But, their only drawback is that they are not very good for vertical application.
1.3 Liquid
Liquid RV sealants like Liquid Rubber RV Roof Coating are easy to apply, which makes them some of the most popular types.
Also, these sealants are naturally water-repellent, and they offer superior UV protection. However, they will not form a very thick seal and may require more than one coat.
1.4 Adhesive
Adhesive roof sealants like the 3M Adhesive 5200 are mostly made from polyurethane polymers, and they will provide a super strong and permanent bond for different roof materials.
2. Roofing Material
Your RV roof material is crucial as it helps determine the best RV roof sealant for your particular motorhome. There are three major types of roofing materials as follows:
2.1 Rubber. Rubber is the most popular type of roofing material that you'll see on RVs and for the simple reason that it's lightweight and cheap.
On the flip side, rubber RV roofs are not always structurally strong enough to support heavy weights or impacts. There are two primary materials for making rubber roofs: EPDM and TPO.
EPDM. The name EPDM stands for Ethylene Propylene Diene Monomer. It is quite rubbery and needs no extra UV protectant, but It does need regular re-coating. Over time, EPDM RV roofs start to look chalky from oxidation.
TPO. This is the second type of RV rubber roof, and it stands for Thermal Poly Olefin. It is much more rigid than EPDM and shinier as well.

2.2 Fiberglass. A few RVs will have fiberglass as the primary roof material instead of rubber. Fiberglass roofs can oxidize like EPDM roofs do, but they are vibrant and slick when coated with clear coat.

2.3 Aluminum. Aluminum roofs are even harder to come by than fiberglass roofs. However, they are the most environmentally stable and require the least maintenance. Aluminum roofs are heavy, which explains why they are not very common. If you have to repair one, a tube sealant is often the best choice.
3. Elasticity & Tear Resistance
Elasticity is a sealant's ability to stretch or twist without losing its sealing properties. Tear resistance, however, refers to its raw strength and how much force it can withstand before breaking.
Elasticity and tear resistance are crucial factors to consider for both liquid sealants and tapes. For tapes, you want a material that's flexible and difficult to tear, while liquid sealants need cure to a flexible coat that can accommodate temperature changes.
4. UV-Resistance
UV or Ultra Violet rays are non-visible radiation from the sun that causes chemical reactions in many substances. With your RV rooftop, it causes it to wear out and deteriorate over time.
Given that the sealant will be exposed to UV rays a lot, it is important to make sure it can handle them well while still maintaining a proper seal.
A good RV roof sealant should have properties that help keep UV rays in check, such as a UV backing for tape sealants or special UV-inhibiting additives for the other types like liquid sealants.
5. Ease of Application
You don't want to buy a sealant, only to realize later that you'll need something else that you don't have at hand, like a primer or an activator to use it. Therefore, before you settle on any roof sealant, you need to check the ease of application.
Frequently asked questions
How does RV Roof Sealants Differ from Coating?
A: RV roof sealants are meant to seal or repair cracks on the roof to prevent leaks, while the coatings are for covering up imperfection and improving the overall aesthetic appeal of the roof.
What is the Best Way to Apply RV Roof Sealants?
A: It depends on the specific type you have. For example, for the liquid types, the best way is to brush the over the crack. Others like the polyurethane adhesives will come in a bottle with a long nozzle for applications. But, with all types, you need to make sure the surface is clean and dry before application for the best results.
Conclusion
With the best RV roof sealant, you can be sure of an easy time doing roof repairs. Although the right product for you depends on various factors like the roof material, there is something for everyone on our review.
From our list, the EternaBond RSW-4-50 is our recommendation if you want something just straightforward to use. But, it is still a long-lasting sealant with a superior elongation factor.
However, the Dicor 501LSW-1is what we would recommend for a budget shopper. Besides being inexpensive, this RV roof sealant is self-leveling and will work on all roof materials.