An air compressor hose is an invaluable part of your air compressor because it is the channel through which you direct the pressurized air to the air tools. Therefore, if you get a substandard part, even the compressor itself won't be very useful to you.
Considering that most compressors are shipped either with a cheap plastic hose or with none, it is important that you get a good quality hose that will handle the pressure and not entangle despite how you handle it.
To help you in doing this, we review 7 best air compressor hoses that you can buy in the market.
Top Air Compressor Hoses of 2021 by Editors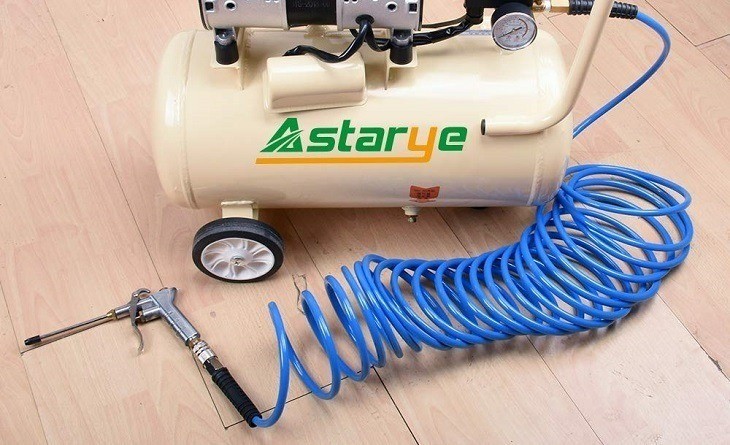 Summary of 7 Best Air Compressor Hoses
IMAGE
PRODUCT
FEATURES

1. Flexzilla HFZ3850YW2 (Best Overall)

50-foot standard flexible hybrid polymer hose
Usable in sub-zer temperatures (-40 - 140°F)
Abrasion resistant outer layer
300 psi working pressure

2. Giraffe Tools GT50

50-foot standard hybrid rubber hose
Durable 3-layered construction (300 psi working pressure)
Resistant to cold temperatures (-60 - 160°F)

3. Tekton 46334

10-foot standard flexible rubber hose
Sturdy 3-layered construction with a 250 psi working pressure
Rustproof solid brass end fittings

4. PowRyte 5000080

50-foot standard PVC/rubber hose
Features PVC bend restrictors for protection against wear and tear
300 psi working pressure

5. Goodyear 12674

50-foot standard rubber hose with a 250 psi working pressure
Oil and solvent resistant
Spiral synthetic yarn reinforcement

6. Master Airbrush TH-024-10

Affordable 10-foot nylon standard hose
Nylon braided outer layer for hose reinforcement
1/8-inch female BSP end fittings

7. Amflo 24-25E-RET

25-foot recoil polyurethane hose
UV, abrasion and chemical resistant
Swivel ends for reducing hose twisting
120 psi working pressure
1. Flexzilla HFZ3850YW2 - Best Overall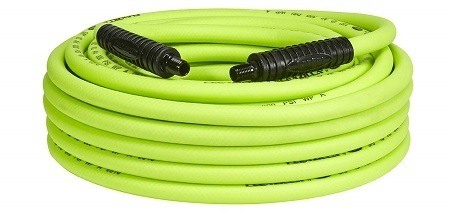 Length: 50 feet
Diameter: 3/8 inches
Material: Flexible Hybrid Polymer
Pressure: 300 PSI
With a flexible hybrid polymer construction, Flexzilla's air compressor hose combines the benefits of PVC and rubber pipes into one, making the hose to be lightweight and very flexible.
This design also permits the unit to be used in conditions where PVC or rubber hoses might not perform well such as in low or high temperatures. That said, Flexzilla's unit can be used in sub-zero temperatures of up to -40°F to highs up to 140°F.
In all these conditions, this hose does not kink under pressure, lays flat with no memory, does not get stiff or brittle (in the cold) and maintains a maximum working pressure of 300 pounds per square inch.
Another important factor about this pipe is its durability. It has an abrasion resistant outer layer that maintains its integrity and anodized aircraft aluminum fittings on both ends, which help to prolong the lifespan of the hose.

---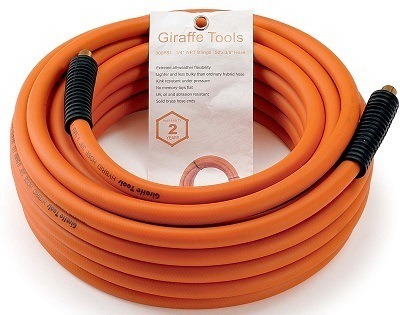 Length: 50 feet
Diameter: 3/8 inches
Material: Hybrid Rubber
Pressure: 300 PSI
Giraffe Tools' hybrid air compressor hose has a similar construction to Flexzilla's product above, but this one is more resistant to extreme weather, with the ability to work in extreme lows of up to -60°F to highs of 160°F.
This can be attributed to the unit's 3 layered design, which consists of a hybrid outer layer that is abrasion, oil, and UV resistant for durability purposes, a woven middle layer that does not deform easily and a hybrid inner layer that maintains flexibility even during winter.
The other benefits of this 3-layered design are that it makes the pipe very lightweight for easy handling and kink resistant, even under high pressure.
For improved durability, brass end fittings are included on each end for special protection, and these are rust proof, offering long-lasting performance.
These fittings have 1/4-inch threaded ends that can be tied into different air tools, while also fitting easily into a compressor on the other end.

---
3. Tekton 46334 Air Compressor Hose

Length: 10 feet
Diameter: 3/8 inches
Material: Rubber
Pressure: 250 PSI
Though a bit short, the 10-foot Tekton rubber air compressor hose does a good job at reducing pressure drop from the compressor. This means that your air tools get to receive almost the same amount of pressure that you set from the supply.
Being a non-recoil unit, the short length also makes it a bit less messy to deal with, and it has a flexible rubber construction that ensures flexibility is maintained from a rigid supply line to a hose reel without transferring any vibrations.
The body of the hose actually consists of 3 layers, which include an outer rubber jacket, a middle spiral mesh layer, and an inner rubber core tube. Collectively, these make the piece very tough and durable, and even capable of handling lows of -40°F while still being very soft and flexible.
On the high-temperature scale, the spiral layer prevents wall failures at temperatures of up to 190°F, which is very high.
Other features include rust-proof solid brass 1/4-inch NPT connectors and an internal diameter of 3/8 inches, which is large enough to power high CFM air tools.
Reduced pressure-drop due to short length

---
4. PowRyte 5000080 Air Compressor Hose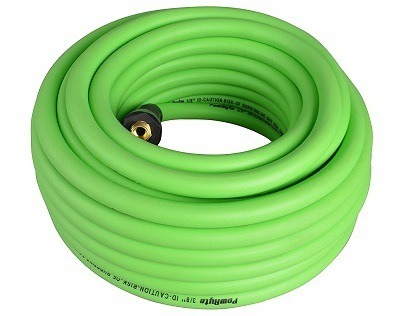 Length: 50 feet
Diameter: 3/8 inches
Material: PVC, Rubber
Pressure: 300 PSI
For a 50-foot hose, this Elite hybrid piece is quite affordable and yet it has some very impressive features such as PVC bend restrictors, which provide special protection by reducing wear and tear and this increases the lifespan of the hose.
On top of this, a 3 layered design consisting of an outer rubber/PVC blend jacket, a middle spiral synthetic yarn layer and an inner layer that resembles the outer one gives it a maximum working pressure of 300 PSI and a bursting pressure of 1200 PSI.
The benefits of the 3-layered design don't stop there because the hose is also kink resistant and maintains its flat shape for easy handling.
Usage is recommended to be within a -25 to 140°F range so that the pipe maintains its flexibility. Other features include durable and rustproof solid brass end fittings that seal better than aluminum, steel or zinc and lightweight construction that makes it much easier to handle.

---
5. Goodyear 12674 Air Compressor Hose
Length: 50 feet
Diameter: 3/8 inches
Material: Rubber
Pressure: 250 PSI
Goodyear is a well-known tire and rubber company that makes high-quality tires for vehicles. The company also makes high-end rubber air compressor hoses and this 12674 is one of them.
Even though it can handle a lower operating pressure of 250 PSI, the item's rubber construction ensures it maintains high flexibility while a spiral synthetic yarn reinforcement on the inner layer makes it quite strong, raising its bursting pressure to 1070 PSI.
The outer rubber layer is also class C oil-resistant as well as weather and solvent resistant, making the hose very durable.
Other features include solid brass 1/8-inch fittings that are rust proof and a length of 50 meters, which is ideal for extended reach.

---
6. Master Airbrush TH-024-10 Air Compressor Hose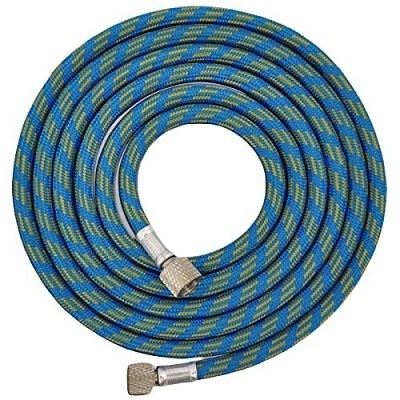 Length: 10 feet
Diameter: 1/8 inches
Material: Nylon
Not all air compressor hoses are priced highly. This premium air compressor hose from Master Airbrush is very affordable, although it is only 10 feet in length.
However, shorter pipes tend to minimize pressure drops, which means that this piece records almost the same air pressure at the air tool and at the source.
For strength, a braided outer layer made of nylon envelopes the whole inner layer, keeping it protected from external shocks and enabling it to handle a higher air pressure.
On each end, the unit has 1/8-inch female BSP fittings, which is ideal for connecting to an airbrush. The product is actually designed to use in powering up airbrushes and thus, this is a good feature if you intend to buy a hose solely meant for this purpose.
Meant for airbrush use only
Not enough length for distant reach

---
7. Amflo 24-25E-RET Air Compressor Hose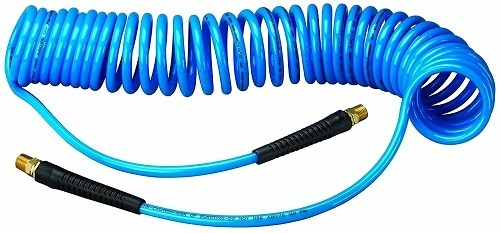 Length: 25 feet
Diameter: 1/4 inches
Material: Polyurethane
Pressure: 120 PSI
If you want a tidy air compressor hose, then Amflo's 24-25E recoil unit is a good option to consider.
This does not mean that other types of hoses are dirty, rather recoil hoses have memory and they compress back to a smaller springy shape when released, leaving you with a less messy workspace with no pipes laying all over.
Apart from being a recoil, this product is resistant to kinking, UV, abrasion, radiation, electricity, oil, chemicals, heat and weather, and this is due to a polyurethane construction, making it suitable for indoor or outdoor use.
On the downside, this construction gives it a low-operating pressure, in which it can withstand a maximum of 120 PSI. Polyurethane, however, is very light and this makes the hose quite light as compared to rubber hoses.
Other features include a 1/4-inch outer diameter with 1/4-inch male NPT swivel ends that reduce hose twisting, bend restrictors to reduce kinking, straight ends for easy setup and an operating temperature range of -30 to 150°F.

How to Buy the Best Air Compressor Hoses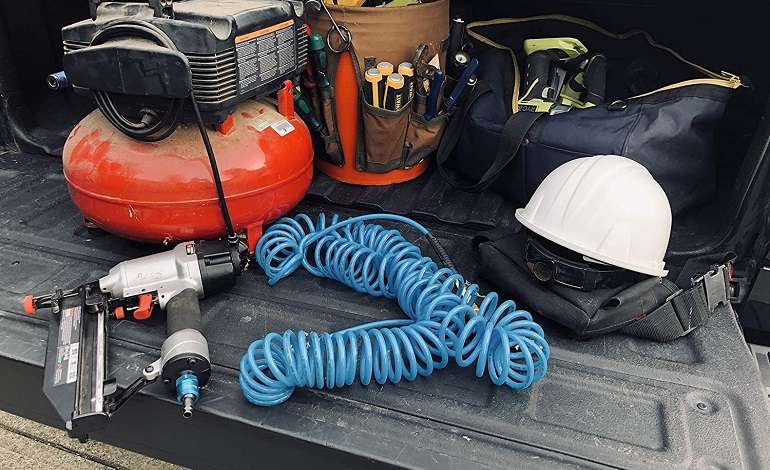 1. Standard or Recoil Hose
Standard Hose: Basically lies flat when stretched out without any memory or coils. For storage, you can either wind it on a reel or wrap it manually in loops, then mount it on a wall.
Recoil Hose: Characterized by a coiled shape that resembles a telephone wire, with multiple twists along its length. Due to this design, this type has a memory and it shrinks back to its original shape once released, making it easy to store.
Buying Guide : There is no performance advantage that one type has over the other and thus, the selection is down to personal preference.
If you prefer a tidier workspace though, recoils are better because you don't get pipes laying all over the place.
However, they tend to have some resistance especially when pulled further out because the coil acts as a spring. This makes it ideal for projects that don't require an extended reach.
2. Length
Long air compressor hoses tend to be better off because they enable you to reach out further as you work on your project.
However, there is a tradeoff. The longer the air hose, the more the air pressure loss along the way. This means that you should balance out between pressure loss and maneuverability.
For instance, if you only need about a 50-foot hose, say for a spray-painting project, don't buy a longer piece because it will affect the spraying performance of your airbrush due to reduced pressure at the other end.
If you require variable length hoses for different applications, then you should consider buying shorter units and join them using couplers. This way, you can fix your air tool closer to the compressor or further away depending on the length requirements.
3. Diameter
Simply stated, the larger the diameter (internal), the more pressurized air that the pipe will carry to the air tool.
Therefore, if your tool requires more cubic feet of air per minute, such as a heavy-duty impact wrench, you need to buy a hose having a bigger internal diameter and vice versa.
4. Material
Rubber: Generally, rubber hoses are heavy but they do not kink. This makes them easy to roll up for storage or pull around when in use. They also perform relatively well in varying low and high temperatures, making them suitable to use in industrial, agricultural and home applications.
Polyurethane: Lighter and less flexible than rubber but the material is perfect for making recoil hoses. Polyurethane is also resistant to extreme temperatures and weather conditions, making it suitable for most indoor and outdoor uses.
PVC: PVC air compressor hoses are not very common nowadays because they coil and kink very easily, and are largely affected by low temperatures. However, these pipes are usually affordable and very light.
Hybrid: Hybrid hoses are made using a combination of two or more of the materials above. This means that if it has a combination of rubber and PVC, then it combines the benefits of these two, resulting in a better-quality piece. If it combines all three, the better.
Conclusion
In conclusion, an air compressor hose should be bought with the intended use and the conditions of the area of use in mind.
Factors such as length, internal diameter, material, and operating temperature range play a crucial role in determining the best air compressor hose according to your needs.
After going through the air compressor hose review above, you should have a better understanding of these factors and have an easier time picking the most ideal hose that suits your needs.