A tire inflator is basically an air compressor that is used to pressurize your car's tires to the required level. With portability as a huge advantage on its side, this tool is a lifesaver that can help you continue with your journey or reach home on time if your tire(s) start misbehaving.
Even though some modern vehicles come equipped with tire pressure monitoring systems or run-flat tires, it is very common for some slight pressure loss over a long time and this makes a tire inflator very relevant.
Since there is quite a variety of them in the market, these are the best tire inflators that you should consider buying.
Editor's Recommendation: Top Tire Inflators of 2021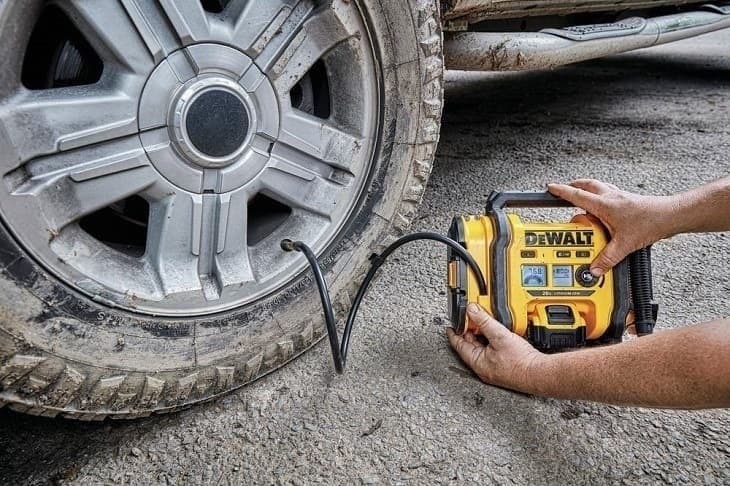 Summary of 7 Best Tire Inflators
IMAGE
PRODUCT
FEATURES

1. Kensun EHRComp-A58A (Best Overall)

Powerful 120-watt motor
100 PSI max working pressure
AC/DC powered
Auto shut-off

2. EPAuto AT-010-1Z

Overheat protection
Auto shut-off
70 PSI max working pressure
Displays pressure in 4 different units

3. Viair 88P

Long air hose and power cord
120 PSI maximum working pressure
Compact and easy to carry

4. JACO Superior Products JSP-008

Highly accurate tire inflator (+/-1 PSI)
Auto shut-off
100 PSI max working pressure, 45 PSI for car tires
Bright LED light with 4 settings

5. Viair 85

Powered via a 12-volt DC cigarette port
Bright LED work light
Small portable design
60 PSI max working pressure

6. P.I. Auto Store PIAS002

Compact and lightweight tire inflator
Auto shut-off
White plus red SOS lighting
Comes with several adapter accessories

7. Slime 40022

16 l/min inflation speed (0.565 CFM)
Compact size
Bright LED work light
Automatic shut-off
1. Kensun EHRComp-A58A - Best Overall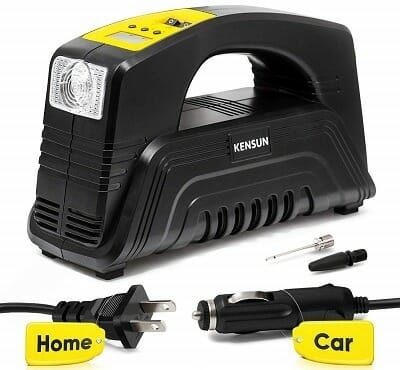 Voltage: 12/110 volts
Pressure: 100 PSI
Weight: 5 pounds
Though quite heavy, this tire inflator from Kensun is equipped with a powerful 120-watt solid metal motor that provides enough power to fill up your tires very quickly.
Other than that, this unit can be powered in two ways, the first one using a 12-volt DC cigarette lighter port and the second one a 110-volt AC wall outlet. This AC/DC switching means that you can conveniently use it in your car or home for multiple purposes other than just tire inflation.
A set of nozzles are actually included in the kit so that you can use the inflator in your home to fill up pool toys, basketballs and soccer balls easily.
As you fill up these inflatables, a built-in backlit LCD screen shows you the pressure reading in PSI, Bar or KPA, and you can program the required pressure then let the auto shut-off mechanism handle the rest for you.

---
2. EPAuto AT-010-1Z Tire Inflator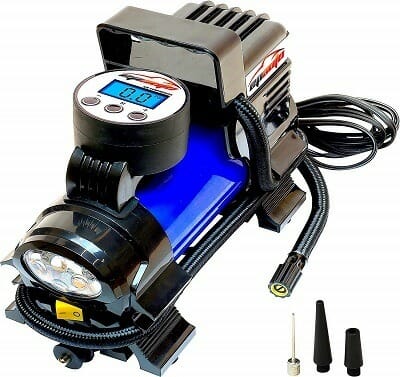 Voltage: 12 volts
Pressure: 70 PSI
Weight: 3.8 pounds
As much as a tire inflator should be able to keep your car from running on depressurized tires, it should also protect itself from damages for durability purposes. This unit is designed to do just that with an overheat protection feature, which automatically shuts off when it exceeds 167°F.
The inflator plugs into your car's cigarette lighter socket and operates on 12 volts DC with a 120-watt power rating. With this, it can deliver an inflating speed of 1.06 CFM, which is quite fast.
As you use it, an LCD screen shows you the pressure reading in digital form, making it easy to read, and you can choose the display units that you want, which can either be in PSI, KPA, BAR, and KG/CM.
For convenience, you get an LED flashlight for illuminating the work area and auto shut-off after reaching the required pressure.
However, this unit cannot be used to inflate truck tires and it has a relatively low maximum working pressure, which is 70 PSI.

---
3. Viair 88P Tire Inflator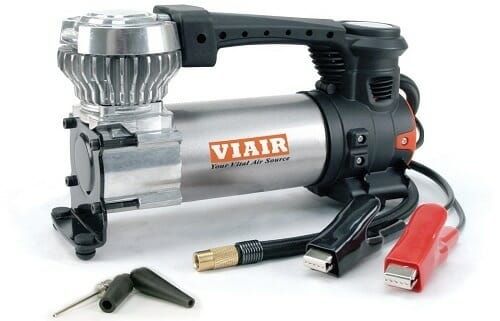 Voltage: 12 volts
Pressure: 120 PSI
Hose Length: 16 feet
Weight: 4.5 pounds
Viair's 88P stands out due to its long air hose, which measures 16 feet in length. The inflator also has a 10-foot power cord, which means you get a very long reach of 26 feet and with this, you can easily get to any tire on your car.
The unit is recommended to use in pumping air to small ATVs, sedans, SUVs, and trucks whose tires do not exceed 33 inches in size. It works by utilizing a 12-volt DC power source with an amp draw of 20 amps, after which you get a max working pressure of 120 PSI and 1.47 CFM.
However, the inflator must be clamped directly to the battery (equipped with battery clamps for this) and has an analog dial display that requires you to temporarily switch off the unit so as to monitor the pressure. This makes it a little bit inconvenience to use.
On the bright side, the 88P is compact and has a carrying handle for easy transportation.
Note : The engine must be running during use to avoid draining the battery.

---
4. JACO Superior Products JSP-008 Tire Inflator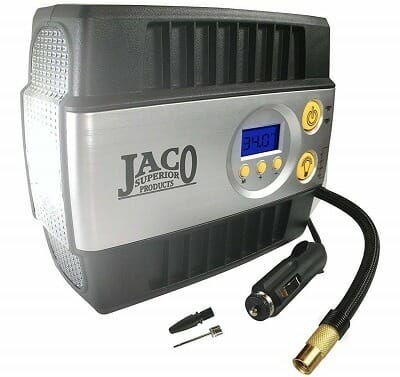 Voltage: 12 volts
Pressure: 100 PSI
Hose Length: 2 feet
Weight: 2.05 pounds
It is one thing to fill up your tires but it is another to fill it at the right, accurate pressure. Jaco's JSP-008 is designed with accuracy in mind, and it does so to +/-1 PSI.
An auto shut-off function actually takes care of this, and powers off the air supply once the set PSI level is reached. That said, this inflator can be used on standard car tires up to 45 PSI, which is quite limiting, and bike tires up to 100 PSI.
The pressure reading is shown in an easy-to-read LCD backlit display, which is particularly ideal for night time use.
Included in the pack is a 2-foot air hose, which is very short, but a 10-foot cigarette lighter port power cord extends the overall reach to 12 feet for easy access to all the four tires.
Other features include a bright LED light with 4 settings: flashlight, red flashing, emergency SOS and off, a carry bag and several attachment nozzles for balls, inflatable and airbeds. However, its inflation speed is quite low at 25L/min, which is roughly 0.8 CFM.

---
5. Viair 85 Tire Inflator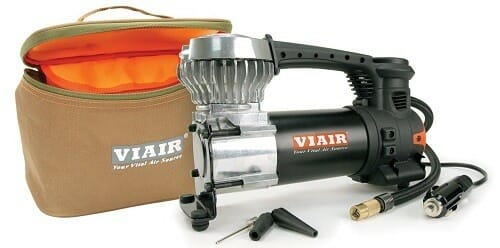 Voltage: 12 volts
Pressure: 60 PSI
Hose Length: 3 feet
Weight: 4.3 pounds
Viair's 85 is like a younger sibling to the 88P above because it has a relatively lower max working pressure (60 PSI) and a slightly lower flow rate of 1.26 CFM at free flow.
However, this unit is powered via a 12-volt cigarette lighter outlet, which makes it easier to use, but the engine must be running so that you don't drain the battery.
On the downside, for tire pressure reading, an analog dial gauge is used and this might not be as easy to read as a digital one. Additionally, this gauge is not backlit, which makes it even more difficult to read in the dark.
The good thing is that a bright LED work light is included to illuminate the work area, while a small, portable design makes it very easy to carry. In fact, a carry bag is included for easier transportation.

---
6. P.I. Auto Store PIAS002 Tire Inflator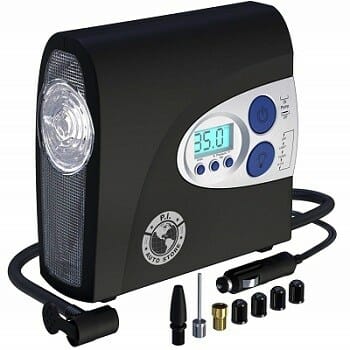 Voltage: 12 volts
Hose Length: 10 feet
Weight: 2 pounds
P.I.'s PIAS002 takes the top spot when it comes to portability because it is very light, weighing in at only 2 pounds, and has a robust, compact design that will fit easily in the trunk while a storage case safeguards it from damaging collisions.
The unit is also very easy to use because you only need to plug it into a 12-volt cigarette lighter socket then pressurize your tires as you view the pressure level on a large, backlit LCD display. A built-in auto shut-off feature lets you avoid manual checking for much easier use.
Other features include a bright white LED work light, red emergency light with an SOS pulse, a quiet pump that delivers a flow rate of 38 liters/ minute (1.34 CFM), a couple of adapter accessories and a 13-foot total reach (10-foot hose, 3-foot power cord).
However, this inflator cannot be used on truck tires but instead, works best on bicycle tires, motorcycle, RV, SUV, and small car tires.

---
7. Slime 40022 Tire Inflator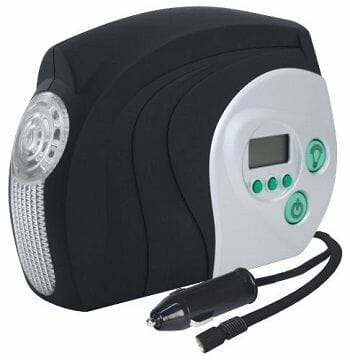 Voltage: 12 volts
Hose Length: 2 feet
For standard tires on cars, bikes, and motorcycles, this is a good option to consider because it is quite slow in terms of inflation speed, but this is ideal for filling up small tire volumes.
The actual figure is 16 liters/minute or roughly 0.565 CFM and at this rate, the unit can fill up a standard car tire in 6 minutes.
Other than that, the 40022 is quite compact in size, and this makes it very easy to handle and also fit inside your trunk.
When in use, a bright LED light is installed at the front to help illuminate your work area while an easy-to-read digital display shows the pressure reading in BAR, PSI, and kPa.
An automatic shut-off feature is also built in to eliminate manual checking while also preventing you from exceeding the recommended pressure level.
However, a very short 2-foot hose length is included, which minimizes the risk, but its 10-foot power cord compensates for this shortcoming.

How to Buy the Best Tire Inflator
1. Power
Since they are designed for inflating car tires, almost all tire inflators are powered via a 12-volt DC source, which is, of course, the same voltage as the car battery.
However, there are some units that have alternative power sources such as AC, which can be sourced from a wall outlet in your home. This feature is important if you want to fill up soccer balls, basketballs or other inflatables such as pool toys because you won't need your car around.
Some inflators even have built-in batteries and this just adds onto the convenience in use. Basically, the more the power sources the better.
Note : For 12 volts DC, some units use a cigarette lighter port sockets while others have battery clamps. Cigarette lighter plugs are easier to use because you won't have to pop up the hood every time.
2. Pressure
Another important thing to check is the maximum pressure that a tire inflator can handle, especially if you own a truck, RV or large SUV with large tires.
Basically, large tires require more air inside and at a higher pressure. This means you need a unit that can handle a higher max pressure, which is measured in PSI.
An inflator that is rated with at least 100 PSI is good enough for large tires, with 150 PSI being the best. Anything less than this will only be ideal for small to mid-size tires.
Read More: 10 Best Tire Pressure Monitoring Systems
3. Pressure Gauge
As you fill up your tires, you need to monitor the pressure level continuously and accurately. With analog gauges, this is a bit difficult to do because of the needlepoint on a dial face design.
However, a digital gauge is better and more recommended because it is easier to read, highly accurate and most of these screens are backlit for easy reading in the dark.
Read More: 10 Best Tire Pressure Gauges
4. Convenience Features
Apart from just releasing pressurized air, it would be a good idea to have some convenience features and the most notable one is the automatic shut-off.
This is only found in units with digital pressure gauges and it allows you to preset the pressure level that you want, then let it do the rest. Once at that level, it will automatically shut off the inflator, eliminating manual checking and avoiding excess pressurization.
Other than this, an LED flashlight is also an important feature to have because it will help light up your work area as you refill your tires in the dark.
5. Hose Length
Since a car's wheels are quite wide apart from each other, the inflator should have a long hose so that you can easily get to each tire. Alternatively, a long power cord will do.
Basically, you should ensure that the combined length of the air hose and power cord gives you at least 10 feet so that you can move easily around the car during this process.
6. Accessories
Accessories give you more value for money. With that in mind, choose the unit that comes with multiple nozzles for attaching to soccer balls, basketballs, swimming pool toys, inflatable beds, and others, so that it can be used for more than just refilling your car tires.
Conclusion
Maintaining proper tire pressure is very important for safe driving, better fuel economy and extended tire durability. Since it is very inconveniencing to always go to the gas station to check and refill the pressure if required, a tire inflator is a very convenient tool to have.
As you can see above, there is quite a variety of them in the market but after going through the tire inflator review and buying guide, you should easily pick the best tire inflator for your car.