Brake fluid is essential for transferring power to the brakes to ensure the vehicle stops. But despite its lifesaving tendency, many car owners make the mistake of overlooking it and will settle for any they come across.
However, it is vital to use the best brake fluid to make the vehicle safer to drive. Also, a good brake fluid makes the vehicle's braking system cheaper to maintain as the different components get adequate lubrication for longer service life.
In this piece, we help make shopping for brake fluid more effortless with a review of top-rated brake fluid options and tell you what to look for when shopping.
Editors' Picks: Top Brake Fluids of 2021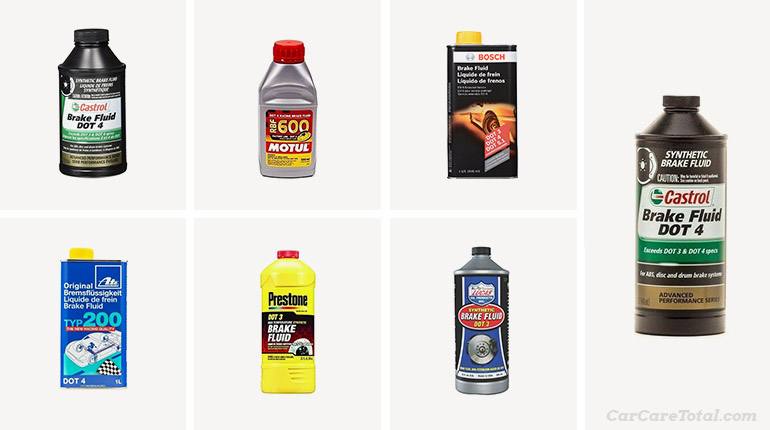 Summary of 7 Best Brake Fluids
IMAGE
PRODUCT
FEATURES

1. Castrol 12614 (Best Overall)

Engineered for outstanding high-temperature performance
Exceeds DOT 3/DOT 4 specs
Mixes with other conventional brake fluids
Optimum braking response

2. Castrol 12509 (Best Inexpensive)

More affordable
Great for high-temperature braking
Ensures optimum braking response
Mixes well with conventional brake fluids


3. Motul MTL100949 8068HL (Best for Racing Vehicle)

Higher boiling points
Excellent aerodynamic performance
Great stability & thermal resistance
Vapor-lock phenomenon

4. Bosch ESI6-32N (Most Compatible)

High compatibility
Extended service interval
Exceeds all DOT 3, 4, & 5.1 standards
Excellent lubricity properties

5. ATE 706202 (Best Dot 4)

Works well for racing vehicles

Good water locking properties
Non-foaming when filling & bleeding
Excellent corrosion protection

6. Prestone AS401 (Best DOT 3)

Great for extreme braking conditions
Does not create dangerous vapors
Helps avoid spongy pedal
Good wet & dry boiling temperatures

7. Lucas Oil 10826 (Excellent Lubricity)

Provides excellent lubricity
Compatible with all brake system components
Superior rust & corrosion protection
Prevents seal hardening/softening
1. Best Overall: Castrol 12614

Castrol 12614is our best overall brake fluid as it has a unique formula that delivers outstanding performance in high-temperature braking systems. And it also provides an optimum braking response.
The Castrol 12614 is a synthetic brake fluid that will exceed DOT 3 and 4 specifications, which means you can always be confident of reliable performance. Many motorists also love this fluid's versatility as you can use it for the disc, drum, and ABS brake systems.
This efficient brake fluid helps multiply the applied force and delivers it swiftly as you press the brakes. It is all due to the rich composition of the fluid that this one performs so well.
You can create a blend of the fluid by mixing it with others in the family such as DOT 3, 4, or even 5.1 for more enhanced performance. And this fluid mixes well with most conventional brake fluids.
While this might not be the best brake fluid for daily drive vehicles, it will be perfect if you drive a more powerful or high-efficiency vehicle.

---
2. Best Inexpensive: Castrol 12509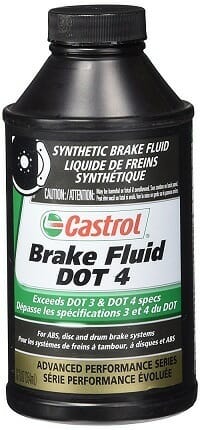 The Castrol 12509 is a more affordable brake fluid to provide a cost-effective solution for motorists that do not want to spend a lot of cash but still want something high-quality.
This fluid has DOT 4 properties, and it is also very suitable for high-performance cars. You can rely on this brake fluid to work effectively with high-temperature braking systems.
With this brake fluid, you get an optimum braking response. Better yet, the wet and dry boiling points are also brilliant. And you will never have to flush out the braking system as this product mixes easily with other conventional brake fluids.
There seems to be little product in the bottle, but this being the cheapest brake fluid on our list, this should not be a big deal as you can easily buy several bottles without feeling the pinch.

---
3. Best for Racing Vehicle: Motul MTL100949 8068HL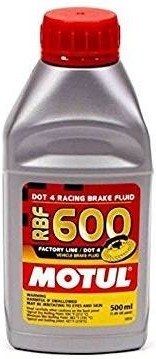 With the Motul MTL100949 8068HL, you will get a very high boiling point of up to 594 degrees Fahrenheit. This high boiling point makes this one of the best brake fluids for racing vehicles as it can withstand the high temperatures and pressure that come with racing.
It is also a DOT 4 non-silicon synthetic racing fluid that comes in a 500 ml bottle to ensure you have enough for multiple uses.
This brake fluid effectively prevents brake components from rusting and is ideal for hydraulic actuated brakes and clutch systems. The vapor-lock phenomenon of this fluid also does not let corrosion or rust sit on your brake system.
Since it is a DOT 4 fluid type, this Motul brake fluid will also offer more stability and thermal resistance.
Given its price, there seems to be a smaller quantity of the fluid on the bottle, but it should still be enough for a few uses.

---
4. Most Compatible: Bosch ESI6-32N
Whether you have DOT 3, 4, or 5.1 brake fluid in your vehicles, the Bosch ESI6-32N will be a perfect choice for you as it is a widely compatible product that can work with all these fluids. What's more, this product meets and exceeds all the DOT standards for these brake fluids.
This brake fluid is also formulated to offer long-lasting performance as it lasts at least 10% longer than DOT 5.1 and up to 100% longer than DOT 3 brake fluids. While standard brake fluids have to be changed every 2 years, this one will serve you for at least 3 years.
Another property of this oil that motorists love is that it offers excellent lubricity properties to minimize brake components' wear while also reducing the noise. And this is one of the few brake fluids that will give you both low viscosity and high wet boiling point.
Despite the bottle mouth not being very ergonomic, this brake fluid is still relatively easy to pour, and so this should not be a big concern. Also, the metal container dents easily, but it is still much better than the plastic ones.

---
5. Best Dot 4: ATE 706202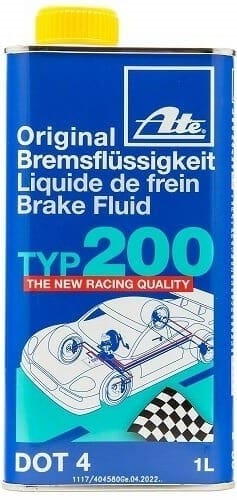 For any motorist searching for top-grade DOT 4 brake fluid that will be perfect for racing vehicles, the ATE 706202 is fantastic.
What makes this our best DOT 4 brake fluid is that it provides a higher safety tolerance against steam bubbles. It has excellent water-binding capabilities to retain the boiling point for maximum fluidity.
ATE also uses some keenly selected additives on this brake fluid. Hence, it will be very effective at protecting brake components from corrosion.
The boiling points of this brake fluid are also quite commendable. And this is all thanks to the heat-stable formulation. Better yet, pouring and bleeding is also easy as the fluid does not foam.
This brake fluid will require bleeding a little too soon than most others on our brake fluid review, but it can still last for a couple of years.
Need to be bled a little too soon

---
6. Best Dot 3: Prestone AS401

If you want to get a top-quality DOT 3 brake fluid without spending a lot of cash, the Prestone AS401 is a good buy for you.
It has the properties of DOT 3 fluid and comes in a decent capacity of 32 oz. Both its dry and wet boiling points exceed the conventional brake fluids.
This Prestone fluid is one of the best for extreme brake conditions as it provides an extra margin of safety. Also, it is straightforward to use as it pours and bleeds easily with no foaming. And the formula helps you avoid a spongy pedal to ensure you get maximum brake power when you need it.
Motorists will also love that the brake fluid uses a mix of polyglycol ethers to ensure the hot break operation does not lead to the formation of dangerous vapors.
The packaging seems to need some improvement, which is more so when it comes to the seal. However, this should not be a deal-breaker as it does not affect the brake fluid's quality or effectiveness.

---
7. Excellent Lubricity: Lucas Oil 10826

Lucas Oil 10826 is a high-quality DOT 3 brake fluid that offers excellent lubricity to ensure all your brake parts are adequately lubricated to maintain peak performance.
The blend of polyethylene glycol and additives ensure the high performance of the product. Because the formula makes this quite a versatile fluid, it is suitable for all kinds of vehicles except racing cars.
Better yet, the fluid is compatible with all kinds of brake systems that have rubber components. Plus, you get complete protection against corrosion and rusting. And it will also be a handy product for preventing the hardening or softening of seals.
If you are looking for a brake fluid that can support extreme performance, this model might not work for you. However, this fluid is perfect for regular driving conditions. Although the packaging could also be better, it should still not be a deal-breaker.

Type of Brake Fluids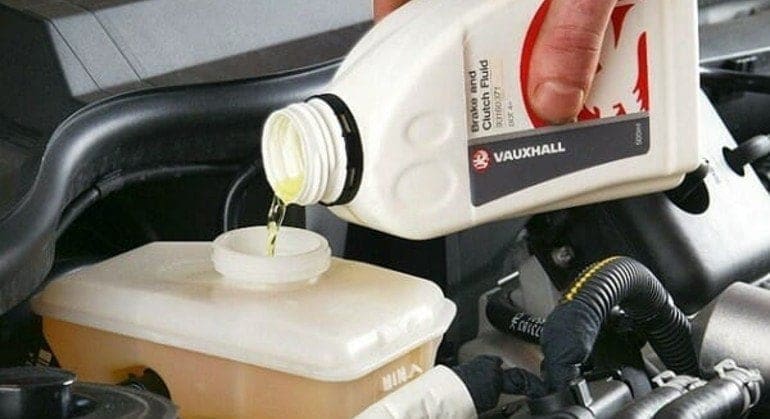 There are 4 prime types of brake fluids; Dot 3, Dot 4, Dot 5, and Dot 5.1.
1. DOT 3
The DOT 3 brake fluid is made of polyglycol. It has a wet boiling point of 140 degrees, but the dry boiling point is 205 degrees. DOT 3 absorbs moisture at a rate of 2% of the total volume in your car in approximately a year.
This brake fluid is for daily drive vehicles or those we use for normal driving. You must know before buying this type because it is pretty strong and can easily eat the paint off of your car in case of a spill. Hence, you should mix with Dot 4 or 5.1 brake fluids before use.
2. DOT 4
Dot 4 is also polyglycol-based, and the wet boiling point is 155 degrees, whereas the dry boiling point is 230 degrees C.
Like the DOT 3, this one will also absorb the moisture at the rate of 2% of the total volume. But due to the variation in boiling and points, this is ideal for the bigger cars in higher altitudes. This fluid is also harsh on the car paint, so it is better to mix with DOT 5.1.
3. DOT 5
Unlike the previous 2, the DOT 5 brake fluid is silicon and synthetic blend based. The wet boiling point is 180 degrees, and the dry boiling point is 260 degrees.
While DOT 5 will not absorb the moisture, it can still lead to corrosion in the brake line. You are highly discouraged from mixing this fluid with any other type, as it can lead to catastrophic results.
DOT 5 is ideal for cars with antilock brake systems and high-performance vehicles such as racing cars.
4. DOT 5.1
DOT 5.1 is also polyglycol-based. It has a wet boiling point of 180 degrees, and the dry boiling point is 260 degrees.
Just like DOT 3 and DOT 4, this will also absorb moisture at a rate of 2% of the total quantity in a year. This brake fluid is ideal for racing vehicles with ABS braking systems, but you should not mix it with the DOT 3 or 4 types.
How to Buy the Best Car Brake Fluid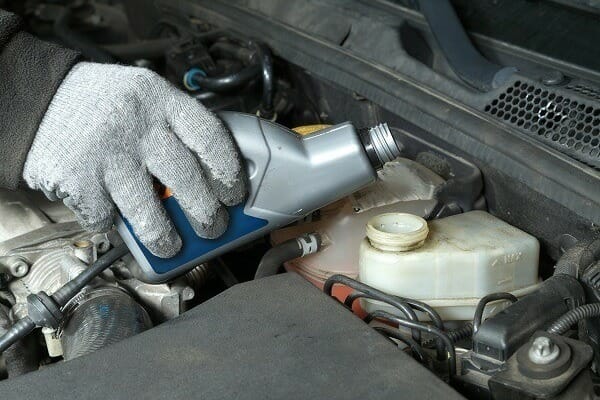 1. Purpose
First of all, it is vital to understand the brake fluid's purpose as they have formulas for different situations and vehicle types.
As mentioned in the previous section, there are fluid types for regular drive cars, whereas others like the Motul MTL100949 8068HL are explicitly for racing cars.
Hence, once you understand the brake fluid's purpose, it will be easier to match your needs to a specific type and brand.
2. Composition
Various components make a brake fluid. These components make sure that the fluid can withstand pressure and high temperature. Hence, before buying any brake fluid, you need to understand its composition.
Here are some of the most common brake fluid components.
Polyglycol: This is a solvent, and it makes up a majority of the fluid (about 60-90%). Polyglycol has less viscosity, and it contains ethers that enhance the dissolvability to allow it to work well in all kinds of temperature conditions.
Lubricants: Next component is the lubricant, which is around 5-30% of the fluid. The lubricant reduces friction resistance and improves fluidity.
Additives: These are only 2-3% of the total volume of the brake fluid. Basically, they are antioxidants and corrosion inhibitors. Additives reduce the oxidative decay of the polyglycols. Other than that, they prevent and reduce the rate of acidic deterioration.
3. Dry/Wet Boiling Points
The dry and wet boiling points are always indicated in a brake fluid's description as they are crucial determinants of the performance.
The dry boiling point measures the fluid's boiling point when taken fresh out of the bottle, whereas the wet one measures it once saturated with moisture.
For those who change the fluid frequently, the dry boiling point is more important. If you do not like to change the brake fluid very often, the wet boiling point is more important.
The kind of vehicle you drive will also be vital when considering the boiling points. For example, if you own a racing car, then high boiling points are the most suitable for them.
4. Water Absorption
The tubes of the brake system are usually rubber, which is a porous material. Therefore, after some time, the tubes will allow water to infiltrate the system.
The boiling point of water is less than that of brake fluid, which means it will instantly convert it into steam, thus damaging the overall brake system.
While purchasing brake fluid, make sure it has better water absorption so that your brake system can stay clear from corrosion and rusting for a long time.
5. Size
The brake fluid bottle size also plays a crucial role, especially when comparing it with the cost.
A good-sized bottle with more brake fluid not only ensure you get enough for your vehicle, but you also get good value for your money.
Most bottles are between 12 and 32 ounces. Therefore, it is up to you to choose what gives you the best value and enough for your vehicle.
Frequently asked questions
Why does the Brake Fluid Need to be Changed?

A: Brake fluid is a hygroscopic fluid, which means it will absorb water over time. Also, it gets dirty over time due to impurities, which reduces its effectiveness. Hence, you need to change it to keep the brakes at peak performance.
How does Brake Fluid Work?
A: Like all other liquids, brake fluid is incompressible. This trait allows it to transfer brake pedal force to the rear and front brake systems to help stop the vehicle when you press the brake pedal. Also, brake fluid will lubricate different brake components to ensure they work properly.
How often do I Need to Change My Vehicle's Brake Fluid?
A: This depends on the quality and type of brake fluid and also other things like your driving habits or how often you use the vehicle. However, in most instances, you need to change the brake fluid every 2 years. But some will last up to 3 years or slightly more.
How do I Check My Brake Fluid?
A: When you have issues with the brake fluid, whether it is low or too dirty, you get different signs such as ABS light coming on and brake pedal issues. To check the brake fluid level, you will only need to locate the master cylinder, which holds the brake fluid reservoir.
Read More: How to Reset Check Engine Light
Conclusion
Finding the best brake fluid for your vehicle should not be hard, as you only need to watch out for the points highlighted above.
And because we also know you do not have a lot of time to shop around and compare different brake fluid brands, the Castrol 12614 is our best overall recommendation. Besides offering outstanding high-temperature performance, this product also meets and exceeds DOT 3 and 4 standards.
However, for motorists shopping for a more affordable brake fluid option, the inexpensive Castrol 12509 will be a fantastic choice.