Engine detailing is an integral part of taking care of your car, but unlike other parts of your vehicle, you can't just use soapy water and an old rag on the engine. You need the best engine degreaser to get good results.
Engine degreasers have a unique formula to help you get rid of the grease and oil in your car's engine quickly and effectively. They are also highly effective at removing dirt, flies, smog, and stubborn engine stains.
Different manufacturers out there use varying degreaser formulas. Hence, to help you find something that cleans your engine you well, we review some of the top-rated engine degreasers in the market and give you a buying guide.
Top Engine Degreasers of 2021 by Editors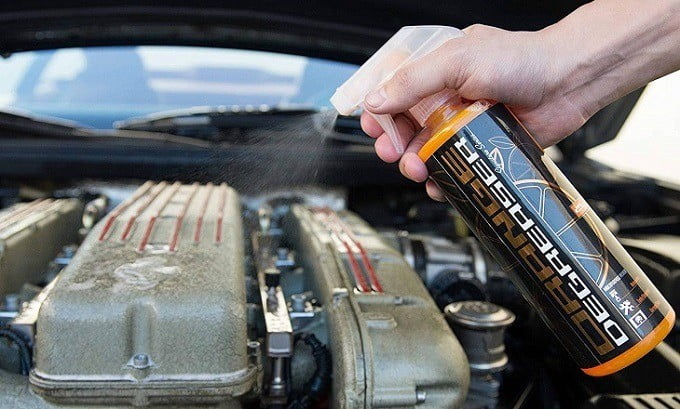 Summary of 7 Best Engine Degreasers
IMAGE
PRODUCT
FEATURES

1. Chemical Guys CLD_201_16 (Best Overall)

Super concentrated formula

Works fast & cleans deeply
Universal for use on various materials

Citrus-based for a pleasant scent

2. Gunk EB1CA (Best Inexpensive)

More affordable
Fast-acting formula
Easy to use aerosol can
Rinses clean with water

3. Meguiar's D10801 (Best for Toughest Job)

Formulated for heavy-duty work
Residue-free performance
Cost-saving 1 gallon container
Pleasant herbal fragrance

4. Simple Green 19128 (Best Industrial)

Highly-effective & all-purpose degreaser
Biodegradable formula
Easily rinses off with water
Completely fragrance-free formula

5. Oil Eater AOD1G35437 (Best Biodegradable)

Non-toxic & non-hazardous formula
Great value for a gallon of degreaser
Safe for all materials
Package includes a dilution chart

6. Gunk EBGEL (Best for Old or Hot Engine)

Specially-formulated for removing baked-on grease

Deep penetrating action
Works for various vehicles
No scrubbing required

7. Spray Nine 22732 (Best Water-Based)

No harsh petroleum solvents

Fast-acting formula
Bottle includes a spray-head
Versatile for use on different materials
1. Best Overall: Chemical Guys CLD_201_16

Chemical Guys CLD_201_16 is our best overall engine degreaser thanks to the highly concentrated formula that makes it more effective at cleaning engines.
With a citrus-based formula, you get a professional strength degreaser that will loosen everything on your engine fast and clean it deeply. This formula also has a more pleasant scent.
It is a universal cleaning product as it will be useful for cleaning the undercarriage, tires and rims, tools, and other machinery.
This engine degreaser comes in a 16-oz bottle with a spray head for easy use. However, the company also has the Chemical Guys CLD_201 option, a 1-gallon container for those that want something for larger engine cleaning jobs.
While this engine degreaser might be a little too potent for some plastic components, it should still clean them well with proper dilution. Also, having to dilute it means extra work for you, but this is hardly a significant concern.

---
2. Best Inexpensive: Gunk EB1CA

The Gunk EB1CA is an inexpensive engine degreaser that will give motorists a more cost-effective way of cleaning their engine. And despite the smaller price tag, you still get 15 ounces of degreaser for an even better value.
The engine degreaser will come in a nice aerosol container that makes it easier to use. But, what many motorists love most is that the formula is fast-acting. All you need to do is apply and leave it for at least 10 minutes before rinsing the surface. And it rinses clean with just water.
This degreaser also tackles all kinds of grime, dirt, and grease effectively. Hence, you can use it to clean out your engine completely without the need for a tool.
For the drawbacks, this degreaser has a strong chemical smell and does not work well for engines with plastic covers. However, both are minor concerns that should not stop you from giving it a try.

---
3. Best for Toughest Job: Meguiar's D10801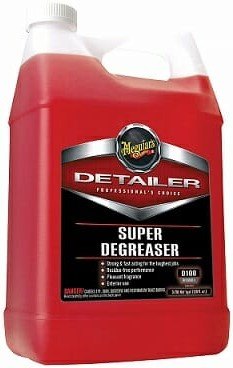 Meguiar's D10801is a fast-acting engine degreaser with a potent formula to handle the most challenging jobs. Hence, no matter how dirty your engine is or how thick the grease build-up gets, this degreaser will be up to the task as it breaks down the toughest grease easily.
You will never have to worry about unsightly white residue on your engine parts with this degreaser as it is completely residue-free. Because it has a pleasant herbal fragrance, using this degreaser is quite a pleasure.
Lastly, you can be sure of getting good value for your money as this degreaser will come in a 1-gallon container and at a fair price.
Although there is no spray bottle in the package, these are cheap and easy to get. The chances are that you already have something you can use in your garage.

---
4. Best Industrial: Simple Green 19128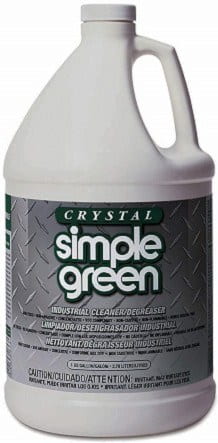 Any motorists looking for an industrial-grade degreaser that cleans effectively and is ideal for all-purpose use, the Simple Green 19128 is a fantastic choice. This engine degreaser is versatile and will be ideal for much more than just cleaning your engine and parts.
Users will also love that it is an easy product to rinse off after use as some plain water is often enough with no additional tools or extra scrubbing required.
The engine cleaning solution comes with no added color, is fragrance-free, non-flammable, non-corrosive, and biodegradable.
An applicator bottle would have been a nice inclusion in the package. However, this should not be a deal-breaker, as you can always order one separately.

---
5. Best Biodegradable: Oil Eater AOD1G35437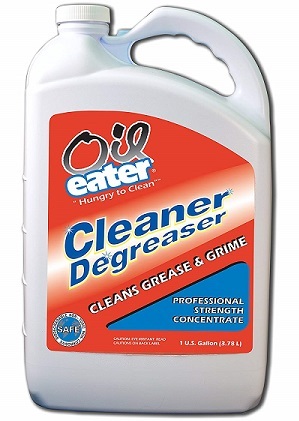 Oil Eater AOD1G35437 is our best biodegradable engine degreaser. It is also a non-toxic and non-hazardous engine degrease that will be safe for both the engine parts and the environment.
This degreaser has a concentrated formula that will require some dilution. However, it comes with a dilution chart so you can know how much water to add.
It eats oil on industrial machinery, floors, tools, and household items like carpets, floors, concrete, and more. Overall, it is ideal for both home and industrial uses, making it quite a versatile product.
For a 1-gallon bottle, this is quite an affordable product that will ensure you get great value for your money.
While this degreaser does not work well for glass, leather, and suede, it works great for most engine materials. Also, the lack of a dilution bottle and a spray head are not significant issues.

---
6. Best for Old or Hot Engine: Gunk EBGEL

If you have an old or hot-running engine with baked-on grease, the Gunk EBGEL will do you a lot of good as it is very effective in such situations. What's more, it has a deep penetrating formula that will dissolve grease and dirt fast.
Using this product is relatively easy, as you only need to spray and leave it to soak for at least 10 minutes before rinsing off. In most instances, you do not even need to scrub the surface.
This engine degreaser is quite versatile as you can use it for a wide variety of vehicles, including RVs, ATVs, trucks, and motorcycles.
While the spray nozzle's quality seems a little wanting, it should still serve you well with proper handling. Also, it can be a little messy, but this is still not a deal-breaker.

---
7. Best Water-Based: Spray Nine 22732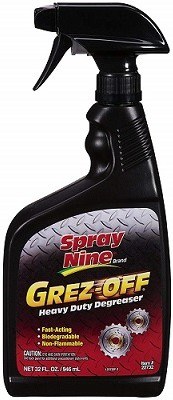 The Spray Nine 22732 is a water-based engine degreaser that will not contain any harsh petroleum solvents, making it safe for the vehicle, environment, and the user. The formula is also biodegradable, non-flammable, and non-acidic.
With this engine degreaser, you get a universal product that will be ideal for various uses. You can use it to clean engines, machines, tools, and different materials from plastic to rubber, vinyl, and asphalt.
Because the bottle will include the spray head, you can be sure of getting an easier time when it comes to the application.
If you are dealing with tough stains, you may need to use some elbow grease to scrub them off. But, the results are worth the effort.

How to Buy the Best Engine Degreaser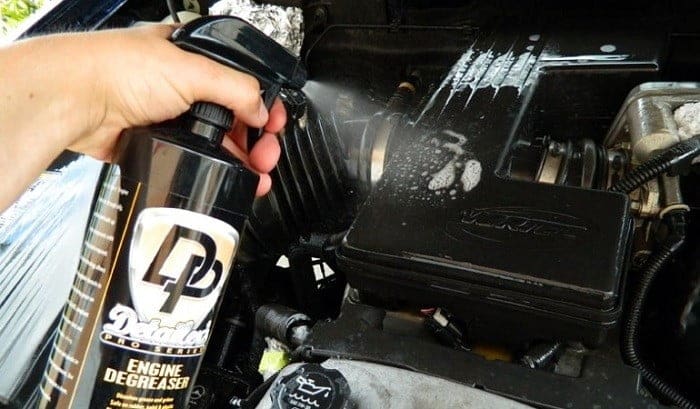 1. Water vs. Petroleum-Based Degreasers
Petroleum-based Degreasers
Petroleum-based engine cleaners come from natural mineral oils. Hence, they tend to be more affordable because petroleum is abundant. Also, they are more potent when it comes to degreasing and cleaning.
However, these degreasers are often very abrasive and can damage certain non-metallic engine parts.
Water-based Degreasers
As the name suggests, water-based degreasers get made using a formulation that adds different solvents to a water base. The formula makes them costlier than petroleum-based degreasers.
Being water-based makes this kind of degreaser milder, and you can be sure they will not damage the more delicate engine parts. Also, the water-based degreasers are safe for use on almost any material, making them quite versatile cleaning agents.
Water-based degreasers are usually also more environment-friendly, so you don't have to worry about their run-offs, but you'll have to pay more for them compared to the petroleum-based types.
Buying Advice: If you prefer something potent that can remove any grease or oil no matter how thick it is, go for petroleum-based degreasers. But, if you prefer something milder and hence more environment-friendly that you can use to clean various surfaces, water-based degreasers will serve you well.
2. Smell
Nearly all of the best automotive engine degreasers will have one peculiar smell or the other. Some are quite pleasant or at least bearable while others are not very good, especially the petroleum-based types.
If you are using the product in a well-ventilated space, the smell will hardly be an issue. But, if the scent matters a lot to you, something with a pleasant herbal fragrance like Meguiar's D10801 should be perfect.
3. Multi-Purpose Degreasers
Here's another question that you'll need to ask yourself right from the beginning. Do you want a degreaser just for your car's engine, or a product you can also use around the garage or even in the house?
A degreaser that's specific for the car engine will clean your engine more effectively. However, a multipurpose degreaser like the Krud Kutter KK32 is milder. Hence, it can work on different materials and surfaces, which offers you great value for your money.
4. Safety
A good degreaser should clean up your engine well and should not be dangerous to use. You'll need to check the chemical composition of the degreaser formula for this and make sure that it doesn't contain anything harmful to you or any part of your car.
A non-toxic, non-hazardous, and biodegradable product will always be the safest to use and is also more environment-friendly.
How to Clean an Engine Using a Degreaser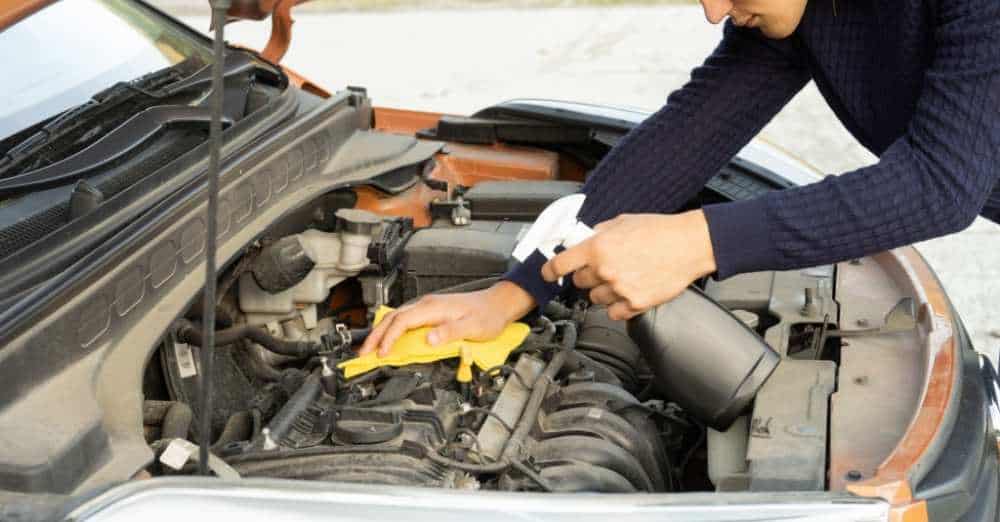 Now that you know how to choose the proper degreaser for your car's engine, it's vital to understand how to use it properly.
Things you'll need:
An engine degreaser of your choice
A brush with sturdy bristles
Plastic bags or other shielding materials
Step 1: Preparation
Before you begin with the cleaning process, you'll need to make initial preparations to make sure that things go well. These preparations will include covering all electrical parts in the engine because they are often sensitive to degreasers, especially the petroleum-based type.
You can use plastic bags to cover up items like the fuse box, electronic control systems, filters, and anything else you know needs some protection.
Also, make sure you have running water nearby to rinse the engine with afterward. If the engine is hot, let it cool off first before starting to wash it.
Step 2: Dilution
Dilution is an optional step, and you may only have to do it if you're using a petroleum-based degreaser. You should avoid using its full power as it can potentially damage fragile parts in your car engine.
Step 3: Application
Now you can apply the degreaser to the engine. Make sure you spread the solution as evenly as possible.
The effectiveness of the product you are using and the grease or dirt thickness will determine how long it takes to start falling off. You can use a brush to scrub the areas that you feel may need a little help.
Step 4: Wash-Off
Once you are satisfied with the work the degreaser has done on your engine, simply wash it off with your water hose until you rinse the engine fully.
A helpful tip for getting the best results is not letting the degreaser dry out on your engine at any time, but rather always keeping it wet until you start rinsing it out.
Conclusion
Finding the best engine degreaser should not be a hassle with our review of top-rated products above to guide you.
From this review, the Chemical Guys CLD_201_16 is our top overall recommendation. It has a super-concentrated formula that works fast and effectively and is also a universal cleaning product.
But, if you prefer something inexpensive that helps save you some bucks, the Gunk EB1CA is a great pick.