Summary of 10 Best Phone Holders
1. Best Overall Phone Holder: IOttie Easy One Touch 2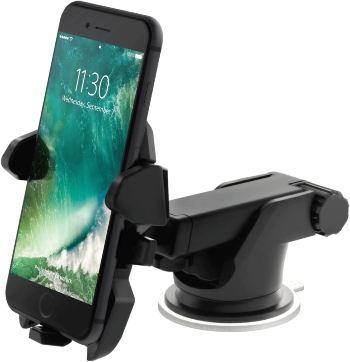 Key Features
Easy one-touch mounting system
Telescoping arm provides closer device viewing
360-degree top mount rotation
Adjustable bottom foot to allow for phone charging
Universal phone compatibility
Sticky gel pad retains suction force longer

---
2. Best Phone Holder with Long Arm: Newward 2-in-1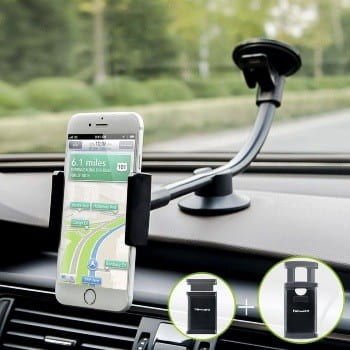 Key Features
Up to 13 inches long gooseneck keeps device closer
360-degree rotating ball joint
Super strong suction for a secure hold
Quick one-button lock and release
2 clamp sizes provide wider phone compatibility

---
3. Best Dash Mount Phone Holder: iOttie Easy One Touch 4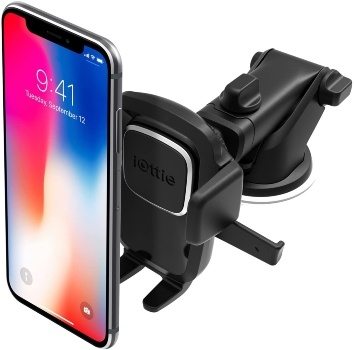 If you prefer a phone holder that you can mount on your dashboard, the iOttie Easy One Touch makes a great buy. It includes the easy lock and release one-touch mechanism to make mounting it on the dashboard or windshield a breeze.
iOttie gives this phone holder a redesigned telescoping arm that ensures you can adjust the viewing angle easily. This arm can extend from 4 to 6.5 inches and rotate up to 225 degrees to give you more viewing angles, including placing the phone in a landscape position.
The foot mount on the phone holder is adjustable to accommodate different phone and case combinations from 2.5 inches. With this foot mount, it will be easier to charge the phone when on the holder.
Another element that makes this a fantastic phone holder is the super-strong suction cup, which ensures a secure hold. Better still, the suction cup retains the holding power for much longer, and you can even wash and reuse it to mount the holder in a different position.
Key Features
One-touch mechanism for easy and secure dash mount
Telescoping arm for adjustable view angle
Adjustable foot mount accommodates different phone/cases
Super strong and easy to restore suction cup

---
4. Most Convenient Phone Holder: IPOW IP1-201610142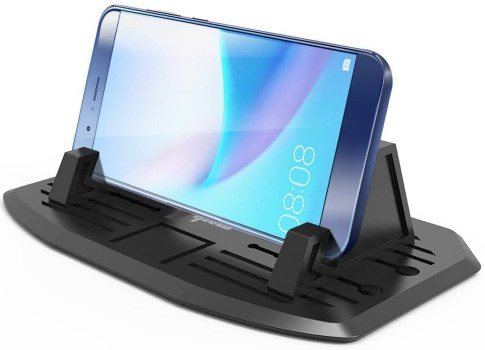 Key Features
More convenient design
Easy one-hand operation
Wear-resistant sticky gel is washable and reusable
High and low-temperature resistant
Accommodates different phone types and sizes

---
5. Best Budget Phone Holder: WizGear Universal Air Vent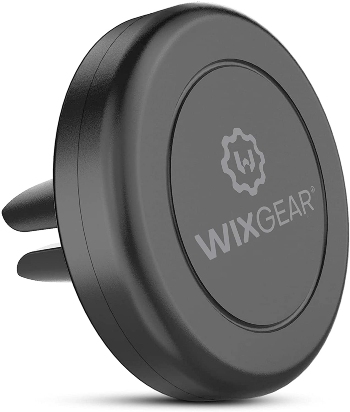 Key Features
Highly affordable to suit the budget shoppers
Universal magnetic holder works with any phone
Swivels display to any angle
Interference-free magnetic holder
Sturdy rubber base for maximum durability

---
6. Best Air Vent Phone Holder: Avantek CM04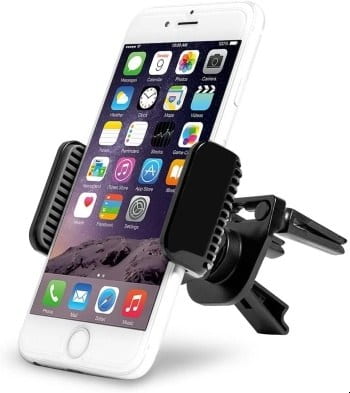 Key Features
Compatible with all air vent types
Sturdy clamps and clips for a secure attachment
360-degree rotation for multiple viewing angles
Anti-slip pad keeps device secure
Spring-loaded arm for broad phone compatibility

---
7. Universal Compatibility Phone Holder: Mpow 051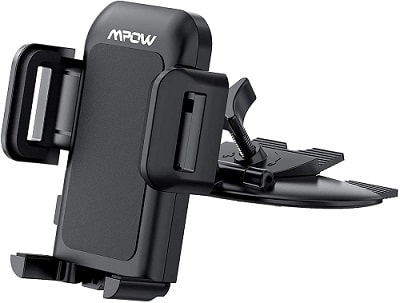 Key Features
One size fits all ensures universal compatibility
One-touch design for easy installation and removal
Open-ended and foldable feet
360-degree adjustable ball head
3-sided grip design holds the phone securely

---
8. All Surface Attachment Phone Holder: TaoTronics TT-SH08
Key Features
Super-strong sticky pad is attachable anywhere
One button control for easy use
Dual knobs ensure easy view angle adjustment
Soft foam rubber cushion does not scratch phone
Adjustable arm provides easy phone access
Extendable arms to accommodate most phones

---
9. Reinforced Magnetic Phone Holder: WizGear Magnetic Swift-Snap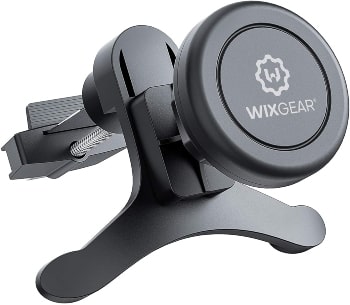 Key Features
Powerful reinforced magnetic holder
High-quality and sturdy rubber base
Swivels display for optimal view angle
Complementary design fits any phone
Easy air vent mounting

---
10. Easy to Install Phone Holder: Maxboost MB000313_V2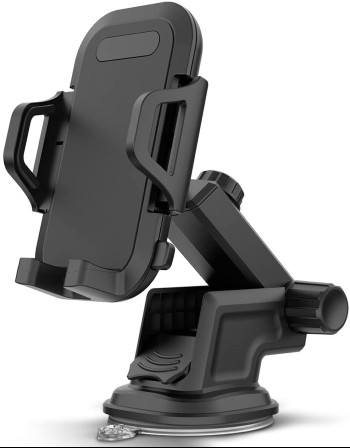 The easy installation is one of the key highlights of the Maxboost MB000313_V2. The phone holder can be installed quickly on the dashboard or windshield with no tools required. You can even mount the holder on an uneven or textured surface using the adhesive mounting square.
Besides being easy to install, you can be sure of getting a more secure mount thanks to the potent suction and inclusion of a couple of locking mechanisms that provide a more secure hold.
The pad that holds the phone is secure enough as it has an anti-slip surface, which keeps the device in place and also prevents scratching.
There are some extendable arms on this phone holder to allow it to hold all smartphone sizes. And many users love the 360-degree swivel as it ensures you get more view angles.
Key Features
Easy to install with no tools required
Powerful suction and 2-lock locking mechanism
Anti-slip pad for secure phone hold
Accommodates all smartphone sizes
360-degree swivel for versatile view angle

How to Buy the Best Car Phone Holders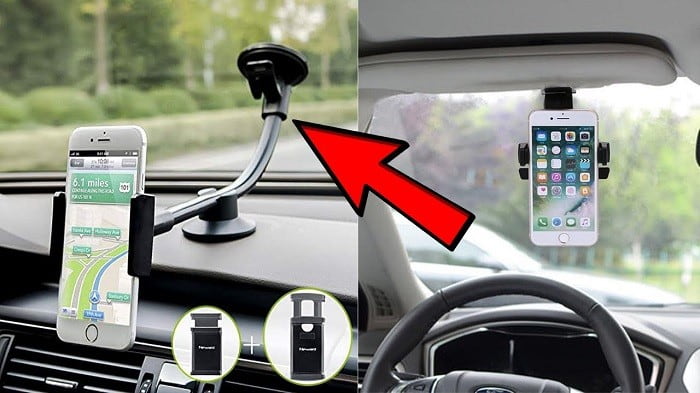 1. Car Interior
As you choose a car phone holder, you need to think about your car's interior. The first thing is always to make sure it has enough space to accommodate the specific phone holder you want to install.
Besides space, the surface of the vehicle should be appropriate for installing the phone holder. It is important to note that some adhesives only adhere to smooth surfaces. If you have a textured or rough dashboard, they might not work for you.
Also, make sure the phone holder will look good in your vehicle by complementing the interior, and here, things like the shape and color come into play.
2. Phone Type and Size
Phone type and sizes that you have also matter a lot. It is vital to make sure the mount has enough space to accommodate them.
Most of these phone holders hold specific phone sizes and thicknesses, and so you need to check the exact specifications of the mount before buying.
If you do not want to go through the hassle of measuring your phone or have different phone sizes or types, a universal phone holder like WizGear Universal Air Vent, is a great choice.
3. Types of Car Phone Holders
Another vital decision you need to make is the type to buy. Here the following are the most common types available.
Air Vent Clip
As the name suggests, these phone holders mount on the vehicle's air vents. These types allow you to have the phone closer to you on either the right or left side of the steering wheel. However, some like Avantek CM04 work better for rectangular air vents than circular ones.
Suction Cup Mount
Suction cup mount phone holders such as the Newward 2-in-1 stick to the windshield or dashboard using a suction cup. They are an easy type to mount, which explains why suction cups are the most popular options in the market. The mounts are also highly versatile, but they require the surface to be clean to ensure they do not fall off.
Dash Mount
With dash mounts such as the iOttie Easy One Touch, you get a phone holder specifically designed for mounting on the dashboard. These types typically use either adhesives or suction cups for mounting on the dash.
Cradle
The cradle phone holders like the Mpow 051 are designed to cradle the phone from 3 sides and hence provide a more secure hold. Cradles are often universal mounts that work for any phone and make it easy to install and remove the phone with one hand.
Magnetic
Magnetic phone holders use a powerful magnet to stick the phone on their surface. They come in different sizes, designs, and shapes to suit all kinds of smartphones. The magnetic holders like WizGear Magnetic Swift-Snapuses effectively keep the phone in place and swivel to provide an optimal view angle.
Conclusion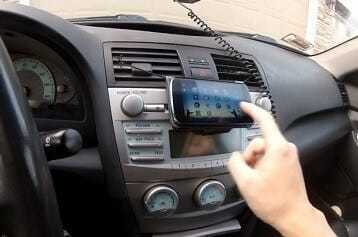 A high-quality cellphone holder for a car will firmly and securely hold your cellphone in place, ensuring it doesn't pop out while you are driving. And with this review to guide you, finding the best phone holder should be a breeze.
That said, the IOttie Easy One Touch 2 is our top overall recommendation as it is super easy to install, highly adjustable, and accommodates almost any smartphone.
However, if you prefer something with a long arm that provides a close view, go for the Newward 2-in-1, while the WizGear Universal Air Vent is a perfect choice for those shopping for a budget model.