Water vapor builds up faster inside an RV than in a standard home. You can open the windows to stop the water vapor from condensing and ruining your RV, but when it's cold outside, a dehumidifier for RVs becomes your best option.
With an RV dehumidifier, you can rid the air of its water content, drying the air in your RV, thereby and preventing the water vapor from condensing on your walls and ruining your RV investment.
This review focuses on the best offers in the market and it includes an insightful buying guide to help you choose the best dehumidifier for your RV.
Top Dehumidifiers for Rv of 2021 by Editors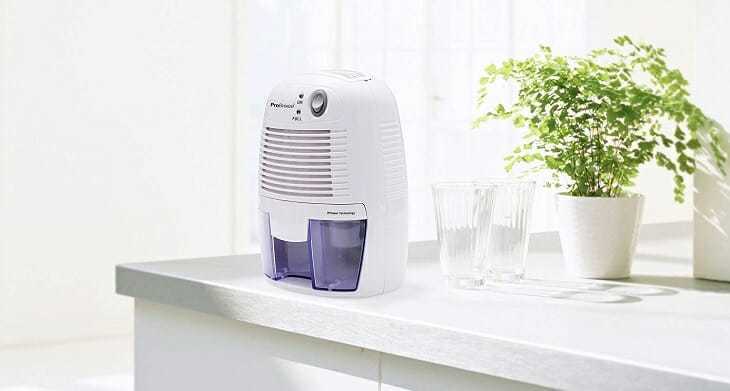 Summary of 7 Best Dehumidifiers for RV
IMAGE
PRODUCT
FEATURES

1. Eva-Dry EDV-1100 (Best Overall)

Silent humidifier that uses little power
Ideal for small campers
Small enough for tabletops & workbenches

2. Pro Breeze PB-02-US

Small and compact dehumidifier
Low power consumption of just 20 Watts
Removes 9 oz of moisture per day

3. Keystone KSTAD50B

High-capacity dehumidifier up to 50 pints per day
Ideal for spaces up to 3,000 sq ft
Easy to use digital controls

4. Powilling Dehumidifier

Compact dehumidifier
Portable and easy to use
Collects up to 1.2 pints per day

5. Ivation IVADM35

Stylish and quiet operation
Ideal for up to 2,200 cu ft large spaces
Collection tank holds up to 3 days of water

6. Hysure Dehumidifier

Very low 37 db working noise level
Compact and lightweight
Large 1-pint tank collects water for 2 days

7. InvisiPure IP-DH800

Strongest Peltier dehumidifier
Removes up to 1.7 pints per day
Comes with a 1-year warranty
1. Eva-Dry EDV-1100 - Best Overall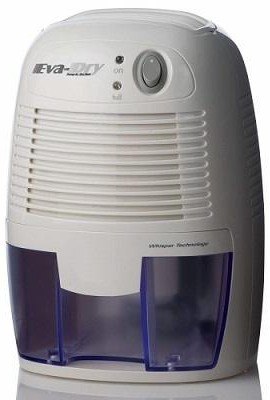 Area: 1,100 cu. ft
Noise: 51 dB
Dimensions: 6.5 x 5 x 8.5 inches
Here comes a great but mini-sized electric dehumidifier for RVs. It runs on only 23 watts of electricity and is just 50.9 dB loud. Please note that this is a relatively small dehumidifier, measuring just 6.5 x 5 x 8.5 inches and weighing just 1 pound.
This dehumidifier uses no compressor, but rather a thermo-electric Peltier module to do its job, resulting in its low energy consumption. It's also very easy to understand and use, including its air filter, detachable water tank, and simple controls.
It's one of the smallest dehumidifiers for RVs and features simple controls, including an On/Off button plus LED status indicators. This dehumidifier is for areas up to 1,100 cubic feet in size, which might seem large but is really small and definitely not for use by more than 1 person.
It has a stylish design, which lets it fit easily into the most modern interiors. The water container is easy to reach from the front but it's only a half pint large.

---
2. Pro Breeze PB-02-US Tabletop Dehumidifier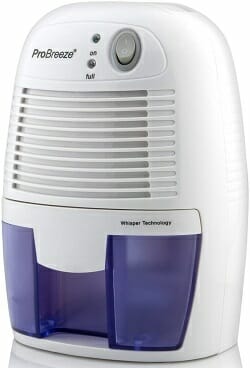 Capacity: 0.56 pint per day
Area: 1,200 cu. Ft / 150 sq. ft
Dimensions: 7 x 6 x 11 inches
Here's another small and compact desiccant dehumidifier offered by Pro Breeze at a fair price. It comes with everything ready to go, including a power adapter and a user manual.
This dehumidifier has a 16-ounce water tank for collecting moisture, but it only works at a rate of 9 ounces or 0.56 pint per day. Yes, it's too small for a large RV, but it's perfect for a small one.
Electric functions are also available and include an auto-off function once the bucket is full, plus a LED indicator to call your attention to it.
In addition to its simplicity and ease of use, this Pro Breeze dehumidifier is also beautifully made. It's the perfect choice for someone who needs a small and beautiful dehumidifier for his recreational vehicle.

---
3. Keystone KSTAD50B Dehumidifier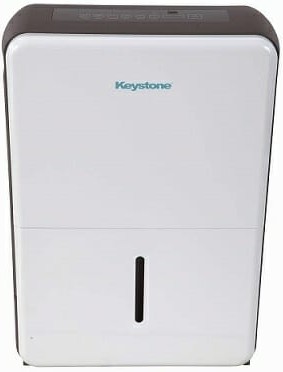 Capacity: 50 pints
Area: 3,000 sq. ft
Noise: 55 dB
Dimensions: 10.8 x 15.4 x 23.3 inches
This portable dehumidifier for RVs packs a lot of features that make it stand out from the rest. First off, it can remove up to 50 pints of moisture from the air per day.
It's quite an efficient machine that can easily dehumidify areas up to 3,000 sq. ft large. You get a digital control system with a display, a timer, frost control for working in cold weather, auto-restart after a power outage, and a 14-pint large water tank.
Alerts keep you notified of necessities like a full bucket and filter change, and the option to continuously drain the water is also available. Although this package does not include the draining hose, it is still one of the best dehumidifiers for RVs.
Another disadvantage of this dehumidifier is its relatively high operating noise of 55 decibels. However, it's Energy Star compliant, uses 520 Watts peak, and comes with 4 casters for easy mobility.

---
4. Powilling Dehumidifier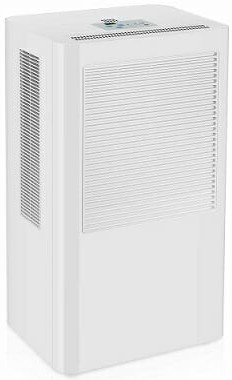 Capacity: 1.2 pints
Area: 2,200 cu. ft
Noise: <45 dB
Dimensions: 8.9 x 6.5 x 14.4 inches
Powilling's 8280W is a high-performance camper dehumidifier based on the Peltier technology. Its performance might pale when compared to desiccant or refrigerant models, but it's a winner among Peltier dehumidifiers.
It's beautifully designed, comes with simple and easy to understand controls, and is lightweight and portable. It'll collect up to 1.2 pints per day and its water collection tank is 4.5 pints large.
Extra features include automatic turn-off if the water tank is full, a 60-day money-back guarantee, and an 18-month manufacturer warranty to make it one of the best electric dehumidifiers for RV.
However, it lacks a continuous draining feature, but the entire thing is just 2 lbs heavy and works well in spaces up to 270 sq. ft large. It comes well packaged and includes a 100-inch long power cord.

---
5. Ivation IVADM35 Dehumidifier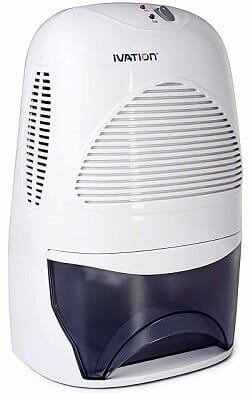 Capacity: 1.2 pints
Area: 2,200 cu. ft
Dimensions: 14.1 x 7.2 x 9.6 inches
The Ivation IVADM35 is a small to medium-sized Peltier dehumidifier with nearly the same features as the Powilling 8280W above.
It features a 1.2-pint capacity, weighs just 4.5 pounds, and includes a 4.2-pint water storage tank. Ivation rates it ideal for spaces up to 2,200 cu. ft and it's great for sleeping quarters because of its low-noise operation.
You get a power cord with it that's about 6-feet long, but there's no option for continuous drainage with a hose.
Still, it's one of the best 12V dehumidifier for RV and uses only 72 Watts of power and it comes at a good price as well.

---
6. Hysure Dehumidifier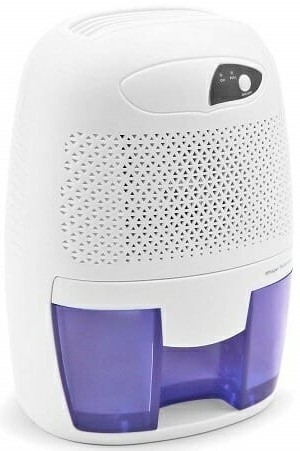 Capacity: 0.5 pint
Area: 2,200 cu. ft
Noise: <37 db
Dimensions: 11.4 x 6.4 x 5.3 inches
Compared to the other devices in this review, this Hysure product is a very portable dehumidifier for RVs, measuring just 11 by 6 by 5 inches and weighing 2.6 pounds.
Furthermore, it uses Peltier technology, so it's very quiet. Hysure rates it at below 37 dB, which means you can sleep all you want, while it's running just near you.
It also comes with all the standard features you can expect from a portable dehumidifier, like auto-off when the tank's full, a simple control system with LED indicators, and an energy-saving 23-Watt operation.
On the downside, it removes only a maximum of 0.5 pint per day, so it's only for small spaces. The package includes a DC adapter and the user's manual.

---
7. InvisiPure IP-DH800 Dehumidifier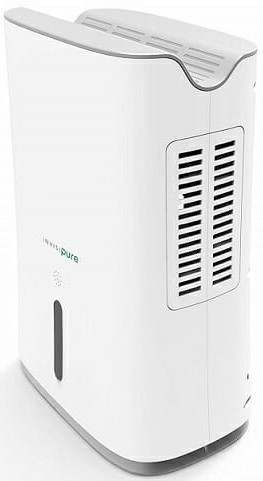 Capacity: 1.7 pints
Dimensions: 9.8 x 6.1 x 13.9 inches
This device is the most powerful thermo-electric dehumidifier in this review with its 1.7 pints. It takes it 100 Watts of electric energy to do this though, but if you're seeking a quiet and high-capacity dehumidifier, then this is a great offer.
You get a beautifully designed device with features like auto shut-off when the tank is full and a 3/8-inch hose attachment for continuous drainage.
Asides from its relatively large 100-Watt consumption, its price is also on the high side, but it has a 4.2-pint water tank and dual air inlets to maximize efficiency.
A built-in handle tops off its unique design, with the blue light that shines through the water reservoir finishing it off.

How to Buy the Best RV Humidifiers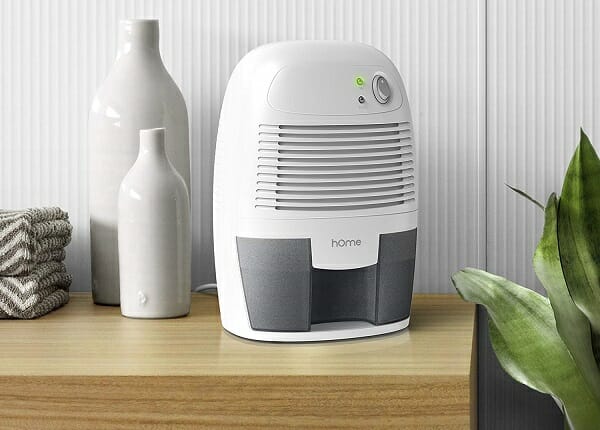 Picking out the best dehumidifier for RVs is often a confusing experience for many people. The reasons include the conflicting information produced by different manufacturers to persuade potential customers and their technical differences.
A dehumidifier is a unique technological tool and so it needs a little understanding of its processes for you to make the right choice to fit your needs.
1. Types of Dehumidifier
The first thing to understand about dehumidifiers is that there are three major types based on the process they use in removing water from the environment.
These three types are the refrigerant, the desiccant, and the Peltier dehumidifiers. Following is a closer look at them:
Refrigerant. These dehumidifier types use a compressor to create a colder surface in the environment upon which water vapor condenses to become water. The water is then channeled into the tank.
Refrigerant dehumidifiers are more energy-efficient and they're better for use in a warmer environment. They do not work well in cold temperatures under 15 °C because of the nature of the compressor.
Desiccant. With desiccant dehumidifiers, a desiccant wheel gets used in absorbing the moisture from the air. This system has no compressor, but it does use a fan and an internal heater to recharge the desiccant.
A desiccant is any material that naturally absorbs moisture from the air. Desiccant dehumidifiers are lighter, quieter in operation, and work well in cold temperatures.
Peltier/Thermo-Electric. This third type of dehumidifier is based on a physical phenomenon, which relates electricity to temperature change.
A Peltier dehumidifier uses this phenomenon to create a cool plate upon which water condenses. Peltier dehumidifiers are small and quiet but they have a low rate of moisture removal.
2. RV Space & Dehumidifier Capacity
These are two factors that work together and therefore, need considering together. The RV space refers to your RV size because you'll obviously need a more powerful dehumidifier for larger spaces.
The dehumidifier capacity refers to the amount of moisture that a dehumidifier can remove in any given 24-hour period. This capacity is given in pints, while the space that the dehumidifier is ideal for is given in sq. ft.
3. Power Consumption
The amount of power that a dehumidifier uses depends first on the type of dehumidifier it is, secondly on its capacity, and thirdly on its setting at the time of use.
A refrigerant dehumidifier will use less energy on average than a desiccant dehumidifier. All other conditions being equal, a 90-pint dehumidifier will use more energy than a 45-pint model.
Some dehumidifiers come with extra features that allow higher fan speeds or other energy-intensive operations. You need to consider these three aspects, especially if you're on a tight energy budget.
4. Noise
Desiccant thermo-electric dehumidifiers run quieter than refrigerant models and so, are the better choice in situations where noise is a concern. They will usually produce about 40 dB in their low-speed fan modes.
In higher-speed modes though, most desiccant dehumidifiers will equal their refrigerant counterparts in noise level.
5. Drainage
Most dehumidifiers come with a water bucket for draining the moisture they collect from inside your RV. These buckets come in different sizes depending on the manufacturer, and so need different lengths of time to fill up, after which the dehumidifier turns itself off.
Some designs though, come with a continuous drain option, which allows the dehumidifier to work round the clock without needing to empty any bucket. Your choice here depends on how much convenience you want.
6. Portability
You'll also need to decide how much portability you want. If you want a dehumidifier that you can easily carry around, then look for something lightweight, else, it doesn't matter.
7. Ease of Use
The ease of using the dehumidifier is another point to look at. You need to check out the functions it offers to see how much easier it could make your life.
Offering a laundry setting is an example because this helps you to dry your clothes faster. Other important or helpful features include a timer, adjustable louvers, and a humidistat, which automatically measures and regulates your RVs humidity levels.
Different features could be helpful to different people, so you need to figure out which features you need and which dehumidifier provides it.
Conclusion
We've reached the end of this best dehumidifier for RVs review and you've seen all the different offers out there, including those with Peltier, desiccant, and refrigerant technologies.
While the refrigerant models offer the best price to performance value, the Peltier devices offer the least noise.
The final choice though is yours alone to make because you alone know how important price, noise, convenience, and performance are to you, and which one you find the most important in this situation.