With the best octane booster in your vehicle, you can be confident of higher vehicle efficiency and performance, enhanced fuel compression, and a smoother running engine.
Regular gasoline will have an octane rating of around 87 while mid-grade has 89, and premium gas has up to 94. Octane boosters aim to raise the number and increase the fuel's ability to resist knocking during combustion. Good octane boosters will get the number to at least 100.
However, octane boosters will vary in type, purpose, and frequency of use. Therefore, you cannot just go for any that you come across.
Below we highlight the crucial factors to consider when shopping for these car products to make sure you get something useful. But first, check out our review of top 7 octane boosters.
Editors' Picks for Top Octane Boosters 2021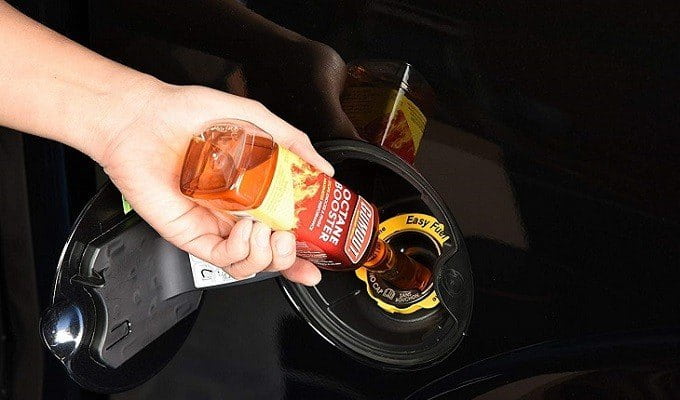 Summary of 7 Best Octane Boosters
IMAGE
PRODUCT
FEATURES

1. Lucas Oil 10026-PK12 (Best Overall)

3x more boost

Ideal for all gasoline engines
Safe for catalytic converters, oxygen sensors & turbos
Great value for money

2. Klotz KL-628 (Best for Gasoline Engine)

Raises octane by up to 10 numbers
Clean the carburetor & injector
Controls burn speed & stabilizes the flame front
Lots of product in the container - 128 ounces

3. STP 78574 (Best Inexpensive)

Most affordable
Restores both power & acceleration
Boosts octane & cleans the fuel intake system
Cap-less gas systems compatible

4. BOOSTane Oct32Pro (Best Professional)

Prevents ethanol's adverse effects
Minimizes depositing & corrosion
Safe for all gasoline engines

5. Royal Purple 11757 (High-Performance)

Boosts octane levels by 30 points
Stabilizes fuel & reduces engine knocking

Optimizes horsepower
Improves fuel economy

6. Blue Magic NA30-12PK (Best for Off-road & Racing Car)

Racing fuel concentrate
Restores lost horsepower
Safe on catalytic converters & oxygen sensors
Suitable for all gasoline engines

7. Rislone 4747 (Best Brand)

Super-concentrated formula

Keeps engine efficiency & power optimum
Easy pour nozzle
Does not harm oxygen sensors & catalytic converters
1. Best Overall: Lucas Oil 10026-PK12

The fact that the Lucas Oil 10026-PK12 is not a street-legal octane booster is an indication that it is a little more than the average vehicle can handle. But this is also a good thing as it means you will get a massive boost from it, which is why it is our best overall option.
Its formula is safe on both turbos and oxygen sensors, which are some of the things that can be affected by substandard octane boosters. With this one on your fuel tank, you will generate fewer emissions as it promotes clean fuel burn.
Whether you use a fuel injected or the traditional carbureted engines, this octane booster will work for you. Because it comes in a pack of 12 15-ounce bottles, you have enough for use on several refills. The 12-pack also ensures you get great value for money.
If you are looking for something to use on your daily drive vehicle, this might not be it as it is not street legal. But for other vehicles such as race cars, this is a perfect choice. If the neck is a little large for your tank opening, you can always use a funnel.

---
2. Best for Gasoline Engine: Klotz KL-628
The Klotz KL-628 is for gasoline and ethanol enriched fuels, and it will raise the octane rating by up to 10 numbers. This octane booster is also highly effective at cleaning the fuel injector and carburetors to enhance overall engine performance and give it a longer lifespan.
The octane booster provides better lubricity, and the formula is very useful in preventing pinging and minimizing the likelihood of a knock.
Fuel-burning will also improve when using this octane booster on your vehicle. And it helps by stabilizing the flame front and controlling burning speed to improve overall engine performance.
There is also a lot of product on the container. For a 128-ounce bottle, it is quite affordable.
The container design means the product drips a lot when pouring, but once you get the hang of it, you should pour without dripping. Also, if you wipe off any spills fast, it should not ruin your paint job.

---
3. Best Inexpensive: STP 78574

Each of the products in our octane booster review will offer top-notch performance, but if you want something more affordable, the STP 78574 is a great choice.
It uses a 2-in-1 formula ensures that besides boosting the octane rating significantly, it will clean the fuel intake system and remove deposits to restore the acceleration and horsepower.
Using this product regularly or every time you fill up your tank will reduce knocking and pinging. It is also compatible with the cap-less gas systems to make it ideal for use on most vehicles.
Although it comes in a relatively smaller 5.25-ounce bottle, there is still enough octane booster in the bottle to treat up to 21 gallons of fuel.

---
4. Best Professional: BOOSTane Oct32Pro
BOOSTane Oct32Pro is the perfect choice for anyone looking for a professional-grade octane booster that will offer a high fuel octane raise.
This octane booster protects against ethanol's adverse effects. Additionally, it will also restore lubricity, prevent depositing and corrosion, ensure a long engine life.
The BOOSTane Oct32Pro is safe for use on any gasoline engine, and with it in your vehicle, you will never have to worry about pre-detonation and knocks.
If you do not have a funnel, pouring this product into your vehicle can be a little challenging, but this is a small issue that should not be a deal-breaker.

---
5. High-Performance: Royal Purple 11757

With an octane rating raise of up to 30 points, the Royal Purple 11757 should offer more than enough boost to ensure high performance.
By increasing the octane rating, this product does a lot of good for your car, from reducing pinging and knocking to restoring horsepower and improving the fuel economy.
Max Boost also helps clean deposits from the fuel injectors, and it is safe on both oxygen sensors and the catalytic converters.
You can use this product on supercharged, turbocharged, nitrous-injected, and many other types of engines. Additionally, this octane booster is safe for both leaded and unleaded fuels. Also, it protects your catalytic converters from phosphorous poisoning.
While a longer spout would have been nicer, the design of the one in this bottle is still easy enough to work with and should not be a big concern.

---
6. Best for Off-Road & Racing Car: Blue Magic NA30-12PK

The Blue Magic NA30-12PK is a high-quality racing fuel concentrate ideal for both off-road and racing vehicles. What's more, this product restores lost horsepower and improves anti-lock effectiveness, making it even better for race cars.
It is also one of the best octane boosters for turbo cars out there as it will eliminate stalling, hesitation, knocks, and other common engine problems that these cars face. Better yet, it is safe for use on all gasoline engines.
For a pack of 12 16-ounce bottles, the Blue Magic NA30-12PK offers one of the best values on our octane booster review and the market. Many bottles also mean that you will have more than enough product for several refills, and they come with a long neck design to make pouring easy.
The fuel mileage might not increase much when using this product, but the change is still significant enough. Although you need to use a lot of it, the Blue Magic NA30-12PK is quite affordable.

---
7. Best Brand: Rislone 4747

Rislone is a highly reputable brand that has been making top-quality octane boosters and various other vehicle fluids for some time now. If you prefer to buy from a top brand, Rislone 4747 is a fantastic choice.
This Rislone octane booster has a super-concentrated formula that will help maintain optimum engine efficiency while also giving the vehicle a power boost. This product is also safe on both oxygen sensors and catalytic converters.
Another element that makes this a fantastic product is that it will help restore lost horsepower. When pouring it, the special nozzle ensures you have an easy time even if your vehicle has a cap-less system.
There is not much product in the bottle, but given that this is a super-concentrated formula, a little goes a long way, so the 6 fluid ounces is still quite a lot.

How to Buy the Best Octane Booster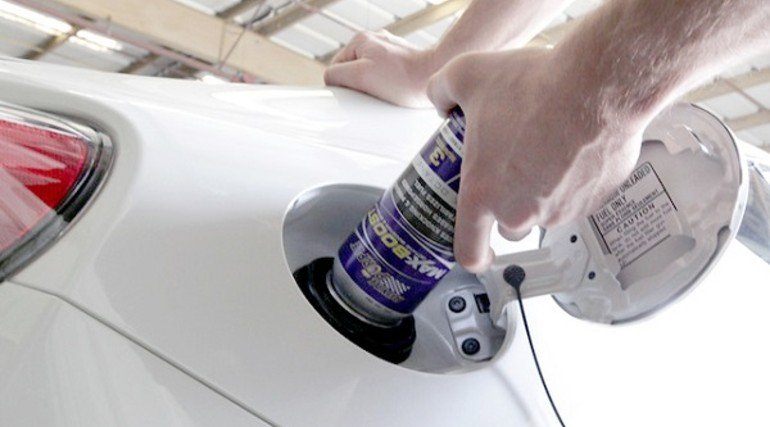 1. Compatibility
While some octane boosters work for almost all vehicles, these products are not always universal.
Before you spend your money on any octane booster brand, you need to make sure that it is meant for use on your particular vehicle and will not cause any problems.
Keep in mind that different engines will have varying requirements, and so you need to keep your vehicle model and engine type in mind when shopping as it makes it easy to find something compatible. For example, the Klotz KL-628 has a formula that is specifically for use on gasoline engines.
2. Performance
It can be disappointing and disheartening to spend a lot of cash on an octane booster that does not provide any significant boost.
Before settling on any product, you need to be sure that it will provide enough boost to meet your particular needs.
Manufacturers use different metrics for advertising their octane boosters, but the octane number is the best indication of how the product performs in your vehicle.
However, note that other factors, like vehicle condition and type of fuel, also determine the boost you get.
3. Size
When it comes to buying any vehicle fuel, it is vital to make sure that you get the best value for your cash. And one of the best ways to ensure this is to look at how much product you will be getting.
An octane booster is not an exception, and so you will also need to look at the size of the container or amount of product in the package.
A large bottle of octane booster that comes at a great price like the 128-ounce Klotz KL-628 is often the best pick. Large size provides enough product for longer use and good cost-per-use.
4. Frequency of Use
It is essential to consider how frequently you intend to use the octane booster to determine how economical it is in the long run.
In most instances, you need to use the octane booster for every refill, and so the costs can build up over time. Hence, you need to be keen on the brand or product you pick.
Also, availability can be an issue for some brands. Because most people prefer to stick with the same brand, it is crucial to make sure that whatever you choose is widely available.
5. Price
The cost will forever be a factor for most vehicle owners, so you cannot ignore it when choosing an octane booster.
While it can be tempting to go for the cheapest option in the market, this is never a good idea. Overly cheap octane boosters are either substandard products or will not provide any significant boost.
In most instances, you will get a better performance boost by just spending a few extra bucks. And when you also consider the maintenance and fuel costs, buying that seemingly pricier octane booster can save you cash in the long run.
That said, there are still some fantastic quality but inexpensive ones like the STP 78574.
Frequently asked questions
What is the Main Difference between Octane Booster and Fuel Stabilizer?
A: Octane boosters are formulated to boost the engine's power and efficiency by increasing the fuel's octane rating. On the other hand, fuel stabilizers help prevent fuel breakdown when you have to leave it in the vehicles for extended periods. But, they are also useful for protecting the engine against corrosion.
How does the Octane Booster Affect Engine Performance?
A: An octane booster will increase your fuel's octane rating and allow it to withstand more compression before detonating, which boosts the engine performance. Also, it helps with other things like restoring horsepower, cleaning fuel injectors, and even improving the gas mileage.
Read More: The Best Fuel Injector Cleaning Kit
When Should I Use Octane Booster?
A: While you can use an octane booster anytime you feel your engine needs a boost, it tends to be better for high-performance and hard-working vehicles. Also, you should use it if you drive in hot weather a lot.
What Happens if I Put too Much Octane Booster?
A: Typically, no damage will occur to your engine if you add excess octane booster. However, if the octane levels are too high, the fuel burn gets too slow, so the engine does not run very well.
Conclusion
While an octane booster will not solve all your engine problems, it comes with many benefits for your engine. You can be confident in getting a significant boost in performance and efficiency.
Our review above will be highly useful as it provides some good recommendations. From this list, the Lucas Oil 10026-PK12 is our best overall as it gives three times more boost and great value for cash.
But, if you are unsure whether to use an octane booster and just want something more affordable to give it a try, the STP 78574 is perfect as it is inexpensive.
Sources