Having a garage at home gives you space to fix your automobiles. But the trouble in the paradise arises due to the absence of the best garage storage system. Without it, you will find a lot of difficult in storing all the necessities commonly used in auto-mechanics.
What you genuinely need is a suitable storage system, irrespective of its type so that you can arrange your things appropriately.
There are 4 main kind of garage storage systems that we are going to discuss here. This garage storage system review is curated to help you find the product of maximum usability and superior help. Let's check out:
Editors' Picks: Top Garage Storage Systems of 2021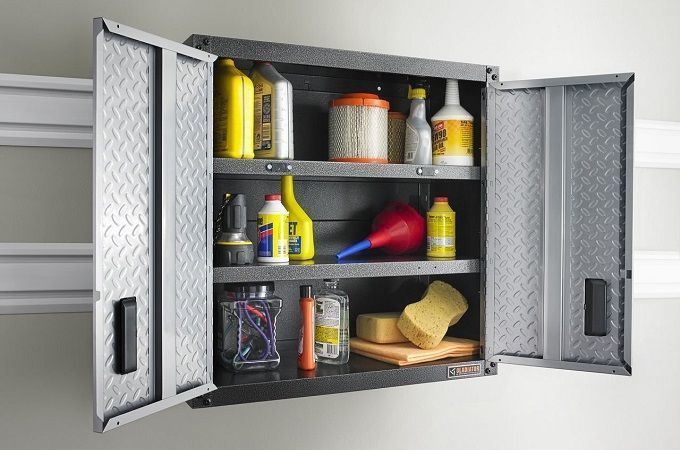 Summary of 7 Best Garage Storage Systems
IMAGE
PRODUCT
FEATURES

1. Seville Classic 5-tier Wire Shelves (Best Overall)

Steel storage system in 30 x 14 x 60" dimensions with 1500 lbs weight capacity
5-tier storage system
Rolling caster feet
Height adjustable

2. Fleximounts Wall Mount Storage Shelf

Heavy-gauge Steel storage system in 24 x 70" dimensions with 4000 lbs weight capacity
Easy installation
Comes with 4 shelves
Comes in buckle design

3. Wall Control 30-WGL-200GV

Galvanized Steel storage system in 34 x 34" dimensions with 19 lbs weight capacity
Comes with rust-resistant finish
Direct Mountable
No framework required

4. Racor PHL-1R

Steel storage system in 48 x 48" dimensions with 250 lbs weight capacity
Raises and lowers by crank
8 ft vertical life
Comes with 16 ft additional overhead storage

5. Seville Classic WEB452

Steel storage system in 14 x 36 x 56" dimensions with 500 lbs weight capacity
7-tier storage system
22 polypropylene bins
4 x 3" wheels

6. Origami General Purpose Rack

Heavy-duty Steel storage system in 35.8 x 20.9 x 60" dimensions with 1000 lbs weight capacity
Easy installation
Comes with 4 shelves
Professional-grade caster wheels

7. Gladiator GAWG28FDYG

Steel storage system in 28 x 12 x 28" dimensions with 150 lbs weight capacity
Tab and loop design
Durable magnetic catch
Comes with lasting durability
1. Seville Classic 5-tier Wire Shelves - Best Overall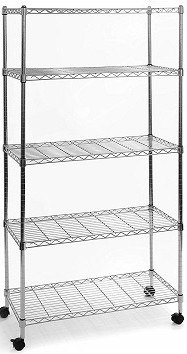 Weight Capacity: 1500 lbs
Dimensions: 30 x 14 x 60"
Material: Steel
This is a classic freestanding storage system with wheels to move to wherever you want. Interestingly, this model is constructed with the heavy-duty steel to make sure that there is no corrosion and rusting problem with this model.
The maximum weight capacity is 1500 lbs which makes it one of the best cheap garage storage system. The 5-tier storage give amazing space to pile different components and equipment.
The shelves are customizable and you can adjust the height by 1-inch increment without needing any tools.
Since this one is a rolling storage system, you get 4 wheels dedicated to the 4 steel legs. These are 1.5" wheels with levelling feet and 2 locking mechanism. However, the wheel quality could have been better because they get stuck while moving which can be annoying.

---
2. Fleximounts Wall Mount Storage Shelf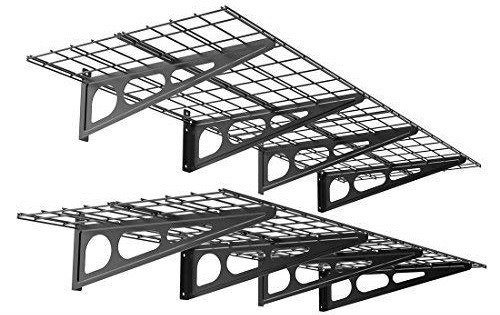 Weight Capacity: 4000 lbs
Dimensions: 24 x 70"
Material: Heavy-gauge Steel
The wall-mounted Fleximounts storage shelf is suitable for the garages where there is heavy equipment to store. The weight capacity of this model is 4000 lbs which is highest in its kind.
It has quick and easy one-person installation and comes with all-inclusive of hardware required for the assembly. The heavy-gauge steel construction is very fine in quality. However, it is not completely corrosion-resistant.
It is a sturdy product that comes with Velcro buckle design to prevent the brackets from bending or falling. This way, you can trust the shelf with heavy machinery.
The product comes with installation template that helps in mounting the shelves. To ensure perfect location, you get Bubble Level. While it has huge weight capacity, there is not a lot of space (width-wise) to keep multiple things.

---
3. Wall Control 30-WGL-200GV Garage Storage System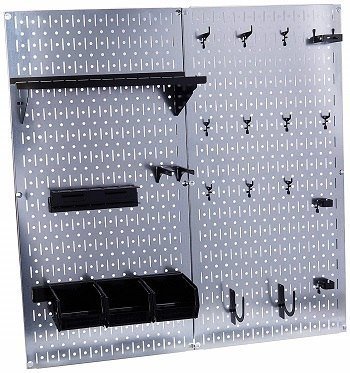 Weight Capacity: 19 lbs
Dimensions: 24 x 70"
Material: Heavy-gauge Steel
So, basically this one is a pegboard which is usually quite helpful as a storage system. The construction is ensured with galvanized steel. Thankfully, the steel is rust and corrosion resistant.
This pegboard is considered to be 10 times stronger than any other conventional pegboards on the market. No wonder that it is being considered as a dependable option that can accept more slotted, stable, and secure hooks, shelves, and brackets.
You can attach standard hooks of 0.75 inches, medium hooks of 1.09 inches and long hooks with 6 inches reach. Other than that, it is compatible with U-Hooks with 3 inches reach. Plus, there are magnetic panels for more storage adjustment.
There is no framework required. You can directly mount into studs or sheet rocks. Unfortunately, the tools and sets are not included with this product. Also, it has very little weight capacity.

---
4. Racor PHL-1R Garage Storage System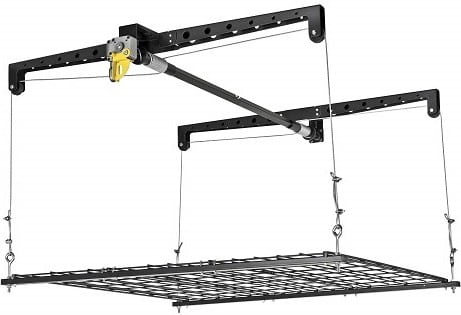 Weight Capacity: 250 lbs
Dimensions: 48 x 48"
Material: Steel
This is the first ceiling storage system in the list which is made of high-quality steel material. This one comes with fantastic construction but only suitable for equipment and products that are occasionally used.
The weight capacity of this model is 250 lbs. This means that a single machinery with such weight can be suitable for this storage system. This is a durable product. It can be mounted to any ceiling and the built-in nylon rings will help in adjusting to angle.
Also, you can conveniently raise or lower it by using crank. It comes with all the installation accessories. However, the installation process is not as simple. You might need professional help.

---
5. Seville Classic WEB452 Garage Storage System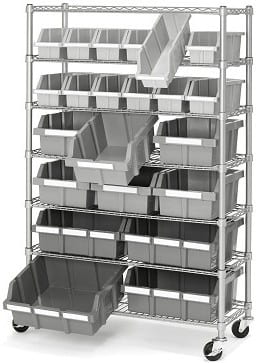 Weight Capacity: 500 lbs
Dimensions: 14 x 36 x 56"
Material: Steel with Platinum
This Seville storage system has high-capacity and comes in 7-tier shelves. The storage system is made of steel and has platinum coating on the top. In any circumstances, steel will not corrode or rust.
There are 22 polypropylene bins that are available in three different sizes - M, L, XL. You can store anything in these shelves. However, the storage system is not meant for heavy machinery.
The shelves are available in 14 x 36 x 56" dimensions. It is mostly for the smaller components. This product is certified by NSF to NSF/ANSI Standard 2. It is a commercial-grade product with massive storage capacity. It comes with mere 1-year warranty which is quite less.

---
6. Origami General Purpose Rack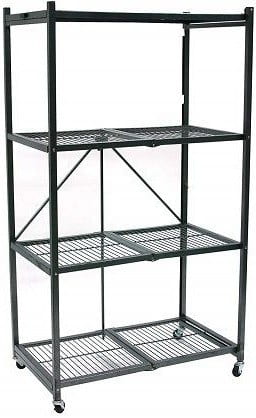 Weight Capacity: 1000 lbs
Dimensions: 35.8 x 20.9 x 60"
Material: Steel
The space of this product is a little less than the competitive models on the market. However, due to the robust construction and effortless installation, it still enjoys a lot of demand.
Well, this model comes with 4 shelves with 250 lbs weight capacity of each shelf. It is constructed with heavy-duty commercial grade powder-coated steel which makes it pretty suitable for rust-resistance.
The seamless mobility is also ensured using the castor wheels. The two wheels comes with locking mechanism which makes sure to give unshakable standing to the trolley.
While there are plenty of credible features in this product, it lacks in space. It is suitable for the garages that have limited things to store.

---
7. Gladiator GAWG28FDYG Garage Storage System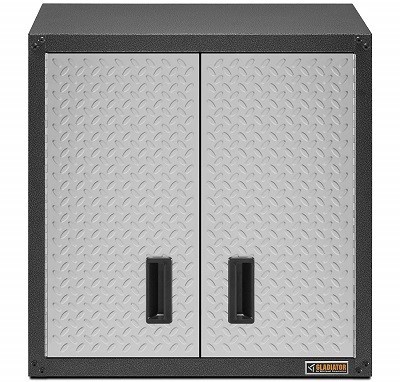 Weight Capacity: 150 lbs
Dimensions: 28 x 12 x 28"
Material: Steel
So, the Gladiator GAWG28FDYG is a classic cabinet style garage storage system is a fine quality product. It is constructed with steel material from inside.
There is tab and loop design on the entire panels that minimizes the requirement of hardware and leave no scope for guesswork while assembling the cabinet.
If you want to fix it on the wall then there is a wall bracket kit that you get with this model. This way, you can fix the cabinet above the ground level and use the space for other purposes.
Lastly, the cabinet doors have magnetic catch that strongly holds the doors while closing. This is a standard product so don't expect any heavy-duty storage. Also, the space in the cabinet is not suitably enough.

How to Buy the Best Garage Storage System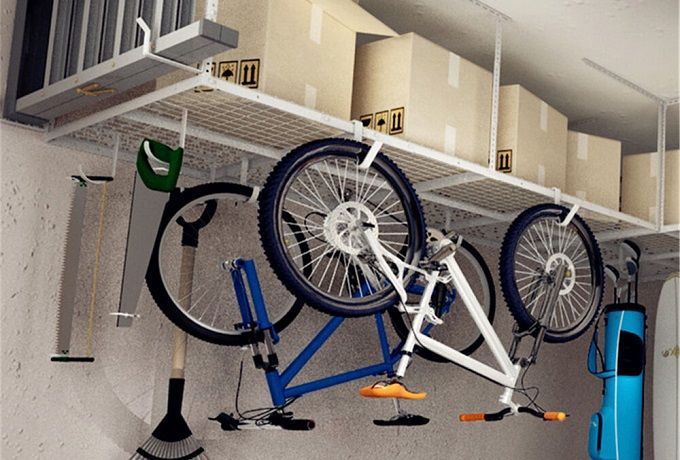 To be honest, the best garage organization system does not have a lot of intense features. These are simple storage units, mostly made of steel or other hard material and comes in use to store all the small to large tools that you might have.
Without any further ado, it will be best to address the common features that you should search in the top-rated garage storage system.
1. Type of Garage Storage System
Interestingly, these systems are available in 4 prime types. Not all of them have a huge difference factor amongst. However, you should always consider all the 4 types and make purchase that will be suitable according to the space in garage and your requirement.
Traditional Shelving : Regardless to say a lot, these are single shelves that one can attach to the wall. They cannot bear a lot of weight and are simple units, fixed to the walls. However, they come in singulars.
To store all that you have, you might have to purchase various single traditional shelves and store everything. Please note that these are open shelves and cannot hold a lot of weight either.
Wall Mounted : It might sound the same to you but actually its not. The wall mounted models are available in different types.
As suggested by the name, these systems are mounted on the wall. It could include floating shelves, pegboards, hooks, rail systems, and racks. The wall setup is usually available in form of a kit.
It is considered to be ideal for small garages where you want to make best use of the little space that you have. Also, it makes quite a visual.
It is also quite helpful for larger items like sporting equipment. Since garages are not all about keeping the dedicated stuff, you can make use of these racks for storing brooms and shovels as well.
Overhead Hanging Shelves : Well, overhead hanging shelves are not as common as their counterparts, however, it does have one thing in common with the wall mounted settings and that is the space usefulness.
In this, you can take advantage of the unused space below the ceiling. This kind of storage is most suitable for the tools and products that you don't use commonly.
It is because climbing up and taking down the things could be a hassle as an everyday task. However, there is always a solution to every problem and for this particular one, you can get a pulley system to bring things down.
Cabinet : Lastly, one of the most common type of garage storage systems is the cabinets and is often considered for the best storage shelving.
These are just like cupboards with multiple shelves and sections in it that you can use for storing. The best thing is that these cabinets have doors which keep all the things concealed. Therefore, there is no open show for the visitors.
You can get these wall cabinets mounted on the wall or let them free stand. It is a great way to store the equipment and products that you have.
Buying Advice
Well, there is no particular favorites here because all the different types serve different purposes. If you have space constraint then pick the wall mounted alternative. Else, the cabinet system is considered to be the finest.
2. Weight Capacity
Let us tell you that every storage unit comes with a certain weight capacity. It is the total capacity of a weight that each shelf or the entire system can handle.
You should be watchful about this factor so that you don't overload the shelves, resulting in accidental breakage and permanent damage of the products.
3. Size & Design
All these types discussed above have different designs and sizes. These start with 3-tier shelves and goes up to 10 - 12 tiers. Also, the design of these shelves varies. For example, the wall mounted fittings are completely different from free-standing cabinets.
There are hooks and rods being used in the case of wall mounting whereas the other types are entirely unique. According to the space and need of the garage, you should pick a product.
4. Ease of Assembly
Well, this is a highly considerable factor amongst others. When you receive the product from the manufacturer, it is usually in various pieces that you have to put together to make a garage storage system.
Therefore, it is important that the product you buy is easy to assemble. Also, it should come with clear instructions so that the user can find it convenient to get ready.
5. Safety & Durability
Since all the components of the garage will be stored and assembled in and on these storage systems, they have to be sturdy and durable.
Conclusion
With all the fantastic options that we have mentioned above, it is very difficult to pick any one of the best garage storage systems. Admittedly, these systems are different from each other and will cater the needs of different kind of buyers.
What you have to do is to determine your needs before you proceed with the purchases. For that, our detailed guide on the niche will help you sort out the priorities.
We hope that you find our garage storage system review useful and that it will help you with a purchase. Make sure to study all the important factors and recommendations carefully before you get set for the purchase.